As a child I grew up on casserole meals, which resulted in adult-me having a strong aversion to anything that's baked and served in a 9×13 pan. Too much of a good thing truly is too much.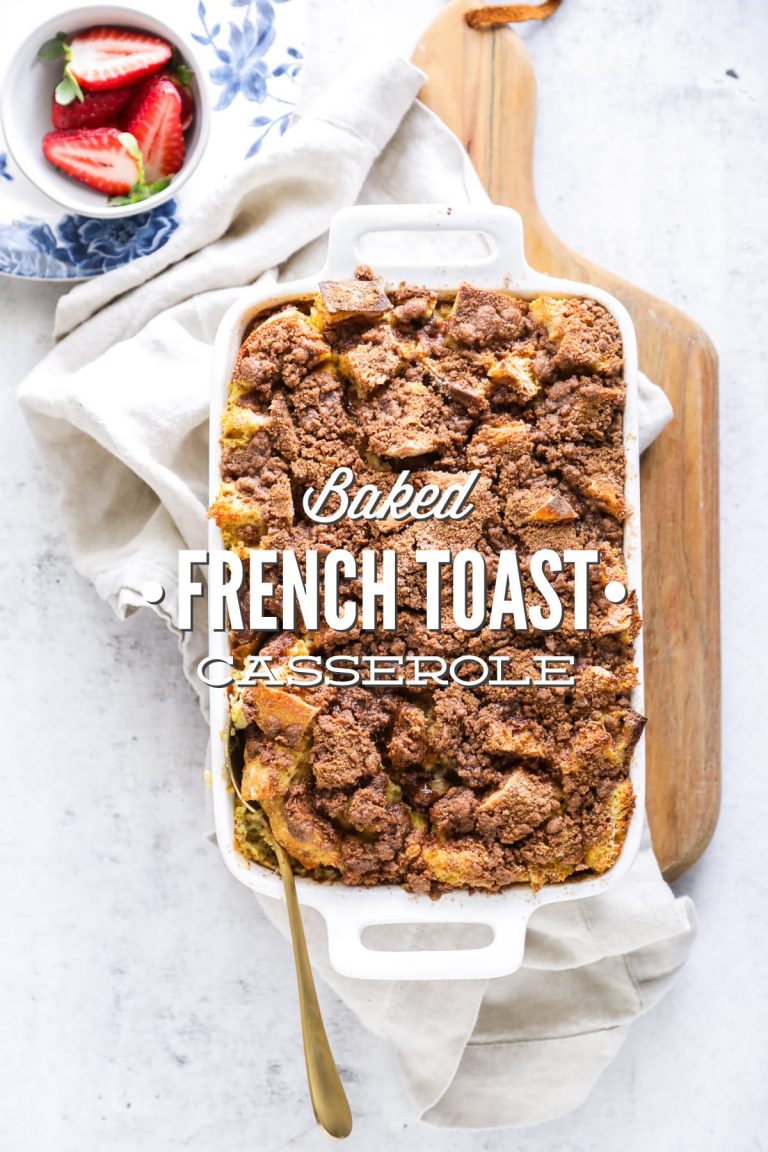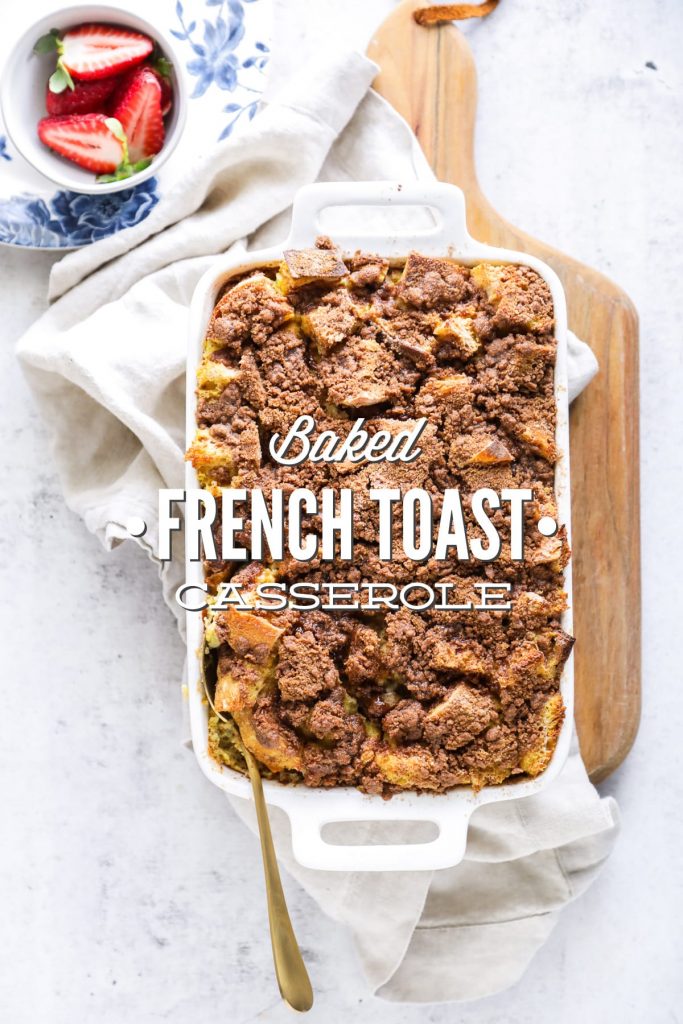 Now as a busy mom, I can definitely see the appeal of these one-pot/one-pan style meals. In fact, I'm trying hard to embrace these meals since they're generally easy to make and result in a bunch of leftovers — both of which I could definitely use more of in life.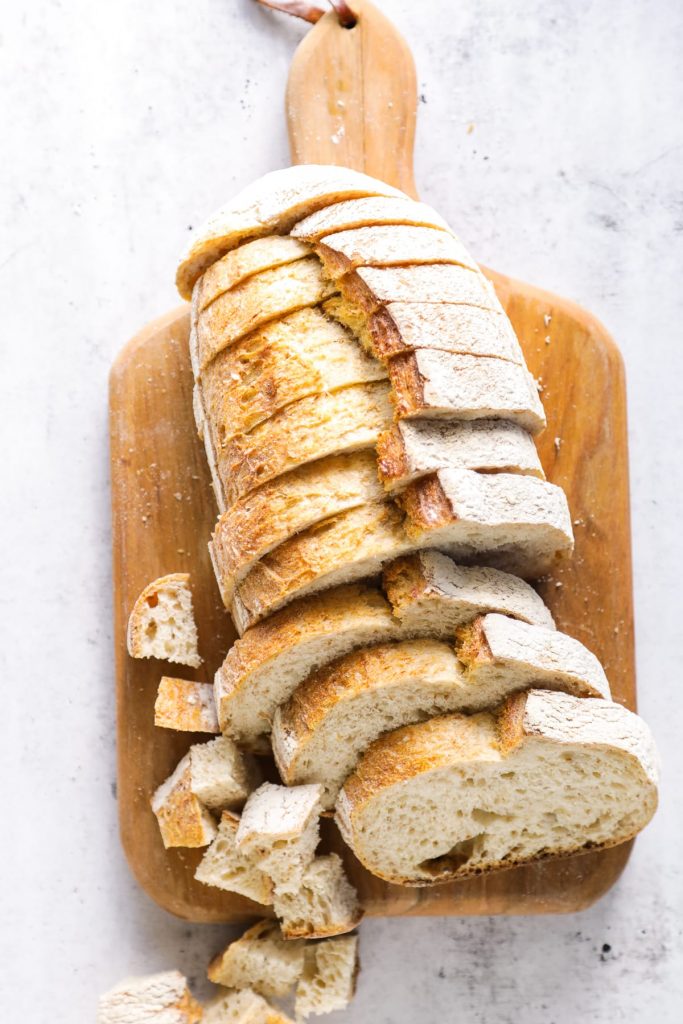 Lately, on the weekends, my family has been enjoying Baked French Toast Casserole. This hearty breakfast is the embodiment of everything there is to love about a casserole meal:  
One pan

Easy to make

Prep ahead friendly

Family friendly

Feeds a crowd (or just a very hungry family)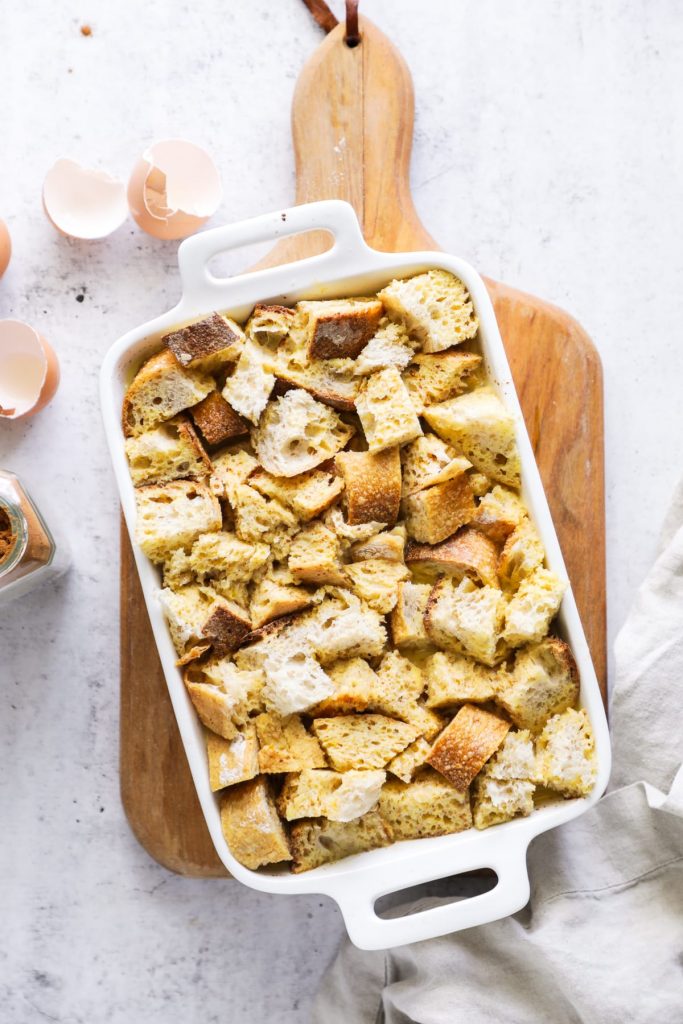 This particular casserole does require some advance planning since it needs to be made at least 12 hours before baking. During this rest time, the egg and cream mixture is absorbed by the bread cubes. I've been preparing the casserole on Saturday night before we go to bed.
On Sunday morning, the casserole bakes in the oven while we get ready for church.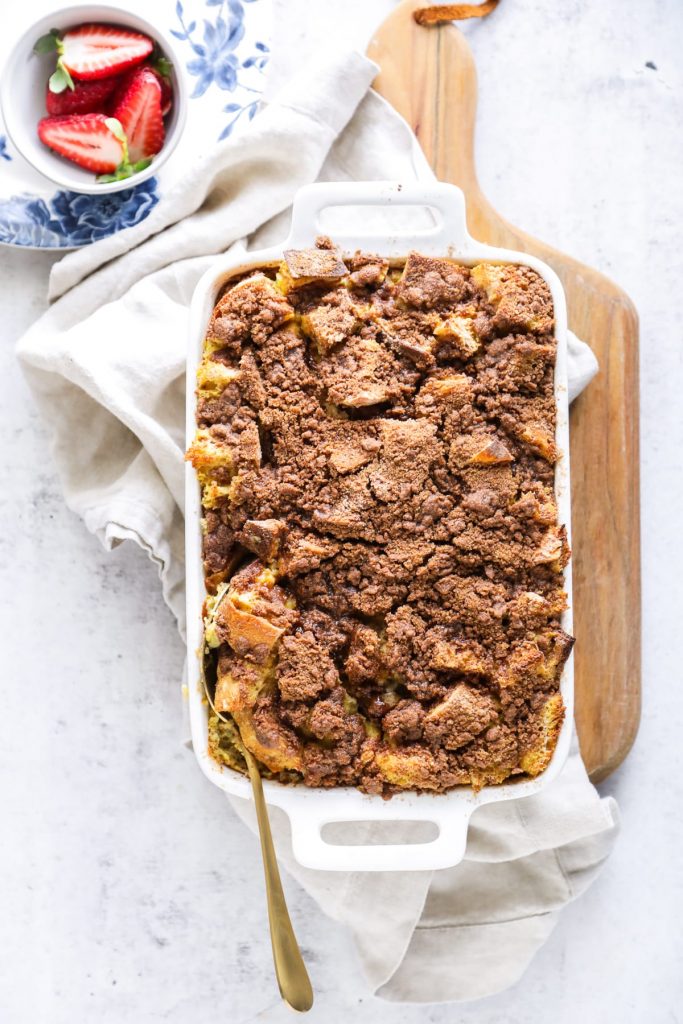 I wanted to share this recipe before Easter (next week), just in case you're planning a spring bunch. This casserole would be a great addition to any brunch spread, or to a special family breakfast. (This einkorn coffee cake would be another great brunch meal.) The casserole feeds about 6 people, although I think this number could be increased if other foods (such as a sweet and tart fruit salad or bacon) are served with the casserole.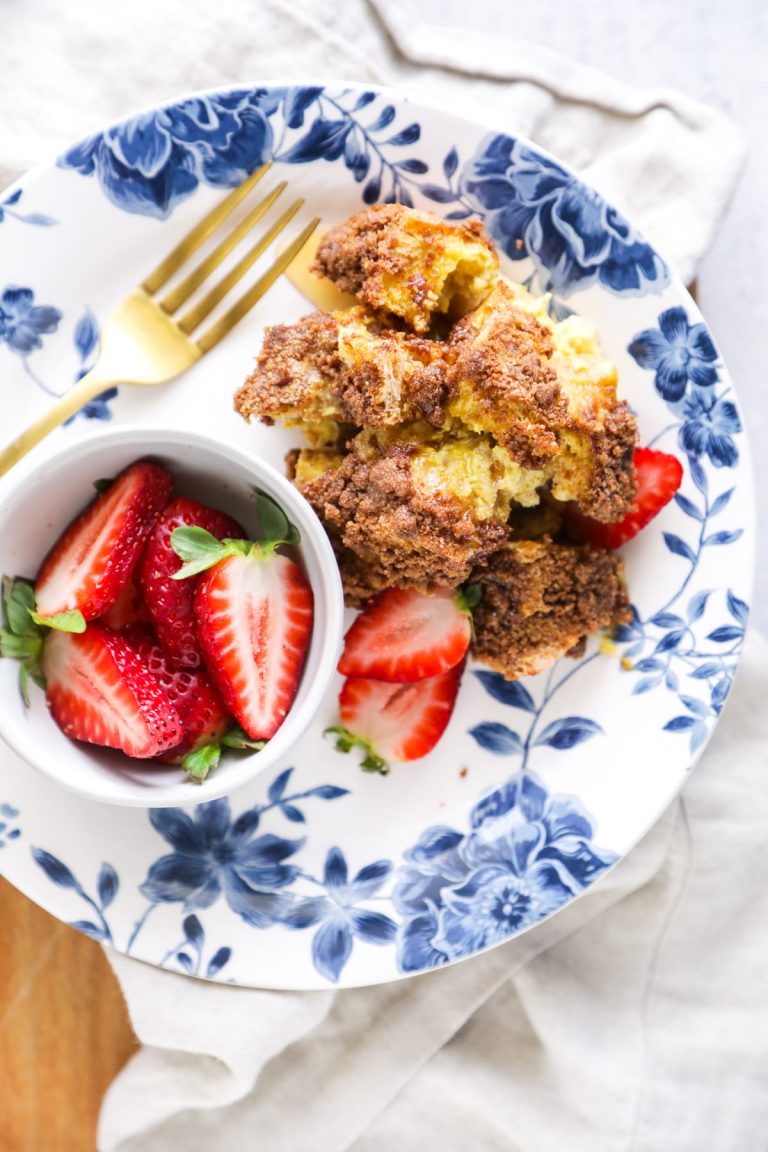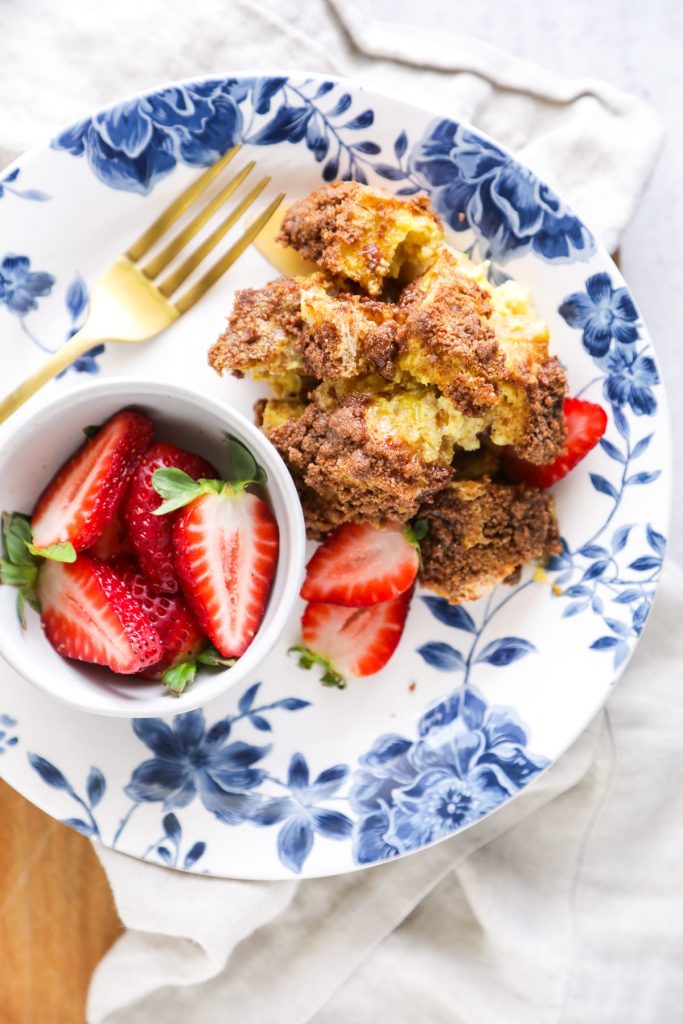 Oh, and one last note: Don't skip the crumble topping! While the crumble may not appear as much when you sprinkle it on top of the soaked bread cubes, just wait until you pull the warm casserole from the oven. You're in for such a treat! While the crumble bakes, it crisps up, resulting in a sweet, cinnamon-flavored streusel topping that makes this casserole irresistible.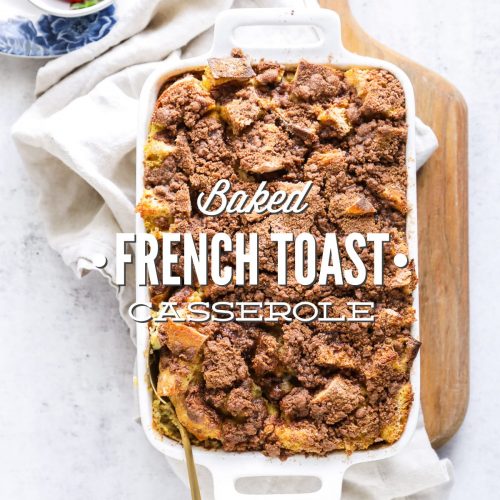 Baked French Toast Casserole
This overnight french toast casserole is prepped the night before. The next morning just wake, bake, and enjoy your homemade breakfast!
Ingredients
French Toast:
14-16

ounce

sourdough loaf (day-old/stale)

about 9 packed cups of cubed bread

8

eggs

1 1/3

cups

whole milk

1

cup

heavy cream

1

TB

pure vanilla extract

1/3

cup

pure maple syrup

1

tsp

cinnamon

1/2

tsp

nutmeg
Instructions
Prepare the casserole the night before you want to bake and serve it.

Butter a 9x13 baking dish very well.

Tear or cut the stale bread into rough, 2-inch chunks and line the pan with the bread.

Crack the eggs into a large mixing bowl. Whisk very well. Add the remaining french toast ingredients to the bowl, and whisk to combine.

Pour the mixture over the bread. If needed, press down gently to make sure all the bread is in contact with the egg mixture.

Cover and refrigerate overnight.

Prepare the topping by combining all the ingredients in a small bowl with a pastry cutter or your fingers, until it resembles coarse crumbs. Cover and store in the fridge.

The next morning, remove the casserole from the fridge while the oven preheats to 350F. Tip the pan to one side. If you notice a lot of liquid, drain the excess liquid from the casserole (this varies depending on the bread).

Sprinkle the streusel topping evenly over the casserole.

Once the oven is hot, bake the casserole for 50-65 minutes (depending on the pan used--dark ceramic pans usually require more baking time than clear glass pans), until set. The casserole is done when the center is set.

Let the casserole cool for a few minutes (about 5-10 minutes), then slice and serve with maple syrup (if desired).
Notes
*Spelt, all-purpose, or wheat flour may be used in place of the einkorn flour. Oat flour may also work. 
Nutrition
Calories:
594
kcal
Carbohydrates:
63
g
Protein:
18
g
Fat:
29
g
Saturated Fat:
16
g
Cholesterol:
293
mg
Sodium:
560
mg
Potassium:
318
mg
Fiber:
2
g
Sugar:
15
g
Vitamin A:
1165
IU
Vitamin C:
0.2
mg
Calcium:
188
mg
Iron:
4.1
mg