In order to stay motivated in my role as Head Family Chef, I need a break from my kitchen and cooking.
There are two options for making sure I get a well-deserved break:
Go out for a meal.

Prep a meal in advance.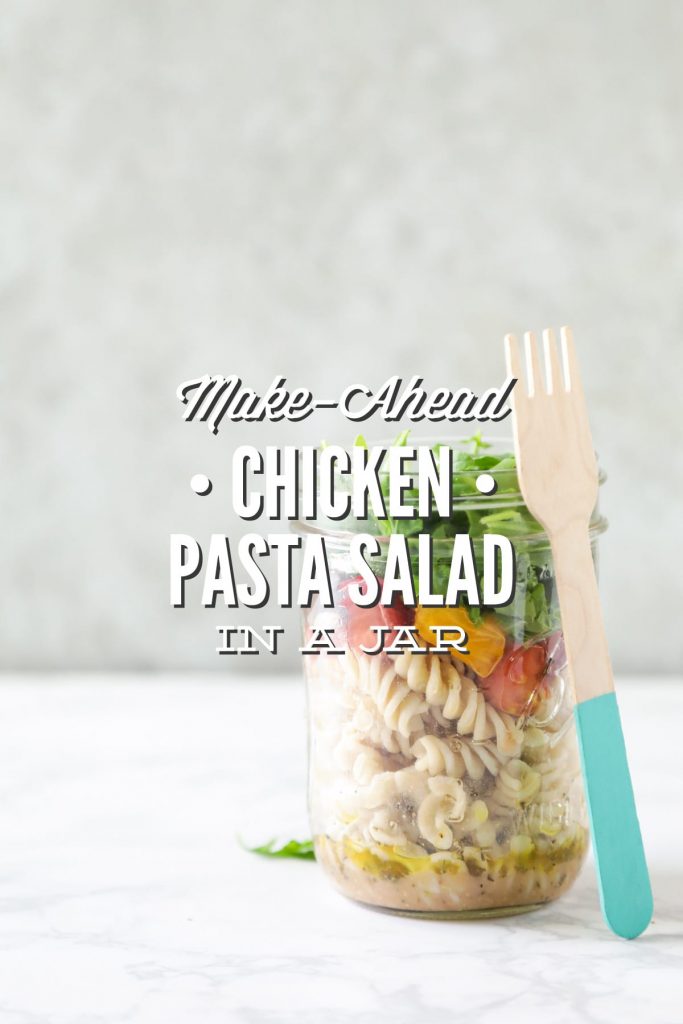 Going out is my favorite way to enjoy a break from cooking. The act of being waited on and cooked for is exhilarating. We budget for a once week date night and occasionally a family night. A local pizzeria, Pizzeria Gregario, is our favorite spot. Greg, the owner, makes everything from scratch (from the sourdough pizza crust to the mozzarella cheese) and sources all the produce and meat from local farms. He's a rare gem in a land of chain restaurants.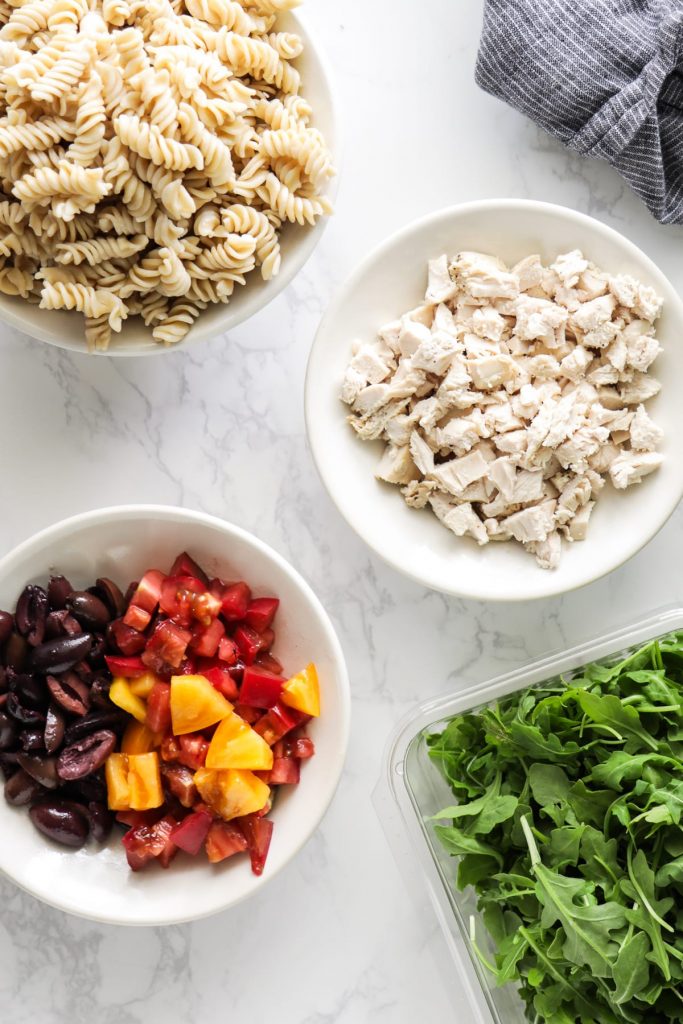 The second option, prepping ahead, has given me life this year. <–Literally, I've gained time and sanity. Spending just a couple of hours in the kitchen on a Sunday afternoon, reduces the amount of time I spend in the kitchen throughout the upcoming week. Having just one food category prepped, such as a couple of breakfast foods or a ready-to-go lunch, means I don't have to spend my mornings or evenings thinking about our next meal. This simple, intentional act has simplified our full lives. 
Lately, I've been focusing on making lunch for myself during my Sunday prep. The hours between school drop-off and pick-up are limited and incredibly valuable to me (that's when work, working out, and taking care of personal stuff is accomplished). Not having to think about lunch during the week allows me to focus on my tasks at hand. 
In order to simplify my weekly prep, I've created a rotational lunch menu. Each month, I work my way through the list, making one lunch per week. Here's my current rotation:
Chicken pasta salad

Soup. This is an open category, lentil or vegetable-barley are my current favorite options. 

Chicken, veggie, spinach and quinoa bowls with tahini dressing. This sounds fancy, but it's so easy to make. The recipe is coming next month. 

Caesar salad with shredded or grilled chicken on the side. I skip the croutons for a make-ahead lunch and add rice chips or plantain chips on the side for crunch.
These options are easy to assemble, store well in the fridge for several days, can be portioned out into smaller lunch containers (Prep Natural containers or Mason jars), and keep my belly full until an afternoon snack or dinner.
Today, let's make the chicken pasta salad. This salad is best stored in mason jars (or tall storage containers, or containers that allow you to separate the greens from the dressing) so the delicate arugula greens aren't damaged by the salad dressing. I think we all know what happens when a dressed salad sits in the fridge for a day or two…yuck! If you want to enjoy the salad straight from the jar, you'll want to go with a quart-size jar.
If you'd rather pour the salad into a bowl when you're ready to enjoy, use an 16-ounce jar (pictured here).
One quick note about the dressing. The olive oil in the dressing will solidify in the fridge (the sign of a good olive oil).  I recommend leaving the salad at room temperature for about 30 minutes before you shake or toss it for lunch. This step will ensure that the dressing returns back to a liquid state. Another option is to place the jar in warm water for about 30-60 seconds, particularly targeting the base (the salad dressing layer).
This recipe makes 4 jars/lunches. I like to pair each jar with fruit (apple slices with nut butter, grapes, berries, a banana, etc.) for a complete meal. I've found that the salad keeps well for about 4-5 days in the fridge, if the chicken is fresh.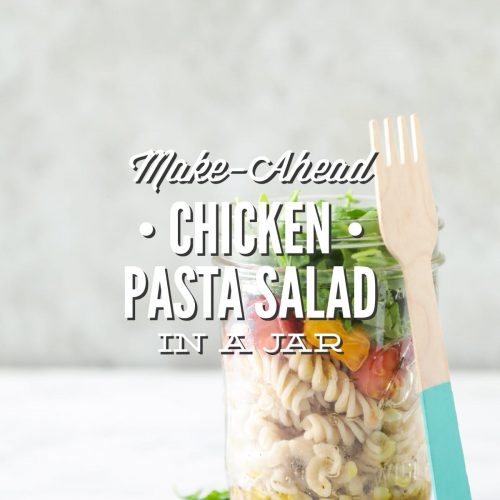 Make-Ahead Chicken Pasta Salad in a Jar
This veggie-dense chicken pasta salad is easy to make ahead for real-food meals on the go.
Ingredients
Salad:
12

ounces

einkorn fusilli pasta

cooked according to directions on package*

1 1/4

cups

cooked and shredded chicken

1

cup

sliced black olives

1

cup

halved cherry tomatoes

or chopped roma tomatoes (about 3 roma tomatoes)

2

cups

baby arugula
Instructions
In a small bowl, whisk the dressing ingredients.

Pour the dressing into the mason jars. Add the pasta to the jars, followed by the chicken, black olives, tomatoes, and arugula. If you're using 16-ounce jars, you'll need to pack the pasta down in the jars to have enough room for the remaining ingredients. Cover the jars with lids, and refrigerate until desired.

To enjoy, shake a jar to combine the ingredients. Eat the salad from the jar, or pour the contents into a bowl. The salad will keep in the fridge for about 4 days (a salad for each day), if the chicken is fresh.
Notes
*Any pasta will work in this recipe. I use Jovial Einkorn Fusilli. Brown rice pasta will work, or a similar gluten-free pasta, if you can't tolerate gluten. 
**The recipe makes enough to fill 16-ounce jars; however, if you want to shake the salad in the jar to combine the ingredients I recommend going with a quart-size jar. An 16-ounce jar will be packed full leaving no room to shake the ingredients. This is okay if you plan to pour the salad into a bowl before enjoying. 
I like to cook a whole chicken on the weekend to use for meals throughout the week. Another option is to cook 1-2 chicken breasts, or purchase a rotisserie chicken. 
If you want to add additional flavor, and love garlic, add 1-2 minced garlic cloves to the dressing. You could also add some feta cheese to the salad layers. 
I like to pair each jar with fruit (apple slices with nut butter, grapes, berries, a banana) for a complete meal. I've found that the salad keeps well for about 4 days in the fridge, if the chicken is fresh.
Nutrition
Calories:
660
kcal
Carbohydrates:
66
g
Protein:
17
g
Fat:
36
g
Saturated Fat:
5
g
Cholesterol:
21
mg
Sodium:
547
mg
Potassium:
319
mg
Fiber:
4
g
Sugar:
2
g
Vitamin A:
380
IU
Vitamin C:
9.3
mg
Calcium:
67
mg
Iron:
2.3
mg