This post may contain affiliate links. Affiliate links come at no extra cost to you. These links allow me to share the products I authentically recommend (and use) and support Live Simply by receiving a small commission.
I'll come out and say it (deep breath), "I have a 'thing' for bananas!".
I blame my mom for the memories that rush my brain when I spy the yellow fruit. She's the reasons I seriously have a banana over-buying issue, maybe on the verge of a hoarding issue. Is that possible? We'll stick with "over-buying". Years of weekly banana bread treatments can really get to a gal's tastebuds. I love you, mom.  Thank you for the memories.
I can't be alone on this whole banana issue. Just think of all the spectacular creations one can make with a perfectly ripe set of bananas.
First, there's bread. But, not just any bread. This bread is beyond moist and 100% gluten-free. Hello, almond flour! Second, grab a set of cute paper straws or classic popsicle sticks and cover those ripe bananas in loads of decadent chocolate. Yep, I totally went there! Third, just in case you need one more creative outlet for banana hoarding over-buying, I bring you muffins. We all know everything tastes better when baked into miniature domes. It's a fact of life.
FREE Real Food Crash Course
I get it, switching from processed food to a real food lifestyle can feel overwhelming and confusing. Friend, it doesn't have to be this way.
Here's what to expect: 
printable charts (real food defined, a seasonal produce guide, 

meal planning)

how to get started with a real food lifestyle

how to create a meal plan and stay within a budget

7 real food recipes

emails from me to help you enjoy real food
Bonus: Step-By-Step Guide to Real Food
Now, I completely get it. A 105 degree heat wave isn't really the time for lighting the oven and tossing around a few bananas in a bowl. What are you thinking, Kristin? Hold on, bare with me.  I always have a method to my madness. Remember Christmas in July and ninety vanilla beans? See, always a method. I know you'll rethink the stance of "summer is not for baking" when you dive into this luscious loaf.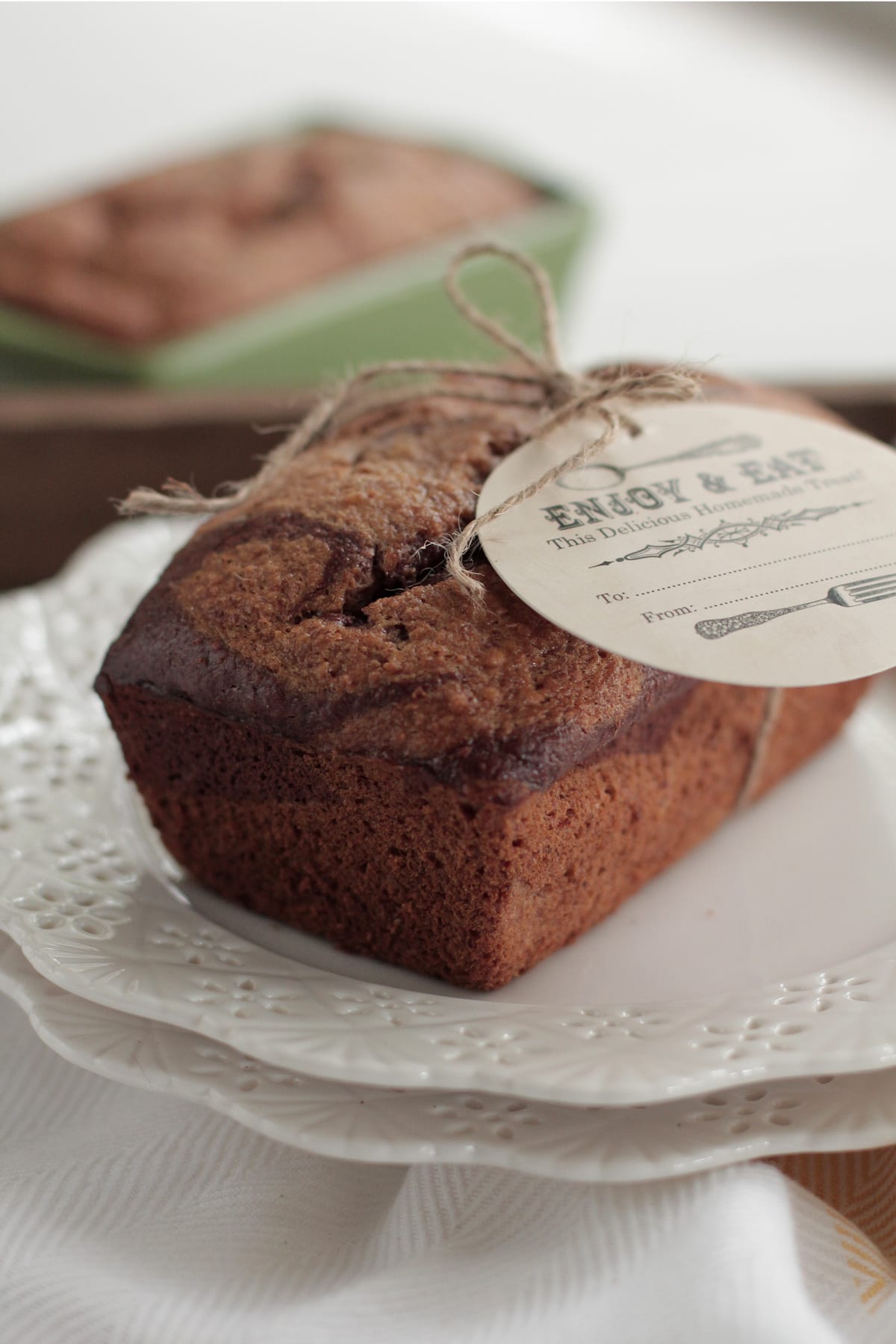 Friend, I bring you the mother of all banana bread and the reason my oven has been lit for days upon days this summer, Chocolate Swirl Banana Bread. This bread will blow your taste buds and chocolate cravings all in one little bite. Let's not get too excited, the best is yet to come. This bread is made in a blender which means you only need five minutes of time to make a pretty loaf. Simply blend the ingredients, melt the chocolate, and bake. Now, that's how you do summer baking.
Chocolate Swirl Banana Bread in the Blender
Friend, I bring you the mother of all banana bread and the reason my oven has been lit for days upon days this summer, Chocolate Swirl Banana Bread. This bread will blow your taste buds and chocolate cravings all in one little bite. 
Total Time
1
hour
5
minutes
Ingredients
1/2

cup

organic semi-sweet chocolate chips

I've used both semi-sweet and bitter-sweet

1/2

cup

honey

1/3

cup

whole milk

1/3

cup

walnuts

5

TB

butter

melted

1 1/4

tsp

pure vanilla extract

4

bananas

ripe, brown spots welcome

2

eggs

2 1/2

cups

spelt flour

or your choosing: whole wheat, sprouted, white wheat, einkorn

1/2

tsp

baking soda

1/2

tsp

salt
Instructions
Preheat the oven to 350F.

In a small saucepan or double broiler melt the chocolate chips on the stove-top over medium heat. Once melted turn off the heat and set aside.

In the jar of a blender

(I use this one)

, add the honey, whole milk, butter, and vanilla extract. Pulse for 5-10 seconds until combined.

Add the walnuts, bananas, and eggs to the blender jar. Pulse for another 5-10 seconds until combined.

Add the flour, baking soda, and salt to the blender jar. Pulse until all the ingredients are combined, 10-15 seconds. Stop as needed to scrape the sides of the blender.

Remove all but one cup of the banana mixture. I pour the batter into a large glass measuring bowl. Set aside.

Add the melted chocolate chips to the remaining one cup banana batter in the blender jar. Pulse for 5-10 seconds until the chocolate is blended into the banana mixture.

Line a standard-size loaf pan with parchment paper or grease with butter or coconut oil (to prevent sticking). Pour half the banana batter in the loaf pan. Pour the chocolate banana batter over the top. Repeat with the remaining plain banana batter. To create a marble affect run a butter knife or chop stick from side-to-side of the batter.

Bake for 50 minutes. You can test if the bread is done by inserting a knife, skewer, or chop stick through the center. When the bread is done the utensil will appear clean without any wet batter.

Allow to cool for 10 minutes before removing from the pan.
Note: I used three small loaf pans for the pictures in this post. This recipe can also be made into muffins. Please adjust the cooking time accordingly, approximately 25-30 minutes.
The "where to buy" links in the recipe are the real food ingredients I prefer. You can find many of these ingredients at your local health food store.
More Recipes You May Like: 
 Whole Wheat Banana-Nut Muffins