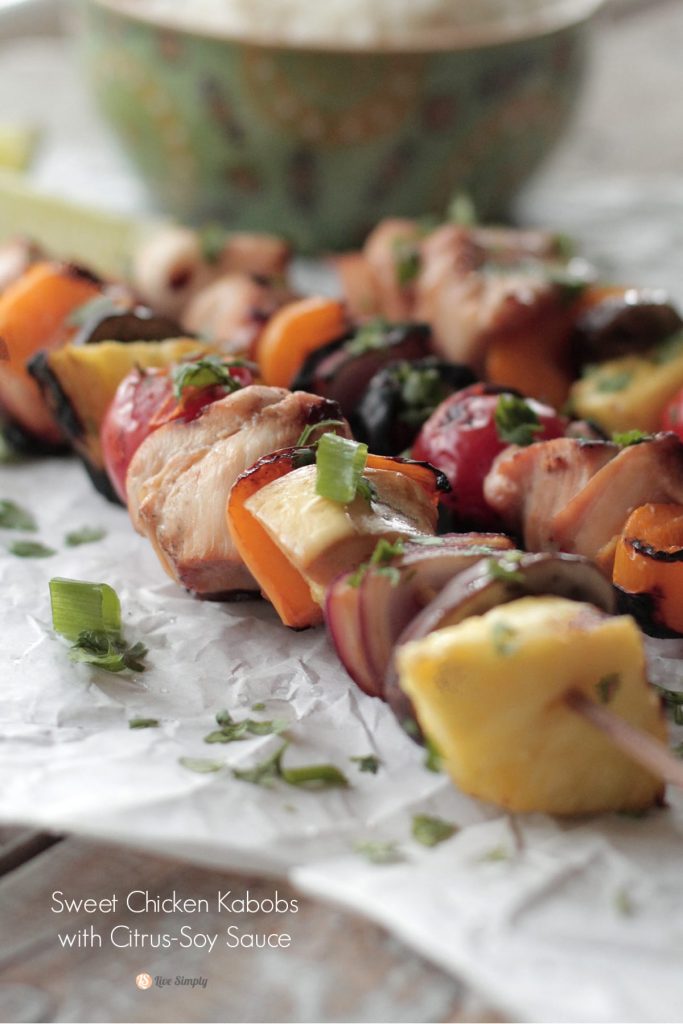 A Note From Kristin
Nothing says summer quite like a grilled meal of meat and veggies. Today, I'm excited to welcome Erin From Eat Real, Stay Sane. Erin and her husband, Cameron, blog about real food. She's stopping by Live Simply to fire-up the grill and serve a delicious set of kabobs. I know you'll fall in love with this simple summer meal and Erin's fun personality, so make sure you stop by and visit her blog after the delicious recipe.
Everyone has a family member that cooks food like they should be hosting a cooking show or running a restaurant, right? Mine is my aunt Nancy.
When my husband, Cameron, and I were engaged, we went to Aunt Nancy's for a family get-together. And, to no one's surprise, there were mounds of fantastic food. And also to no one's surprise, Cameron ate more than a small family by himself.
When we showed up, one whiff of the sweet and tangy chicken shish kabobs on the grill let us know we were in for a treat. The chicken was extremely juicy, flavorful, and cooked to perfection. I'm a big fan of grilling because I love that little smoky flavor it gives food. Plus, charred edges make me unreasonably happy.
Last year for Cameron's birthday, I threw him a surprise birthday party and gave him a grill. The fact that it was a surprise is a miracle because for some reason he always figures out what I'm getting him.
Now that we're beautifully in the middle of summer again, I remembered that amazing kabob meal and decided it was time to fire up our newish grill again. I called up my aunt to get her amazing recipe (which she folded up and snail mailed to me… awesome, right?) and now you get to reap the delicious rewards also.
One amazing thing about eating real food (and the way I convinced my husband to join me) is the fact that you can take any recipe and change out ingredients for their wholesome substitutes. For example, this recipe called for 7-up but I switched it out for orange juice. Food can still be amazing even without junk ingredients!
This Sweet Chicken Kabobs recipe definitely has some assembly required, but it's easy to turn it into a fun event by letting everyone create their own combinations.
One disclaimer: resist the urge to make skewers entirely of pineapple. Wait, why am I saying this? It's already a major summer goal of mine to remake this recipe with about 20 skewers of only pineapple. I'm convinced there's nothing more to life.
Whether you decide to become a pineappleivore or not, here's the recipe. Enjoy!
Sweet Chicken Kabobs with Citrus-Soy Marinade
Sweet and tangy chicken shish kabobs with orange juice-soy marinade.
Ingredients
12

skewers

12 inches long

2

cups

rice

cooked

2.5

lbs

chicken breasts

cut into bite-sized pieces

2

cups

orange juice

1

tsp

ground ginger

1

cup

organic soy sauce

1/4

tsp

garlic powder

1/2

purple onion

chopped

1

red bell pepper

chopped

1

orange bell pepper

chopped

1

small

pineapple

chopped

1

small

yellow squash

sliced

1

small

zucchini

sliced

optional veggies

cherry tomatoes, mushrooms, eggplant, potatoes
Instructions
Mix orange juice and spices together for marinade.

Chop chicken and vegetables into big bite-sized chunks.

Separate chicken and vegetables into containers and pour in marinade. Make sure you leave out the pineapple.

Let vegetables and chicken marinate for 18-24 hours, flipping containers or stirring food every few hours. If using wood skewers make sure to soak those in water a couple of hours before grilling to prevent burning.

Right before skewering, chop the pineapple and drop into the marinade with the veggies. Assemble kebabs with desired combination of chicken, pineapple, and/or vegetables.

Grill shish kabobs on low-medium heat. Cook for 10 minutes, then flip over and cook for 10 more

minutes or until chicken is completely cooked. Baste during grilling with leftover marinade.

Serve immediately with rice.
Nutrition
Calories:
407
kcal
Carbohydrates:
19
g
Protein:
46
g
Fat:
5
g
Saturated Fat:
1
g
Cholesterol:
120
mg
Sodium:
2385
mg
Potassium:
1166
mg
Fiber:
1
g
Sugar:
10
g
Vitamin A:
1545
IU
Vitamin C:
101.8
mg
Calcium:
38
mg
Iron:
2.2
mg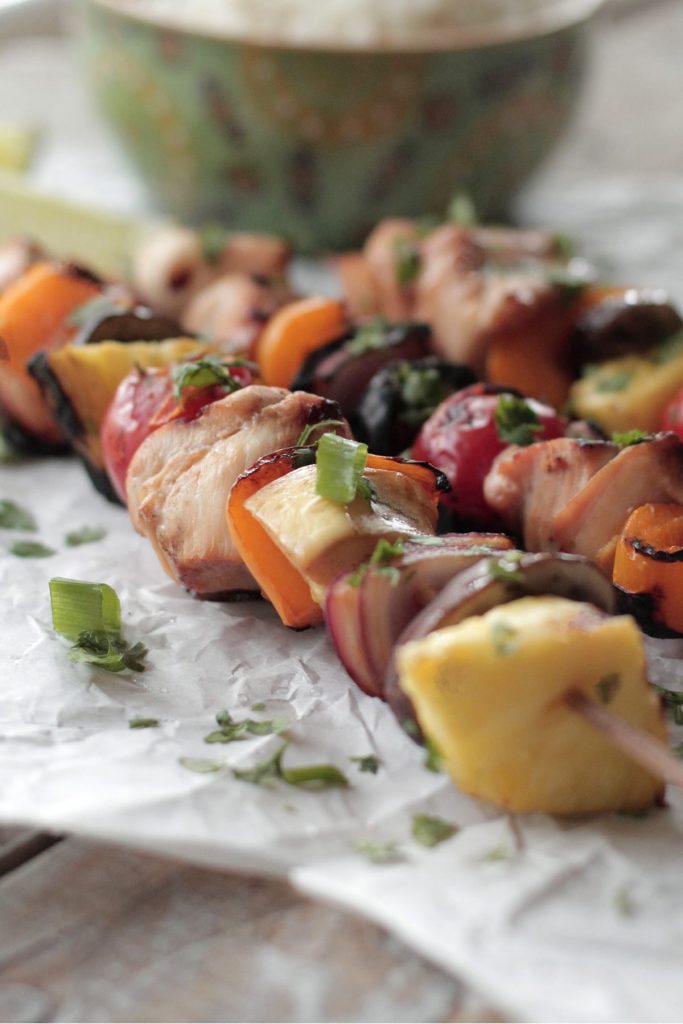 More Summer Recipes You May Like:
Tuscan Kale Caesar Pasta Salad