This post may contain affiliate links. Affiliate links come at no extra cost to you. These links allow me to share the products I authentically recommend (and use) and support Live Simply by receiving a small commission.
Some of the recipes I make for my family, and then later test to share on the blog, just naturally work themselves out with what seems like very little effort on my part. This chicken enchilada recipe was one of those meals.
I would like to take some credit for the "very little effort on my part" thing. Maybe after creating real food meals for years, and on top of that writing a real food blog, I've intuitively mastered the art of effortlessly creating recipes that work and taste great. Unfortunately, that's just not the case. Recipe development is, quite often, hard work that requires lots of trial and error. There are times when my family is less than impressed with the meals presented at the table. That was supposed to taste amazing—well, in my mind it worked.
The real reason why this recipe came together so easily, is because it's so incredibly simple. I'm talking really simple–shredded chicken, cheese, tortillas, and a bit of homemade enchilada sauce. That's it!
In the future, we may make more enchiladas together. You know, fancy enchiladas with veggies, beans, and other real foods. We'll save the fancier enchilada fare for another day. Today, we're getting back to the basics. And the basics are so good.
FREE Real Food Crash Course
I get it, switching from processed food to a real food lifestyle can feel overwhelming and confusing. Friend, it doesn't have to be this way.
Here's what to expect: 
printable charts (real food defined, a seasonal produce guide, 

meal planning)

how to get started with a real food lifestyle

how to create a meal plan and stay within a budget

7 real food recipes

emails from me to help you enjoy real food
Bonus: Step-By-Step Guide to Real Food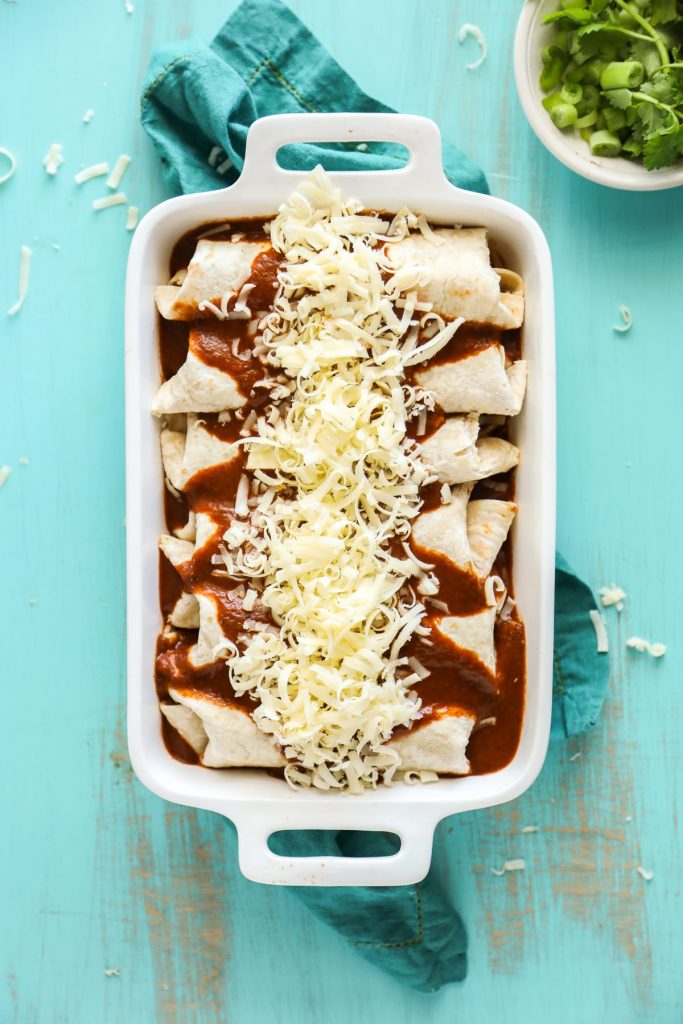 Before sharing the recipe, let's chat for a minute about making this meal a weeknight option, because we all need a bit of an enchilada pick-me-up by mid-week, right?!
Nearly every component of this enchilada recipe may be prepped in advance. And, remember, prepping in advance is the key to keeping it real even on the busiest of evenings.
The chicken may be cooked and shredded on the weekend and kept in the fridge, or frozen until it's ready to be used. The sauce may be prepped in advance and stored in the fridge or the freezer (I like to store the sauce in Ziploc baggies in the freezer). And even the cheese may be shredded in advance. Once the prep work is done, the enchiladas come together in just a few minutes.
Easy Chicken Enchiladas
Simple homemade enchiladas made with chicken and cheese, and a homemade enchilada sauce. 
Ingredients
1 1/2

cups

homemade enchilada sauce

divided

6

flour tortillas

2 1/2

cups

cooked shredded chicken*

1 1/2

cups

shredded cheddar cheese

divided, Monterey Jack also works well
Optional Toppings
sliced green onions

chopped cilantro
Instructions
Preheat the oven to 350F. 

Spread 1/2 cup of enchilada sauce in the bottom of a 13x9 baking dish (my dish, pictured, is a bit smaller than 13x9). 

Spread 1 tablespoon of enchilada sauce over each flour tortilla. Divide the 2 1/2 cups of chicken and 1 cup of cheese evenly amongst the 6 flour tortillas--sprinkling the ingredients down the center of the tortillas. You could probably increase this amount to 8 tortillas, if needed. I use Rudi's Spelt Tortillas which come in packages of 6. 

Tuck two sides of the tortilla over the filling (the sides nearest the filling), and then roll up the tortilla snuggly. Place the wrapped enchiladas seam side down in the baking dish. 

Pour the remaining enchilada sauce (about 1/2 cup) down the center of the enchiladas, leaving the ends exposed. Sprinkle the remaining 1/2 cup of cheese over the enchiladas. 

Bake the enchiladas, uncovered, for 20-25 minutes, until the cheese is fully melted. 

Sprinkle the enchiladas with sliced green onions and chopped cilantro (optional). Serve warm. 
Recipe Notes
*You'll need to cook and shred the chicken in advance. To do this, I usually use the meat from a whole chicken--slow cooker method or oven method. Another option is to cook two chicken breasts (about 1 pound of chicken breasts). Sprinkle the breasts with salt and pepper and bake them in a 400F oven, in an oven-safe baking dish, for 25 minutes.