It seems like everywhere I look–from blogs to social media–people are declaring the praises of the Instant Pot.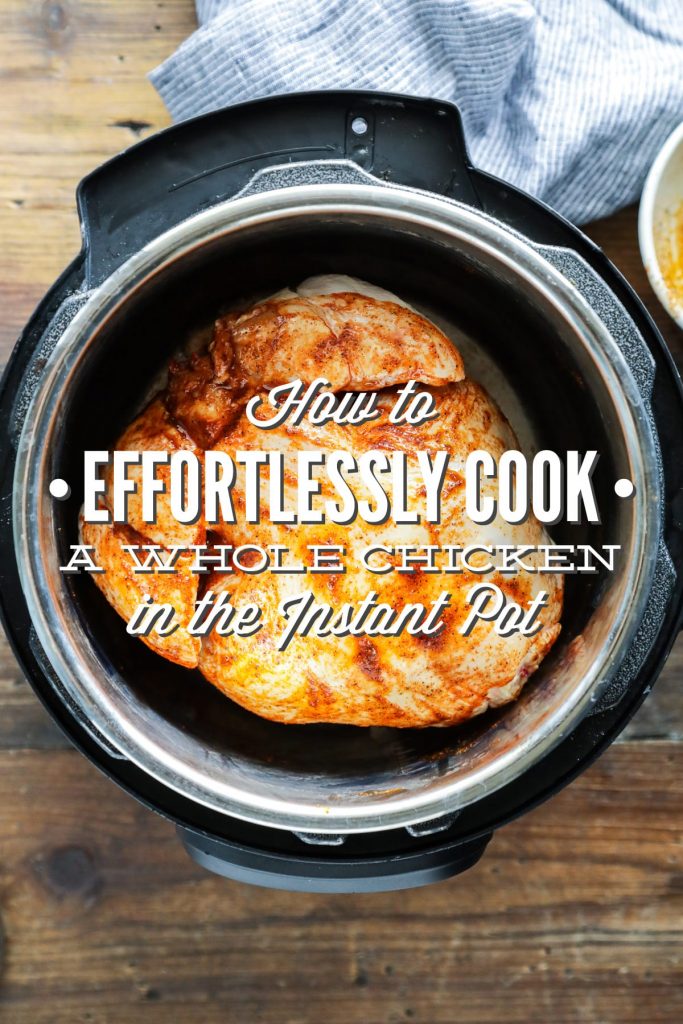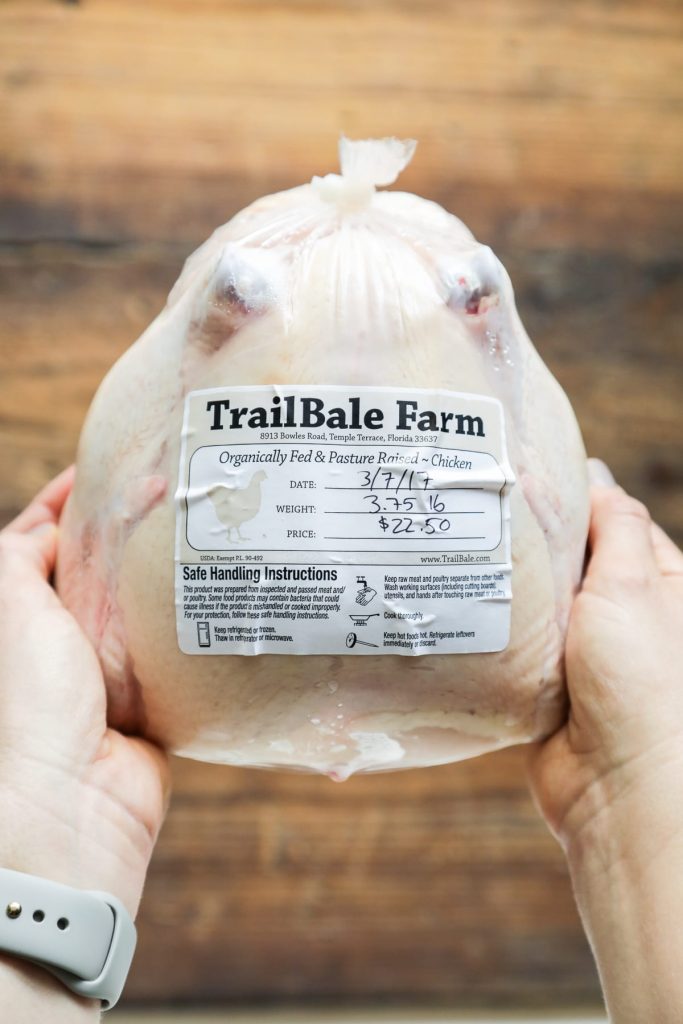 I purchased an Instant Pot a couple of years ago on the very first Amazon Prime Day. At the time, the pots were about $200+, which just seemed outrageous for an appliance that I didn't even know how to use. But on Amazon Prime Day, the price dropped as low as $70. $70 was justifiable.
I received my Instant Pot within a couple of days (Amazon, you've forever spoiled me with your super fast shipping speed). I remember just looking at the box, and wondering what in the world I was going to do with this new appliance. I understood the slow cooker function, but the idea of a pressure cooker freaked me out.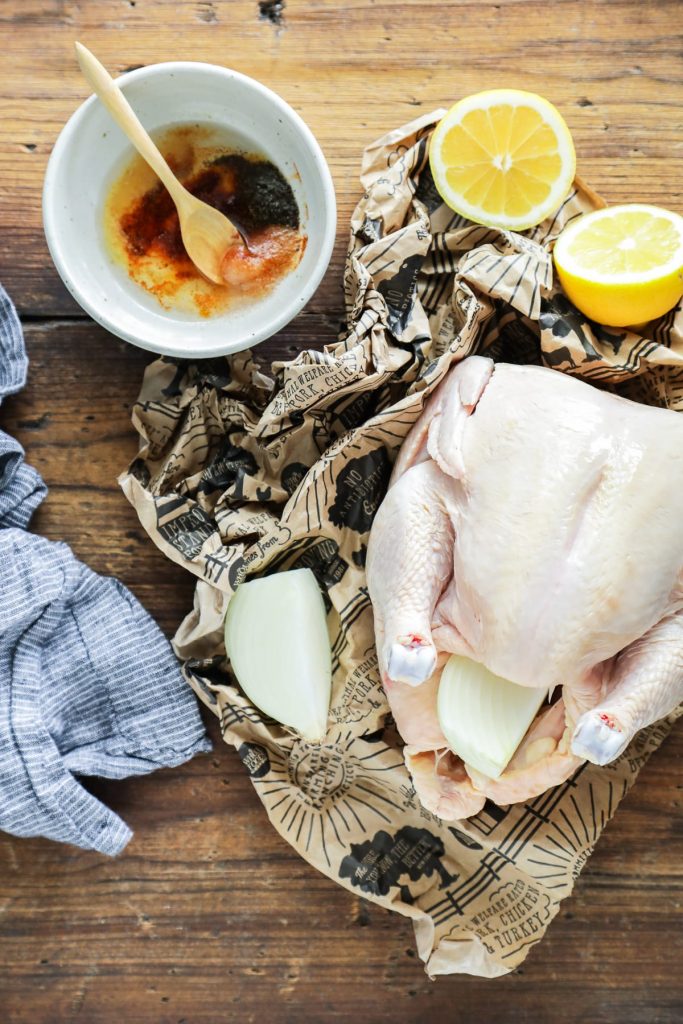 For a good two years, my Instant Pot was only used as a slow cooker. I was terrified to touch any other button. What if this thing blows up in my kitchen? What if it catches on fire? What if mini aliens are born inside my pot?
I'm obviously kidding about the alien thing, but in all seriousness, I was TERRIFIED of what might happen if I tried the pressure cooker function. And really, who can blame me? We've all heard the old-fashioned pressure-cooker horror stories from our grandmothers and mothers.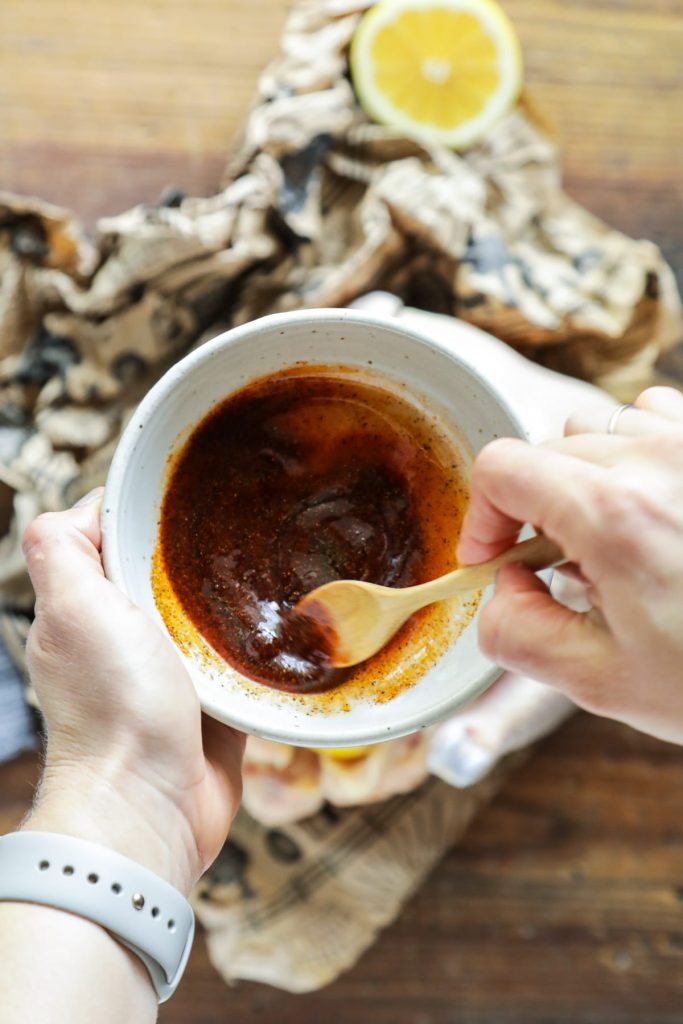 A few months ago, Helen, from the Live Simply Team, approached me about an Instant Pot Salisbury Steak recipe she created in her Instant Pot, using the pressure cooker function. My heart skipped a few beats at the thought of having to make a recipe using the pressure cooker function (to test and photograph), but despite my anxiety, I responded, "YES! Let's do it!"
Friend, I feel like Helen deserves some type of award. Thanks to her, I've gained the confidence needed to use the pressure cooker function on the Instant Pot. In fact, if you follow me over on Instagram, then you know I'm slowly becoming an Instant Pot Guru. Okay, okay, maybe I'm not ready for the "guru" status just yet, but I'm definitely using my Instant Pot more.
And in case you're curious, I no longer wonder if my Instant Pot is a mini alien factory. Confidence is a beautiful thing.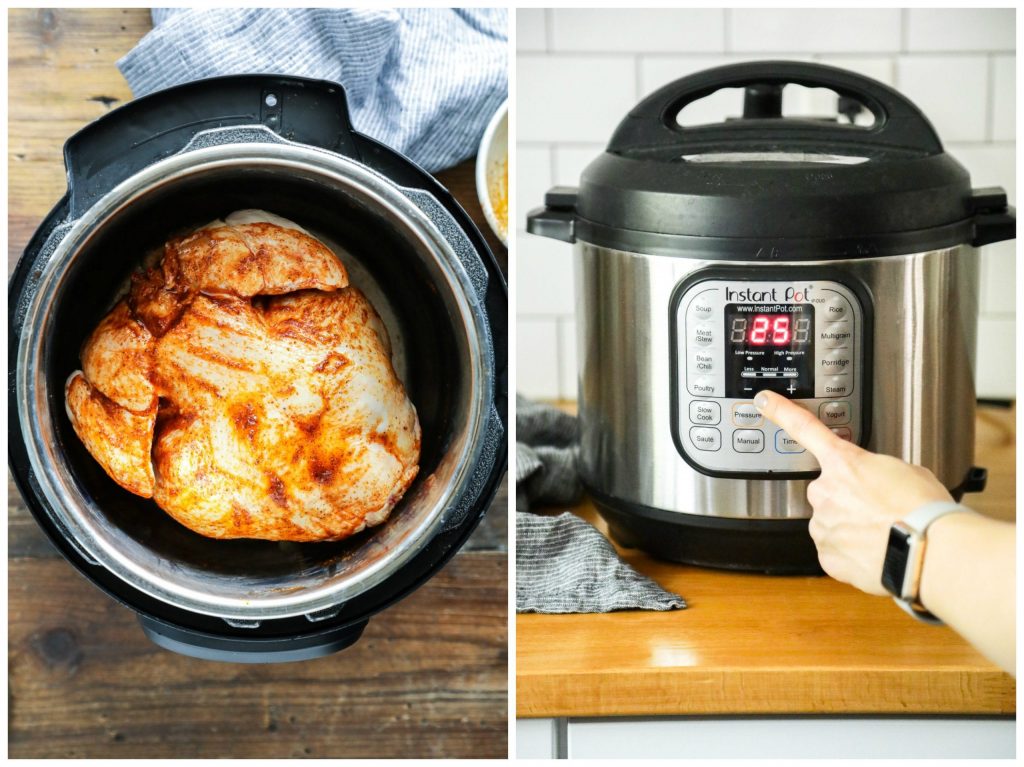 Today's recipe/tutorial, which was perfected by Helen, uses the saute and pressure functions of the Instant Pot to perfectly cook a whole chicken in under an hour. I asked Helen to develop this recipe, which is now a staple recipe in my kitchen, because I regularly cook a whole chicken and shred the meat to use throughout the week in sandwiches, salads, quesadillas, soup, and enchiladas. I know many of you do the same thing. The Instant Pot offers a very quick and easy way to do exactly that.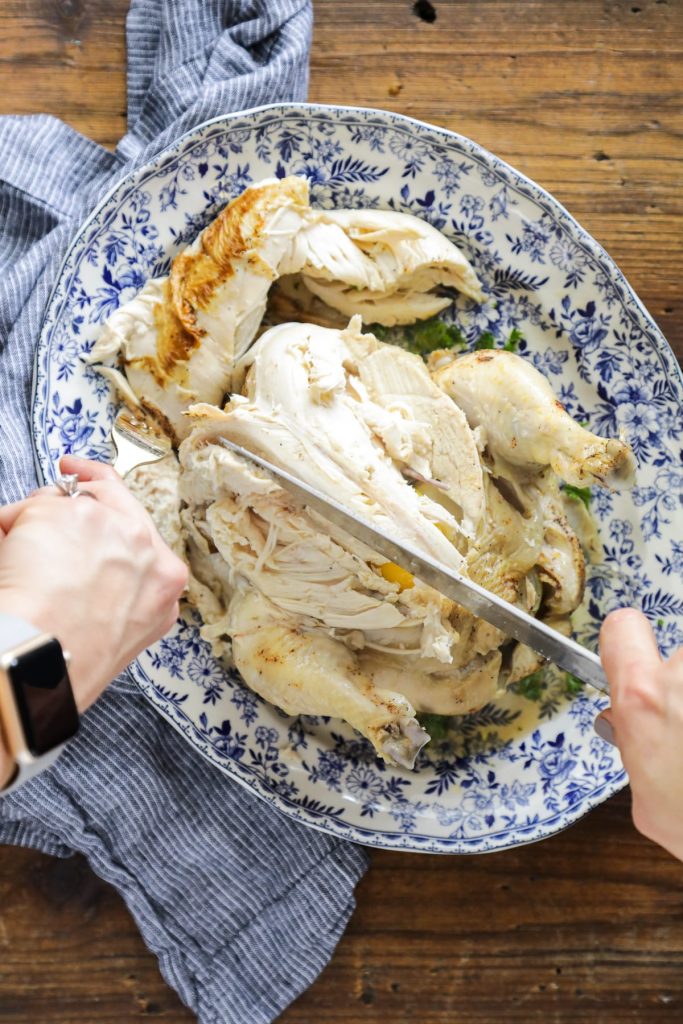 Now, I absolutely love slowing down and cooking slow meals in the kitchen. I truly believe that's something we need to get back to as a culture–even if it's just once a week. You know, the act of using a stove to make a roasted chicken, a pot of soup, or some crusty bread. But, I also have two kids and work full-time on the blog and freelance recipe/photography projects. There are days–many days–when I just need to get dinner on the table quickly, with as little effort and mess as possible. That, my friend, is when the Instant Pot shines. Being able to cook a whole chicken in under an hour, with only one pot, is a huge blessing for this mom.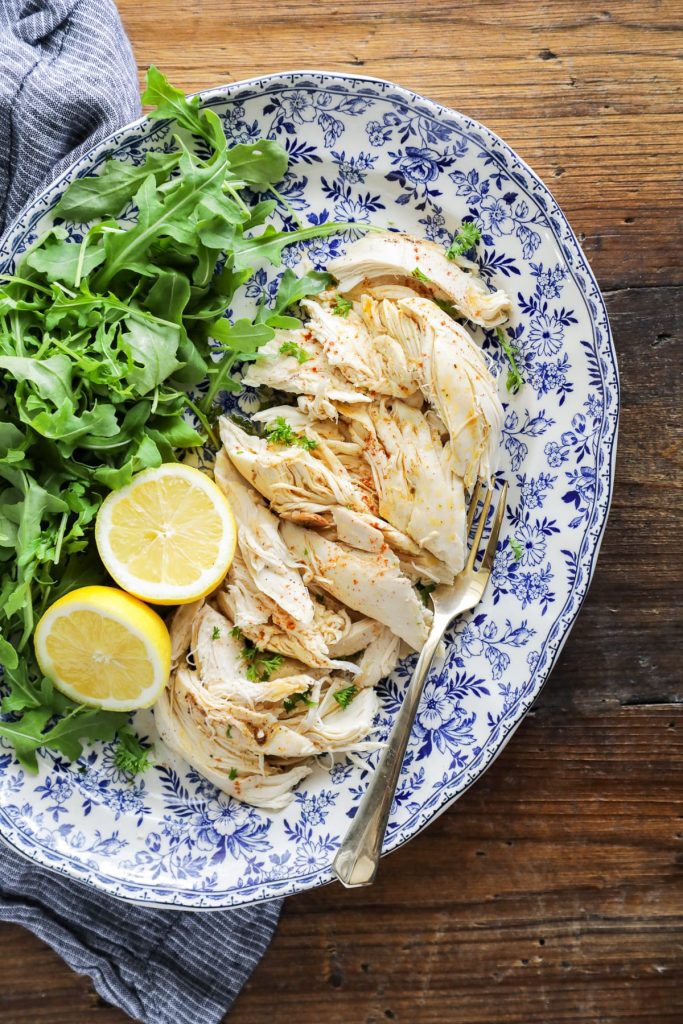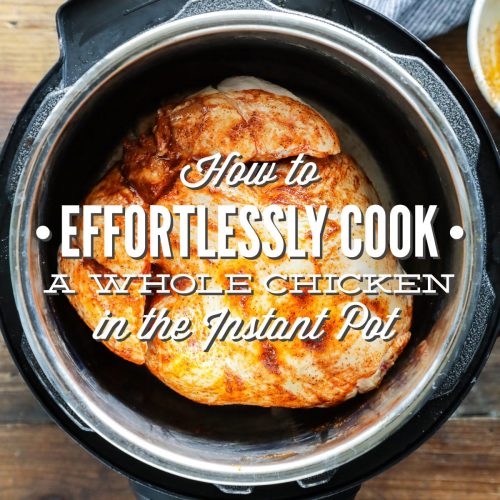 Instant Pot Whole Chicken
How to effortlessly cook a whole chicken in the Instant Pot. This method results in flavorful, fall-of-the-bone chicken in under an hour.
Ingredients
Cavity of the Chicken:
1/2

lemon

1/2

medium

yellow onion

3

garlic cloves

peeled

2

sprigs

fresh thyme
Spice Blend:*
1 1/2

tsp

salt

1

tsp

paprika

see substitution ideas under "Recipe Notes"

1/2

tsp

black pepper

1/2

tsp

garlic powder

2

TB

avocado oil

or olive oil
Instructions
Remove the giblets and neck if they are included (save to make broth). Remove any twine or plastic that may be holding together the legs, etc.

Add ½ of a lemon, ½ of an onion (cut in half to fit, if needed), 3 garlic cloves, and fresh thyme, to the cavity of the chicken.

In a small bowl, mix together the oil and spices/seasonings.

Rub the oil and spice mixture over the breast of chicken, under the skin. Also rub the spice and oil blend on the outside of the skin.

Carefully add the chicken to the hot Instant Pot, breast side down. Carefully rub the remaining seasoning on the back side of the chicken.

Brown the chicken for 2-3 minutes on the breast side. Using a set of tongs or two wooden utensils, carefully flip the chicken. Let the chicken brown for 3 more minutes.

Press Cancel on the Instant Pot to turn off the saute mode. Add 1 cup of broth (or water) around the chicken.

Close and lock the lid in place, then turn on Manual/High Pressure for 25-30 minutes (30 minutes if the bird is large and on the 4lb side). As a general rule, you need to cook the chicken 6 minutes per pound. The valve on top should be set to Sealed.

Let the pressure release naturally. This is important to avoid DRY chicken. Once the pressure has released you'll be able to open the lid–the lid won't open when there's pressure still in the pot. 

Carefully remove the chicken from the Instant Pot. The chicken may fall apart. Once the chicken is cool enough to handle (a few minutes), shred or cut the chicken.

If you used broth and want to make a jus…
While the chicken rests, turn the pot back on to Saute, normal and add a pat of butter to make pan sauce. Saute to desired thickness as au jus (a thin gravy). Serve the jus/gravy over the chicken, if serving as a meal.
Nutrition
Calories:
1728
kcal
Carbohydrates:
17
g
Protein:
124
g
Fat:
127
g
Saturated Fat:
31
g
Cholesterol:
489
mg
Sodium:
5975
mg
Potassium:
1665
mg
Fiber:
3
g
Sugar:
4
g
Vitamin A:
2140
IU
Vitamin C:
65.6
mg
Calcium:
129
mg
Iron:
7.5
mg