I was just about to write the words, "This is one of my favorite meals."
But then, I realized that I say the words "this is one of favorite meals" in a lot of the recipe posts here on Live Simply. Almost every single one…maybe.
I'm pretty sure I uttered those words, or at least thought about them, when I told you about crock-pot chicken noodle soup, or the crock-pot black bean soup, and again when we chatted and drooled over One-Pot Chicken, Rice and Vegetables. Yes, I have a lot of favorites, because they are all sooooo good, and my family actually eats them and smiles the entire time…huge mommy/wife points there.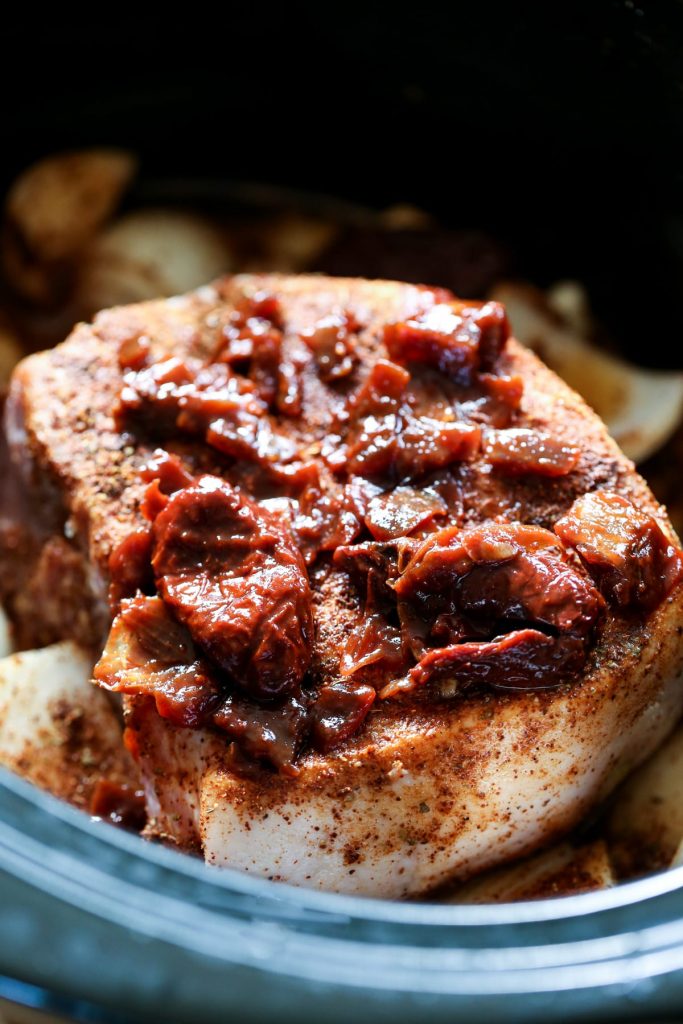 The more I thought about the number of times I've spoken the word "favorite" in conjunction with a recipe, the more I realized my favorite recipes all have three common qualities:
#1 Easy: I'm a huge fan of easy. Now please don't confuse the word easy with the word lazy. There's definitely a bad easy, but that's not what I'm going for here. When it comes to easy recipes, think about the word simple. Simple synonyms, in my cooking vocabulary, include: crock-pot, one-pot, only a few dishes, less than an hour total in the kitchen, make-ahead, freezer-friendly.
#2 Packed with Flavor: When it comes to processed food, most of the time a dish that's easy isn't going to be flavorful. Real food is just the opposite! In fact, often times the simplest meals, made with fresh ingredients, are the most flavorful. Take Easy 10-Minute Sautéed Spinach as a prime example. And don't forget about 4-Ingredient Perfectly Roasted Potatoes. When it comes to real food, easy meals are the spice of the dinner table.
#3 Family-Friendly: There are a lot of meal ideas in the world of Pinterest. A lot! Have you browsed Pinterest lately? It's like visiting an all-you-can-eat buffet, but the trick is you actually have to make the food…boo! Someone needs to invent a Pinterest where you can click on a photo, place an order, and minutes later the food is delivered. But then again, that concept may not work since most of the food on Pinterest is made with processed ingredients. Two- Ingredient Chocolate Cake? Please… more like fifty ingredients once you read the cake mix box.
Anyway, back on the subject…
While there are a lot of recipes on the internet, a large number of them just aren't meals I would make for my family. Granted, I love looking at the pretty photos and reading about exotic ingredients, but when it comes to everyday sit down meals, I need family-friendly recipes that are easy to prepare, pack a ton of natural flavor, and nourish our bodies.
Those are my qualifications when it comes to a favorite meal in the Marr household: easy, packed with flavor, and family-friendly. I'm sure each season of life (right now I'm the season of elementary school commutes, little hands and lots of dirt, home remodeling–I'm excited to share the dinning room progress soon, and balancing life as a stay-at-home/work-at-home mom) will bring new qualifications. Isn't that the beauty of a well-lived life?
Today's recipe is truly one of my favorite meals, because it meets all three qualifications. Let's take a look…
#1 Easy: Easy Crock-Pot Pulled Pork Burrito Bowls are as the name in the title implies, easy! How easy you ask? The heart of our family's burrito bowl is the pulled pork, and thankfully, the pork only requires five minutes of hands-on time. The hard work is done in the crock-pot. That's how easy!
#2 Packed with Flavor: The flavorful pulled pork is the main star in these burrito bowls. Before cooking, a simple blend of spices are rubbed on the pork, along with garlic cloves, and finally chipotle peppers in adobo sauce and beer (or broth). The combination of these simple ingredients results in a spicy (not too hot–the kids eat the pork) and flavorful burrito bowl.  Of course, we don't stop there. Fresh toppings are then added to create the ultimate burrito bowl flavor experience. Who needs Chipotle?
#3 Family-Friendly: Burrito bowls are another meal I like to serve bar or buffet style. The whole family is encouraged to get involved in the process of preparing the "bar": Piper and Londyn chop lettuce with kid-friendly knives, Dustin helps shred cheese, and I pull the tender pork. Once the ingredients are prepped and served in bowls (a muffin tin is another fun way to serve the individual ingredients), everyone prepares their own bowl. It's fun to see what everyone comes up and how tastes change each month.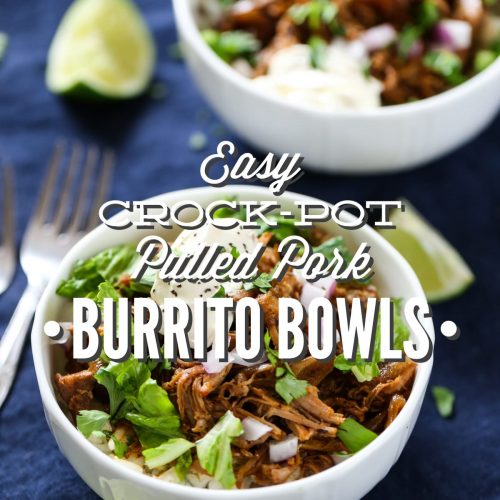 Easy Crock-Pot Pulled Pork Burrito Bowls
Easy Crock-Pot Pulled Pork Burrito Bowls are as the name in the title implies, easy!
Ingredients
Crock-Pot Pulled Pork:
4-5

lb

boneless pork butt

or shoulder--These are the same cut of meat but can go by two different names. You may also use a bone-in pork butt, if desired.

1

large

yellow onion

cut into wedges

4

garlic cloves

crushed and sliced

1

TB

chili powder

2

tsp

cumin

1

tsp

oregano

1

tsp

paprika

1

tsp

salt

If your chipotle peppers have salt listed as an ingredient decrease this amount to 1/2 tsp.

1/2

tsp

black pepper

1/2

cup

ale

or lager beer--Beef or chicken broth may be substituted--the alcohol in the beer cooks out resulting in a complex flavor without the alcohol content.

1

lime

juiced

1/4

cup

canned chipotle peppers in adobo sauce
Cilantro-Lime Rice:
4

cups

chicken broth

vegetable, or beef broth--Water may be substituted.

2

cups

jasmine rice

or basmati rice--Brown rice may be used but the cooking time will differ.

1

lime

juiced

1

TB

extra virgin olive oil

1

tsp

salt

1/4

cup

chopped fresh cilantro
Toppings:
hass avocados

chopped tomatoes/salsa, sour cream, chopped red/yellow/green onion, shredded lettuce or spinach, shredded cabbage, black or pinto beans, shredded cheese, lime wedges, etc.
Instructions
In a small bowl, combine the spices: chili powder, cumin, oregano, paprika, salt, and pepper. Rub the meat on all sides with the spice rub.

In the base of a crock-pot, place the onion wedges and garlic. Place the rubbed pork over the top of the onions and garlic, followed by the beer, lime juice, and then the chipotle peppers. Cook the pork on high for 6 hours.

After six hours, the meat should easily pull apart when shredded with a fork. Using two forks, shred the meat. Serve the pulled pork over rice (recipe below). Top with your choice of toppings. Retain some of the juice from the crock-pot if you plan to store the meat in the fridge or freezer.

For the rice: In a large pot, bring the broth, rice, lime juice, salt, and olive oil to a boil. Cover the pot with a lid, and then reduce to a simmer. Simmer the rice for 20 minutes, until the rice has absorbed the liquid. Remove the rice from the heat and stir in the chopped cilantro. Serve under the pulled pork.
Nutrition
Calories:
1036
kcal
Carbohydrates:
86
g
Protein:
94
g
Fat:
31
g
Saturated Fat:
9
g
Cholesterol:
272
mg
Sodium:
2503
mg
Potassium:
2020
mg
Fiber:
4
g
Sugar:
2
g
Vitamin A:
1100
IU
Vitamin C:
31
mg
Calcium:
149
mg
Iron:
8.4
mg
Prep Ahead Tip: Rub the spices on the pork, cut the onions, chop the garlic, and open the can of chipotle peppers. Toss everything in a bag (except the beer) and freeze for later use, or keep in the refrigerator for 2-3 days. The night before, if the pork is frozen, defrost the bag in the fridge. The rice can also be prepped in advance–frozen and defrosted, or stored in the fridge for 5-7 days.
More Real Food You May Like: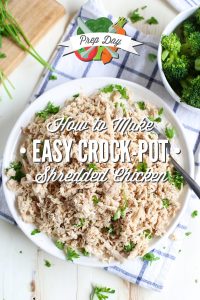 How to Make Easy Crock-Pot Shredded Chicken