Get ready for muffins!
This week we're going to make two einkorn muffin recipes: banana-maple muffins and pumpkin spice muffins.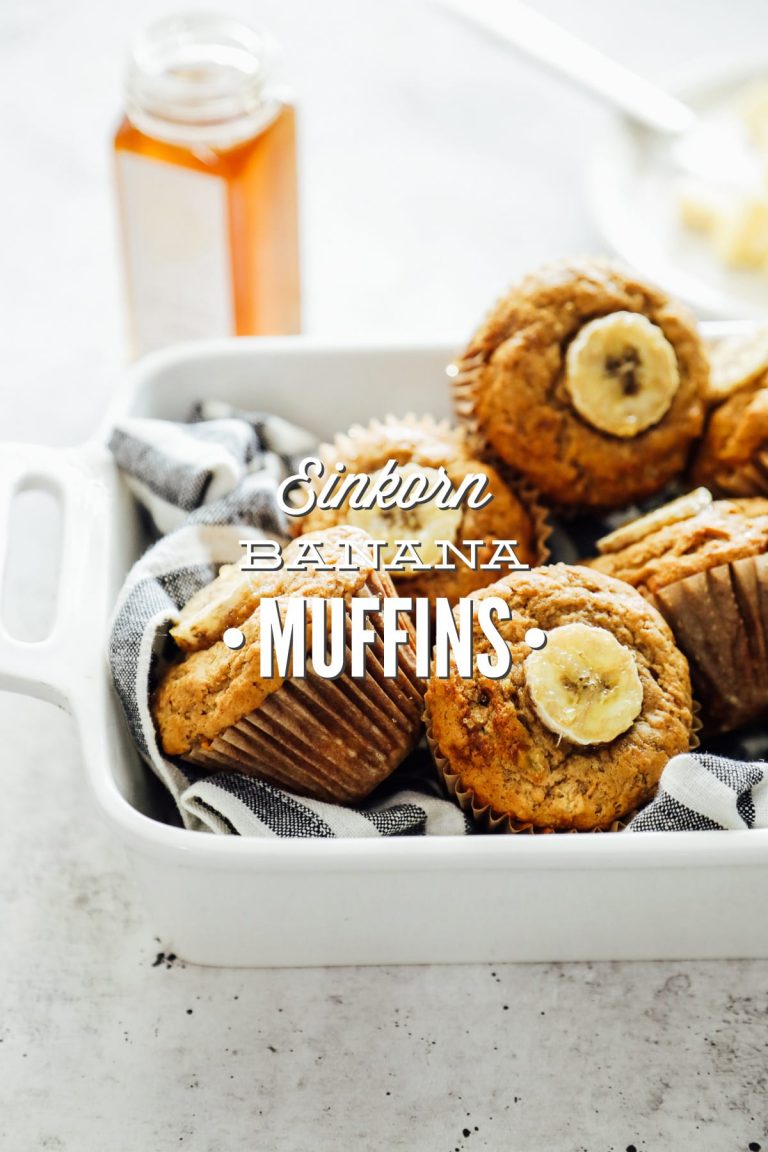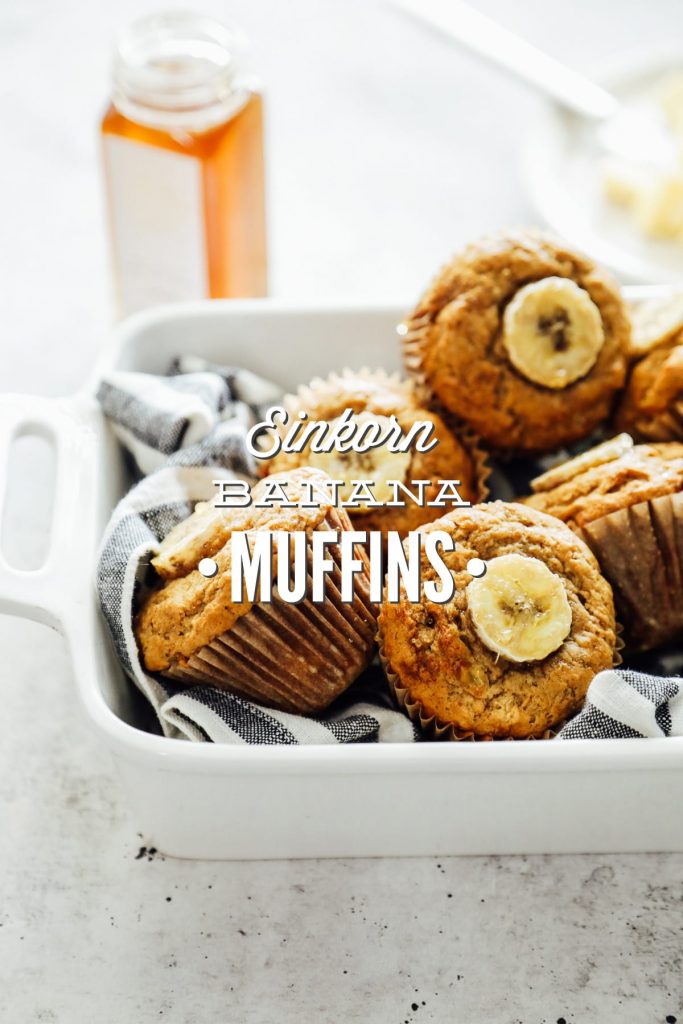 A couple of months ago, I shared a master muffin recipe. Many of you have commented on that recipe and expressed your love for the easy-to-customize muffins. While that recipe has many possibilities as far as fillings and flavors, the actual base recipe doesn't mention anything about variations like banana or pumpkin.
I've been experimenting with these variations, and this week I'm going to share both recipes. In the future, I think it would be fun to test out other variations, too, like chocolate-zucchini muffins.
You'll notice that both today's banana muffins and the pumpkin spice muffins (shared later this week) start with very similar dry ingredients. The tweaks to these recipes are mainly found with the liquid ingredients. See, a base/master recipe can be incredibly helpful in mastering cooking. Once you have a good base for something like muffins, salad dressing, or pesto, you can experiment and tweak based on the seasons or what you have on hand.
Why share yet another muffin recipe? Aren't there a ton of muffin recipes already on the blog?
Maybe you don't ask these questions, but I certainly do. Maybe it's because I'm constantly thinking about the recipes shared here on Live Simply.
So, here's the why behind sharing more muffin recipes: muffins are the ultimate prep food. A whole chicken and hard-boiled eggs are next in line.What makes muffins the ultimate prep food?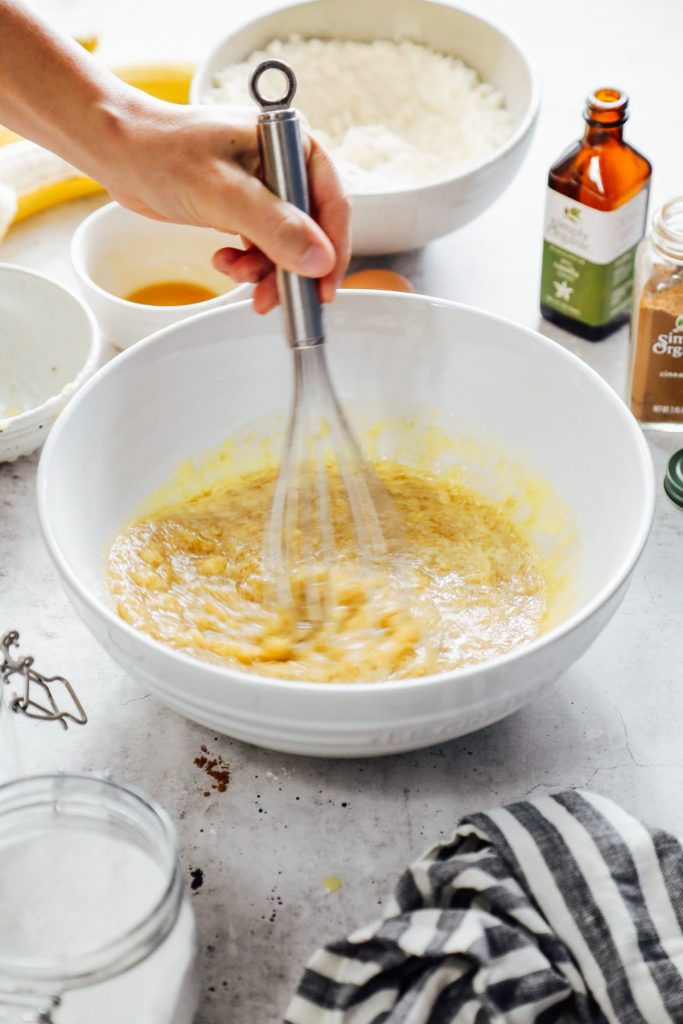 They're easy to make. About 15-20 minutes is all you'll need to prep muffins.
They keep in the fridge for about a week.
They don't require any special reheating. I keep muffins in the fridge and take out as many as needed when I wake up in the morning. By breakfast time, the muffins are usually around room temperature. Muffins may be reheated in a microwave, too.
They will feed a family for multiple days, especially if paired with eggs, yogurt and fruit, or smoothies. <–This keeps the muffins from getting boring morning after morning.
It's easy to cook once, eat twice with muffins. Make a double batch so you can save some in the freezer for another week (or even later that week). For most flour-based recipes, I don't recommend doubling recipes in the same bowl since the results aren't always favorable. Use two bowls, and whisk together each batch in their own separate bowl. Sure, this means cleaning up an extra bowl, but think about the time savings in the future.
Muffins aren't just for breakfast. They also make a great lunchbox addition and snack.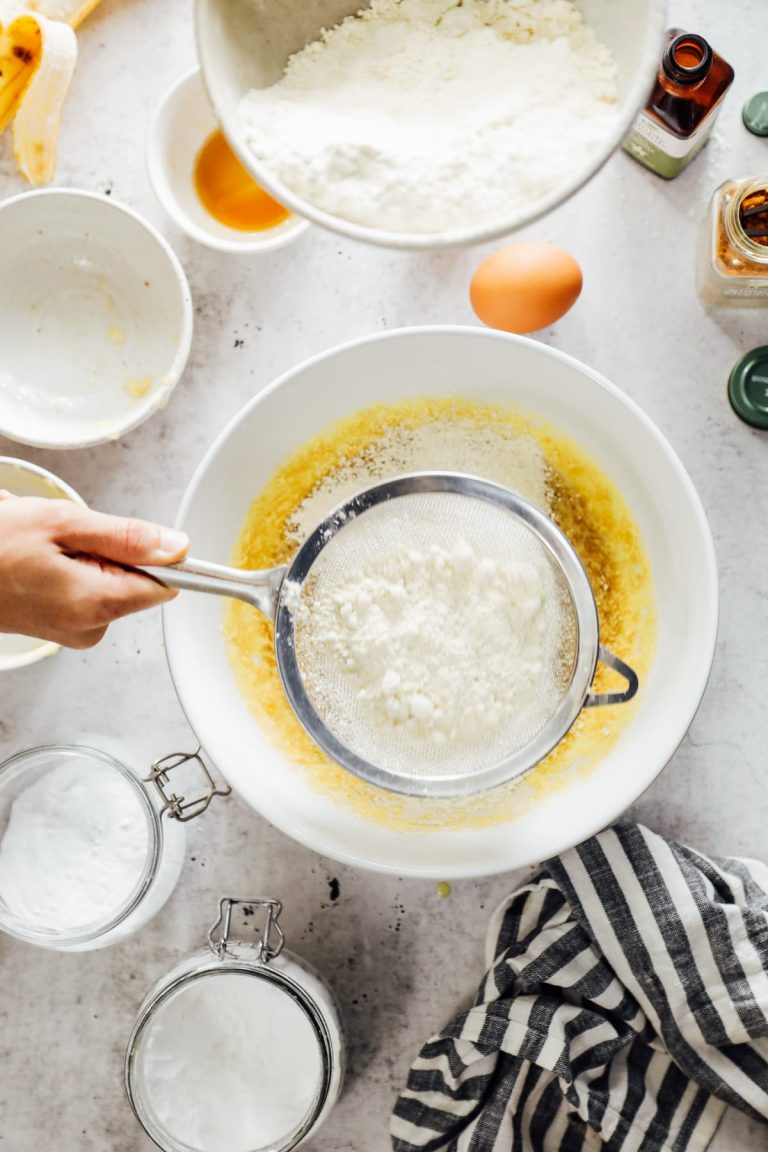 Why make muffins with einkorn flour?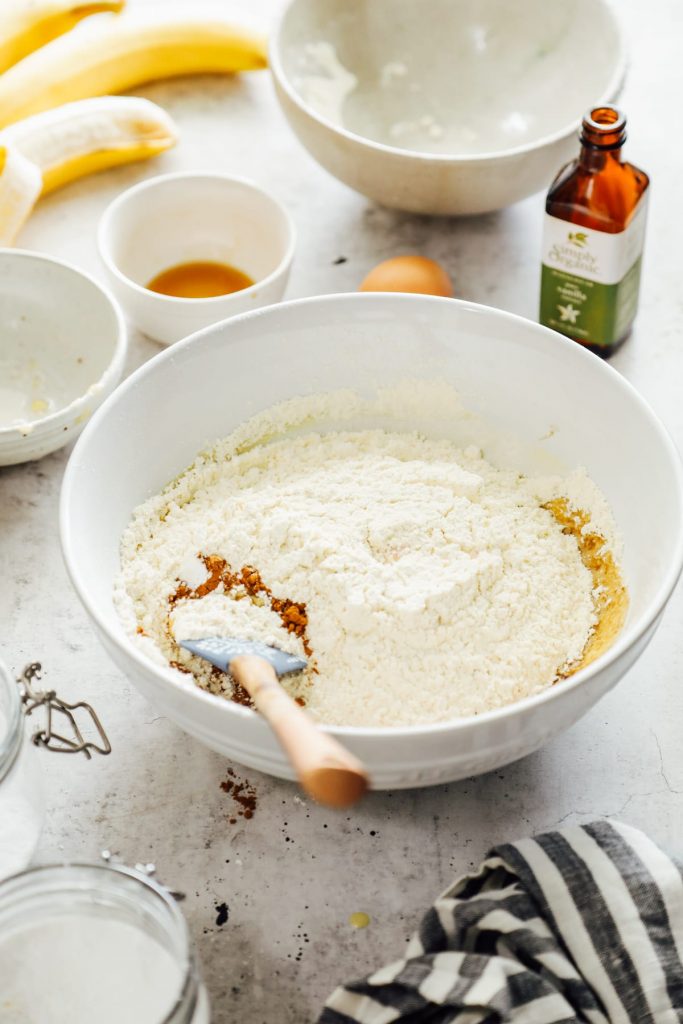 This is a question I like to address every time an einkorn recipe is shared, because einkorn is not a common ingredient in today's world. I hope to change that in your kitchen, by sharing more einkorn recipes. For me, einkorn has been a game-changer in the way I bake and also my ability to consume gluten-based baked goods. (Sourdough and ancient grains, one being a method and the other an ingredient, are easier to digest and a great option for people who may feel sensitive to gluten–not for someone with celiac disease.) In a day when gluten is feared, I think it's important to reconsider the use of ancient grains and also ancient methods, like souring and sprouting.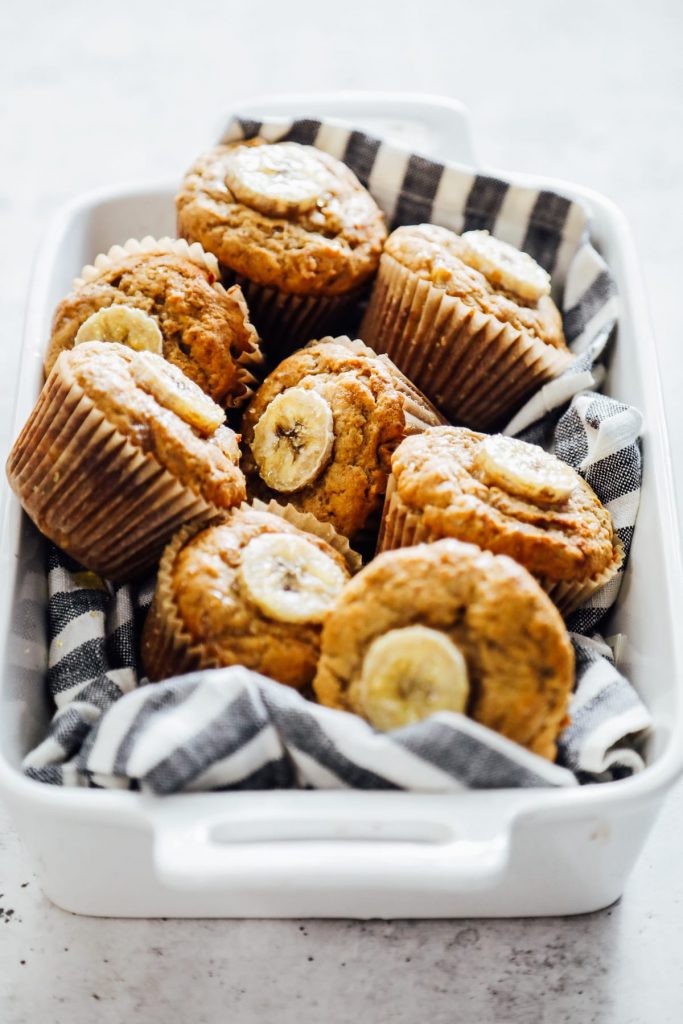 Einkorn is known as the oldest variety of wheat making it an "ancient" grain. The ancient grain is believed to have originated in the Tigris-Euphrates region and is possibly the main grain referenced in the earliest accounts of the Bible. Einkorn is said to be the wheat men were eating in the earliest days before modern day wheat varieties. While modern wheat has undergone hybridization, einkorn still holds true to its original properties. Einkorn is slowly gaining popularity, but it's still grown in only a few regions in Europe. This means many people, including myself just a few years ago, don't know about this wonderful grain.
Einkorn is my favorite flour to work with when making traditional, flour-based baked goods. The sweet, ancient grain has a lighter texture and taste than modern day wheat, and contains a more favorable gluten ratio.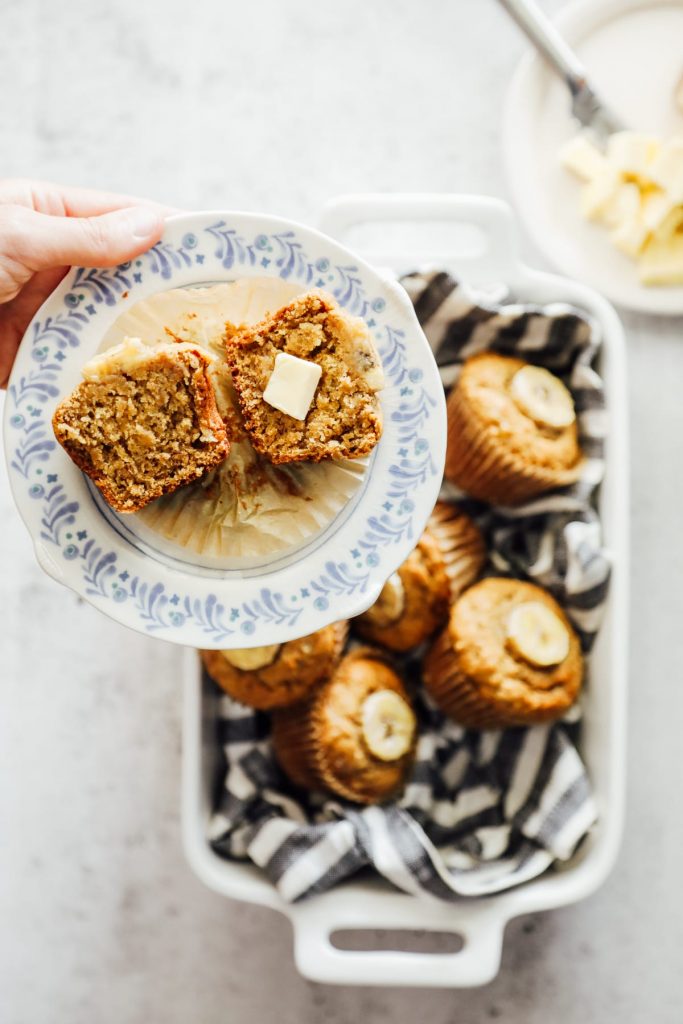 I hope you'll give these banana muffins a try. I think you'll love the naturally-sweet flavor (thanks to the banana and maple syrup combo) and light texture (thanks to the einkorn flour).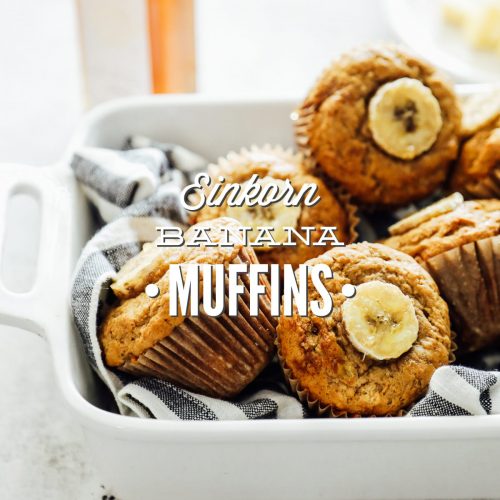 Einkorn Banana Muffins
Banana muffins made with einkorn flour and a natural sweetener, maple syrup.
Instructions
Preheat the oven to 350F. Grease or line a muffin pan.


In a large bowl, whisk the wet ingredients together: melted butter, maple syrup, mashed bananas, eggs, cinnamon, nutmeg, and vanilla extract.

Add the sifted einkorn flour, baking powder, baking soda, and salt. Stir to combine. Don't over-mix the batter. Just stir until the ingredients are combined.

Scoop the batter into the muffin pan (it will be thick). I use an ice cream scooper.

Bake the muffins for 18-22 minutes, until firm on top. Allow the muffins to cool for a few minutes before enjoying.

For storage, I keep the muffins in an air-tight container in the fridge for up to a week. They also freeze well.
Notes
*I haven't tried making these with whole wheat einkorn flour. I'm sure you can. I recommend reducing the flour by 1/4 cup if using whole wheat flour. 
Nutrition
Calories:
197
kcal
Carbohydrates:
27
g
Protein:
3
g
Fat:
8
g
Saturated Fat:
5
g
Cholesterol:
47
mg
Sodium:
88
mg
Potassium:
197
mg
Fiber:
1
g
Sugar:
9
g
Vitamin A:
295
IU
Vitamin C:
2.6
mg
Calcium:
43
mg
Iron:
1.1
mg