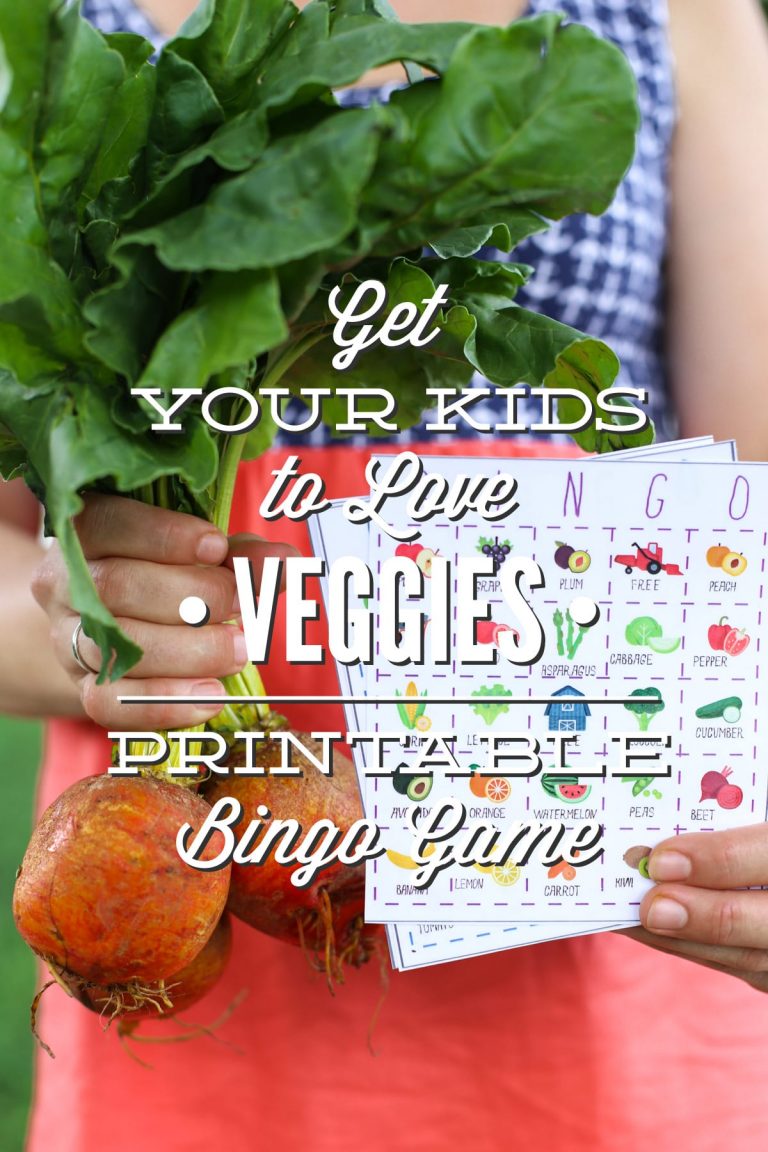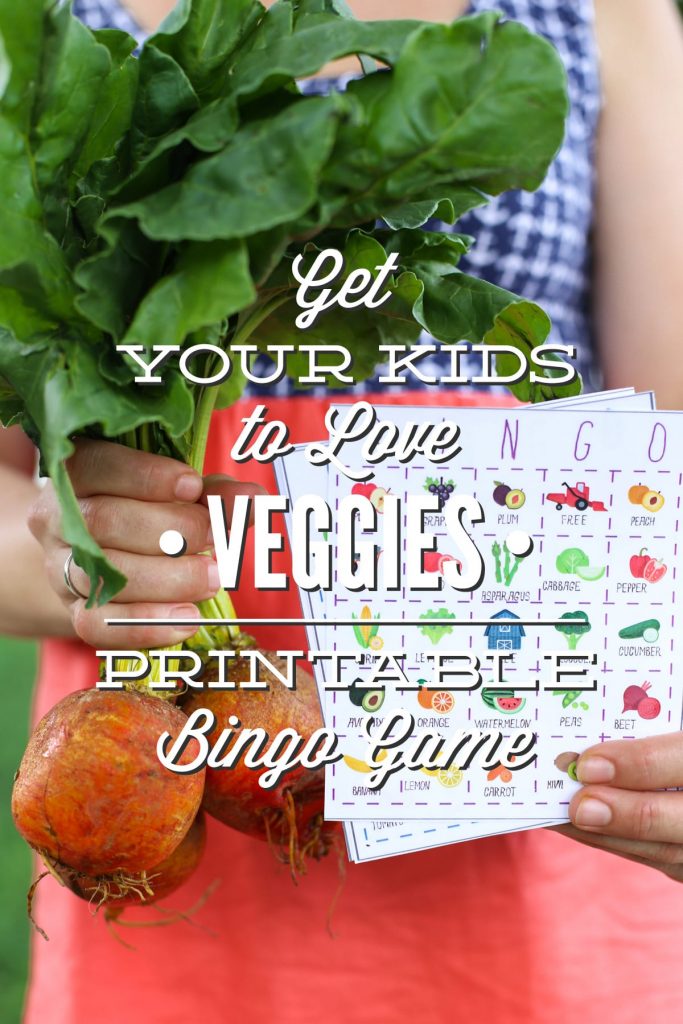 Five years ago I left my first grade classroom to raise our new baby. As the saying goes, "You can take the teacher out of the classroom, but you can't take the classroom out of the teacher."
Here I am, five years later, sitting at my computer in the midst of a complete kitchen remodel, chatting with you while my test granola bars crisp in the oven, sipping on a homemade chai. Crazy, right?! If you had told me five years ago that the future Kristin would drink kombucha, love cooking, and write a blog about natural living and real food, I would have politely suggested, "I think you're talking about the wrong person!"  If you'd like to catch up on the five year journey, read my family's story.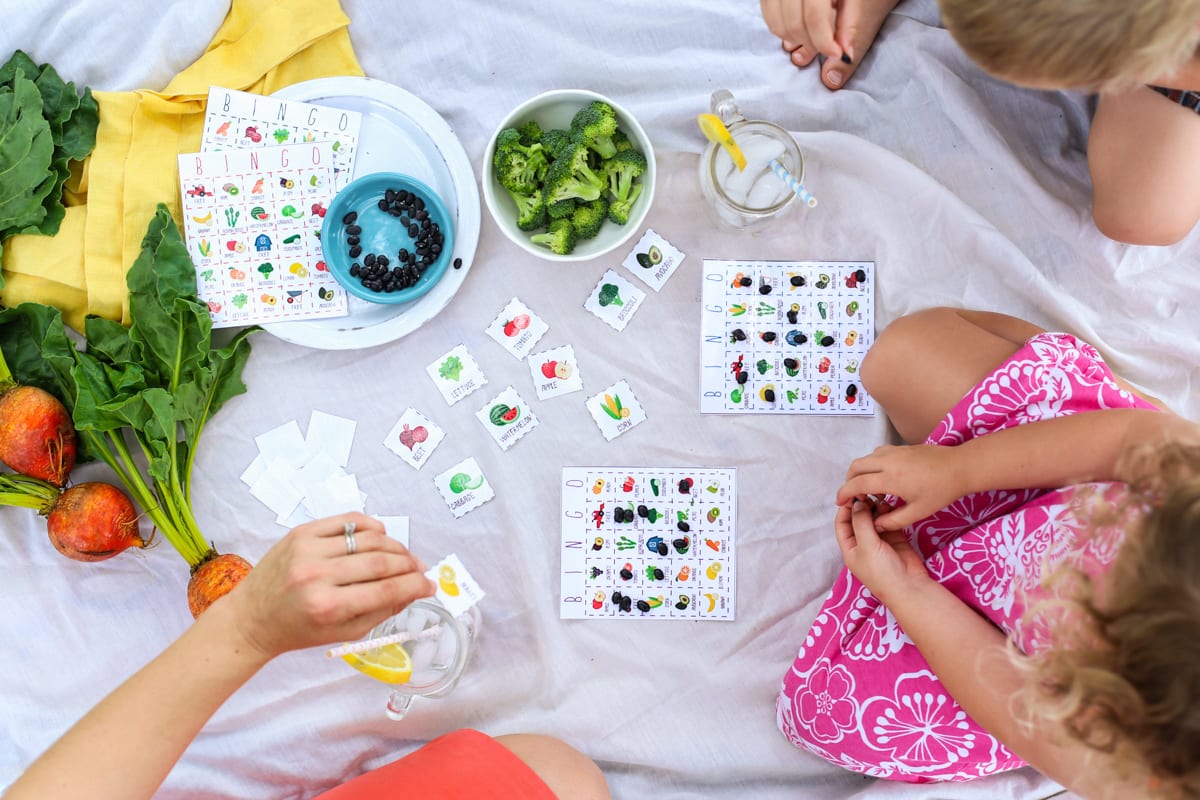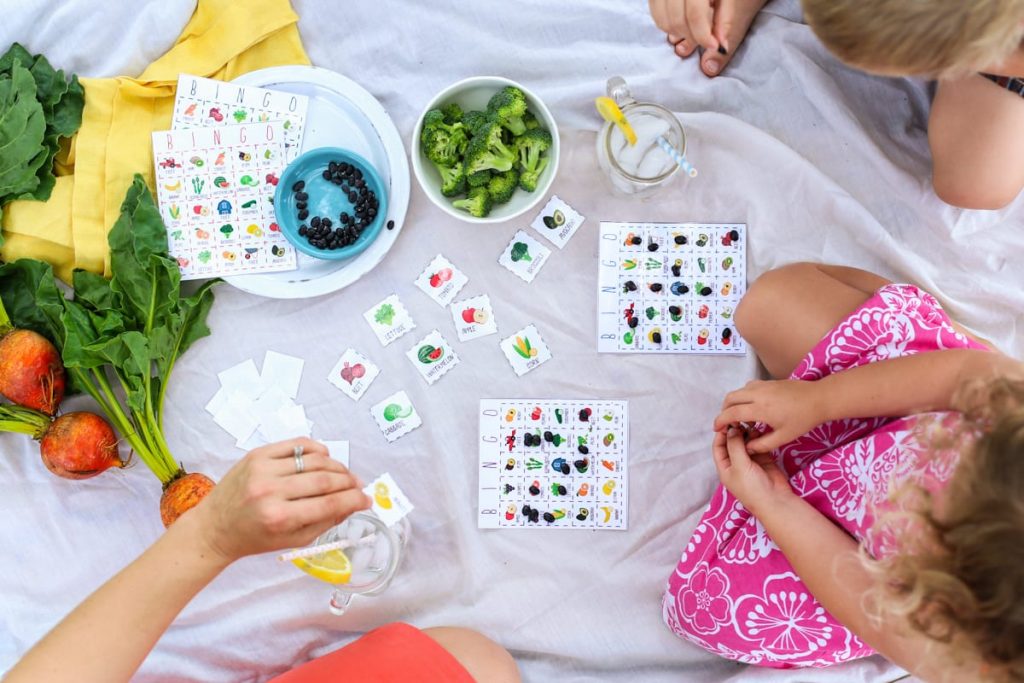 The teacher still lives inside me, and every so often my turmeric-stained fingers feel the urge to cut out construction paper, pick up a crayon, and call out vocabulary words. The urge simply can't be ignored, so the wheels (we all have wheels in our brain, right?! I was a first grade teacher–imagination.) start turning.
The latest urge came last month after noticing an advertisement outside a local health food store: Veggie Bingo Night! Come join us! Over dinner I told Dustin about the advertisement and my creative teacher urge. You guys, that man gets me. Three hours later, Dustin walked into my office and turned his laptop screen toward my desk, "What do you think?"
All my creative urges were instantly satisfied. A real food style bingo game was born.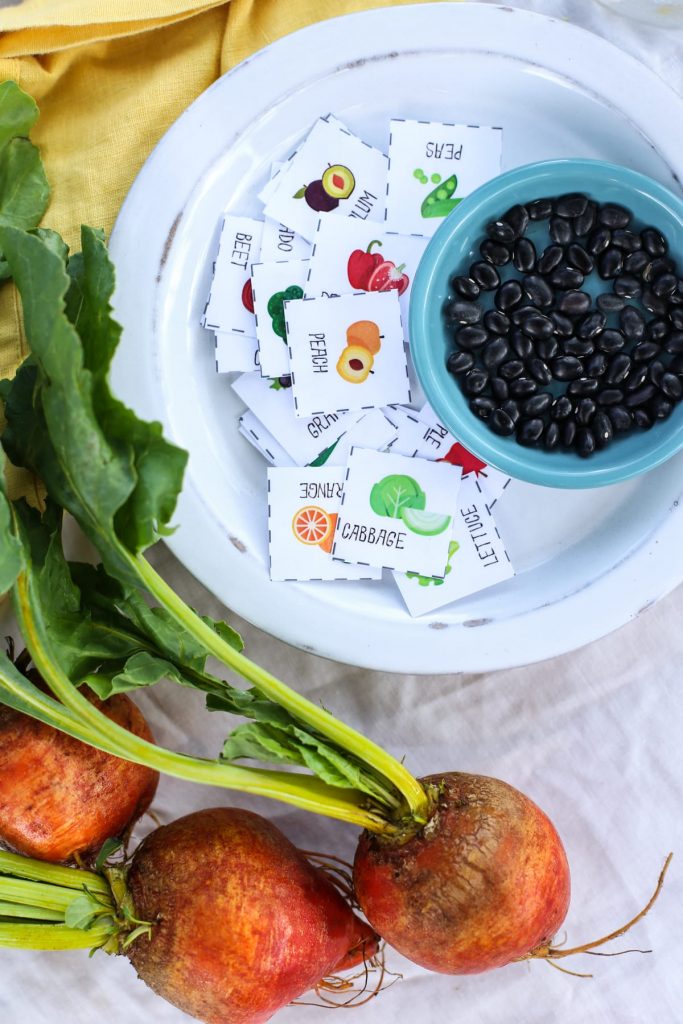 I'm so stinkin' excited to share our family's fruit and veggie bingo game. It's seriously the cutest little game you've ever seen. But cuteness isn't the only reason to play this homemade version of bingo. Fruit and veggie bingo encourages kids to develop a real food vocabulary and taste some of the produce they've been avoiding. Let's count the wins here…
1. Free and cute. Win!
2. Real food vocabulary. Win!
3. Kids eating fruits and veggies. Win!
4. Kids developing a love for fruit and veggies. Win!
5. Hours of family fun. Win!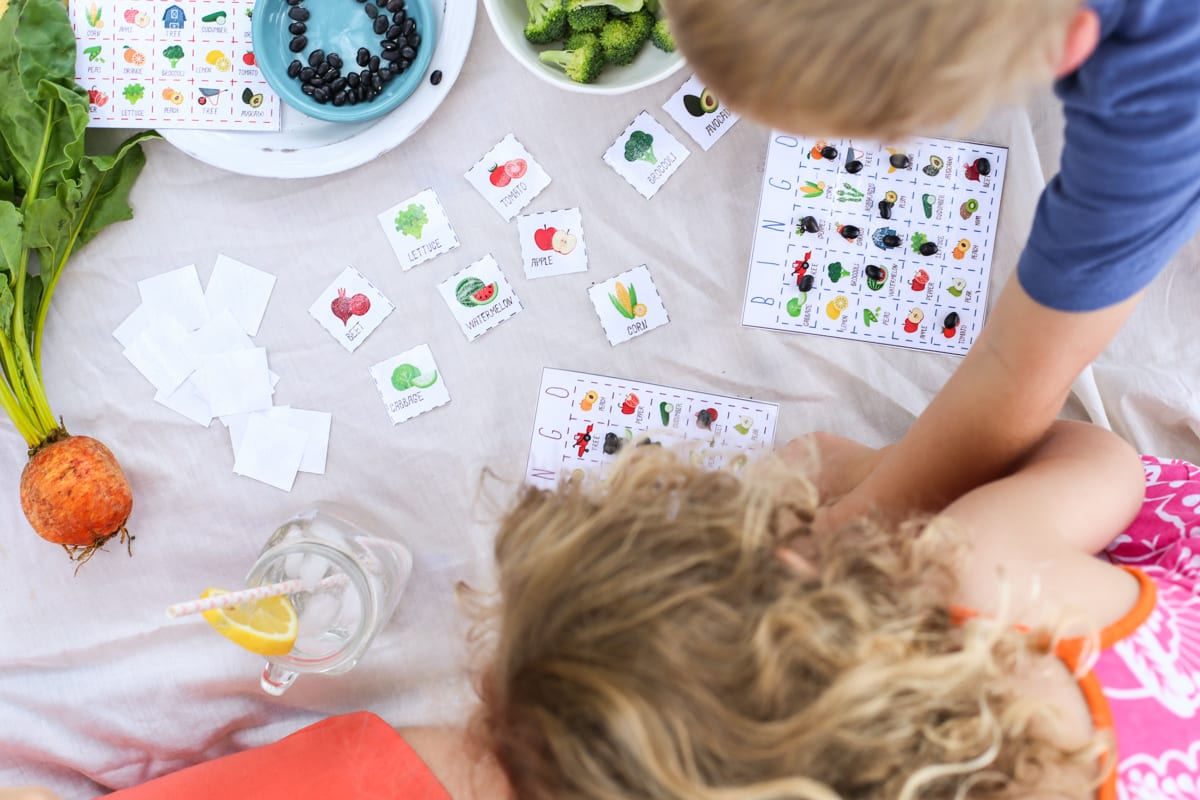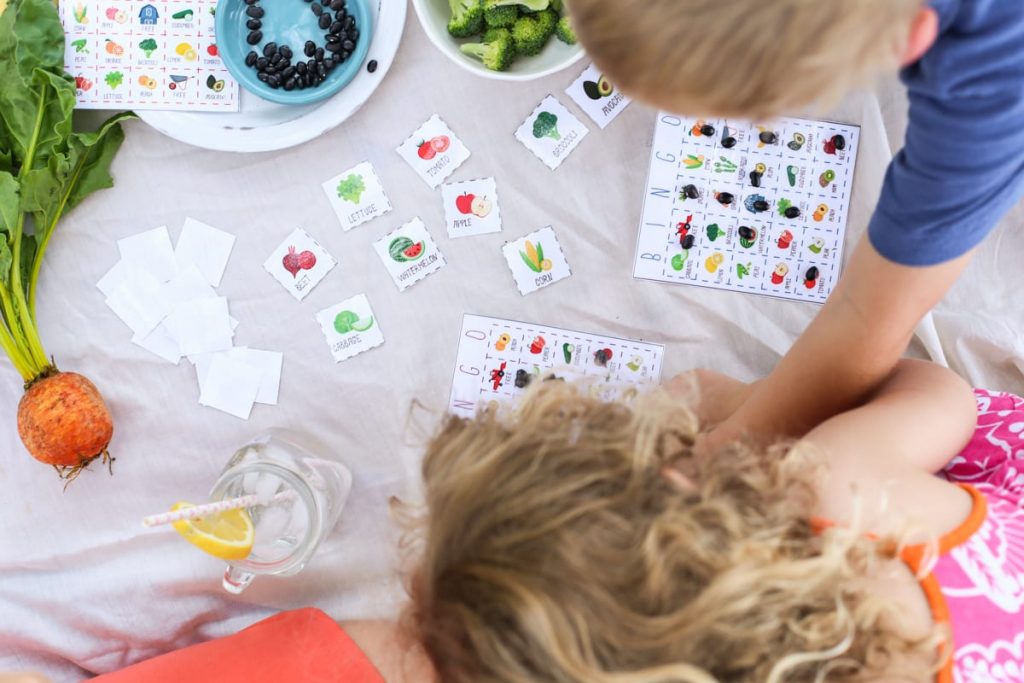 How to Play The Live Simply Fruit and Veggie Bingo Game
What You'll Need:
Let's Play:
1. Print The Live Simply Fruit and Veggie Bingo Game. (Optional) Take a bingo card to the market, produce stand or grocery store. Encourage your kids to choose three fruits or veggies (I require my kids to choose at least one veggie) to sample during the game. Before playing, prepare the selected produce: roast beets, dice cucumbers, slice watermelon, etc.
2. Cut out the fruit and veggie cards and put them face-down in a pile. Cut out the 4 BINGO boards on pages 2 and 3. Pass out a handful of buttons or beans to each player. Place one button or bean on each of the 3 FREE spaces.
3. One person will be the "Farmer." They will choose one card at a time and call out the veggie or fruit. Each player places a button or bean on that veggie or fruit. The farmer continues calling out cards until one player gets 5 in a row across, up, down or diagonally. The player must shout "BINGO" to win!
4. Add a delicious twist when playing: Offer samples of the fruits and veggies. When the item is called, the players sample the fruit or veggie. Or, take a card to the market or grocery store and a dry erase pen. Have your kiddo circle every fruit and veggie they find, and then ask them to choose a couple to bring home and sample.
Click on the image below to download your free printable game.