This post may contain affiliate links. Affiliate links come at no extra cost to you. These links allow me to share the products I authentically recommend (and use) and support Live Simply by receiving a small commission.
Once there was a girl.
A girl who thought chicken only came in the way of nice little packages without bones or skin.
Yes, that girl was me. The very thought of bones and skin frightened me. "You mean I have to touch the bones of an animal and cook them? NO WAY!"
It's amazing how a little knowledge can really change a person!
FREE Real Food Crash Course
I get it, switching from processed food to a real food lifestyle can feel overwhelming and confusing. Friend, it doesn't have to be this way.
Here's what to expect: 
printable charts (real food defined, a seasonal produce guide, 

meal planning)

how to get started with a real food lifestyle

how to create a meal plan and stay within a budget

7 real food recipes

emails from me to help you enjoy real food
Bonus: Step-By-Step Guide to Real Food
Once I started to include nourishing grass fed meats in our diet, I found it was cheaper (and sometimes the only thing available from local farms) — the whole chicken. Bones and skin, oh my! At $4.25/lb on average for a 4-5lb whole chicken, I felt I really needed to use every ounce of chicken I bought, out of respect for the animal and my budget.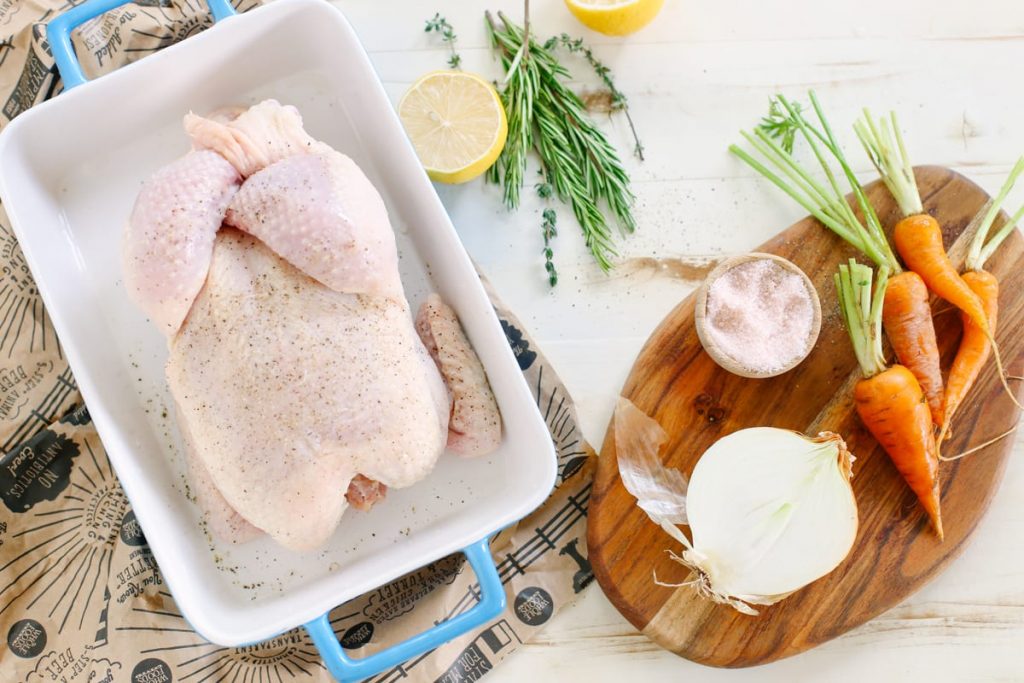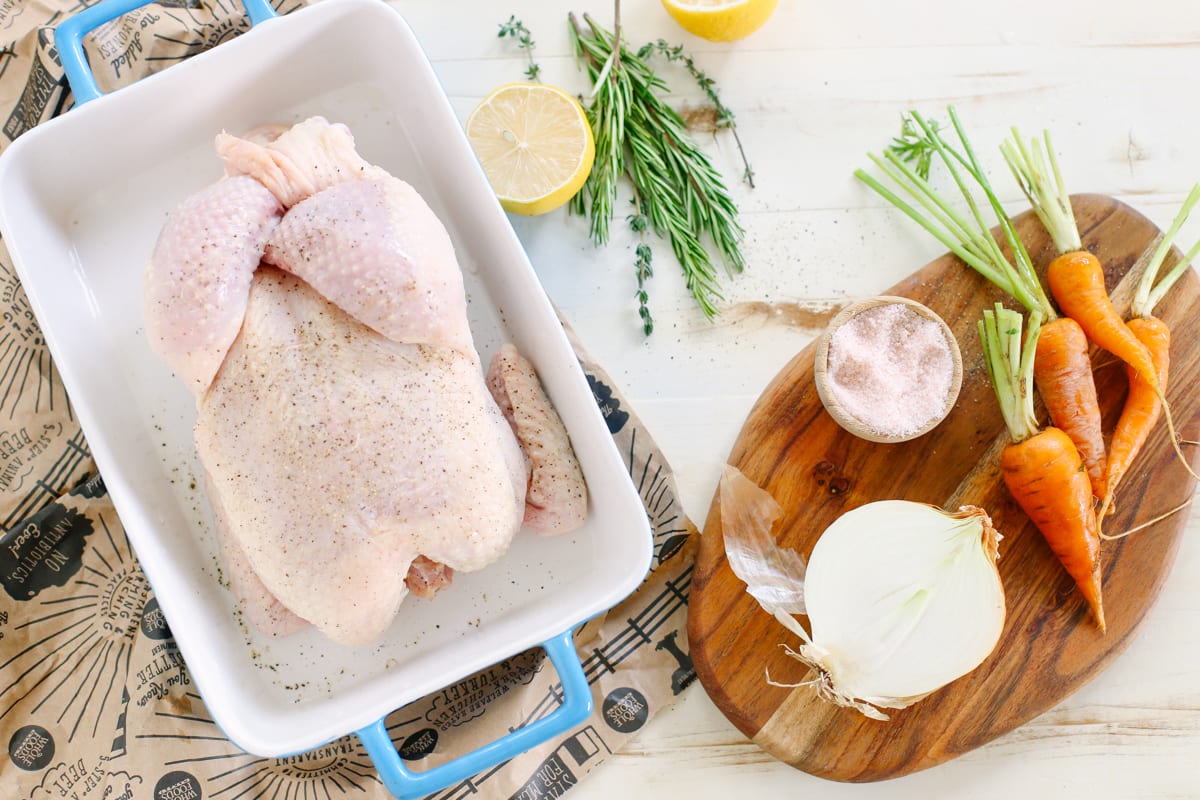 I quickly discovered the joys of making my own golden homemade chicken broth packed full of vital nutrients.
Now, it's easy to pick up a carton of  broth at the store, however, there is a huge difference between that box of Swanson Broth and fresh homemade broth made from pastured chicken bones and veggies. If you look at a box of chicken broth from the store you are going to find a lot of ingredients that are plain ol' FAKE. Additives that extend the life and flavor of broth, stripped of all nutrients.
Homemade chicken broth is traditional, having been been prepared for generations!
Homemade broth is somewhat of a magical food and has many health benefits:
Promotes digestion and protects your digestive tract
Boosts your immune system. Ever wonder why chicken noodle soup is recommended when you are sick?
Rich in glycine, an essential amino acid for our bodies. The Paleo Mom has an awesome post about the great benefits of glycine and proline, two very important amino acids found in homemade broth.
Provides our body with essential minerals, including magnesium (a mineral many of us are greatly deficient), calcium, phosphorous, and other trace minerals
Rich in collagen. Looking for healthy hair, skin, and nails? Skip the Botox and drink the broth.
Homemade broth is such a rich source of nutrients and super inexpensive to make. It's perfect for stocking your freezer with and including in your family's meals.
I use our homemade broth in soups, cooking rice, steaming and roasting veggies, mashed potatoes, and any kind of gravy.
Because I am a busy mom, I need to be able to make broth without spending a lot of time in the kitchen, so I choose to make mine in the crock-pot. This works well for me since I can just transfer the leftover chicken bones from our dinner to my crock pot and leave it on all night, waking up to the wonderful smell of  homemade chicken broth!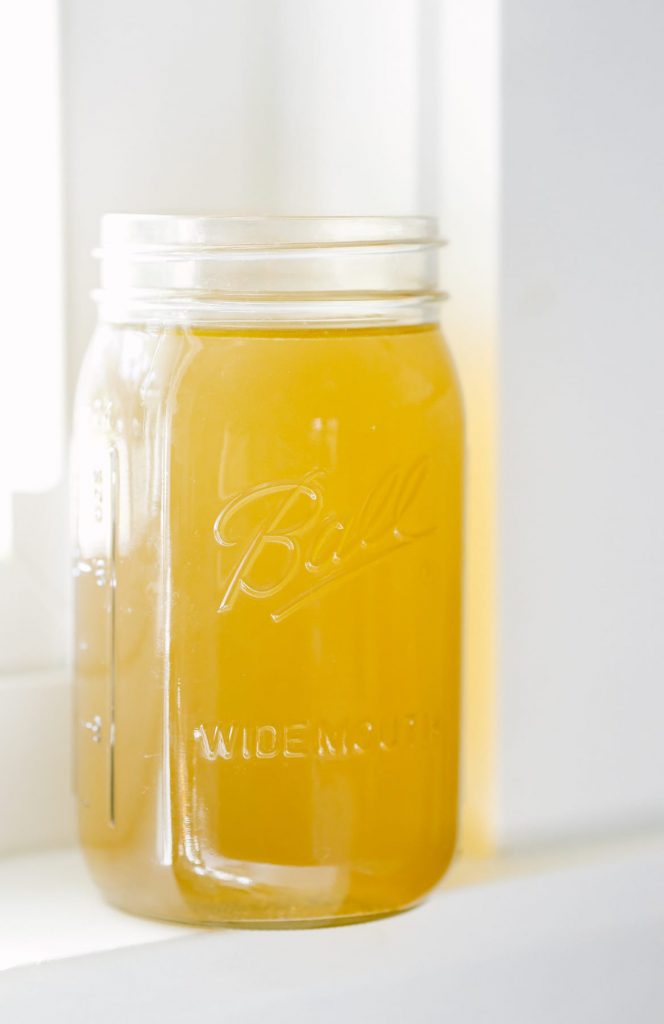 Homemade Crock-Pot Chicken Broth
Homemade broth is such a rich source of nutrients and super inexpensive to make. It's perfect for stocking your freezer with and including in your family's meals.
Total Time
10
hours
5
minutes
Ingredients
1

leftover chicken bones from a whole chicken

and skin, preferably from a pastured chicken

veggies and herbs

1 onion, 2 large carrots, a few sprigs of parsley, 2 stalks of celery, No need to chop the veggies into small pieces. Just cut the veggies in half.

water

salt and peppercorns

to taste
Instructions
Place the chicken bones in the crock-pot

(I use this one)

. Top with veggies and herbs. Add salt and peppercorns, if using.

Fill the crock pot with water, leaving a little space at the top.

Cook for 10 hours on low heat.

Allow the broth to cool.

Place a large colander

(like this)

inside a large bowl.

Pour the broth into the colander, to separate the bones and veggies from the liquid. You will now have your bones and veggies in the colander, the bones may be used to make another batch of broth. The veggies need to be tossed.

Rich golden broth awaits in the bottom bowl.

Pour into containers of choice. I use mason jars

(like these)