I feel like I might have missed out on a very important part of being a child: eating corndogs.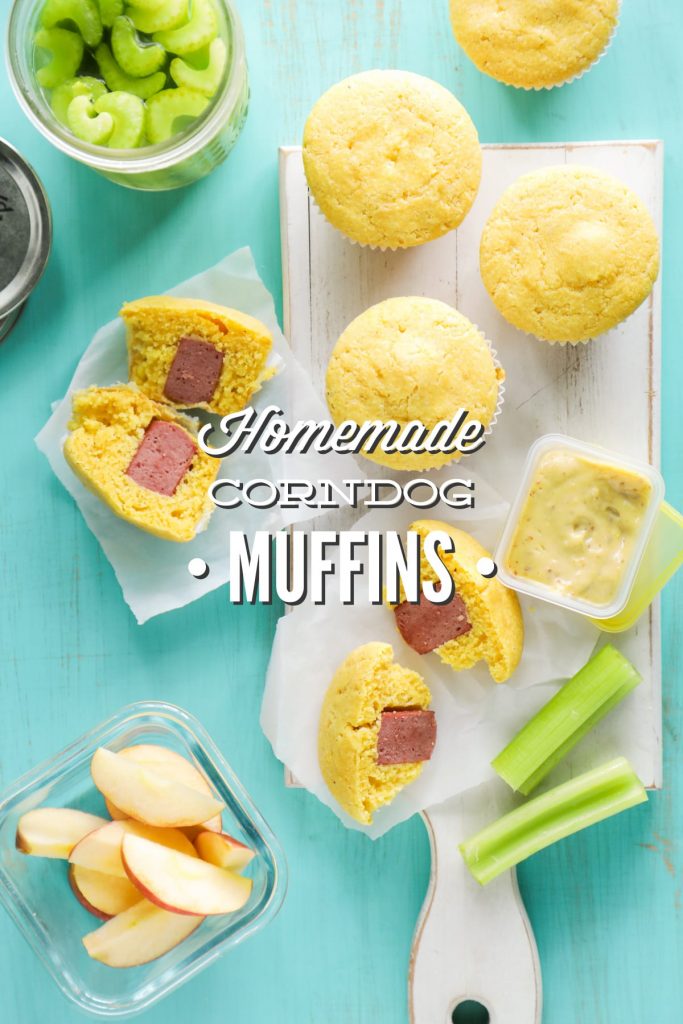 Okay, I guess one could argue that missing out was probably the very best thing that ever happened to me (just think about those ingredients). At the same time, I feel like corndogs are one of those foods you have to experience at least once as a child, even if it's just to realize how disgusting they are. <–I say that after trying one as an adult.
Today's recipe was inspired by the classic corndog, but these are way better. This version actually tastes good,  and I don't mind feeding them to my children. In fact, they've become a lunchbox favorite. These are the good guys of the corndog world.
The base of this recipe is basically my skillet cornbread recipe, which is poured into a muffin pan and then hot dogs are added to the center. The final result, after baking, is a corndog muffin that tastes like a real corndog should–delicious! Move aside yucky corndogs! There's a new, higher standard in town.
In order to make these corn dogs a "higher standard" version, or a real food version, I recommend looking for grass-fed hot dogs, or as the package should read, "hot dogs made from grass-fed meat." Because the hot dog isn't actually an animal, calling a hot dog a "grass-fed hot dog" seems a bit crazy. Am I the only person this bothers?
The bottom line: look for the cleanest hot dog option you can find. A hot dog that's made with grass-fed beef (or pasture-raised pork) and has a clean ingredient list. I like Applegate brand, but there are quite a few to choose from these days.
Homemade Corndog Muffins
A fun, real food twist on the classic corn dog. Freezer and lunchbox friendly.
Ingredients
Special Equipment:
Instructions
Preheat the oven to 350F. Grease or line a muffin pan.

Whisk the dry ingredients together in a large bowl.

Whisk the wet ingredients together in a medium bowl.

Add the wet ingredients to the dry ingredients, and stir to combine.

Add a spoon of batter to each muffin cup.

Cut the hot dogs into fourths. Add one to each muffin.

Spoon the remaining batter over the hot dogs.


Bake the muffins for 20-22 minutes, until firm in the centers.

Let the corndog muffins rest for 5 minutes before serving. Serve alone, or with a side of ketchup and mustard.

Notes
These are freezer-friendly. Store them in a freezer bag or container. Defrost as many muffins as desired in the fridge overnight, or reheat them directly from the freezer using the microwave or oven. These are great for the lunchbox. Serve them with ketchup or mustard. 
Nutrition
Calories:
1942
kcal
Carbohydrates:
240
g
Protein:
47
g
Fat:
89
g
Saturated Fat:
44
g
Cholesterol:
373
mg
Sodium:
2685
mg
Potassium:
2430
mg
Fiber:
18
g
Sugar:
63
g
Vitamin A:
2000
IU
Calcium:
886
mg
Iron:
10.7
mg