Back in 2014, when Live Simply was just a few months old, I shared a recipe for homemade toothpaste.
Three years later, I'm ready to revisit that recipe and give it some new life with new photos and a few ingredient adjustments. Initially, I wasn't sure what to call this refresher toothpaste recipe. Here were my options…
1. Delete the original post, and use the same name for the new post. <–That would be similar to riping a page out of a personal journal.
2. Come up with a new recipe name. <–And possibly confuse future readers.
I decided to take a little inspiration from Apple (i.e. iPhone 3,4,5,6,7…), and named today's recipe, Minty Homemade Toothpaste 2.0.
The biggest difference between my original recipe and today's recipe is the amount of toothpaste that's made.
When I first started making body products, I felt the need to go big. Meaning, I felt like recipes should make a lot of product. Over the years, I've changed my thinking. Now, I tend to focus on making smaller batches of homemade products to keep the ingredients fresh and the products safe. Balms and butters (recipes that rely solely on butters, oils, beeswax, and sometimes essential oils) are the exception to this rule.
Smaller batch products are used quickly (they don't sit around for a year in a medicine cabinet), so they're made often (reducing any risk of spoilage). I know, this sounds time consuming, but it isn't.
At this point, I only make a few body products at home since there are quite a few quality products on the market, and the products I still make are incredibly easy to whisk together. Currently, I make today's toothpaste recipe, a clay facial mask, a facial exfoliator, and a face moisturizer. That's pretty much it at the moment (other than the occasional vapor rub and boo-boo cream). For the rest of our needs, I purchase trusted products from the store or market. <–That's what simple, natural living looks like for me at the moment.
Okay, back to toothpaste…
My original toothpaste recipe was inspired by Earthpaste, which a few years ago was one of the only non-toxic toothpaste options on the market. Since 2014, natural toothpaste options have increased. Today's new and improved recipe is based on trying these newer products, along with testing out some of the homemade samplings from the vendors at the local market.
In this improved recipe, clay (a cleansing, detoxifying ingredient) and coconut oil (antibacterial) are used to clean the teeth. Distilled water is added to thin the toothpaste and keep it from tasting like a skillet smothered in coconut oil. Salt is added for the minerals and cleansing benefits, and the peppermint and tea tree essential oils are added for antibacterial properties. 
Unlike my original recipe, this toothpaste isn't super salty–which was a big turn off for a lot of folks (including my hubby). I get it, no one wants to feel like they're brushing their teeth with a salt shaker. I personally love the taste of this new and improved version. The fresh, minty taste is refreshing and my teeth always feel so clean after brushing.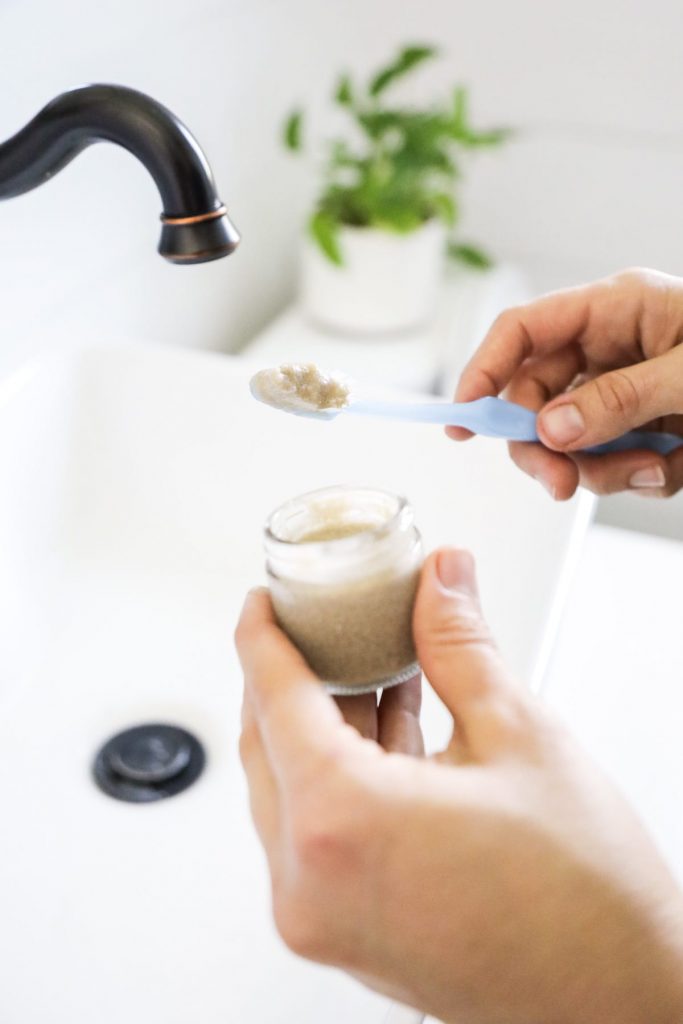 Before I share the recipe, let me just say that I realize that not everyone wants to use homemade toothpaste (that includes my hubby and kids). Maybe you have your doubts about how effective it is, or you don't like the idea of brushing your teeth with oil or clay, or you're just not ready to go that hippie (yet). Or, maybe you just love squeezing your paste from a bottle featuring printed words. Friend, I completely understand!
The do-it-yourself recipes shared on Live Simply are, for the most part, the recipes I'm using (or have used) on my own body. I share the recipes to chronicle what I'm making and loving, and also to show others just how easy it is to make some products at home. You don't have to make toothpaste in your kitchen in order to live a natural lifestyle. There are quite a few non-toxic toothpaste options on the market today, ranging from clay-based pastes (like Uncle Harry's and Earthpaste) to more Crest-like toothpastes (some of the Tom's products rank well on the EWG website and Dr. Bronner's). In a few weeks, I'm going to share a round-up of my favorite natural toothpaste options.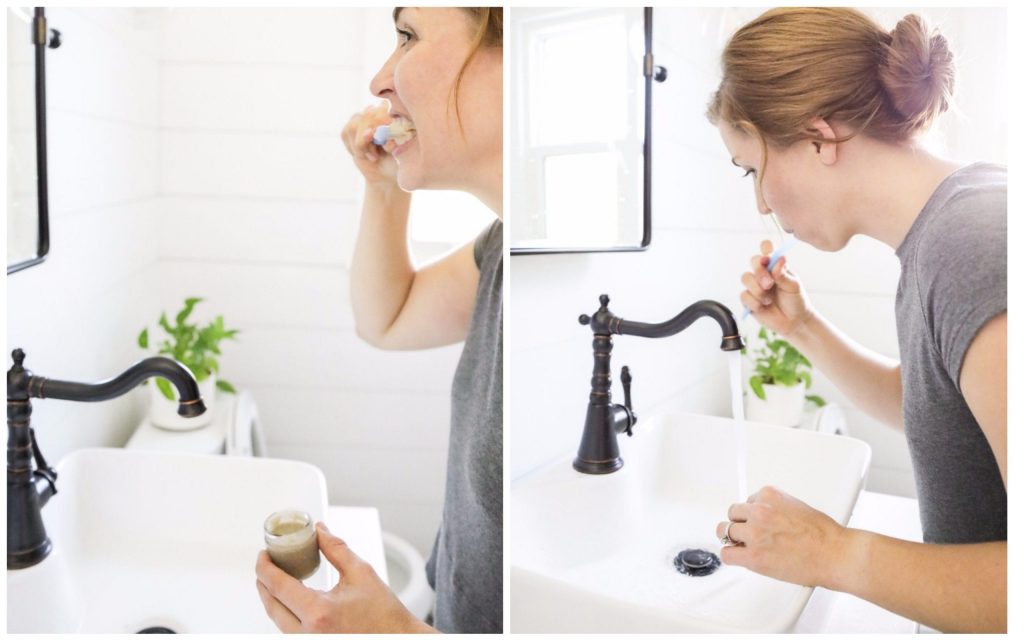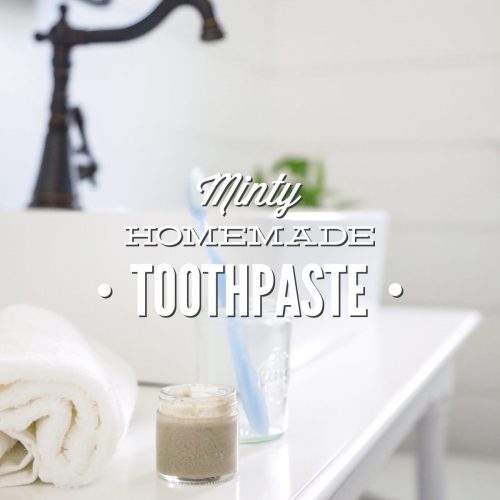 Minty Homemade Toothpaste 2.0
In this recipe, clay is used to clean teeth, along with coconut oil (antibacterial), distilled water (to thin the toothpaste), peppermint and tea tree essential oils (antibacterial), and a bit of salt.
Ingredients
Special Equipment:
non-metallic mixing bowl

non-metallic mixing spoon

storage jar
Instructions
Add the clay, distilled water, melted coconut oil, salt, and essential oils to a small, non-metallic mixing bowl. Stir to combine the ingredients.

Spoon the toothpaste into a small storage jar. Seal the jar. Store the toothpaste in the fridge between uses*.
To Use:
Scoop a small amount from the jar onto your toothbrush. You can use your toothbrush to do this, or a small utensil. Brush as normal, spit, and rinse.

Notes
*This is a very small batch recipe--making enough to last just a couple of weeks. Keeping the toothpaste in the fridge does cause it to clump (due to the coconut oil). I personally don't have an issue with this. Do what you're most comfortable with--keeping the toothpaste on your counter, or in the fridge. 
Feel free to decrease the salt amount to 1/4 teaspoon if you feel it's too salty. 
The toothpaste will be runny, but it will firm up in the fridge or a cooler home. If you want a thicker paste, you're welcome to add more clay, adding just a few pinches until you reach the desired consistency. If it's too thick, which can happen in a cold environment, add a splash (or two) of warm/hot water to the paste and stir.  
As with any toothpaste, this isn't meant to be swallowed. 
Want to make the transition to non-toxic toothpaste, but don't want to go the homemade route? No problem! Here are my favorite (store-bought) toothpaste options.