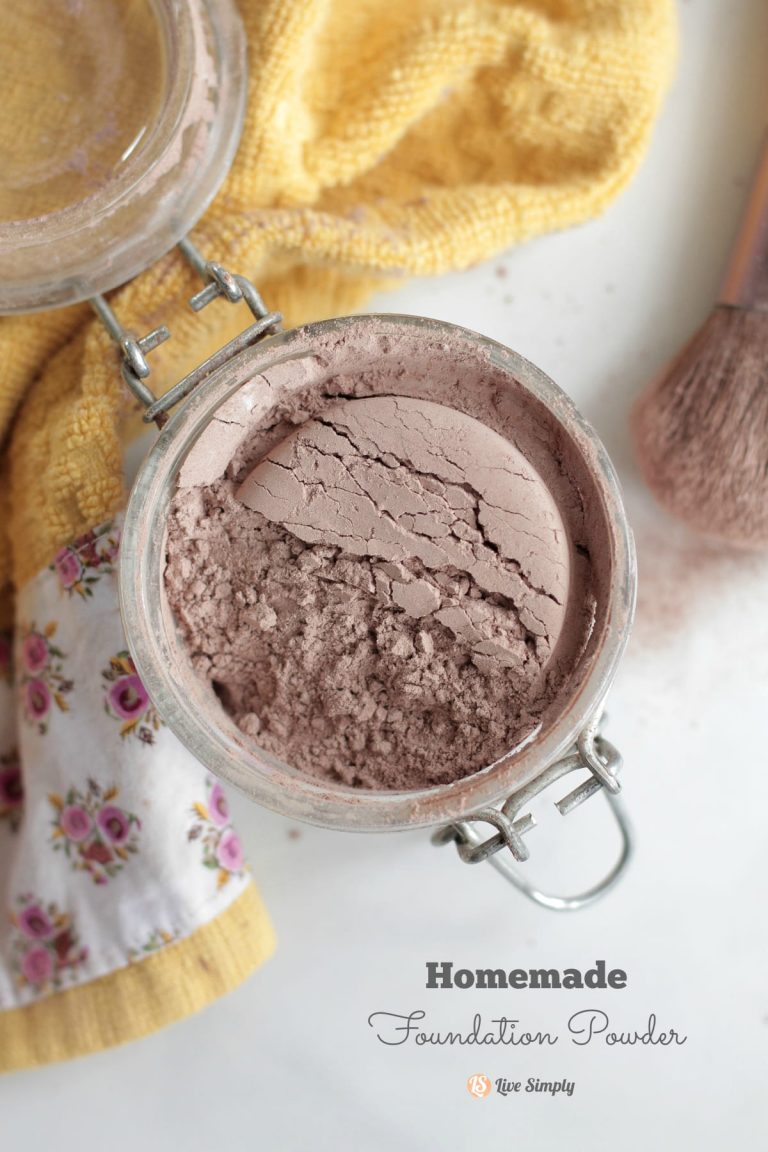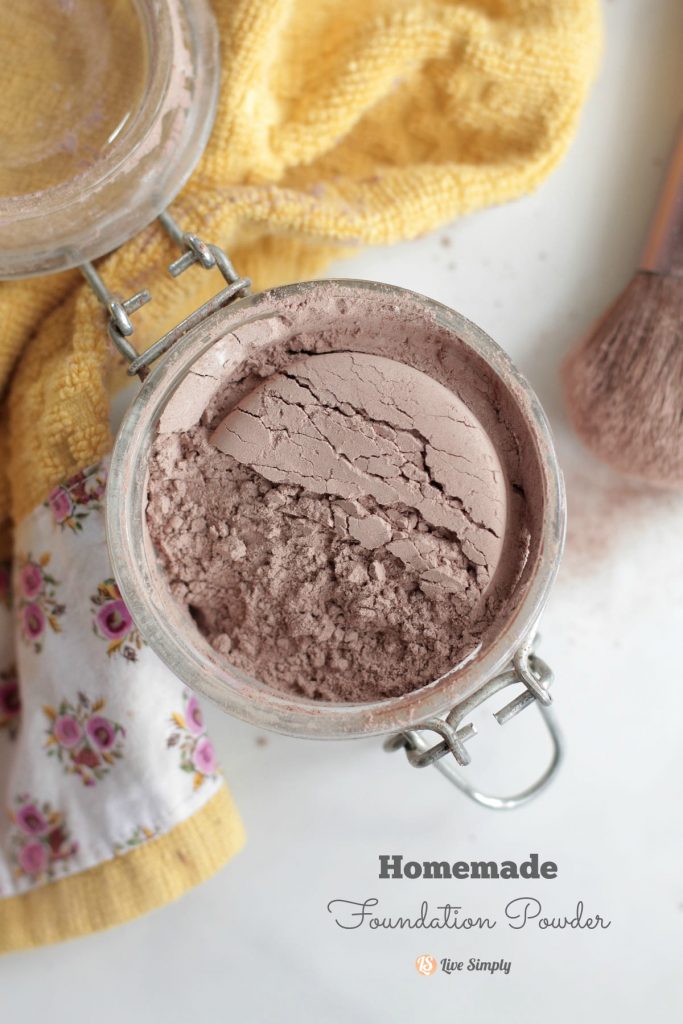 I love makeup!
In fact, I find makeup to be pretty magical!
I can wake up in the morning, gulp  graciously sip down my lemon water, coffee, green juice, eat breakfast, and dab a little makeup on and suddenly I go from "Who is that woman?" to "Wow! Who is that woman?"
Okay, maybe I'm not stopping traffic, but for a mom of two little kids, makeup somehow possesses the magical powers to make me feel "put together." I can go from frumpy to polished, ready to hit the playground and looking half-way decent while doing so.
Who pays attention to the multiple stains from morning breakfast splattered on my shirt, the 5 dirty wipes stuffed in my pocket about to fall out, and the hair that hasn't been washed in two days, when I have makeup on?
At least that's what I am telling myself…please don't burst my mommy bubble!
I love makeup, but I have a problem.
Makeup does NOT love me.
I have seriously sensitive skin.
The moment any foreign substance comes in contact with my skin, it attacks! Leaving behind some serious battle scars.  In my late teen years I began to battle break outs here and there. I believe this was largely due to my poor diet and the amount of chemical-ridden "beauty" products I used. My face would always react poorly and I would turn to more chemicals which promised to help "beautify" my skin.
Real food has certainly helped my skin!  The past few years I have seen huge improvements in the condition of my face in particular.
About 6 months ago (update as of September 2014: I've been making homemade products for two years), I decided food wasn't enough and so I ventured down the world of "natural" beauty products: soaps, deodorant, and toothpaste.
I'm talking real, natural products.
I scoured the aisles in stores and was greatly disappointed to find all the "natural" products (Aveeno, Burt's Bees, even Arbonne) were far from real ingredients. Since the skin absorbs anything that is placed on it within a mere 26 seconds, I wanted my products to contain ingredients I would feel safe floating around in my bloodstream. I wanted products made from ingredients I could eat.
I finally found what I was looking for. I use a local line of products which contain food-grade organic ingredients for soap, lip balm, and toothpaste. I purchase Primal Pit Paste for deodorant.  Even after searching and searching I couldn't find makeup products which suited my new requirements. Why not make my own?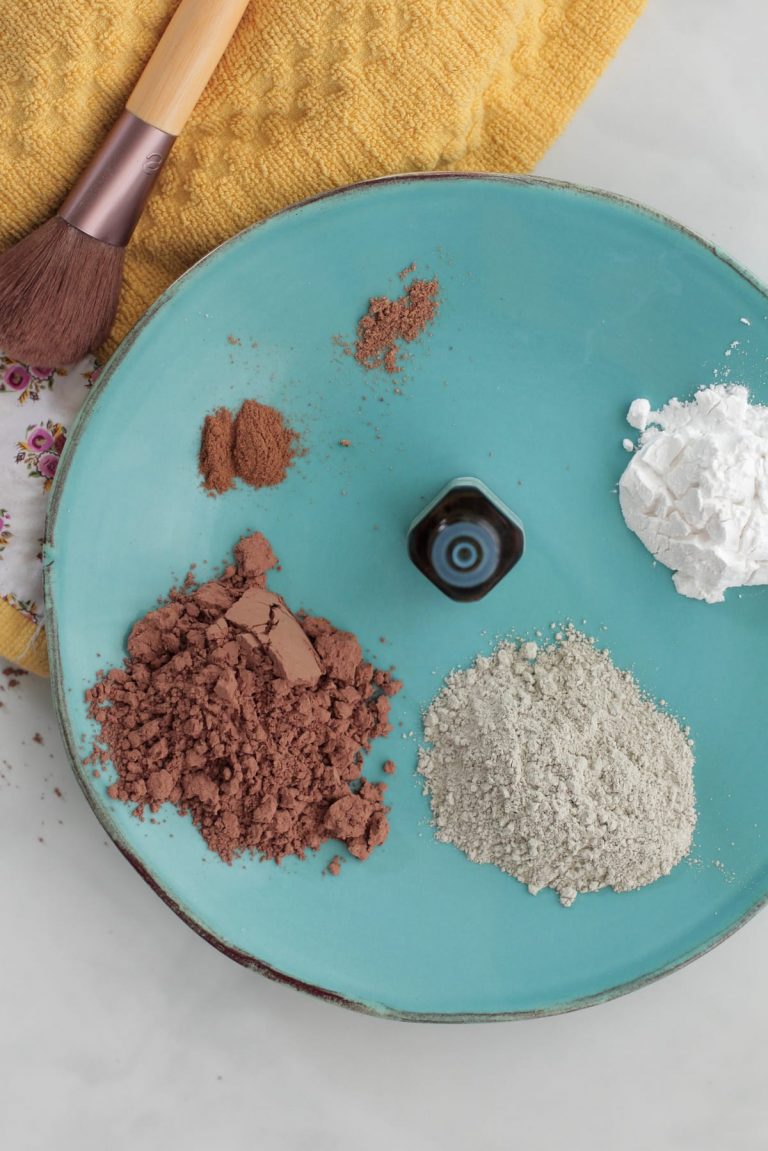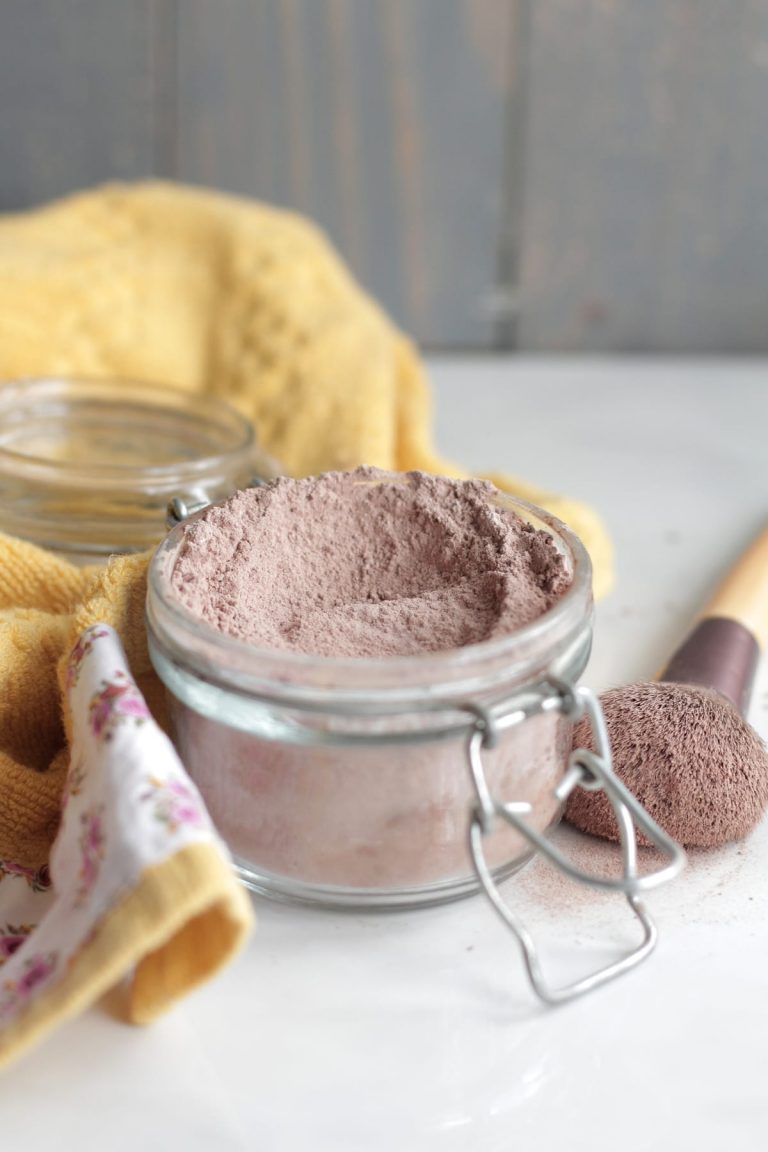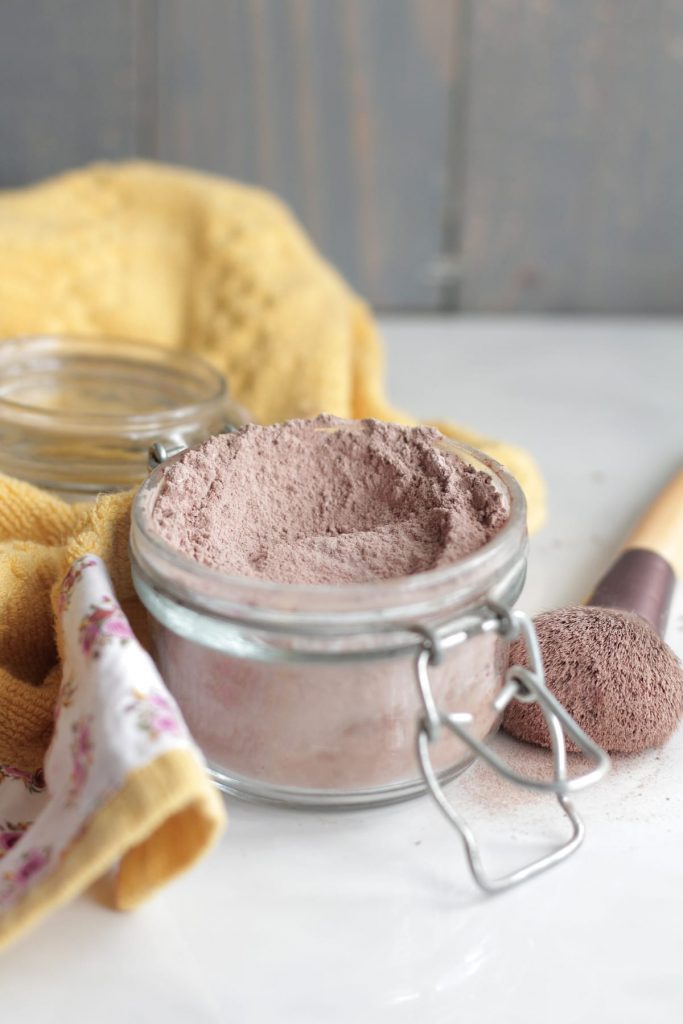 My first concoction was homemade foundation powder makeup.  I have fallen in love with this homemade mineral-like foundation powder. I have tweaked it a bit over the past few months, adding a few ingredients. I love the coverage this makeup gives me without drying my skin or leaving me looking like a pan of bacon grease at the end of the day. Homemade foundation powder is made with ingredients that are be safe to eat. In fact, many of these ingredients you may already be using in your real food kitchen.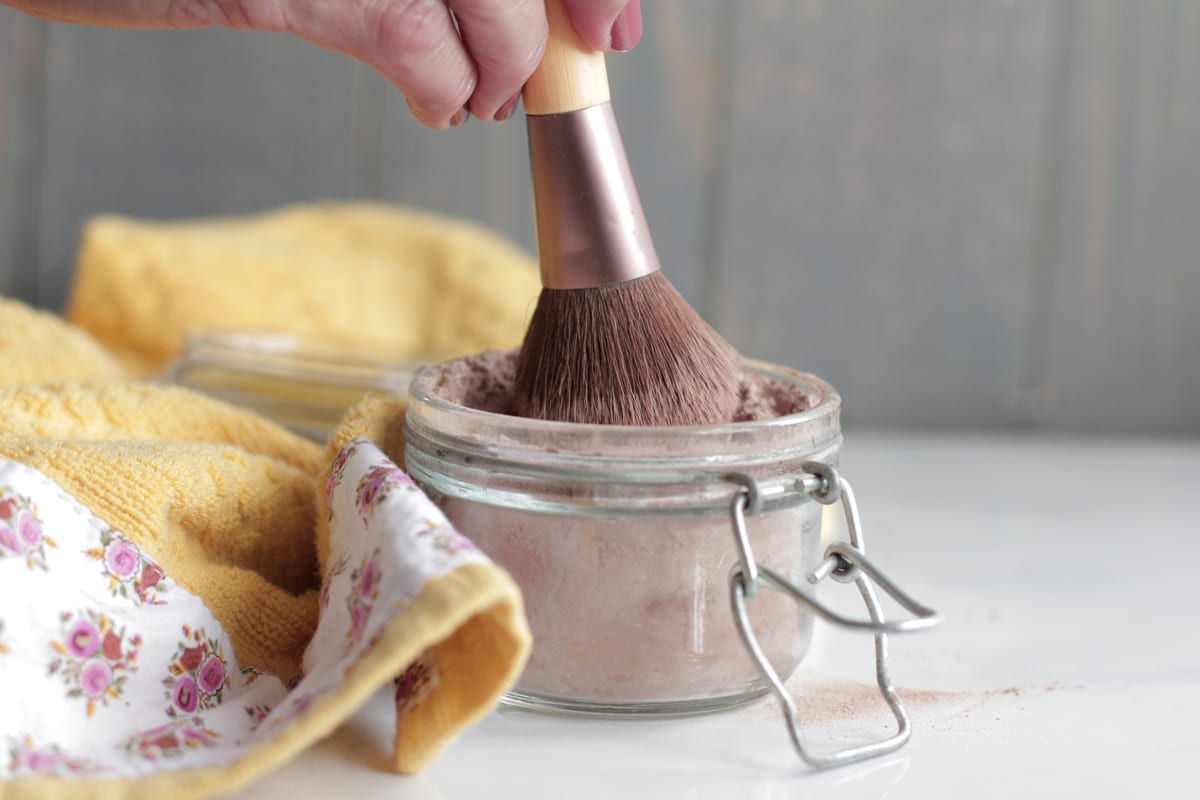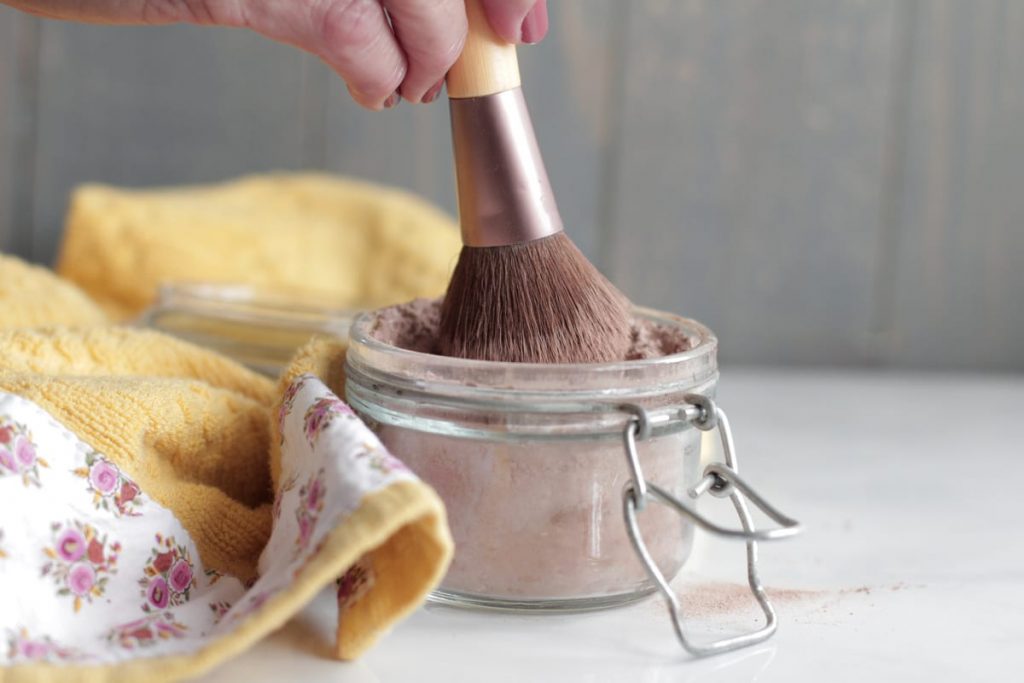 Want more good news?  This makeup is super inexpensive to make.
To think I used to pay $30 for a container of toxic makeup! The initial cost of purchasing ingredients may be pricey, but these products will last through dozens of batches of homemade foundation powder makeup and can be used in the kitchen, too. The true cost is significantly less expensive than many toxic makeup options.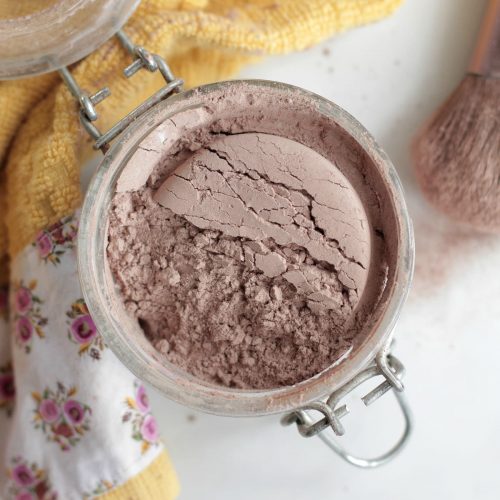 Homemade Foundation Powder
An easy homemade foundation powder made with simple kitchen ingredients. Customize this face powder based on your skin.
Instructions
Gather your ingredients and a non-metallic bowl (Bentonite clay should not come in contact with metal). The amount you use of each ingredient will greatly depend on your skin complexion.

Mix all your ingredients in the bowl, starting with the arrowroot as your base. Add each ingredient, adding the cocoa powder slowly, one tablespoon at a time, until you reach the desired shade. Whisk together.

Test the color by placing a small amount on your face (or arm) with your finger or a brush. It may take a little tweaking the first time to make the perfect shade for your complexion.
Notes
My original recipe called for adding a few drops of vitamin E oil and lavender oil. Since this post was originally published, I've decided to remove these ingredients to keep this DIY budget-friendly. If you'd like to add a scent, feel free to add a few drops of your favorite skin-friendly essential oil. If you want to add a few drops of vitamin E oil as well, you're welcome to do so. 
Bentonite clay is very detoxifying and absorbs excess oils on the skin. If you have sensitive or mature skin, kaolin clay is the best option. 
Store your foundation powder in a small container and use a dry sponge or brush to apply. I use a liquid foundation under this foundation powder on days when I want more coverage. You can also use this foundation powder without a liquid foundation for a lighter coverage.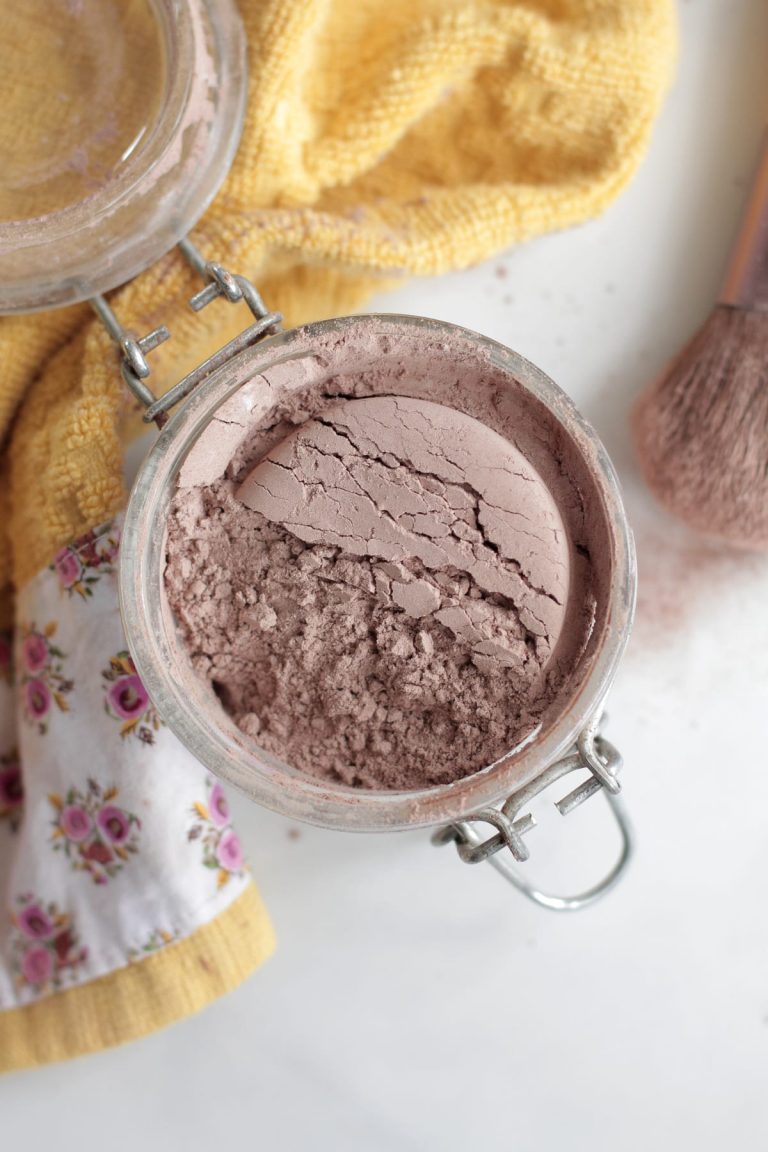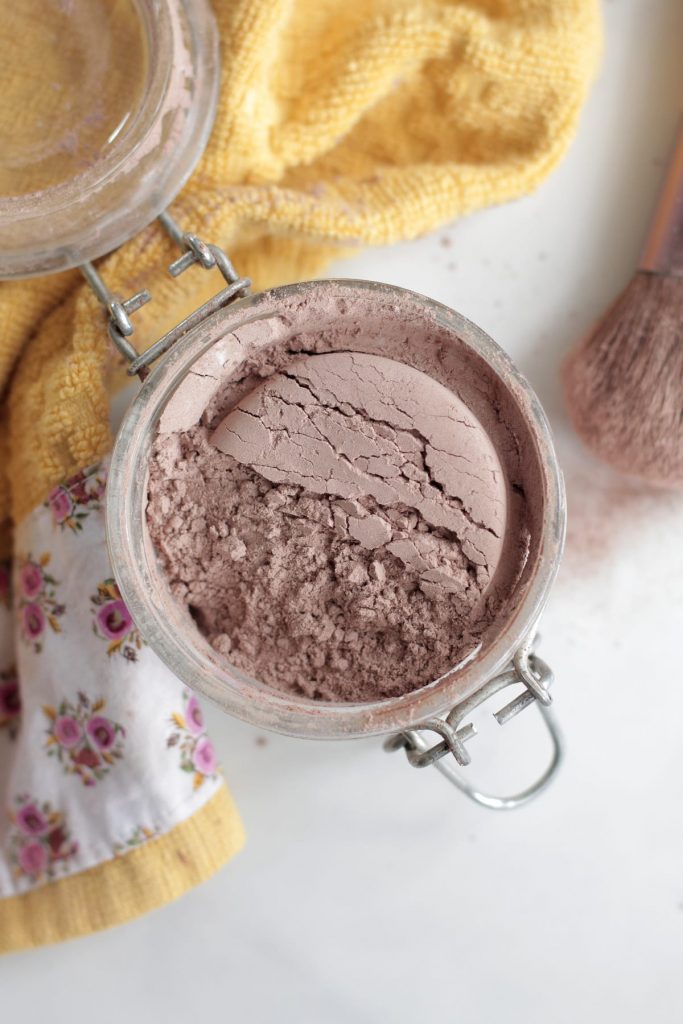 Now you're ready to face the day, Mom.
And I think making your own homemade foundation powder makeup might even give you a bit of bragging rights at the playground today.
Q: What kind of coverage does this provide?
A: This foundation powder will provide a light to moderate coverage. If you're looking for heavy coverage, this powder isn't for you, at least not as a solo makeup product.  If you're looking for heavier coverage (without the makeup looking heavy), I recommend using a liquid foundation underneath this powder foundation. My current favorite brand is Ilia. I use their True Skin Serum Foundation under my powder. I recently shared everything you'll find in my (natural) makeup bag, here. You can also use this foundation powder without a liquid foundation for a lighter coverage.
Q: This doesn't stick to my face. Help!

A: I guarantee I've made countless jars of the powder (around one jar a month), and I haven't ever had this issue. Truthfully, I'm not sure why a few people have sticking issues. Listed above in the ingredients are the actual brands I use to make this powder. I'd recommend buying ingredients that are high quality and very fine. Since I'm not in your kitchen (or bathroom) making this with you, I simply don't know why the powder didn't stick. I'd recommend wiping your face with a damp cloth to see if any powder stuck to your face. It may be that you are experiencing the difference between heavy, cake-like, store-bought powder and homemade, light powder. A few other questions to ask: did you wash your face and then apply this powder? Did you moisturize before applying this powder (this is my recommendation)? What kind of application tool did you use-powder brush, finger, washcloth? (I recommend a powder brush.)  It shouldn't roll-off your face, there should be stick. You can find my video tutorial for making homemade foundation powder, here.
Q: Does the cinnamon irritate your skin?

A: No, it doesn't. This recipe calls for very little cinnamon compared to the main ingredients. The ratio is very low. Cinnamon can cause skin irritation, if you are worried, leave it out, or test a small amount. I would not suggest applying cinnamon directly to your face without a mixture like this foundation. Cinnamon is actually beneficial for your skin and helps heal, particularly with blackheads. I feel more comfortable applying a small amount of cinnamon found in this powder than the chemicals in store-bought powder.
Q: If I don't like it, did I waste my money?

A: No, you didn't. I personally love this foundation powder. I literally use it daily and know many other readers and friends who do as well. I've bought countless foundation powders over the years and thrown many away. Talk about a waste of money! Everyone has different tastes. If you don't like this powder, I'm not hurt, it's just a difference in taste. Here's the great news–when you buy powder and don't like it at the store, you've lost $10-30. Ouch! When you buy the ingredients for this powder, you've gained kitchen and bathroom ingredients. The cocoa and arrowroot can be used in the kitchen. Arrowroot is basically corn starch without the GMOs. The clay makes a fantastic mask! Add a little with water and apply to the face. Your skin will thank you. The spices are common cooking spices.
Q: Can I skip the clay?

A: I don't recommend skipping the clay. You can still make a great foundation without it, but if you are looking for corrective issues, like redness or mild acne to be resolved, the clay is needed. French clay or kaolin clay are also good choices.
Q: I want to turn this powder into a liquid foundation, can I just add coconut oil?
A: I've experimented with liquifying this recipe with zero success! Adding a liquid like coconut oil just darkens the cocoa and you end up with a nice edible chocolate. Freeze it and you'll have a chocolate bar. I recommend purchasing a liquid foundation from a natural brand. My favorite brand is Ilia. I use their True Skin Serum Foundation under my powder.
Q: I love your recipe so much I want to feature it on my blog. Can I do that?

A. So glad you like the powder and I'm honored you'd like to feature Live Simply's recipe on your blog. The content here at Live Simply is copyrighted so we don't allow duplication. If you'd like to use a picture with a link back (recipe needs to stay here at Live Simply), please contact me here and we can talk. I love a good blogger shout-out and am happy to work with you so the recipe is properly featured with credit. Of course, feel free to share across social media or mention the recipe in a blog post with a link back.