Meat is one area I refuse to compromise. Meat can't be washed to rid itself of harmful chemicals or other treatments. Being at the top of the food chain, meat (along with dairy) are my biggest priorities when it comes to buying food for my family.
I am a former vegetarian, near vegan. Over the last few years, thanks to Nourishing Traditions, I have fully embraced meat. Can you say, "Bacon?" I am fully making up for my years of deprivation!
I didn't walk away from meat, initially, due to health concerns or even ethical issues. I gave up meat after viewing the documentary, "Food Inc". I was in absolute horror how the meat my family was consuming was being raised. I honestly hadn't considered where my meat was coming from, its living conditions and diet. Thanks to the modern grocery store meat comes nicely wrapped in clean plastic trays, covered in plastic wrap allowing the consumer to be completely disconnected to the realty of where meat comes from.
Before my vegetarian days, I would purchase ground beef nicely packed on the refrigerator shelf assuming (thanks to the beautifully painted mural over the meat department) my hamburger must come from a sweet cow. You've seen the commercials. Sweet, happy, singing cows spending long days grazing on glorious grass on a peaceful farm owned by a sweet old farmer in overalls.
I was completely disconnected from the source of our meat buying into an illusion. Exactly the type of consumer the profit-driven food industry loves! For the majority of animals raised for meat (and dairy) in this country that mural is far from reality.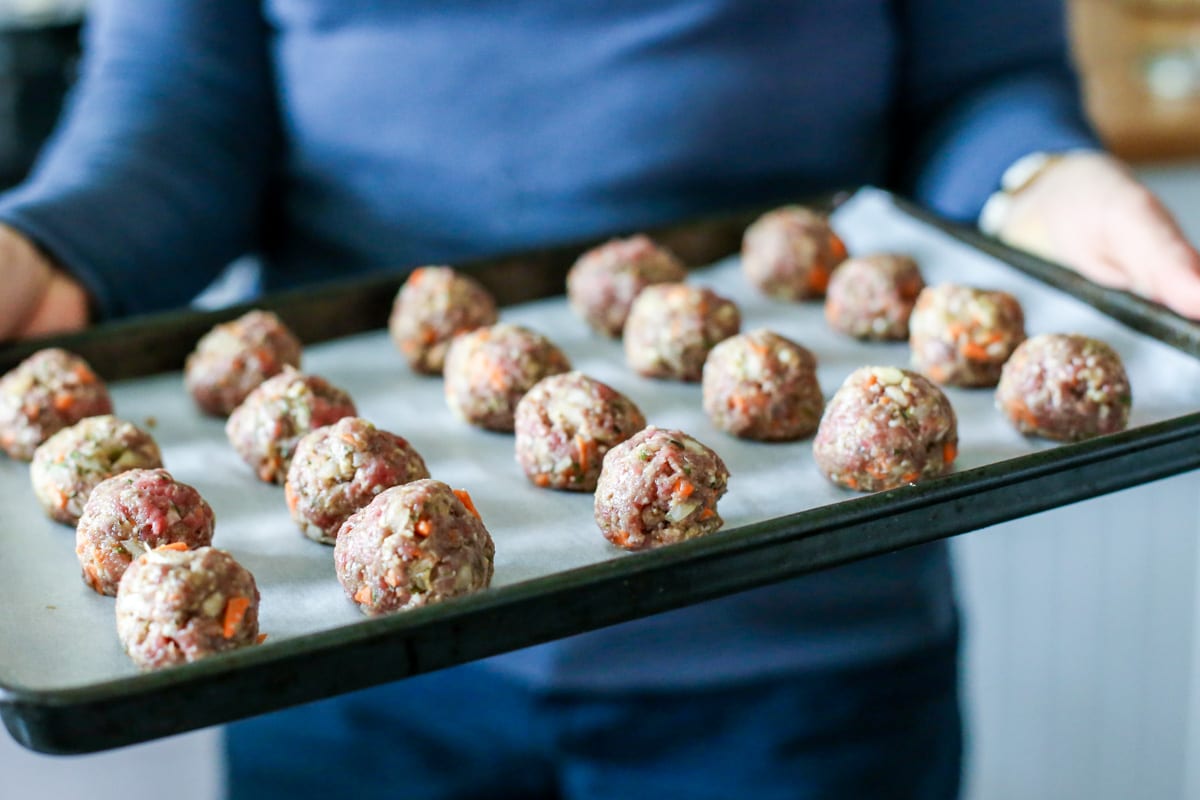 What's wrong with store-bought meat?
Nearly all the meat sold in stores, even health food stores, comes from animals living on big feedlots (CAFOs) or confined cages with little movement available.
The reality is the desire for more profit in half the time has resulted in unacceptable farming conditions.
Animals are fed unnatural corn, soy, and grain based diets and if not labeled "organic" or "vegetarian" are even supplemented with animal by-products. Just to clarify, chickens are intended to peck in the grass, eat bugs and other scraps, not live on "vegetarian" diets primarily of grains and soy. Animals live in horrible conditions of filth and fecal matter. Due to environmental conditions and an unnatural diet, animals are often sick and in need of antibiotics and other drugs.
This is the reality of meat in America.
What about organic?
Organic doesn't mean the animal was pastured, raised on grass. Most organic meat sold in stores was raised the same way as non-organic meat…on big feedlots being fed an unnatural diet.
Cows, for example, were designed to live their lives grazing on grass, supplementing may occur due to winter or other conditions, however, the majority of their diet is intended to be fresh grass. What happens when these animals are placed on a diet of grain, corn, and soy? They quickly become sick! The animal needs medicine such as antibiotics. Organic means these animals are not allowed to be given any antibiotics!
I personally, believe this is a cruel practice, raising an animal on an unnatural diet, knowing the animal may very likely get sick, yet not being able to treat the animal due to a desire to sell an "organic" meat.
Organic simply means animals:
Never receive antibiotics
Never receive growth-promoting hormones
Are fed only certified organic grains (corn is a grain)
Must have outdoor access (this is loosely interpreted)
I personally avoid buying simply "organic" meat from the store as much as possible.
I want to feed my family meat that comes from healthy animals. Animals raised in a natural environment roaming fields of pasture and that naturally don't need antibiotics.
Where do you we buy meat?
The best place to purchase meat is directly from a trusted farmer.
After pricing many local farms for beef and pork and whole chickens, we finally found a farm I could trust.
Twice a year we order meat. Choosing between 25lbs up to a whole cow or pig. As well as whole chickens. We are also able to purchase soup bones as well as other parts of the animals such as the tongue of a cow…respecting the entire animal! The cattle, pigs, and chickens are sent off to slaughter, and a few weeks later the farmer delivers our meat to a co-op location where we pick up and pay.
We don't eat meat daily (remember, I was a vegetarian). We consume meat around 3-4 times a week.
Buying in bulk, direct from the farm helps the budget as we end up paying around $5.75/lb from the farm vs. $11/lb for grass fed beef at our local health food store (the only grass fed beef sold there in a very small corner in the freezer department).
When purchasing meat from a farmer we trust I am able to support a small farm, using sustainable, organic practices (although many are not certified organic) and have the guarantee that our meat is from pastured, happy animals.
Beef (as well as pork and chickens) raised on their natural God-given diets pack health benefits. The meat from these animals are:
Two to four times richer in heart healthy omega 3's.
Higher in good "unsaturated" fats (you need fat!!)
Three to Five times higher in CLA content
Loaded with over 400% more vitamin A (as beta carotene) and E
Virtually devoid of mad cow disease and E. coli (corn fed animals run high risks for E. coli due to their unnatural diets and living conditions) *
Find a farm
Thanks to the internet, finding farms to purchase meat from is easier than ever. These sites can help in your search:
Always ask questions about the animals, what they are fed, how they are raised, where they are sent for slaughter. Some farms may require you to purchase a whole cow while others may allow you to only purchase a few pounds (a sampler pack). You can also ask to visit the farm and see the animals first hand.