Friendly Disclaimer: Brace yourself for a ton of photos!!
As you probably know, we just wrapped up a three week getaway as a family. In December, we packed our bags and headed to Orlando, Cape Canaveral, Ft. Lauderdale, and then spent a week sailing the Eastern Caribbean. This is the first time we've ever been away from home for three whole weeks.
At the end of 2016, I was feeling a bit exhausted. Okay, that's quite an understatement. I was completely exhausted. I was sleeping, eating well, and exercising regularly, so the exhaustion wasn't physical. No, this was a different kind of exhaustion. This was mental exhaustion. A type of exhaustion that I believe comes from being overstimulated by the fast paced world of social media, the feeling that I constantly need to be working, and the inability to truly rest and just be still.
Taking three weeks off, particularly a week without any internet (including social media), was incredibly refreshing and invigorating. For a whole week, I didn't look at Instagram (except for a couple of times when we had spotty internet and I uploaded a quick Instagram Story) or check Facebook.
For a whole week, our family just lived in the moment–playing basketball, laughing and being silly, and enjoying the slow pace of the islands. That week was exactly what this hard-working mom needed. I needed to step away from the hustle and bustle of life and just rest.
Friend, rest is so good for the body and soul!
We didn't carry our camera around for the first part of our trip, so all of our photos are from the cruise portion (the super restful part). We joined twenty-three family members on the cruise to celebrate my grandparent's 40th anniversary. The big celebration took place on the Holland America Zuiderdam.
Our trip consisted of two days at sea, one day in Grand Turk, one day in St. Thomas, one day in San Juan (Puerto Rico), and one day in the Bahamas.
We've been on a cruise in the past, but this particular cruise was my favorite. The Zuiderdam is a small boat (1800 passengers), so our cruise was quiet, peaceful, and even roomy. And the best part? The internet on the boat was basically non-existent, so we were forced to relax and enjoy life at a slower pace–something this blogger desperately needed.
After three weeks of much-needed rest, I'm so excited to come back to Live Simply. I'm excited about the recipes we're going to make together this year, and the do-it-yourself projects that are going to transform our homes. I guess it's safe to say that my batteries are fully charged, and I'm ready for 2017. Let's do this!
PS: In the spirit of learning to rest and simplify (again), I've picked out this quote for 2017…
"You need to be doing fewer things for effect instead of doing more things with side effects." (-Gary Keller) For me, 2017 is about doing more of what matters, and less of the stuff that just fills time and exhausts me (like randomly scrolling my Instagram Feed five times a day and constantly checking email). 
I'm going to share more about our trip, including more photos and my tips for enjoying a real food lifestyle while traveling, in a couple of weeks (we're currently working on a video). I just couldn't dive into recipe sharing again without sharing a few photos from our trip.
And now, let's talk about today's recipe: Homemade Salsa Verde (AKA: Roasted Tomatillo Salsa).
I originally planned to share a hearty meal for winter (which we actually experienced this week in Florida), but it seemed a bit odd to share caribbean photos with something like a roast.
I've had this green salsa sitting in my draft folder since the early summer months, yet somehow it wasn't ever published. It seems like the seasons go by too quickly when you write a food blog. A green salsa recipe is a perfect warm weather recipe to share alongside tropical photos.
This salsa recipe is incredibly easy to make–just roast and blend–and it's extremely versatile. The salsa is made with green tomatillos, but red tomatoes could easily be subbed for the tomatillos in the summer. I love to serve this salsa over chicken or a taco salad, or as a dip. I've also used this salsa to make enchiladas.
This salsa also scores major bonus points in my kitchen because it can be prepped a week in advance and kept in the fridge.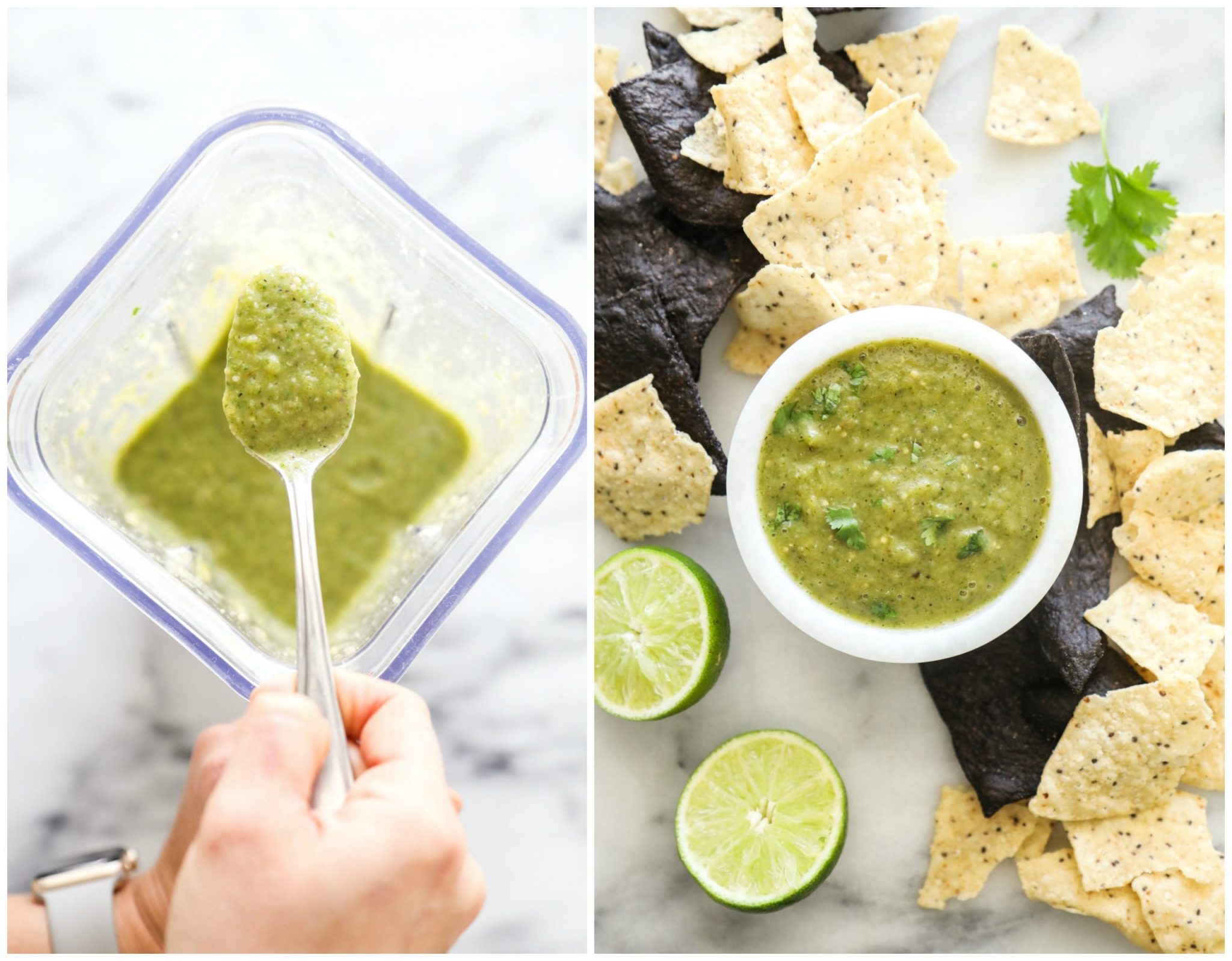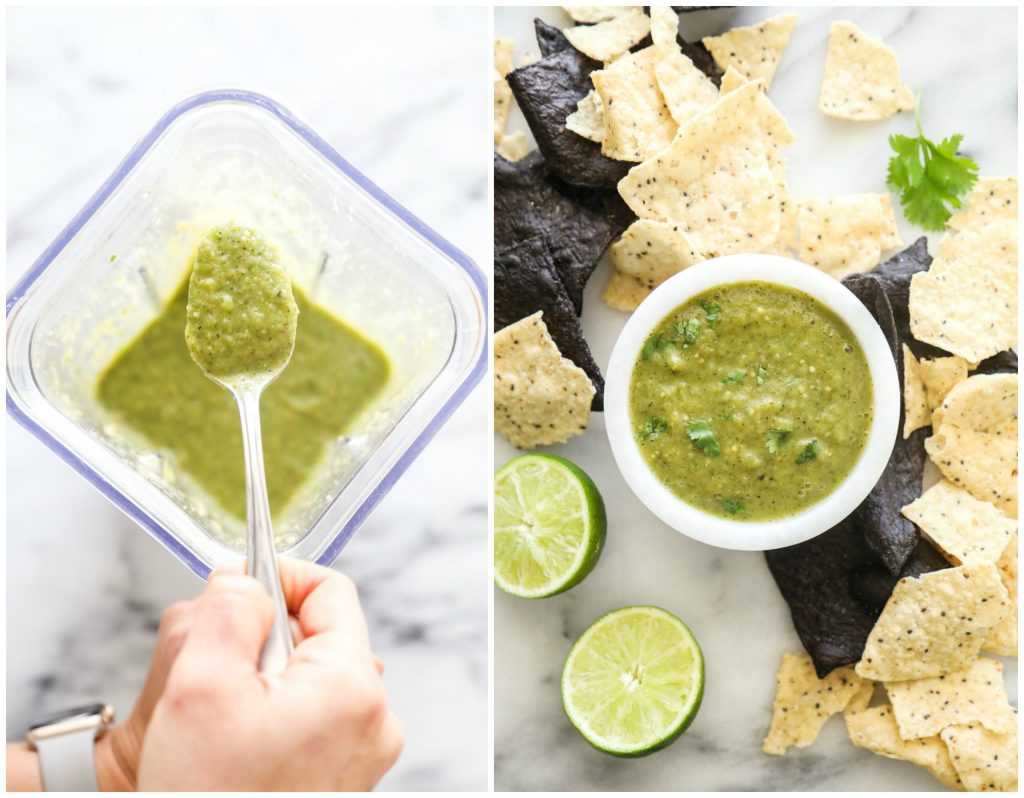 Homemade Salsa Verde (Roasted Tomatillo Salsa)
An easy and versatile homemade salsa that's made with green tomatillos. Red tomatoes could easily be subbed for the tomatillos in the summer. Serve this salsa over chicken or a taco salad, alongside quesadillas, or as a dip.
Ingredients
1

lb

tomatillos

(about 12 tomatillos)

1/2

large

red onion

quartered

1

poblano pepper

or jalapeno, halved and seeds removed*

6

garlic cloves **

1

TB

oil

extra virgin olive oil or avocado oil

1/2

cup

fresh cilantro

1

lime

juiced***

1/2

tsp

salt

to taste
Instructions
Turn the broiler on high. This is 500F on my KitchenAid oven, which uses temperatures for the broiler versus a high or low setting.

Remove the papery skin from the tomatillos, and wash the tomatillos. The water will help remove any stubborn skin.

Place the tomatillos, quartered red onion, poblano halves, and garlic cloves on a rimmed baking sheet. Drizzle the ingredients with the oil.

Place the sheet pan in the oven, and broil. Check on the ingredients after about 4 minutes. If the tomatillos and pepper halves (or garlic) are looking blistered, then carefully remove the pan from the oven and turn the ingredients over, returning the pan to the oven for another 4 minutes. After about 8 minutes, the ingredients should be soft and blistered (slightly charred in spots, but not completely burnt).

Place the ingredients in a blender (or food processor), along with the cilantro and lime juice. Pulse for just a few seconds, until the salsa is smooth. Stir in the salt to taste (I use 1/2 tsp). If you'd like a thinner salsa, add more lime juice, to taste and consistency.

The salsa will keep in the fridge for about a week. The salsa may also be stored in the freezer for a few months.
Notes
*The heat of a jalapeno can vary from pepper to pepper, so I like to use a poblano pepper (more consistent). One poblano pepper adds a small amount of heat, in my opinion, to this salsa. Feel free to experiment with the heat by adding a jalapeno or serano pepper in place of the poblano. 
**Roasted garlic (under the broiler) isn't as strong as raw garlic, so I like to add 6 garlic cloves to the salsa. Just like with the peppers, feel free to experiment with half this amount, blend the salsa, and add more garlic to taste. 
***Once again, the amount of lime juice added will depend on your taste and desired consistency. I like a thicker salsa, so the juice from one lime is perfect. Feel free to add more lime juice to taste. 
Yellow or white onion may be used in place of the red onion.
Nutrition
Calories:
170
kcal
Carbohydrates:
22
g
Protein:
3
g
Fat:
9
g
Sodium:
589
mg
Potassium:
803
mg
Fiber:
6
g
Sugar:
11
g
Vitamin A:
750
IU
Vitamin C:
88
mg
Calcium:
49
mg
Iron:
2
mg