Did you know that you can make your own glass and mirror cleaner with ingredients you can find around your home? You can make a great cleaner for glass surfaces, for a fraction of the cost, with 3 simple ingredients. Get tips for making an easy, homemade glass cleaner recipe here.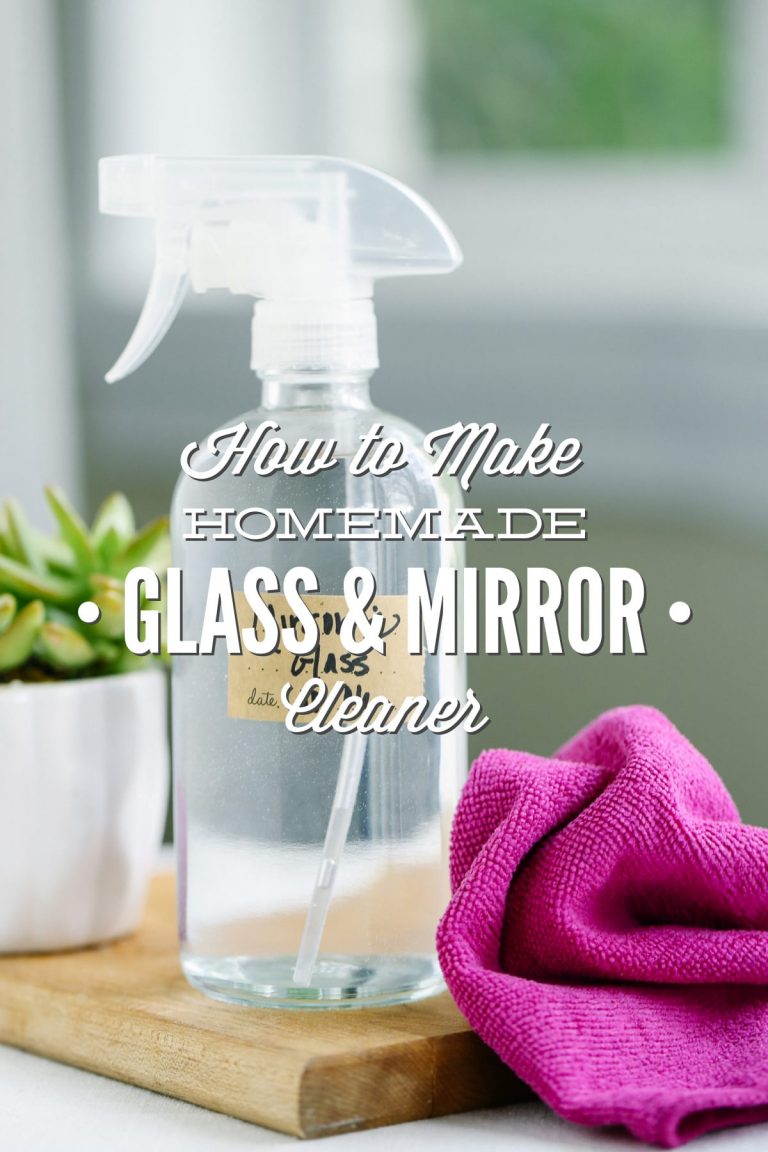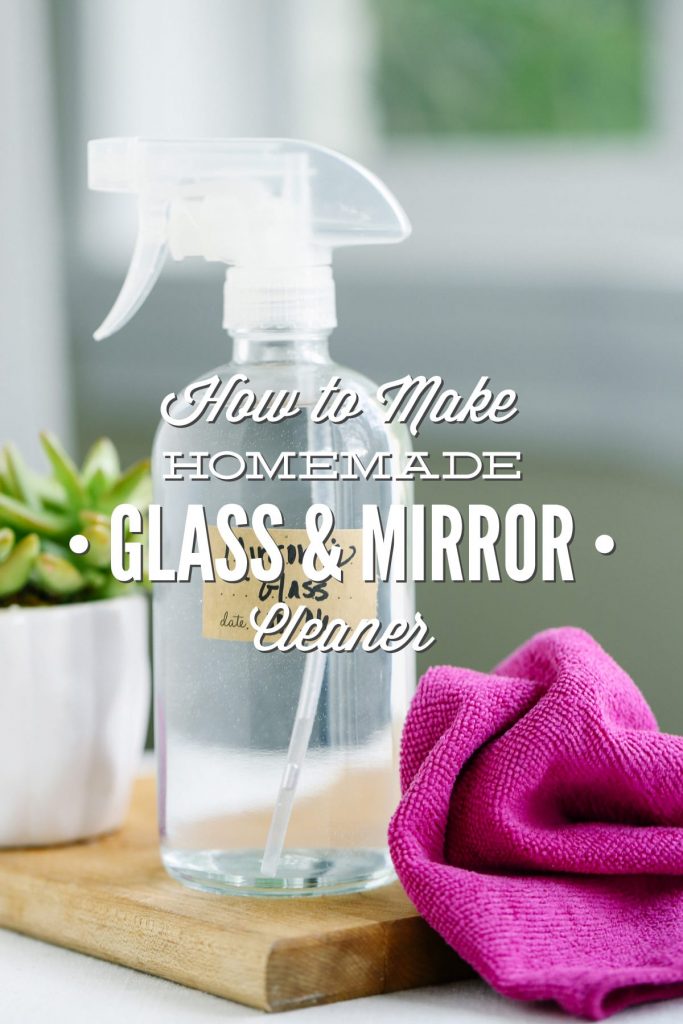 Growing up, my mom cleaned the mirrors and windows in our home with a famous blue liquid. This liquid, and the scent that came with it, represented "clean" in our home. I'm so glad glass cleaner was one of the first cleaning products to be questioned when we began to make the switch to using more natural products in our home.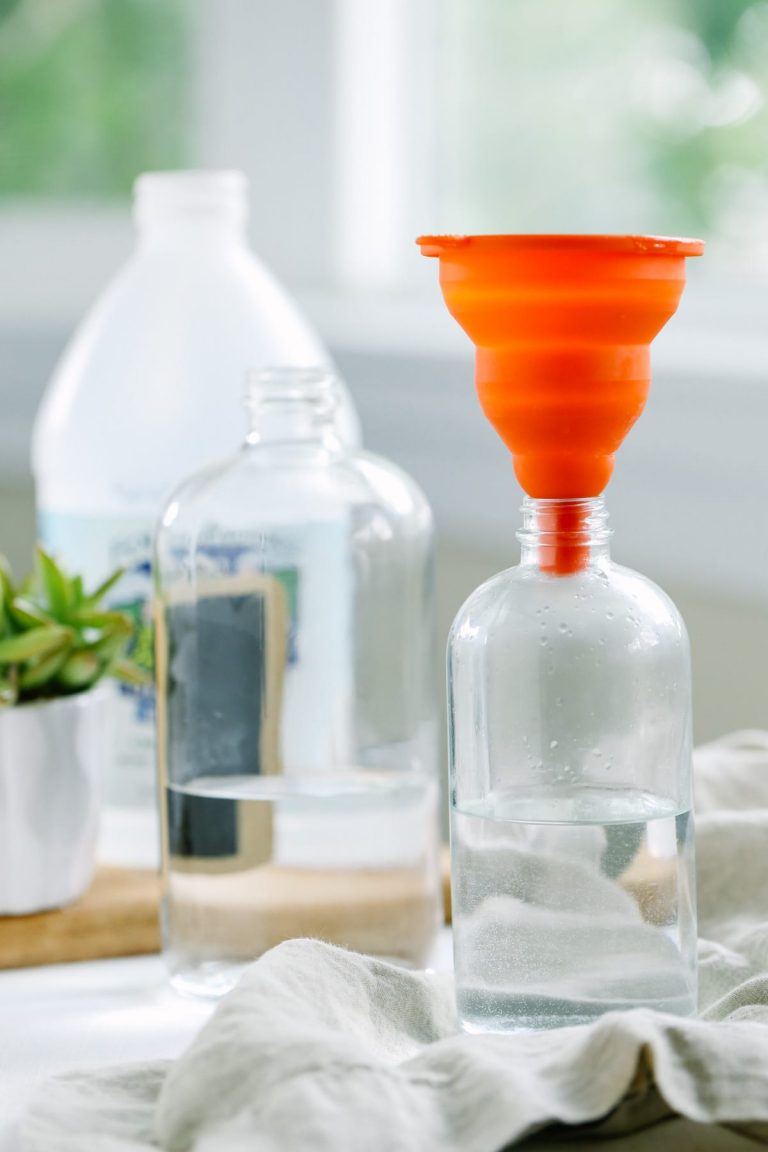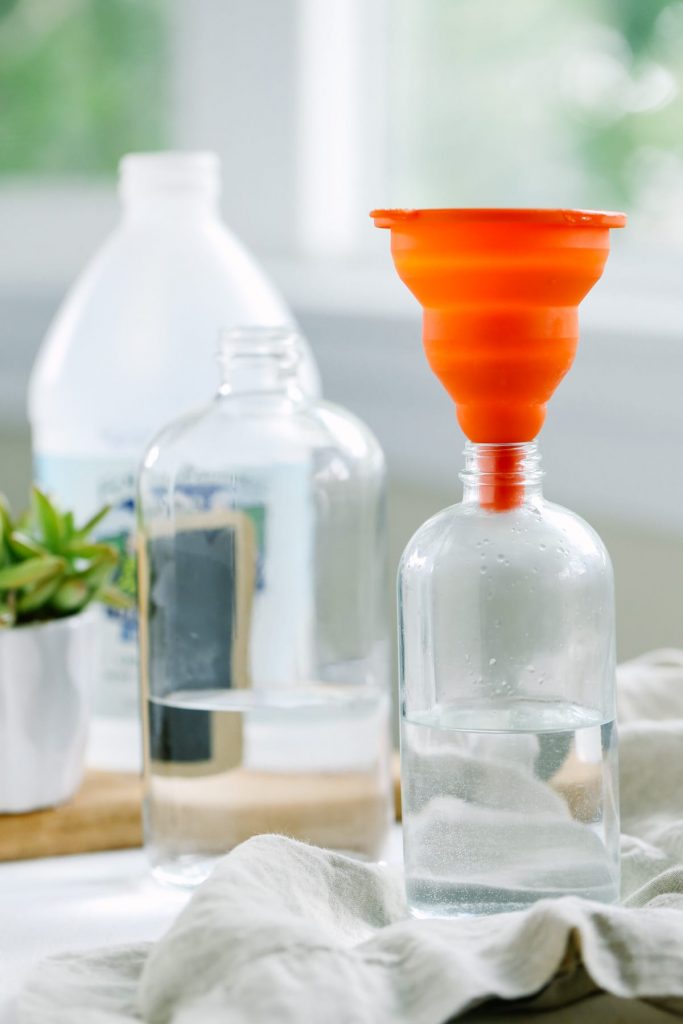 Why Make Homemade Glass and Window Cleaner?
Let's take a look at the ingredients listed on the Windex website (just one of many window and glass cleaner brands on the market): Water, 2-Hexoxyethanol, Isopropanolamine, Sodium Dodecylbenzene, Sulfonate Cleaning, Lauramine Oxide, Ammonium Hydroxide, Fragrance, Liquitint® Sky Blue Dye.
Common household ingredients, right?! Nothing like an ingredient list that makes you wish you paid more attention during high school chemistry class.

If you'd like to know more about the risks and dangers that may be associated with any ingredient you don't recognize on an ingredient list (because they probably weren't covered in high school chemistry class), check out the Environmental Working Group's Database. The EWG grades nearly all ingredients found in common cleaning products in the United States.
Just reading the word fragrance on the ingredient list, above, raises a big red flag. Lots of undisclosed ingredients can be hiding under this vague ingredient name, including phthalates (which are believed to disrupt hormones and be carcinogenic).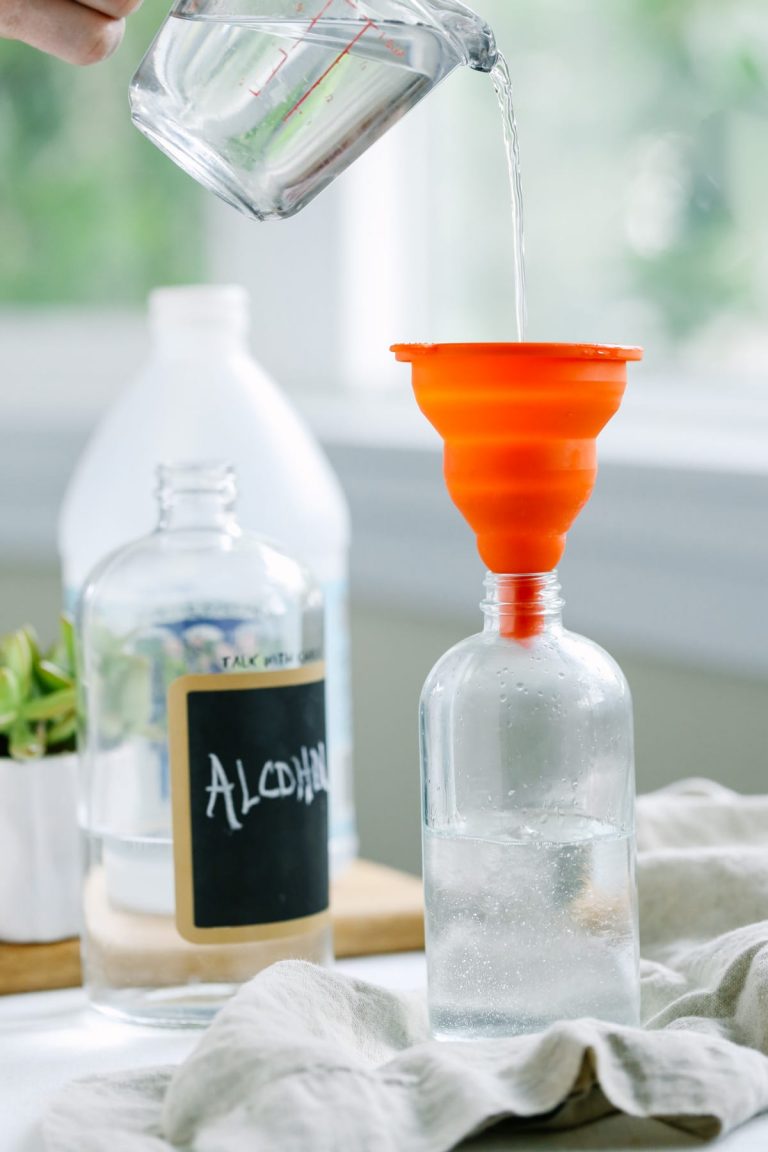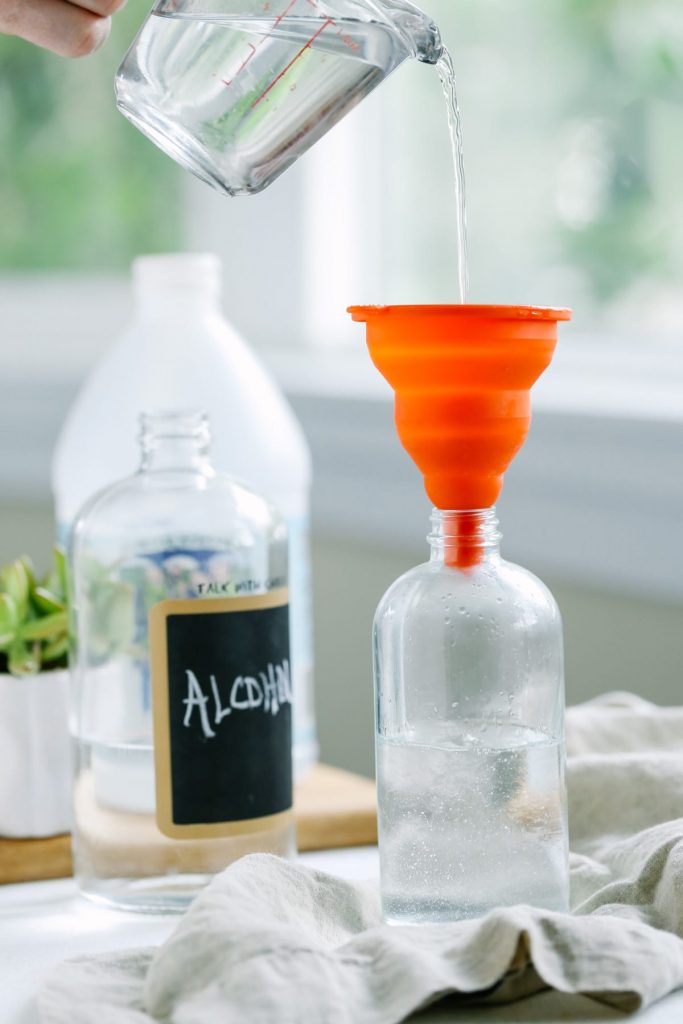 Learning how to make your own cleaning products is one of the best ways to avoid toxic chemicals and have confidence in what you're using to clean your home. There's no need to memorize a long list of ingredients to avoid or spend hours researching safe cleaning products. And the best part is…with just a handful of natural and non-toxic ingredients you clean your entire home and make your own speciality cleaning products.
Why learn how to make your own cleaning products?  This DIY glass cleaner is a great place to start!
Save Money. You probably already have most of the ingredients needed to make this homemade glass and mirror cleaner, and many other DIY cleaners, already in your home! And the best part, you can use the same ingredients to make other homemade cleaners, like an all-purpose cleaner.
Reduce Exposure to harsh chemicals that are of known concern (like fragrance ingredients and ammonia), yet continue to be used in popular cleaners.
Be Self-Sufficient. Learning how to cook and make your own natural cleaners is a great way to do this! That's what Live Simply is all about.
Now I get it, the rational answer is not to "throw the baby out with the bathwater." I understand that we don't live in a bubble. I still use some plastic products in our home (just to name one example) and probably come in contact with phthalates, and other ingredients, just by continuing with daily routines outside our home. But when an alternative solution exists for something that's sprayed in our home environment regularly, like glass cleaner, and that solution only takes 60 seconds to pour into a bottle and spray on my windows and mirrors, why not give it a shot?
Today, my goal is not  to scare you, but rather to show you just how easy it is to make homemade glass cleaner at home.

How to Make Glass Cleaner
Ingredients to make homemade DIY glass cleaner…
1/2 cup Rubbing Alcohol (Isopropyl Alcohol): This ingredient is very low on the toxicity scale (see how it rates). Rubbing alcohol dries quickly and helps create that streak-free cleaning experience we all want from a glass, mirror, and window cleaner. If you prefer, I think vodka would also work as a substitute.
1/3 cup White Vinegar: The superstar of natural cleaning ingredients! This antibacterial ingredient is acidic and removes film, grime, and dirt on glass surfaces, naturally and without toxic chemicals.
Water: From a safety and bacterial perspective, it's best to use distilled water when making homemade DIY cleaners. For streak-free surfaces, like glass surfaces, using distilled water will keep surfaces streak-free (tap water can leave water spots on surfaces).
Essential Oils: This is optional. If you want to scent your products, add a few drops of essential oil for a natural scent. I love a germ fighter blend (like this)–the combo of clove and other warm spices is amazing!
16-ounce Spray Bottle (my favorite): You'll need a bottle to shake and combine the mixture of ingredients.
Add the rubbing alcohol and vinegar to the spray bottle, and essential oil if using (about 10-15 drops), then top the bottle off with water until full. So easy, right?!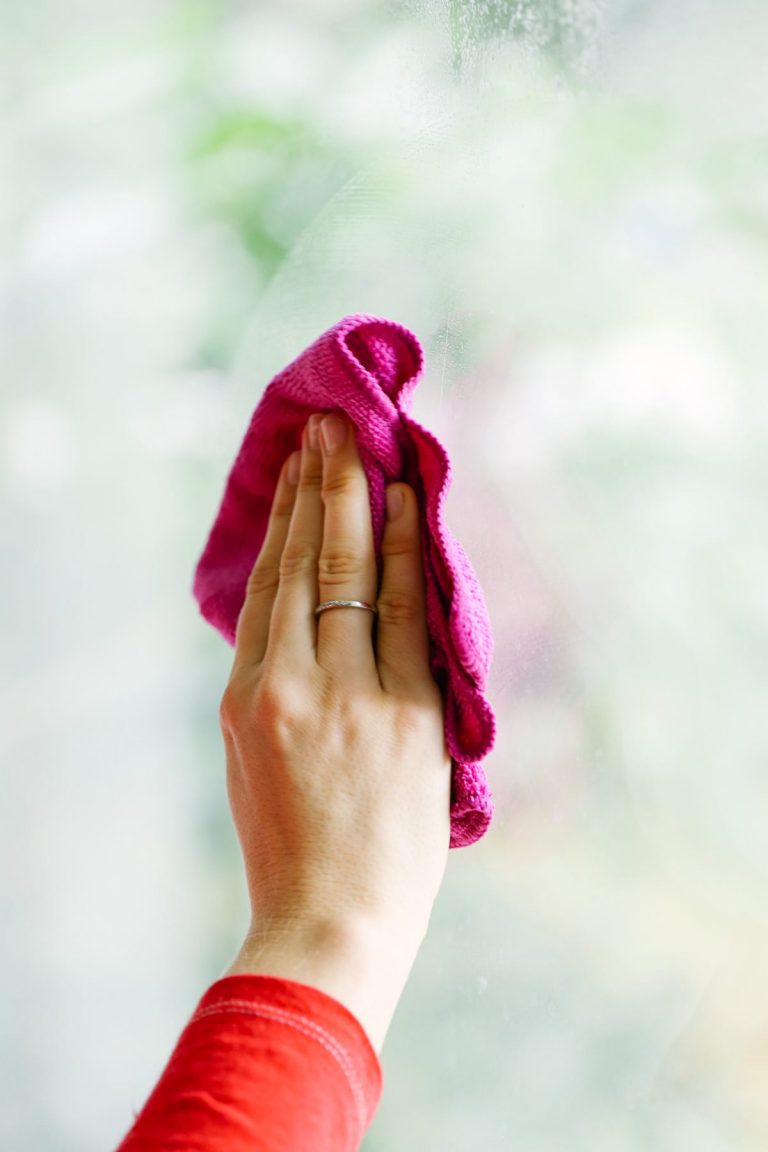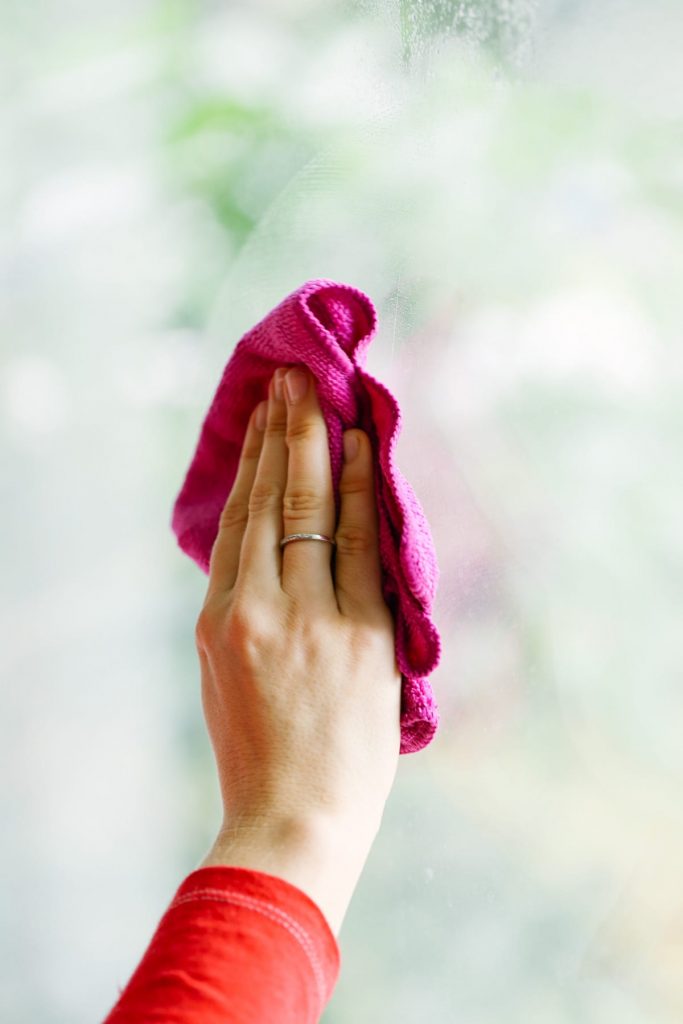 How to Use DIY Glass Cleaner
With your homemade glass cleaner ready to go, here's how to put this spray cleaner to use…
Spray on surfaces. Use this cleaner on glass, window, or stainless steel (always spot test first) surfaces. This glass cleaner also works as a homemade window cleaner and mirror cleaner. You don't need 3 different products for cleaning windows, glass surfaces, and mirrors–just this one!
Wipe with a cloth. I recommend a microfiber cloth for streak-free cleaning. Microfiber cloths don't leave behind the lint like many other cleaning cloths.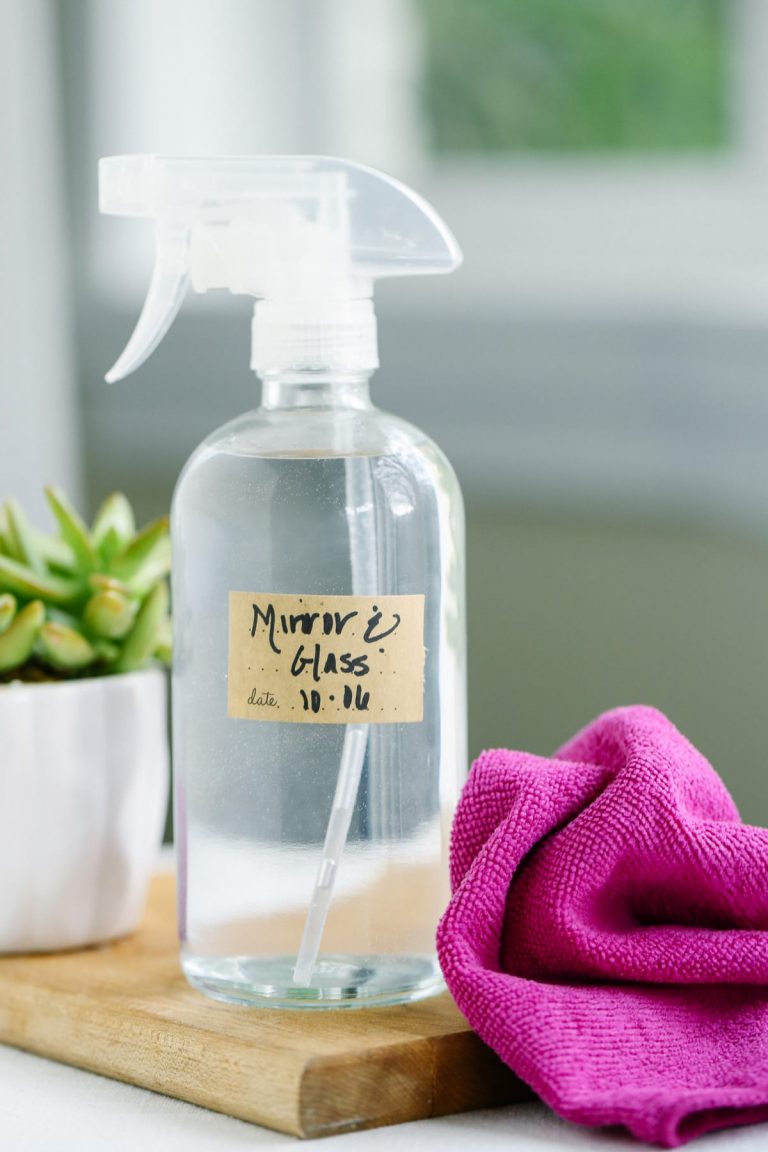 More DIY Cleaner Recipes and Tips
After making this recipe, give these natural cleaning tips and recipes a try…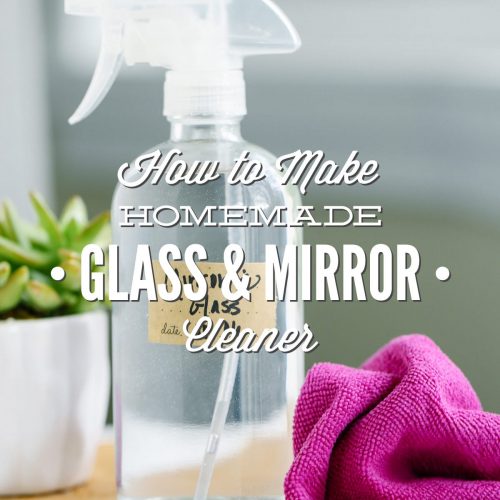 Homemade Glass and Mirror Cleaner
How to make a DIY homemade glass and mirror cleaner. This streak-free formula is budget-friendly, non-toxic, and takes less than 5 minutes to make!
Ingredients
1/2

cup

rubbing/isopropyl alcohol

(if you'd prefer to not use this ingredient, skip it and add 1/2 vinegar OR vodka)

1/3

cup

white distilled vinegar

distilled water

distilled water is best if storing for a few weeks, filtered water is fine if using within a few days
Instructions
1/2 cup rubbing/isopropyl alcohol,

1/3 cup white distilled vinegar

Add water until the bottle is full (use a funnel, if needed). If you don't care for a vinegar scent (although it goes away once the surface dries), add a few drops of your favorite cleaning essential oil. I personally like lemon, grapefruit, or a germ fighter blend. This glass cleaner may be stored at room temperature.

To Use: Spray a glass, mirror, or window surface with the cleaner, then wipe the surface with a cloth (microfiber is best for streak-free glass cleaning).