This post may contain affiliate links. As an Amazon Associate I earn from qualifying purchases.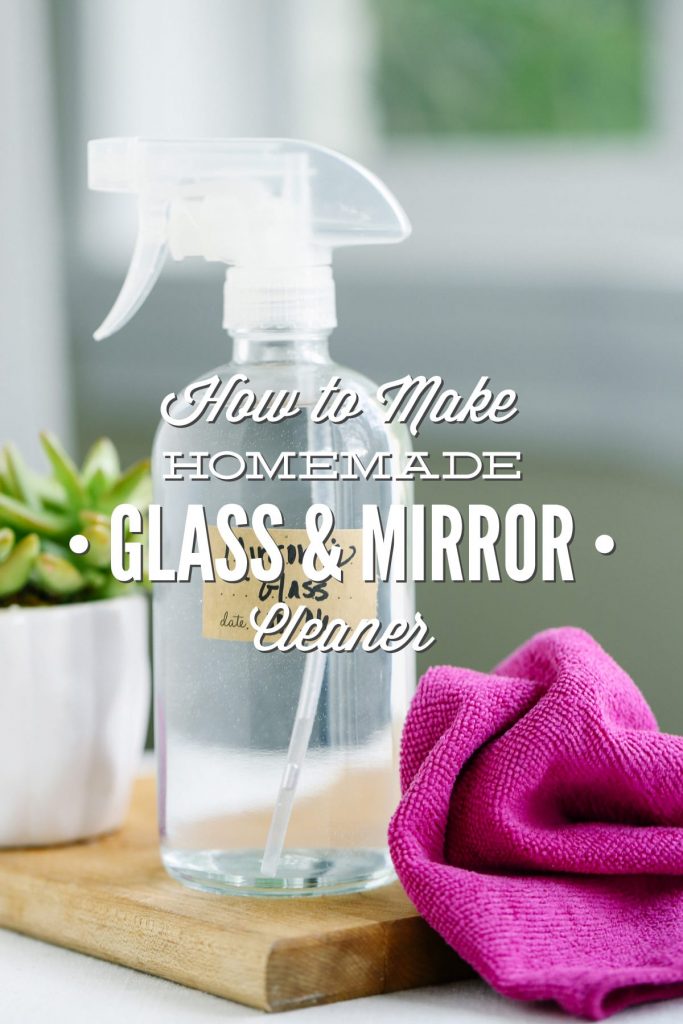 There is SO much information on the web these days about homemade everything, and Pinterest has become the land of Mrs. Do-Everything-Super-Mom. With all of this information floating around in our brains, I believe it's important to get back to the basics.
Getting back to the basics is exactly what we're focusing on during this series. We've talked about 11 essential cleaning caddy essentials and how to make two basic homemade surface cleaners.
Today, we're going to make an easy glass and mirror cleaner.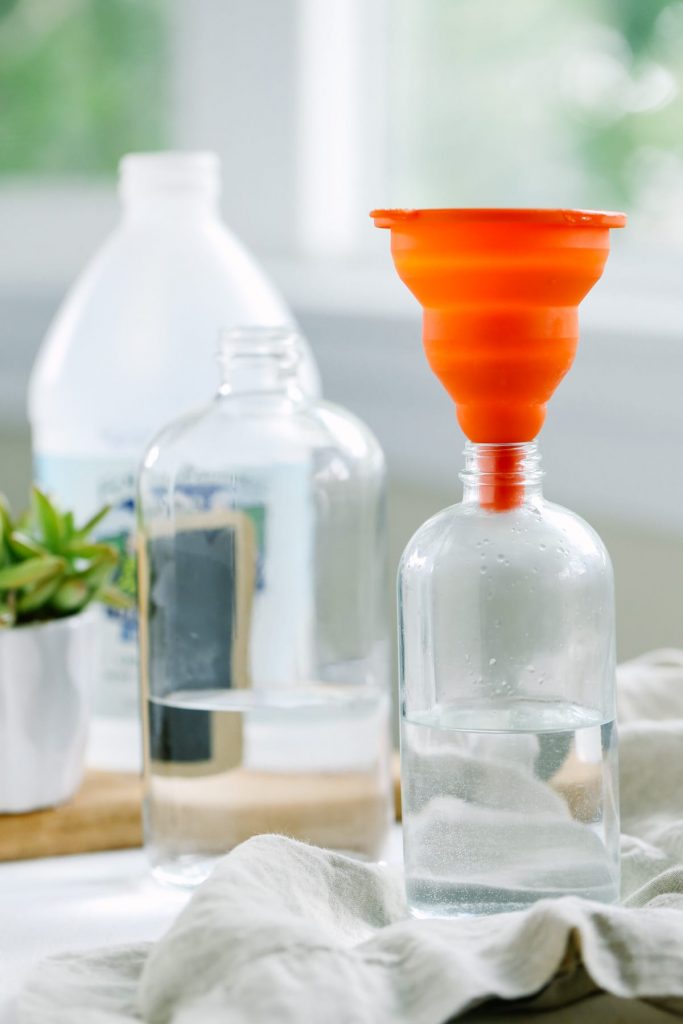 Growing up, my mom cleaned the mirrors and windows in our home with a famous blue liquid. This liquid, and the scent that came with it, represented "clean" in our home. I'm so glad glass cleaner was one of the first cleaning products to be questioned when we began to make the switch to using more natural products in our home.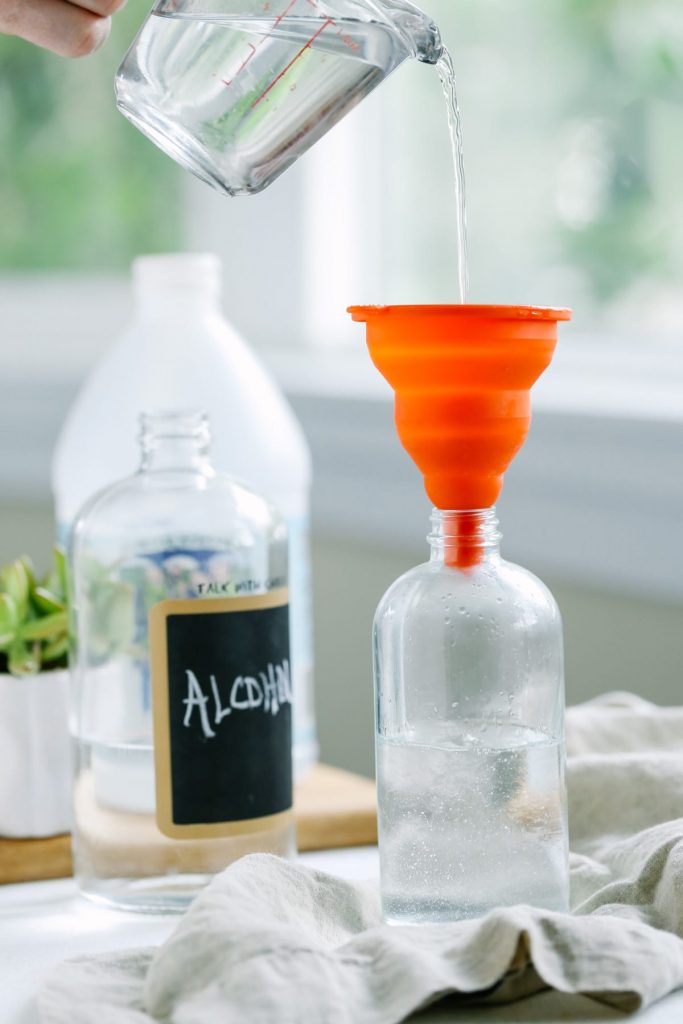 Why Make a Homemade Glass and Window Cleaner?
Let's take a look at the ingredients listed on the Windex website (just one of many window and glass cleaner brands on the market): Water, 2-Hexoxyethanol, Isopropanolamine, Sodium Dodecylbenzene, Sulfonate Cleaning, Lauramine Oxide, Ammonium Hydroxide, Fragrance, Liquitint® Sky Blue Dye. Common household ingredients, right?! Nothing like an ingredient list that makes you wish you paid more attention during high school chemistry class.

If you'd like to know more about the risks and dangers that may be associated with any ingredient you don't recognize on an ingredient list (because they probably weren't covered in high school chemistry class), check out the Environmental Working Group's Database. The EWG grades nearly all ingredients found in common cleaning products in the United States.
Just reading the word fragrance in the ingredient list, above, raises a big red flag. This term usually means you're holding a cleaner that's filled with multiple lab-generated chemicals, blended together to create the "clean" scent many of us have come to expect from a cleaner and our homes. Lots of ingredients can be hiding under this vague ingredient name, including phthalates (which are believed to disrupt hormones and be carcinogenic).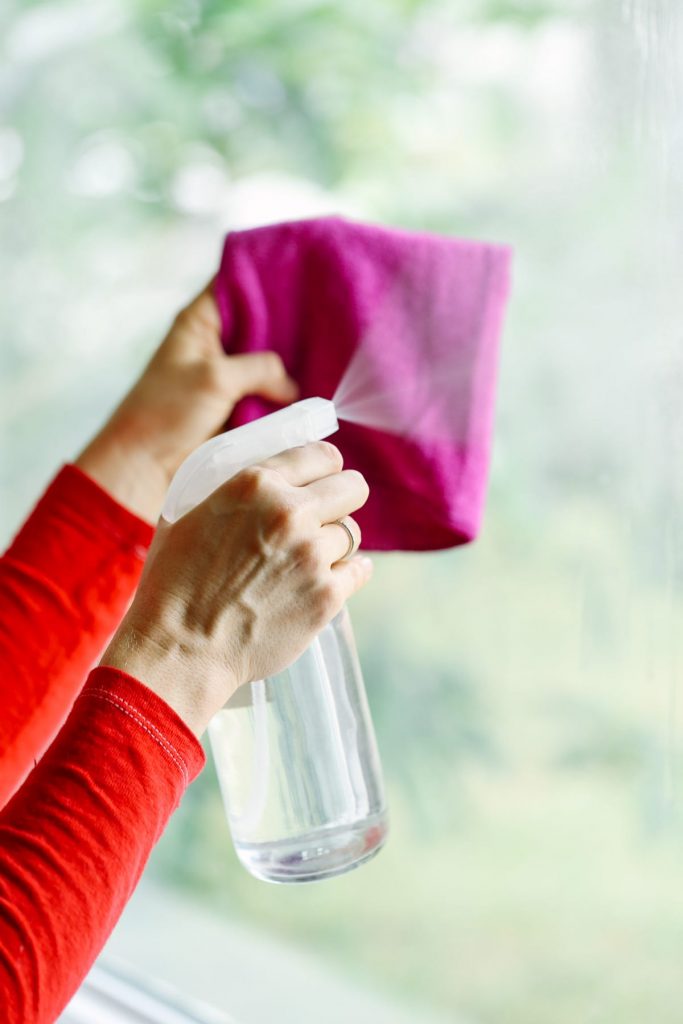 Now I get it, the rational answer is not to "throw the baby out with the bathwater." I understand that we don't live in a bubble. I still use some plastic products in our home (just to name one example) and probably come in contact with phthalates, and other ingredients, just by continuing with daily routines outside our home. But when an alternative solution exists for something that's sprayed in our home environment regularly, like glass cleaner, and that solution only takes 60 seconds to pour into a bottle and spray on my windows and mirrors, why not give it a shot!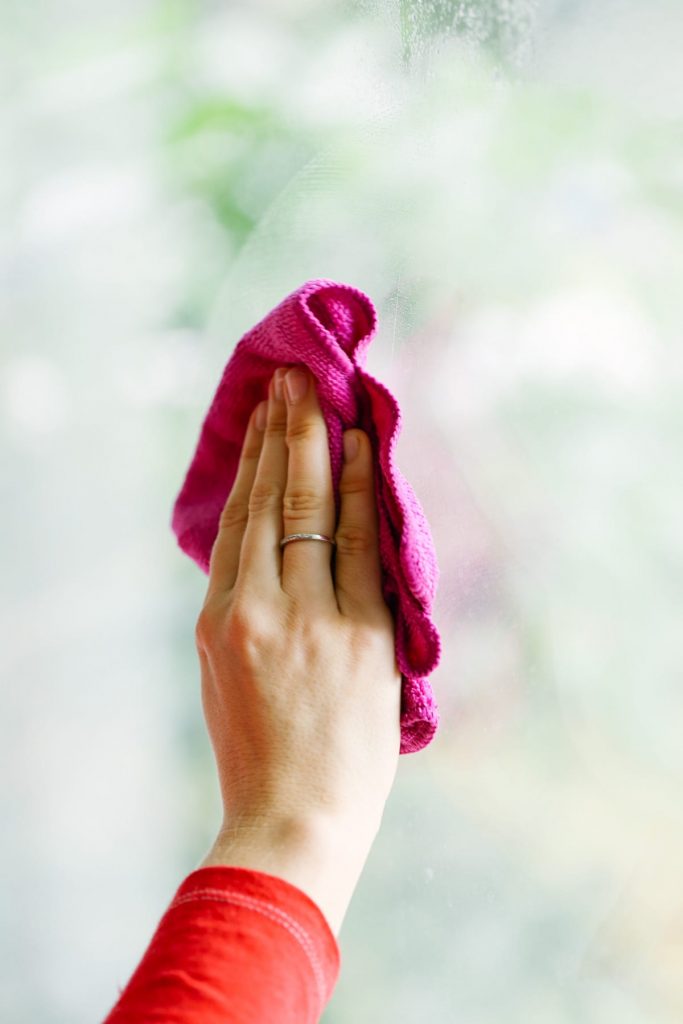 Today, my goal is not  to scare you, but rather to show you just how easy it is to make homemade glass cleaner at home. Let's get started!
Homemade Glass and Mirror Cleaner
How to make a DIY homemade glass and mirror cleaner. This streak-free formula is budget-friendly, non-toxic, and takes less than 5 minutes to make!
Ingredients
1/2

cup

rubbing/isopropyl alcohol

(if you'd prefer to not use this ingredient, skip it and add 1/2 vinegar on top of the 1/3 cup or use vodka)

1/3

cup

white distilled vinegar

distilled water

distilled water is best if storing for a few weeks, filtered water is fine if using within a few days
Instructions
Add water until the bottle is full (use a funnel, if needed). If you don't care for a vinegar scent (although it goes away once the surface dries), add a few drops of your favorite cleaning essential oil. I personally like lemon, grapefruit, or a germ fighter blend. This cleaner may be stored at room temperature.

To Use: Spray a glass surface with the cleaner, then wipe the surface with a cloth (microfiber is best for glass cleaning).
Recipe Video
More DIYs You May Like:
12 Must-Have Ingredients to Clean Your Entire House
10 Must-Have Tools to Clean Your Entire House