Meet my new obsession: cashew milk.
Seriously, cashew milk.
In 2016, kale is king (or is there a new king of the vegetables these days?), quinoa is no longer a mystery word or substance (even Walmart sells quinoa), and cashews are milked (well, more like blended).
One of the first processed food to real food swaps we made was the kind of milk we purchased. After reading the book, The Untold Story of Milk, we searched for a local farmer with very clean living and milking conditions for the cows, and started consuming raw milk in place of the ultra-pasteurized organic milk we purchased from the store. Dustin, who suffered from dairy issues since he was a child, noticed a huge difference in his ability to consume the raw milk versus the ultra-pasteurized milk.
For nearly four years now, we've been purchasing raw milk from the same local farm every two weeks. I love everything about our raw milk farmer's milk: it's creamy (you can see the thick cream line just floating on top), nourishing, and decadent. Most of the time our gallon of raw milk is used for baking, smoothies, and granola bowls.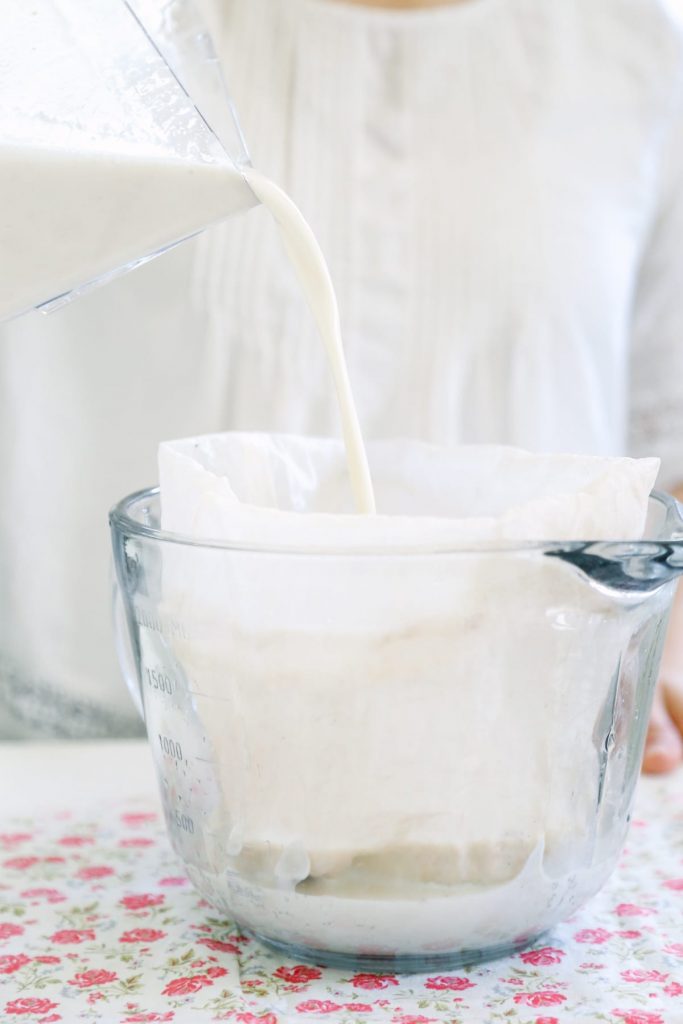 This past year I've been traveling a lot more than I have in the past, which means I'm not always home to pickup our raw milk on the designated week and time. When this happens, I usually purchase Organic Valley's Grass Milk or Natural By Nature's Milk from Whole Foods or our local health food store. Both options are by far the best store-bought milk options in our area. The flavor difference between these milk options and our creamy and sweet raw milk means that I usually resort to using this milk for baking (biscuits, pancakes, waffles, etc.), and use a nut milk for smoothies and granola bowls. Raw milk has definitely changed and spoiled my taste-buds.
Enter creamy cashew milk.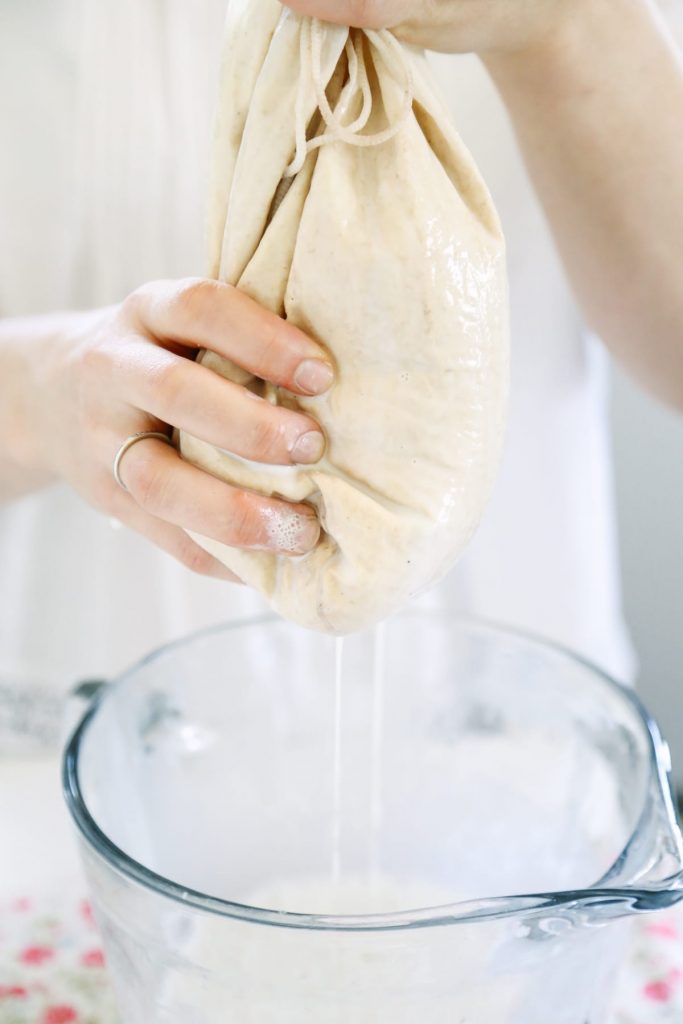 I've shared one of my go-to nut milk recipes, almond milk, on Live Simply before. I absolutely love almond milk, but I also love changing things up every once in a while when it comes to what we're consuming.
To do this, I like to switch between making homemade almond milk and cashew milk. While both milks are creamy and sweet, and both add the perfect subtle flavor to smoothies and granola bowls, I personally love the extra creaminess that "milked" cashews offer. Cashew milk is also much easier to make than almond milk, since you don't have to use soaked nuts and don't need a nut bag (or heavy duty cheesecloth). Cashew milk also leaves behind very little pulp, which I believe is the reason for the super creamy consistency of this milk.
If you haven't tried making your own nut milk yet, cashew milk is definitely the recipe to start with. As mentioned above, it's a super simple nut milk that requires zero prep time and results in a creamy, white milk that looks just like "regular" milk. Cashew milk can be used in just about any recipe calling for milk, added to smoothies, poured over your favorite granola, enjoyed in coffee as a creamer, or enjoyed straight from a glass with homemade cookies.
How to Make Creamy Cashew Milk (Dairy-Free Milk and Coffee Creamer)
Cashew milk can be used in just about any recipe calling for milk, added to smoothies, poured over your favorite granola, enjoyed in coffee as a creamer, or enjoyed straight from a glass with homemade cookies.
Ingredients
4

cups

filtered water

1

cup

cashews

2

TB

medjool dates

pitted, or 2maple syrup

1

tsp

pure vanilla extract
Instructions
Add the ingredients to the jar of a high-speed blender. Blend the ingredients for 60 seconds, until the cashews are completely blended into the water.

Strain the milk through a

nut bag

or fine mesh sieve (you don't have to use a nut bag since the cashew milk leaves behind very little pulp). If you're using a nut bag, slowly squeeze the bag like you're milking a cow. If you're using a fine mesh sieve, press the pulp down with the back of a wooden spoon to squeeze out the milk. Discard the leftover pulp.

Place the milk in a bottle with a tight-fitting seal for 7 days (I've gone as long as 10 days). Gently shake the bottle before use.
Nutrition
Calories:
202
kcal
Carbohydrates:
15
g
Protein:
6
g
Fat:
14
g
Saturated Fat:
2
g
Sodium:
16
mg
Potassium:
262
mg
Fiber:
1
g
Sugar:
6
g
Calcium:
22
mg
Iron:
2.2
mg
Cashews are soft enough that they don't need to be soaked in advance. From a nutritional standpoint, soaking the cashews overnight may boost the nutrition of this milk and make it easier to digest. Soak the cashews in water and a pinch of salt, then discard the water before adding the cashews to the blender.
Cashew milk may be used in just about any recipe calling for milk, or enjoyed as a delicious beverage. If you're making savory dishes with this milk, you may want to leave out the sweetener and vanilla. I love to use cashew milk as a coffee creamer and to make smoothies.