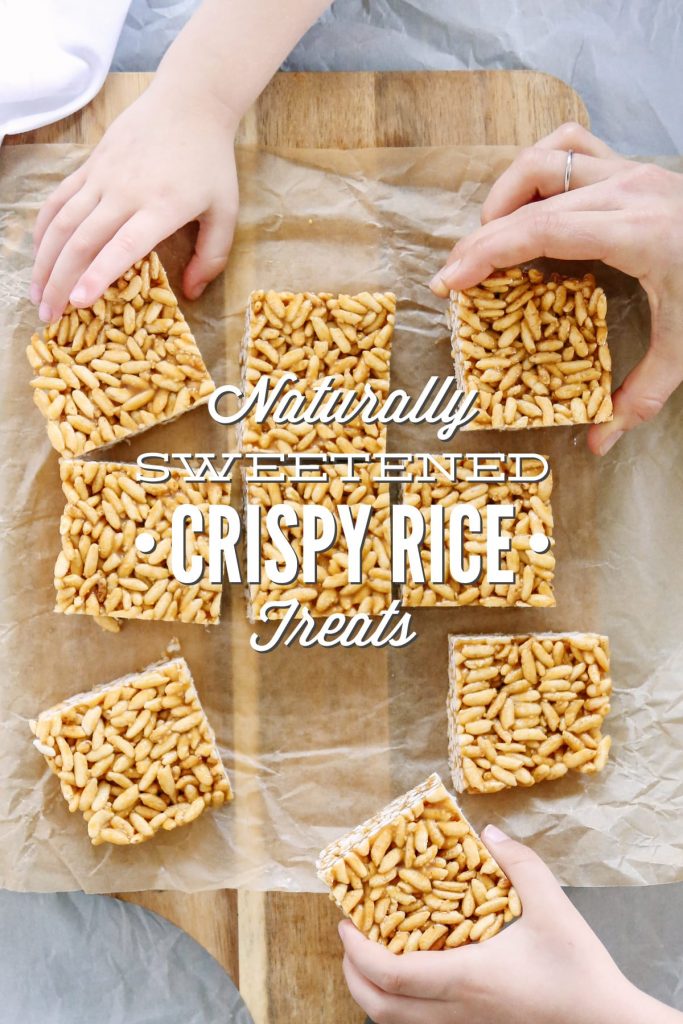 Before I share today's recipe and story, I need to add a recipe disclosure: This recipe may just be the BEST and EASIEST treat you've ever made. SERIOUSLY! <–And you know I'm not one to overuse capitalization around here, which means these Naturally-Sweetened Crispy Rice Treats are SOOOO GOOD!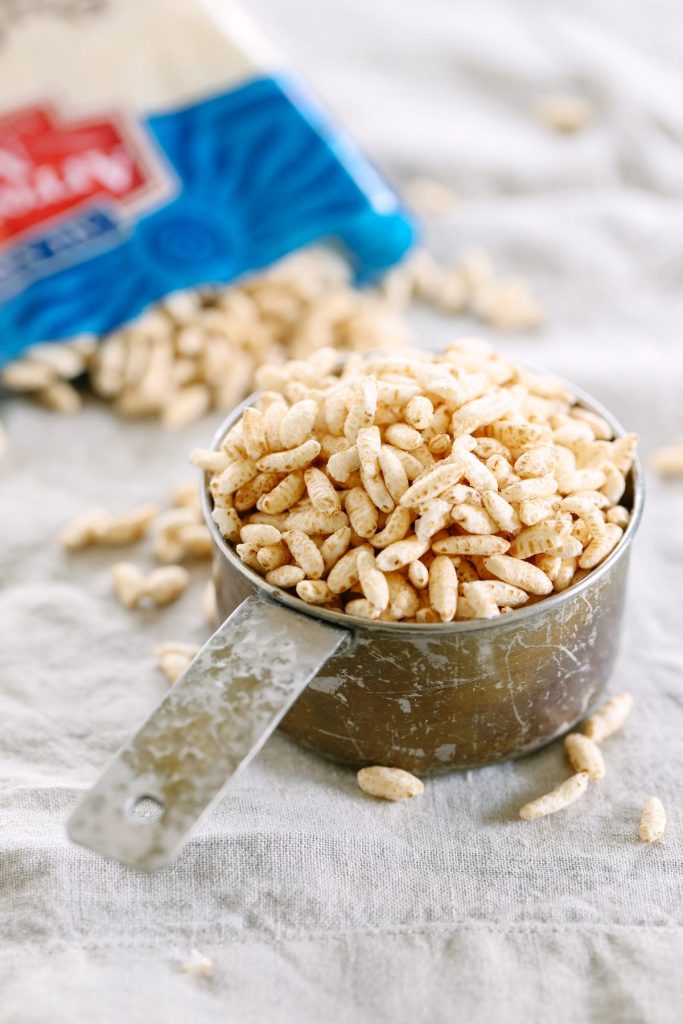 One of my favorite snacks growing up was the famous Rice Crispy Treat. I have happy (processed) food memories when I think about my mom making these perfectly crispy and sweet bars. And yes, technically, they were more of a dessert "food," but they were definitely treated like a snack in our home. Hey, it was the early '90s, not exactly the age of healthy food ;).
My love for Rice Crispy Treats started as a young child in my mom's kitchen, and continued to grow in my teen and early adult years.
During my college years, I resorted to satisfying my cravings with the boxed variety from the store. The kind of treat that makes the homemade version look like health food. I also learned during this time that Starbucks sold a crispy rice treat, which meant I had even more reason to spend $4 on a cup of coffee.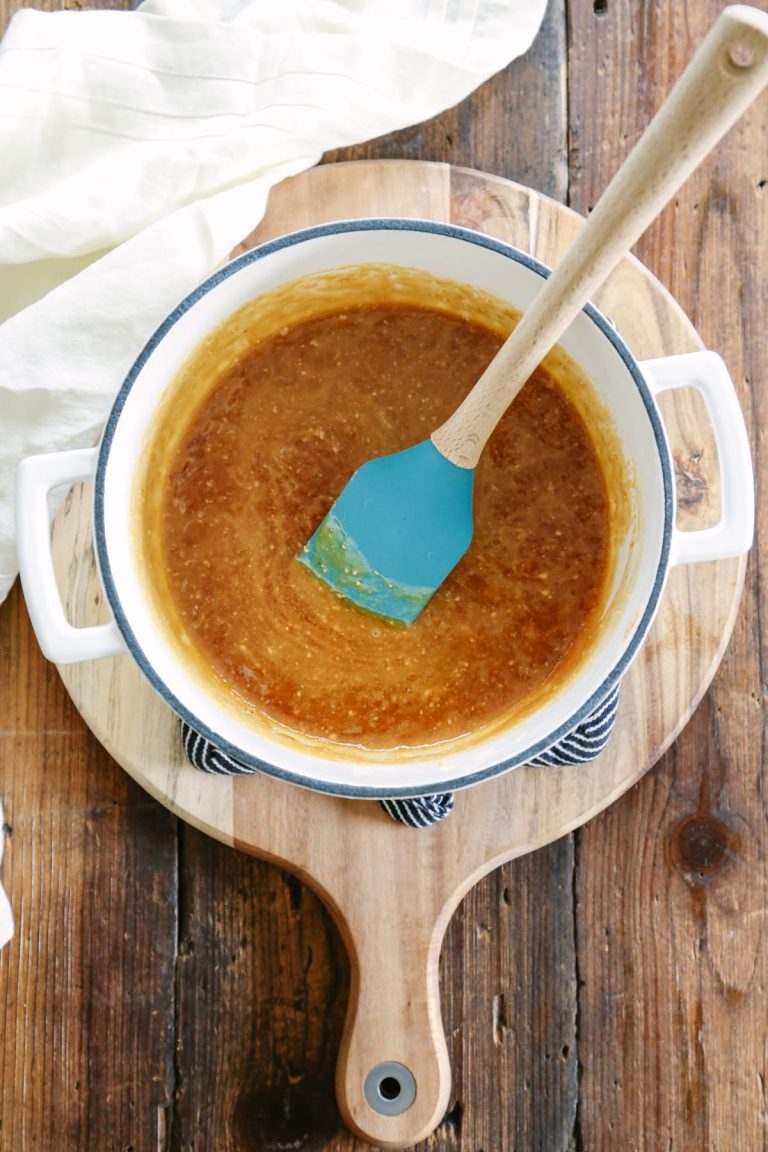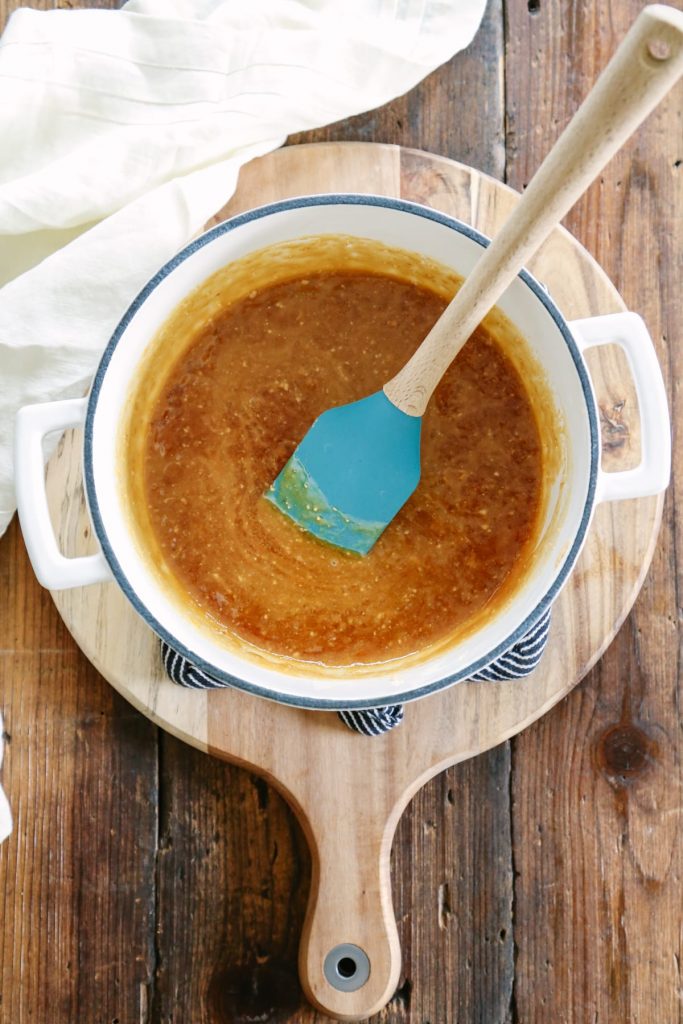 Once we made the decision to clean up our food habits, I decided to quit my Rice Crispy Treat habit cold turkey. We also made the same decision about soda products. It was during this time that we realized just how addictive processed food can be. In the beginning, the craving for the sugary processed "food" was intense. Slowly, as we learned to make food at home with real ingredients, and avoid the aisles and places that sold the "food" we craved, our desire for some of the junk decreased.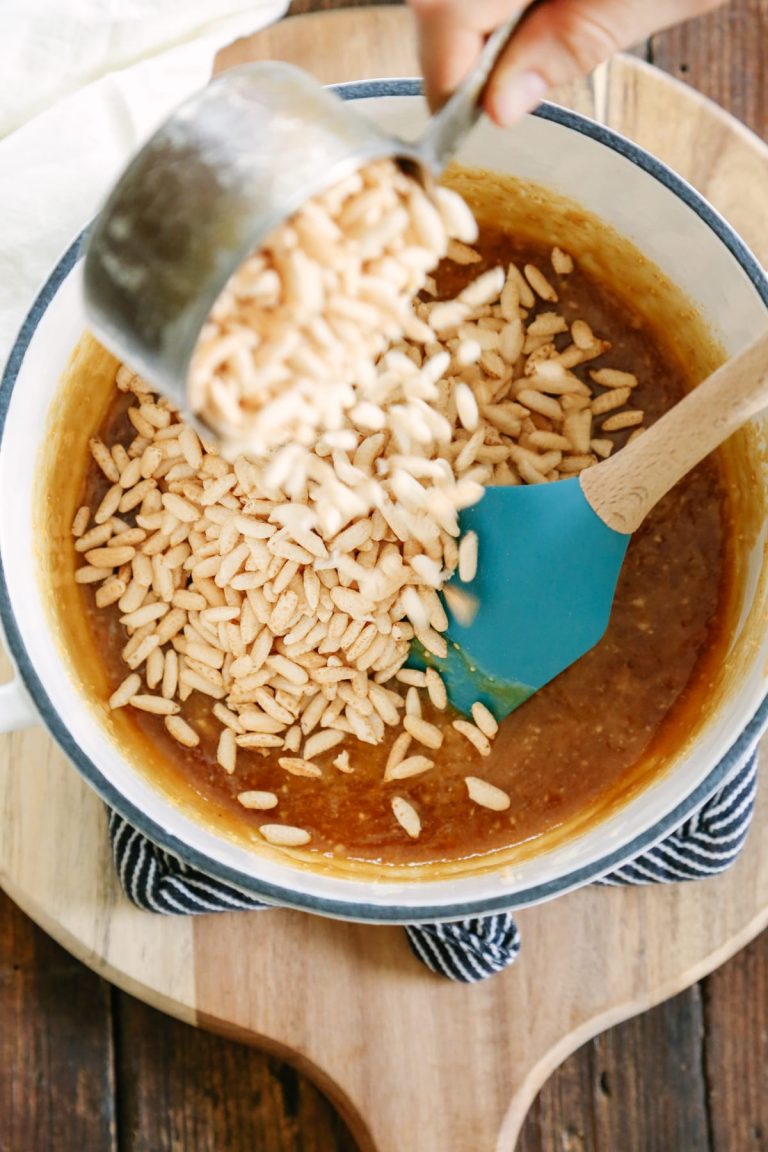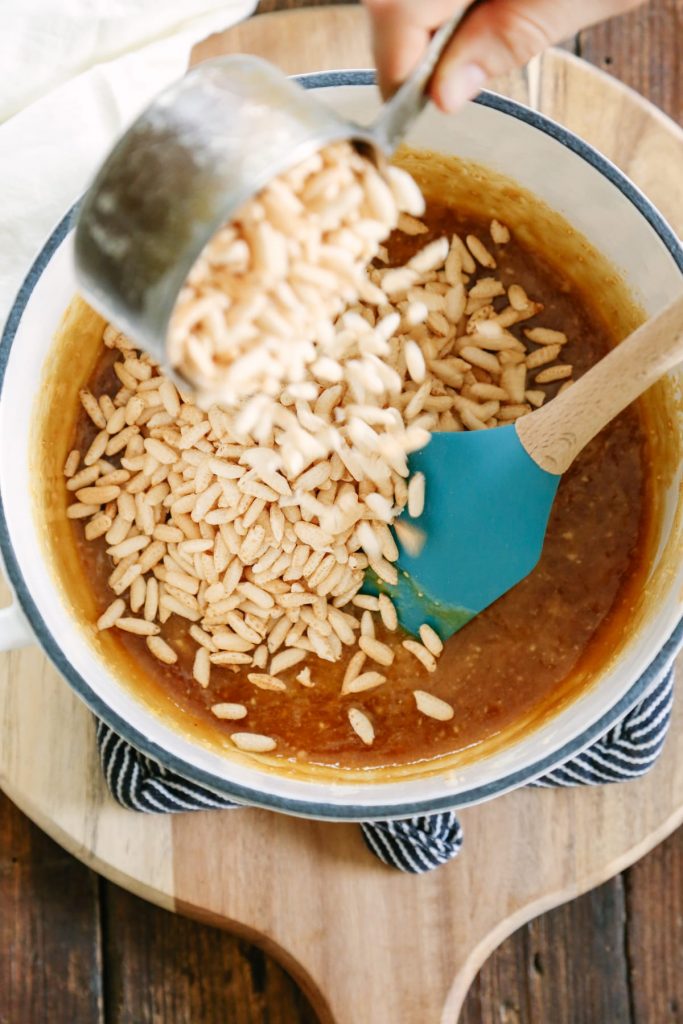 For years now, I've been dreaming about a way to make a crispy rice treat at home, without the marshmallows or the infamous cereal that's associated with this treat.
Last year, I discovered a bottom-shelf cereal at our local health food store with only one ingredient: puffed whole grain brown rice. That's it! The "cereal" isn't sweet, but it's perfectly crunchy, making it an ideal choice for a real food crispy rice treat! My kids also love this cereal in their lunchbox or served with milk in the morning.
As we know, marshmallows are what make the classic homemade Rice Crispy Treat so irresistibly gooey, but most store-bought marshmallows contain less than ideal ingredients like blue dye (not the natural, plant-derived stuff either) and corn syrup. In order to make a real food crispy rice treat, I needed something to bind the rice cereal and also add a sweet, buttery flavor. Marshmallows certainly can be made at home, but they are quite the time-consuming treat to make, so I reserve them for the Christmas season. My time-saving solution? Butter, honey, and nut butter.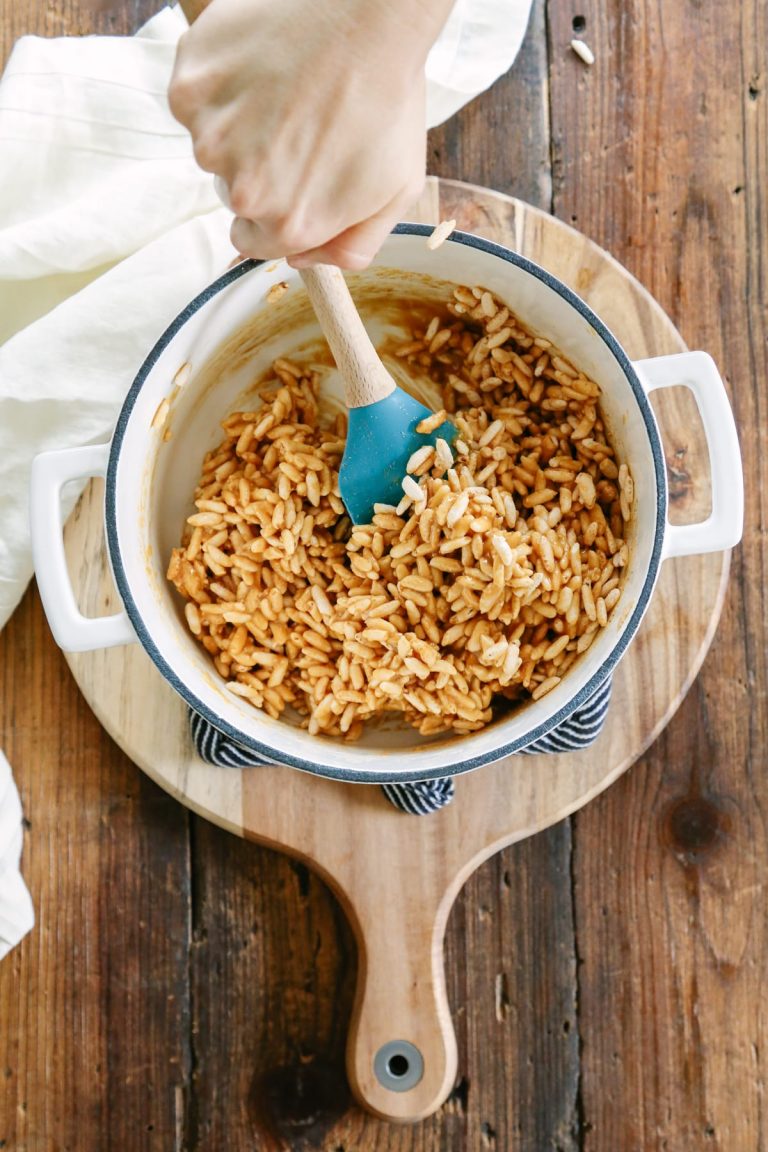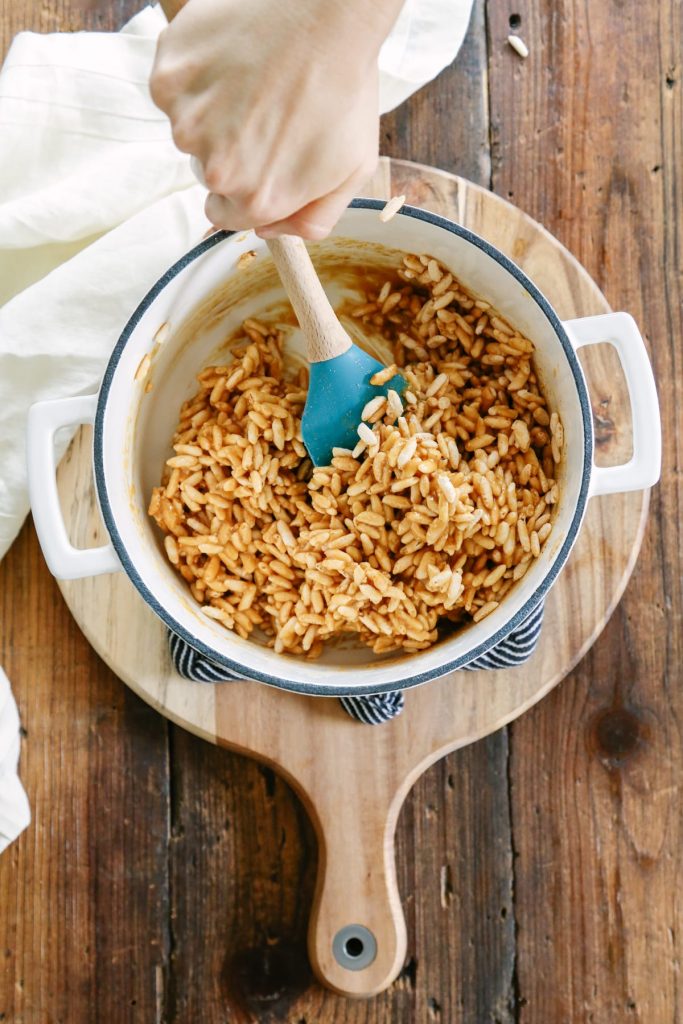 After months (okay, more like years) of dreaming about a super easy, healthier crispy rice treat recipe, I finally decided, a few weeks ago, to melt butter, honey, and peanut butter in my Dutch oven, and stir in a few cups of rice cereal. I poured the sticky cereal into a pan, placed the pan in the fridge, and went upstairs to tuck the kids into bed.
Once the kids were (finally) asleep, I snuck downstairs and pulled the parchment-lined pan from the fridge. The giant rice bar was firm and looked promising. Dustin snuck into the kitchen just as I pulled the parchment from the pan and cut the giant cereal square into smaller bars.
I'll let you guess what happened next….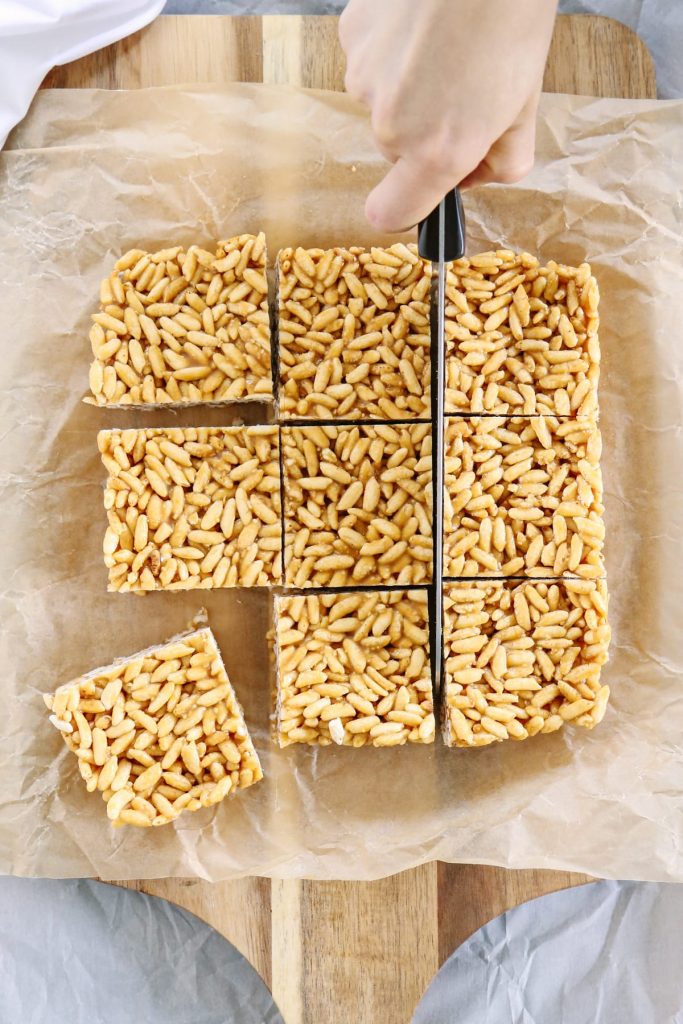 Yep, we sat there and ate one bar after another. Finally, we stopped after about the third bar of pure bliss. We decided to save the remaining bars for a special dessert later in the week. Since that recipe trial (and success), I've painfully tested my Naturally-Sweetened Crispy Rice Treats over and over again to ensure this recipe is successful ;). After multiple weeks of testing, I think it's safe to say: This recipe is the BEST and EASIEST treat I've ever made.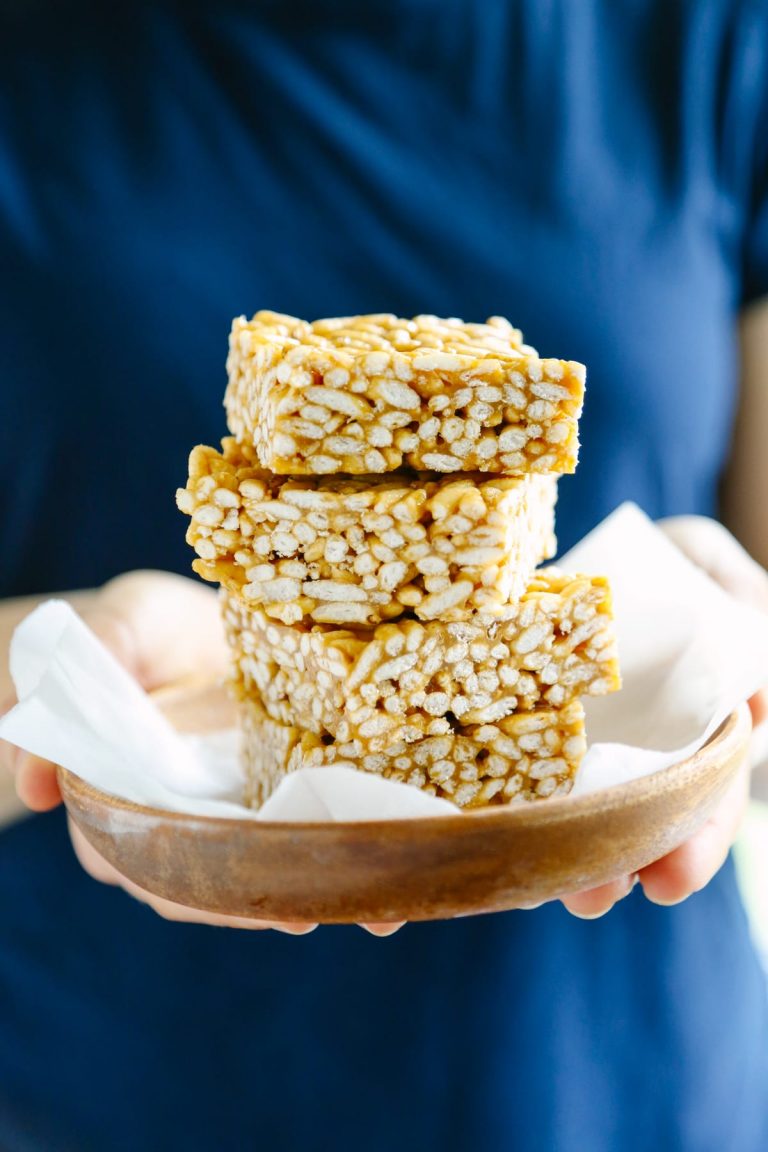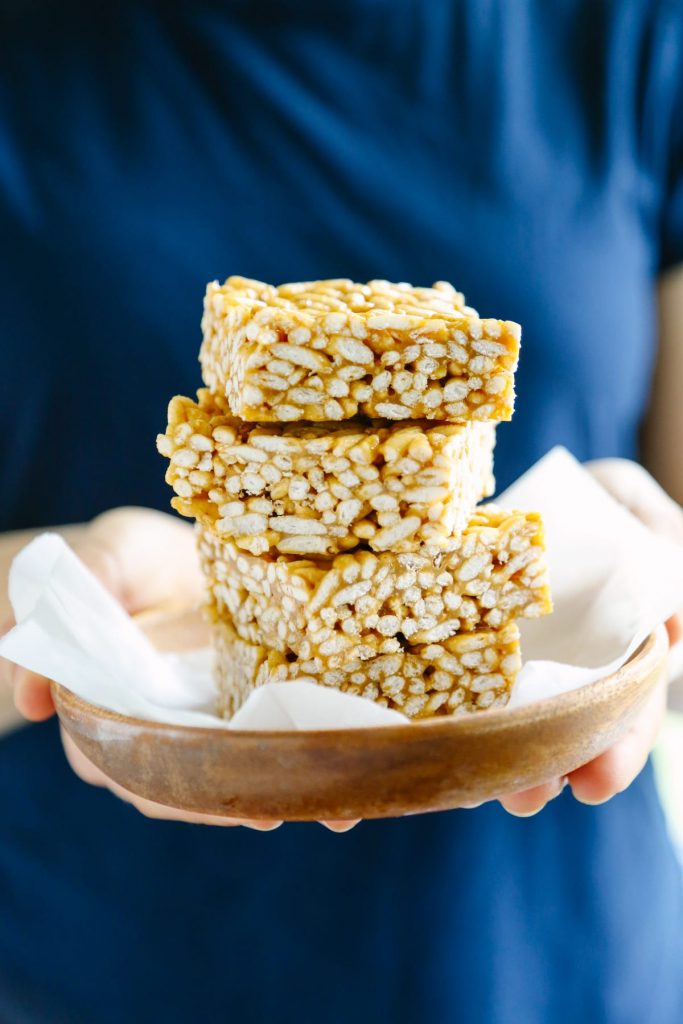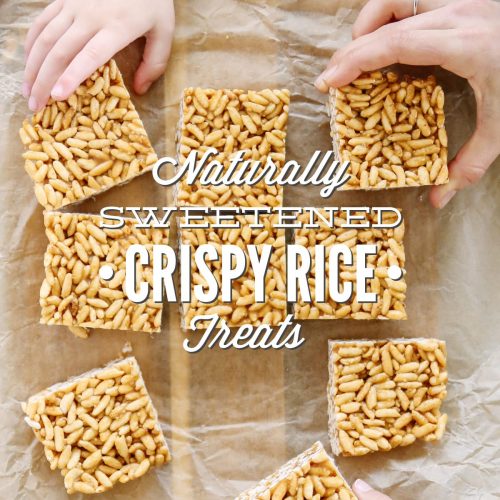 Naturally-Sweetened Crispy Rice Treats
This recipe is the BEST and EASIEST treat I've ever made.
Ingredients
8

TB

butter

I've been using salted butter, but unsalted should also work great.

1/2

cup

honey

1/3

cup

peanut butter

*

1 1/2

tsp

pure vanilla extract

4

cups

puffed rice cereal

I prefer Arrowhead Mills brand which you can find at most health food stores for about $3/bag.
Instructions
In a large pot (I use a 3 qt. Dutch oven), begin to melt the butter over medium heat. Once the butter is almost completely melted, add the honey and peanut butter. Whisk the ingredients together. The ingredients should bubble and foam. Keep an eye on the bubbling, and continue to cook the ingredients for about 3 minutes, stirring often.

Remove the pot from the heat, and add the vanilla extract. The ingredients will bubble slightly with the addition of the alcohol from the vanilla. This is normal.

Stir in the puffed rice cereal.

Pour the cereal mixture into a parchment-lined 8x8 baking pan. I like to leave a bit of extra parchment overflowing on the sides of the pan so I can easily remove the rice treats after refrigeration. Press the rice treats down into the pan. The top of the treats should appear smooth versus lumpy.

Refrigerate the rice treats for about 1-2 hours. Alternatively, you can place the rice treats in the freezer for about 30 minutes. You'll know the rice treats are ready to cut when they feel firm on top.

Remove the parchment (and rice treats) from the pan. Cut the rice treats into squares.

Keep the bars refrigerated in an air-tight container.
Nutrition
Calories:
237
kcal
Carbohydrates:
24
g
Protein:
3
g
Fat:
15
g
Saturated Fat:
7
g
Cholesterol:
27
mg
Sodium:
135
mg
Potassium:
81
mg
Sugar:
16
g
Vitamin A:
315
IU
Vitamin C:
0.1
mg
Calcium:
8
mg
Iron:
0.5
mg
*Natural Peanut Butter Note: I use the freshly-ground peanut butter from the store. This peanut butter is made with only two ingredients: peanuts and salt. Look for a natural peanut butter with only one or two ingredients, or make your own. I think almond butter or a sunbutter (for a nut-free version) could also be used in this recipe; however, I haven't tried making this swap yet.
Butter Alternative: If you're a dairy-free family, I think you could probably swap out the butter for coconut oil or ghee; however, I haven't tried making this swap yet. Ghee isn't dairy-free, but many folks who can't do dairy (butter) are okay with ghee since the milk solids are removed. The coconut oil will probably result in an intense, coconut-flavored treat.
PS: The brand of Rice Crispy Treats that many of us grew up enjoying is actually spelled differently than how I spell the name in the post. That brand is also a trademarked name, so I'm sticking with a modified spelling here for a modified, real food recipe ;).