It's spring break week! The kids are excited, Mom is excited, and my kid-themed Pinterest Board is overflowing with the cutest ideas EVER! Okay, maybe two of those ideas (if we're lucky) will actually happen, but it's the thought that counts, right?!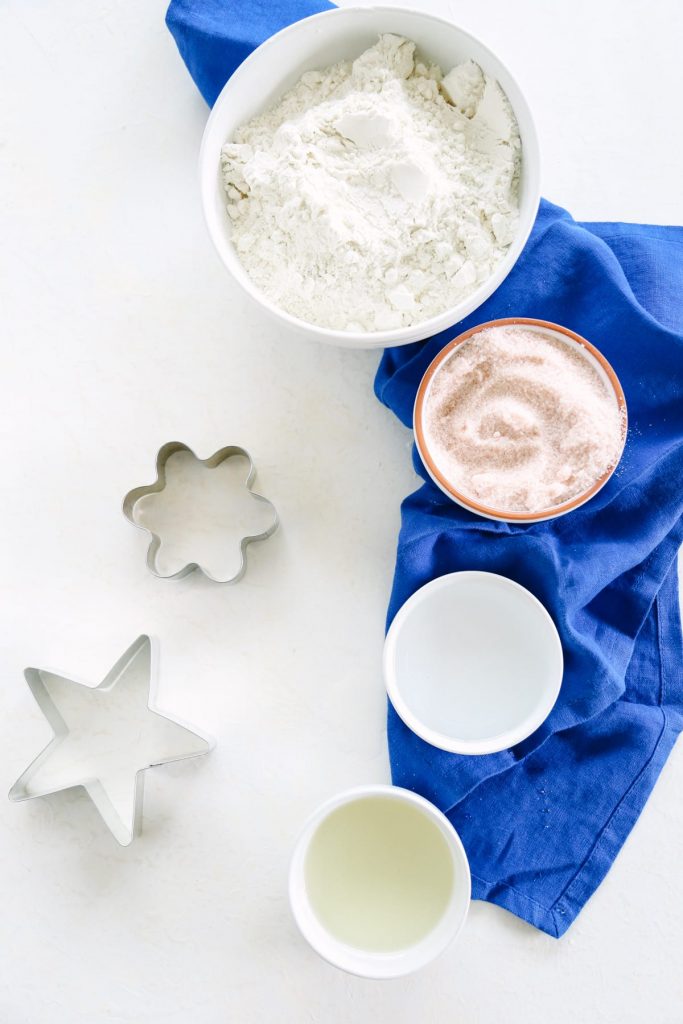 Most of the kids' spring break time will be spent hanging out at grandma's house and chilling around our home. They will enjoy games, outdoor play, making messes in the kitchen, Netflix, and building Legos. I truly believe it's important for kids to have "down time." The kind of time that isn't planned or curated by every Pinterest activity on the web.
There's a since of calm and independence that comes from having time to just chill and build Legos or squish your tiny fingers in play dough. That, my friend, is the kind of spring break I plan to give my kids: a healthy mix between planned activities and chill-laxing.
Play dough is an activity that my kids absolutely love. And to be honest, I even love playing with play dough. There's something incredibly relaxing about squishing and rolling out dough. Remember those stress relief balls? Play dough is the inexpensive and colorful alternative. Not that anyone around here needs natural stress relief. Cough cough.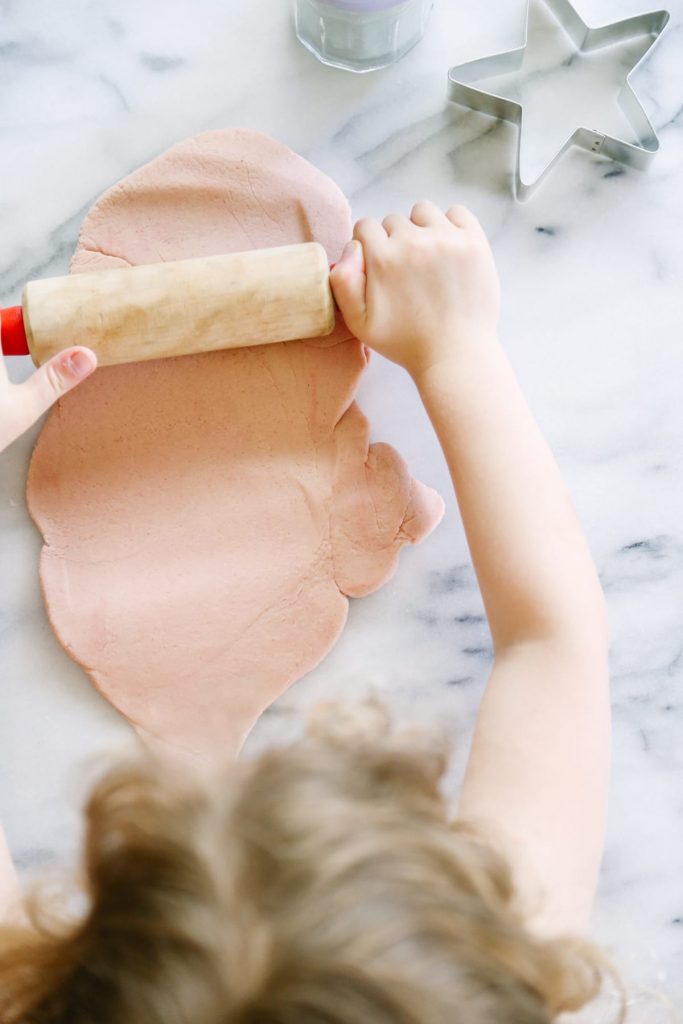 Today's play dough recipe is inspired by my first play dough recipe here on Live Simply. That's right, we're big fans of play dough…two recipes and counting! This recipe is a bit different than my original recipe.
First, this play dough recipe doesn't require cream of tartar. Because really, who just has a bottle of cream of tartar sitting in the pantry? I think I've used cream of tartar in maybe two recipes in the whole eight years we've been cooking and eating real food. Today's play dough recipe completely does away with that expensive ingredient, and uses extra salt in its place.
Second, unlike the original fall-inspired play dough recipe, this recipe doesn't call for pumpkin spice. After all, pumpkin spice is a little overrated, don't you think? How many more things can we add pumpkin spice to? I'm not complaining, of course, just making a general life/Pinterest observation ;).
Finally, this revised play dough recipe makes a bit more than the original recipe, which comes in handy when you have a zealous three year-old with a passion for all-things play dough. We're still working on the whole concept of sharing play dough.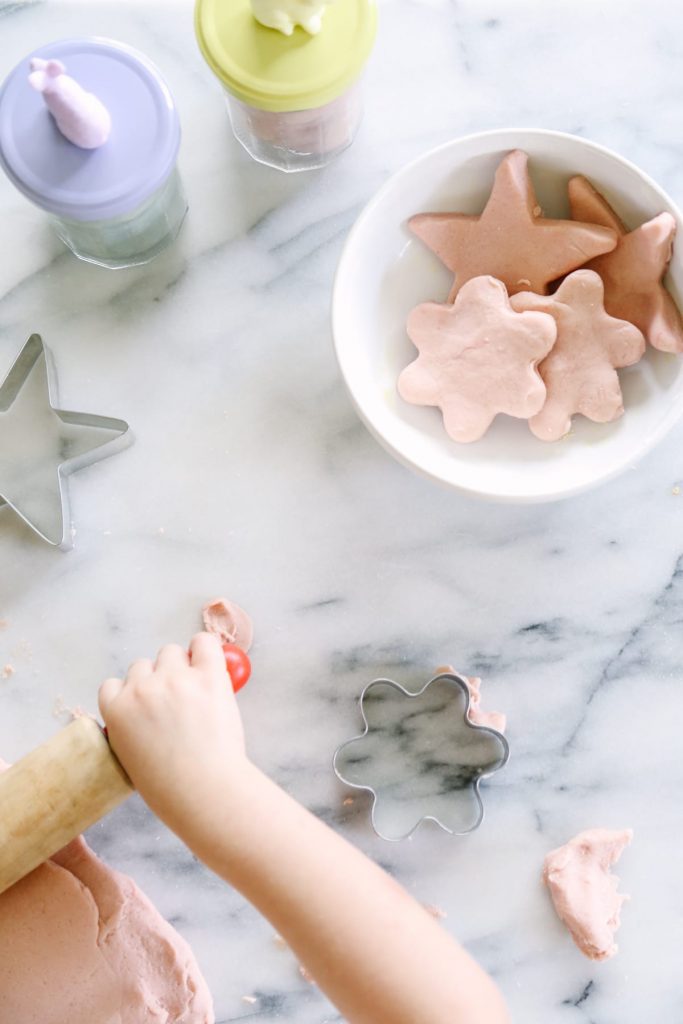 When I mentioned to Dustin that I was going to post another play dough recipe just in time for spring break, he asked how I was planning to categorize the post on the blog. I replied, "Natural Remedies." Think of this recipe as a natural remedy to the boredom, video games, and TV that can easily take over during a week-long break.
Hear me out, I'm not saying that movies or TV are bad words. I won't be that internet mom blogger. No judgment here! Netflix is my friend, too. What I am saying is that play dough is a really fun activity that encourages kids to get into the kitchen, and it offers at least a good thirty minutes of "down time" play.
Here's to a fun and laid back spring break, Mom!
How to Make Natural Play Dough
Ingredients
2 1/4

cups

white all-purpose flour

1

cup

salt

1 1/4

cups

hot water

2

TB

avocado oil

I've used avocado and olive oil with good success.

natural dye

* optional
Instructions
In a large bowl, combine the flour and salt. Add the hot water and oil to the flour and salt mixture. If you're using a dye to color the dough, add it to the bowl (the amount you use will depend on your personal preference). Stir the dough until it forms a bowl. Once the dough begins to form a ball, knead the dough with your hands, adding more flour if it's needed. I usually end up adding 2 tablespoons of extra flour to reach my desired consistency.

The play dough is best used within 7 days, especially if you live in a humid climate (hello, Florida!). I store the play dough at room temperature in an air-tight container. If the play dough gets too sticky, just knead in more flour. If the play dough gets too dry, add a drizzle of oil to the dough.
Dye Note:
Artificial dye is an ingredient we avoid using in our food. Play dough isn't food, but kids often sample and play with it like it's food. Thankfully, there are a few great dye alternatives that are made with real ingredients (from vegetables). My favorite store-bought brand is India Tree, which can be purchased online or at health food stores. The price of natural dye is hefty, but a little bit of dye goes a long way, making the price a bit more affordable. I purchased a 3-pack of India Tree Dye from Whole Foods for $18.99. The same set sells on Amazon for $31.00. I keep this dye around for making play dough and coloring frosting for birthday cakes and cookies. Another option is to make plant-based dyes at home (find a recipe tutorial here).