Are you ready for some photos?
If you didn't read that in an American football announcer's voice, then you must read that question again.
ARE YOU READY FOR SOME PHOTOS?
Much better!
Today's post is overloaded with photos, because last week we went on vacation to Anna Maria Island, Florida. Tourist on vacation = lots of photos! For seven whole days we unplugged from the online world (at least for the majority of the time), played tic-tac-toe in the sand, surfed in the waves, caught fresh fish for dinner (mackerel), ate homemade granola bars while twiddling our toes in the sand, and watched night after night of Netflix movies. It was exactly as a vacation should be: relaxing, delicious, simple, unplugged, and refreshing.
And now, more photos! Because today we're going to make one of the treats that we enjoyed on our vacation: Homemade No-Bake Trail Mix Granola Bars.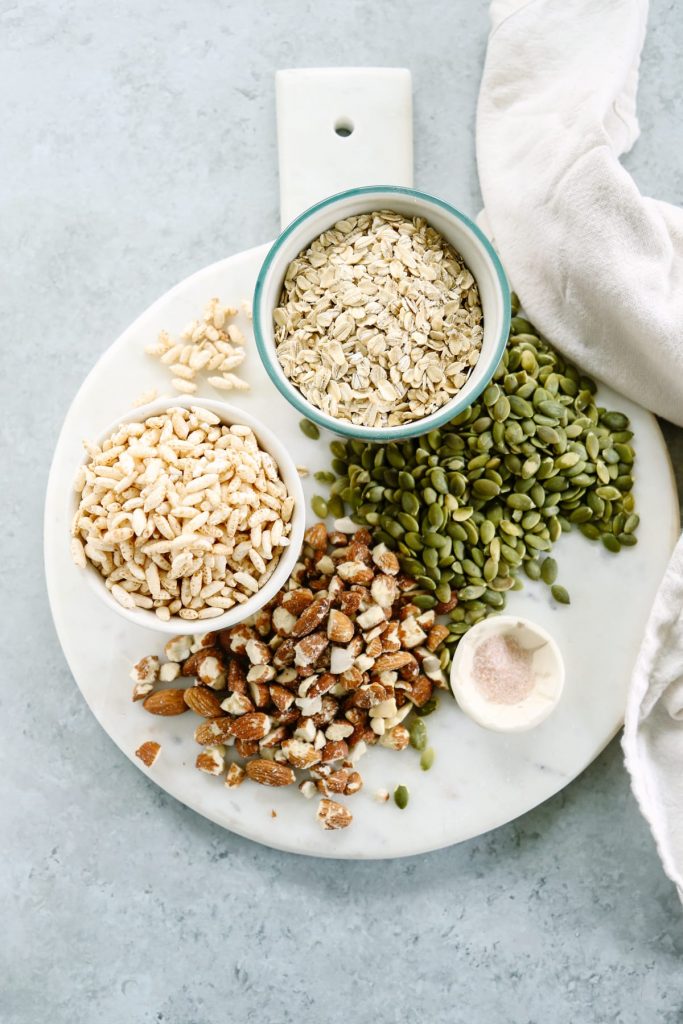 I've been working on a simple homemade granola bar recipe, that doesn't require baking, for a few months now.  After lots of testing, and some really nasty failures, today's recipe was successfully created and has become one of our family's favorite homemade treats.
So what makes Homemade No-Bake Trail Mix Granola Bars so different than other granola bar recipes on the blog and Pinterest?
Friend, this recipe simplifies the entire granola-bar-making process with a no-bake freezer preparation method. Yes, there's a bit of chopping and heating involved, but that's about as tricky as this recipe gets.
I promise the chopping and heating steps are totally worth the effort of making these bars, because these bars are everything a granola bar should be: salty, crunchy, and filling. They don't disappoint! And, to top off their amazingness, these bars are stored in the freezer, which means they keep forever. Okay, maybe not forever, but you get the point: these bars last quite a long time. One batch of granola bars may be enjoyed multiple times for breakfast, a quick snack, or a late night treat.
Before we get started making a batch of homemade granola bars, let's talk about the "trail mix" part of the recipe.
Typically, trail mix is a blend of salty, crunchy, and chewy foods (think: dried fruits and salty nuts). These bars remind me of a bag of trail mix in bar form: a blend of crunchy nuts and seeds (including the nut butter that holds these bars together) and dried fruit (dates). Just like any good trail mix base, there's definitely room for experimentation in this recipe. Sub out the pumpkin seeds for sunflower seeds, try adding a handful of chocolate chips (you'll want to make sure the mixture is cool before adding the chocolate chips), or use almond butter instead of the peanut butter.
And now for the granola bar recipe you've been waiting so patiently to make, and a video to help guide you through the process.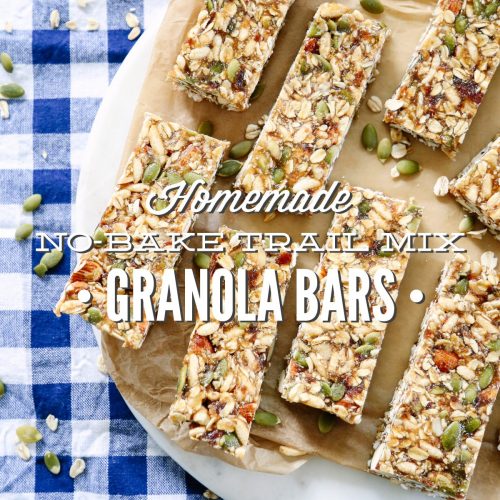 Homemade No-Bake Trail Mix Granola Bars
This recipe simplifies the entire granola-bar-making process with a no-bake freezer preparation method.
Ingredients
1

cup

old-fashioned rolled oats

110 g

1

cup

puffed brown rice cereal

I prefer Arrowhead Mills brand which you can find at most health food stores for about $3/bag., 20 g

1/2

cup

unsalted chopped almonds

80 g

1/2

cup

roasted and unsalted pumpkin seeds

80 g

pinch

salt

1

cup

medjool dates

packed, (9-10 dates 195 g) , pitted

1/3

cup

honey

60 ml

1/3

cup

peanut butter

100 g

1

TB

pure vanilla extract

homemade
Instructions
In a large bowl, combine the dry ingredients: rolled oats, puffed brown rice, chopped almonds, pumpkin seeds, and a pinch of salt.

Place the pitted dates in a food processor bowl, or you can do this step with a knife but it will require more time. Slowly pulse the dates, pausing between pulses, until the dates are chopped into pieces. Ideally the dates shouldn't form a ball, but if this happens you can separate the dates into smaller pieces with your hands. Add the dates to the dry ingredients, and then combine the ingredients with your hands (it helps to wet your hands first!). The mixture should feel sticky once the dates are incorporated in the dry mixture.

In a small saucepan, over medium heat, combine the honey and peanut butter. Stir the honey and peanut butter until smooth and creamy. You may need to use a whisk to combine the ingredients. Turn off the heat, and stir in the vanilla extract (yes, 1 tablespoon).

Pour the sticky honey and peanut butter over the dry ingredients. Stir to combine the ingredients, making sure the honey and peanut butter covers all the dry ingredients.

Line an 8x8 baking dish with parchment paper. Press the granola down into the pan. I like to use the back of a measuring cup (you'll want to wet the back of the measuring cup first) to level the top of the granola and make sure it's packed tight in the baking dish.

Freeze the granola bars for 30 minutes. Remove the granola bars from the freezer and cut into even bars. Place the bars in a freezer-safe container or bag. Freeze the granola bars until you're ready to enjoy. I like to pull a granola bar from the freezer, and let it warm up at room temperature for about 1 minute before enjoying.
Nutrition
Calories:
282
kcal
Carbohydrates:
38
g
Protein:
7
g
Fat:
12
g
Saturated Fat:
1
g
Sodium:
51
mg
Potassium:
337
mg
Fiber:
4
g
Sugar:
25
g
Vitamin A:
25
IU
Calcium:
47
mg
Iron:
1.6
mg
Ingredient Notes
I recommend using an "all natural" peanut butter. This means the peanut butter should only contain 1-3 ingredients: peanuts, and possibly salt and oil. If your peanut butter contains salt, you'll probably want to skip the pinch of salt.
For a nut-free granola bar, I think you could sub out the almonds for more pumpkin seeds or sunflower seeds. Sunflower seed butter, or maybe even tahini, might work as a sub for the peanut butter.
The dates should be soft. If your dates aren't soft, you can soak them in warm water for 15 minutes. This really shouldn't be an issue unless your dates are old.