On most days, my goal is just to pack a nourishing lunch. Fun isn't my number one priority.
That said, I do believe in packing lunches that are 100% enjoyable and visually appealing. That's pretty easy to do when serving real food meals. I've also been known to use a skewer for meatballs or grapes, just to add some extra fun kid appeal (heck, I love anything on a skewer) or add a dip for the veggies because dipping is always extra fun (and nourishing when we're talking about a nutrient-rich hummus or homemade ranch).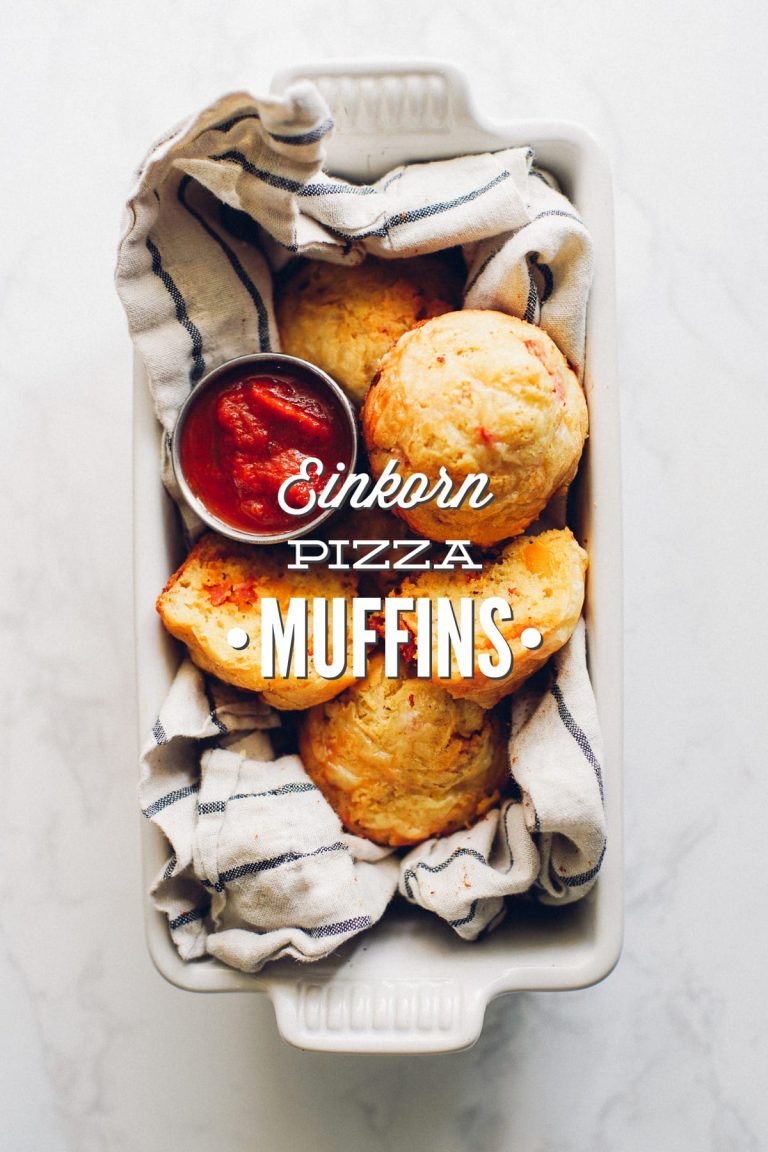 There are some foods, like a ranch dip, that are naturally fun for kids. Muffins fall under this category, too. Maybe it's the grab and eat nature of a muffin that makes them so incredibly fun and enjoyable for kids? Maybe it's the individual size? I'm not quite sure what the appeal is, but muffins are one of my kids' favorite foods to pack (or find) in their lunchbox. And I know my kids aren't alone in their love for muffins.
There are so many great muffin recipes here on the blog; mostly of the sweeter variety. Because when most of us think of muffins, sweet comes to mind. You know, banana muffins, zucchini muffins (kind of savory, but definitely more on the sweet scale), blueberry muffins, etc.
Today's muffin recipe is different. Today's recipe, pizza-inspired muffins, is made with my favorite ancient grain (einkorn) and is 100% savory–think meat and veggies. Although we'll talk about a vegetarian option, too.
Einkorn is known as the oldest variety of wheat making it an "ancient" grain. The ancient grain is believed to have originated in the Tigris-Euphrates region and is possibly the main grain referenced in the earliest accounts of the Bible. Einkorn is said to be the wheat men were eating in the earliest days before modern day wheat varieties. While modern wheat has undergone hybridization, einkorn still holds true to its original properties. Einkorn is slowly gaining popularity, but is still grown in only a few regions in Europe and the US (some local farms in the US are now growing einkorn).
Einkorn is the only wheat that's missing certain types of gluten proteins which some people are sensitive to. Personally, I've found that I digest einkorn well, along with breads and baked goods that have gone through the sourdough process. This is why so many of the recipes on the blog feature this grain. I know other people share a similar experience with einkorn.
In a day when so many folks are scared of gluten (and not because they are Celiac), I think it's important for us to consider a question originally asked by Robyn O'Brien, "Are we allergic to food, or are we increasingly allergic to what has been done to it?"  
Is gluten the issue? Or should we take a step back and ask more in depth questions about how we consume gluten: the fact that our entire diet now revolves around heavily processed grain (from the very start of growing the seed), the lack of variety and seasonality in our modern diet, and the fact that we no longer consume fermented foods as our ancestors once did (which contributes to gut health and allows us to breakdown our food–and then you pair that with mega amounts of stress which wreak havoc on the body and gut). There are a lot of factors to look at when it comes to the gluten issue, but just declaring all gluten as "evil" isn't the answer (in my opinion).
Whether you want to add more variety to your diet, or you're sensitive to wheat (not celiac, just sensitive), einkorn is a great flour to use when you want to enjoy a good ol' traditional baked good, like muffins, cupcakes, scones, or pancakes.
You can find einkorn at some Whole Foods and health food stores, Earth Fare, Vitacost, and Amazon. Definitely shop around as prices can vary based on the retailer. My favorite brand is Jovial.
Also, while we're on this subject, I talked with Carla from Jovial Foods (one of the few companies growing and selling einkorn) on the podcast. The episode is so good and will give you a deeper respect for this ancient grain. It's definitely worth listening to! Maybe you can listen to the episode while making today's muffin recipe?
How To Make Einkorn Pizza Muffins
To make the muffins, you'll start with the base recipe which is made with all-purpose einkorn flour (listen to the podcast episode with Carla to learn more about the difference between whole wheat einkorn and all-purpose einkorn–this all-purpose isn't like the bleached all-purpose many of us grew up with), pizza seasonings (oregano and garlic powder), a bit of honey, buttermilk and butter, and cheese.
From this base, you can customize your "toppings" just like you would with any pizza. There were three of us that tested this recipe, starting with Helen and then moving on to Chardea and myself, so each of us fell in love with different topping variations. Go with the topping option that sounds most appealing to you.
Both topping suggestions include meat, but if you want vegetarian muffins I think you could definitely skip the meat and combine two veggies for a filling option.
How to Store Muffins
Make-Ahead Suggestions and Storage Tips
It's easy to cook once, eat twice with muffins. Make a double batch so you can save some in the freezer for another week (or even later that week). For most flour-based recipes, I don't recommend doubling recipes in the same bowl since the results aren't always favorable. I haven't tried doubling today's recipe, so I'm going to recommend–if you want to double the recipe–using two bowls and whisk each batch in their own separate bowl. Sure, this means cleaning up an extra bowl, but think about the time savings in the future.
For a single batch of muffins (as the recipe is written), I recommend serving the muffins immeadiately after baking or allow the muffins to fully cool (this means letting the muffins sit on the counter for hours, until 100% cool) and then storing in an air-tight container or bag (here are my favorite storage containers for food prep).
The key to storing muffins is to make sure they're 100% cool before storing. If you place hot or semi-warm muffins in a bag or container and then place the container in the fridge, condensation will build up and you're going to get a slimy film on top of the muffins.
The muffins will keep in the fridge for about 4 days.
If you make a double batch of muffins (doubling the written recipe) and  freeze the extra (or just have extra from a single batch), I recommend following the same method as you would if storing in the fridge. Except place the fully cool muffins (now in a storage container or bag), in the freezer. Muffins can be stored in the freezer for about 2-3 months.
Personally, I don't reheat muffins. I usually just take the muffins directly from the fridge and let rest at room temp for a bit before enjoying. If the muffins are going in the lunchbox, I place the cold muffins directly from the fridge into the lunchbox. The muffins are usually room temperature by lunchtime. If you stored the muffins in the freezer, I suggest defrosting them overnight in the fridge or on the counter.
You can also reheat muffins, directly from the freezer or fridge, in the microwave or oven. If you're reheating in the oven, cook them in a foil-covered tray at 350F for about 10-15 minutes, until warm. If you're reheating in the microwave, about 30-40 seconds is generally enough time.
Suggestions for Serving Einkorn Pizza Muffins
Since we're talking about savory muffins, with a meat and veggie filling, they're definitely meant to be a main part of the meal. They make a great main for the lunchbox, accompanied by another veggie (maybe some sliced bell peppers, carrots, cucumbers, or roasted veg from last night's dinner) and fruit (whatever is in season). I share my method for building nourishing and easy-to-pack lunches in the Simplified School Lunch Kit. The kit also includes a ton of kid-approved and nourishing recipes (about 50!) to help you easily make and pack lunches.
Another way to serve the muffins is as a snack. Growing up, freezer pizza bites were a regular afternoon snack in my life. I know, I cringe at the ingredients now. It was the '90s–cringe-worthy ingredients and crazy clothing choices (which happen to be coming back in style-what?) go with the decade. Pizza muffins are a fun alternative to those questionable freezer pizza bites.
Finally, if you want to make the muffins feel even more like pizza and also include that always-fun dipping option, serve the muffins alongside a marinara or pizza sauce. There are some fantastic, simple-ingredient options on the market today. Just flip over the jar and read the ingredient list. I personally love Rao's brand.
Einkorn Pizza Muffins
Savory, pizza-inspired muffins made with the ancient grain, einkorn. Pack these muffins in the lunchbox or serve as a snack. Make the muffins in advance and store in the fridge or freezer.
Ingredients
Basic Pizza Muffins:
8

TB

unsalted butter

melted

1/2

cup

buttermilk

(140g) or ½ cup milk + 1 tsp lemon juice--let sit 5 minutes before adding to the bowl

2

TB

honey

(40g)

2

eggs

1 3/4

cups

all-purpose einkorn flour

* sifted (222g)

1

tsp

baking powder

1/2

tsp

baking soda

1

tsp

dried oregano

1/2

tsp

garlic powder

1/2

tsp

salt

3/4

cup

shredded mozzarella cheese

divided: 1/2 cup goes in the batter and 1/4 cup is sprinkled on top of the muffins
Mix-In Option 1:
4

ounces

fresh mushrooms

of choice, such as cremini or white button mushrooms, diced and cooked (½ cup cooked)

20

slices

pepperoni

** quartered (½ cup approx)
Mix-In Option 2:
6

ounces

mild Italian sausage

*** removed from casing and cooked and fat drained (approx. 1 cup once cooked)

1/2

cup

bell pepper

any color, diced and cooked
Special Equipment:
skillet

to cook sausage and/or veggies
Instructions
Prepare the Mix-In Option:
Cook any raw meat or vegetables for mixing into the muffins. For example, for the sausage and bell pepper, remove the sausage from the casing and sauté the crumbled sausage until almost cooked through, then add the bell pepper and cook until soft. If just cooking a veggie (or veggies), sauté the veg with a small amount of oil until soft (about 5 minutes). Feel free to mix and match toppings or experiment with your own veggie combos. I haven't tried it, but chopped greens (like baby spinach) would also work.
Make the Pizza Muffins:
Preheat the oven to 350F. Grease or line a muffin pan with muffin liners.

In a large bowl, whisk the wet ingredients together: melted butter, buttermilk, honey, and eggs. (If you're making your "buttermilk" with milk and lemon juice, you'll want to prepare it in a small bowl and allow to rest about 5 minutes before adding your homemade buttermilk to the large bowl.)

Add the dry ingredients to the wet ingredients: sifted einkorn flour (see note under "Recipe Notes" for instructions on how to sift the flour), baking powder, baking soda, oregano, garlic powder, and salt.

Add in any desired mix-in options (already prepped) and 1/2 cup of mozzarella cheese, and stir to combine.

Scoop the batter into the prepared muffin pan and top with remaining mozzarella cheese (just a sprinkle over each muffin).

Bake for 18-20 minutes until beginning to brown. Cool for a few minutes before removing from pan.

Serve with pizza sauce for dipping!
Notes
*I haven't tried this recipe with whole wheat einkorn yet. If you'd like to use whole wheat einkorn, decrease the amount of flour used by 1/4 cup. When it comes to sifting, you'll want to use a sieve over the bowl. Simply add the measured/weighed einkorn to the sieve and gently tap to sift the flour through the sieve. This makes a big difference in the texture of the muffins.
**I like Applegate brand, which is also very easy to find in stores. Depending on the size of your pepperoni, you may want to chop the slices even smaller. For large pepperoni slices, cutting the slices into quarters isn't enough. Use your best judgement when cutting the pepperoni into an appropriate size. Also, you're welcome to add more if desired. 
***Italian sausage will provide the best flavor since it's already seasoned. If you want to go with plain sausage, that will work too. 
Nutrition
Calories:
204
kcal
Carbohydrates:
18
g
Protein:
5
g
Fat:
11
g
Saturated Fat:
6
g
Cholesterol:
57
mg
Sodium:
275
mg
Potassium:
142
mg
Sugar:
3
g
Vitamin A:
535
IU
Vitamin C:
8.2
mg
Calcium:
75
mg
Iron:
1.2
mg