I've recently updated this post with the best 3 ways to store lettuce, kale, and other leafy greens. Check out the new post with my updated methods here.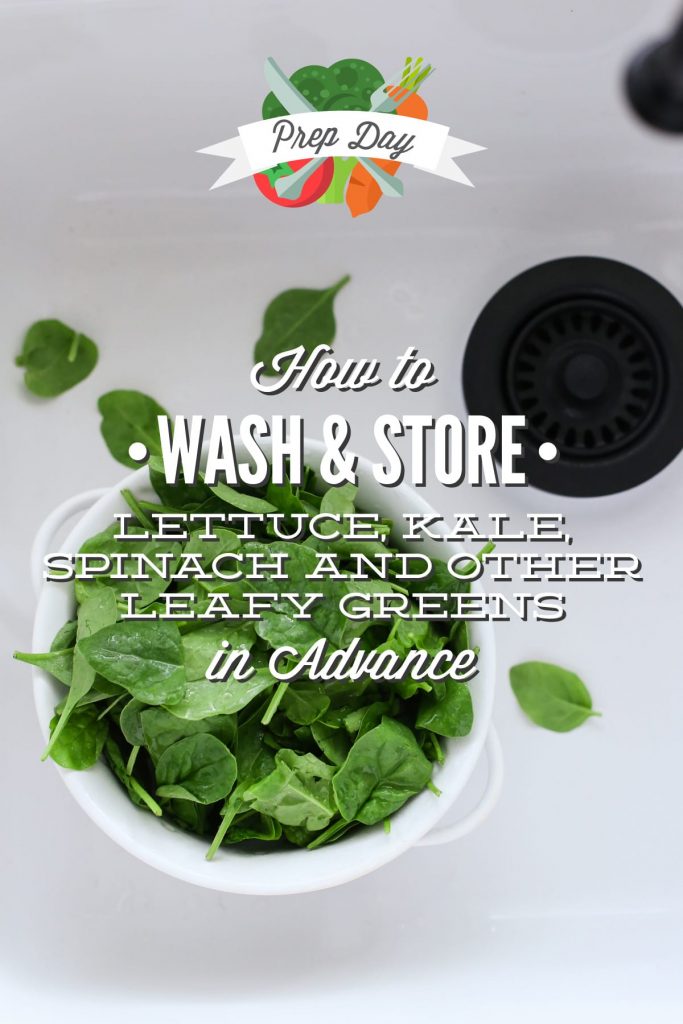 Last week I announced the start of a new series designed to help us prepare food in advance. While most of us have the concept of prepping, or at least know this is something we should be doing to make eating real food easier, I believe the actual nitty-gritty practical details of prep day are often overlooked.
My goal for this series is to help us "sink our teeth" into the practical side of prep time by exploring the "how to" of prepping real food in advance. If you're still curious about the why and what of prepping food, I encourage you to read last week's post. You'll also find a cool printable to help maximize your prep time in the kitchen.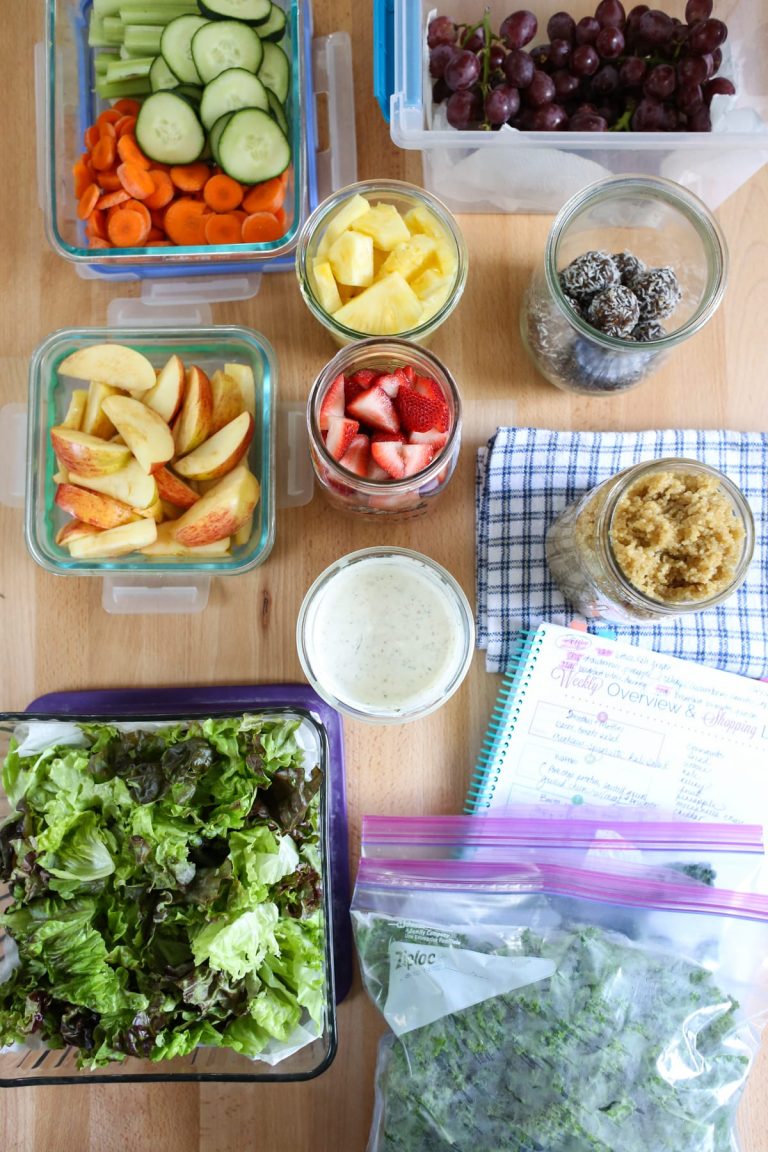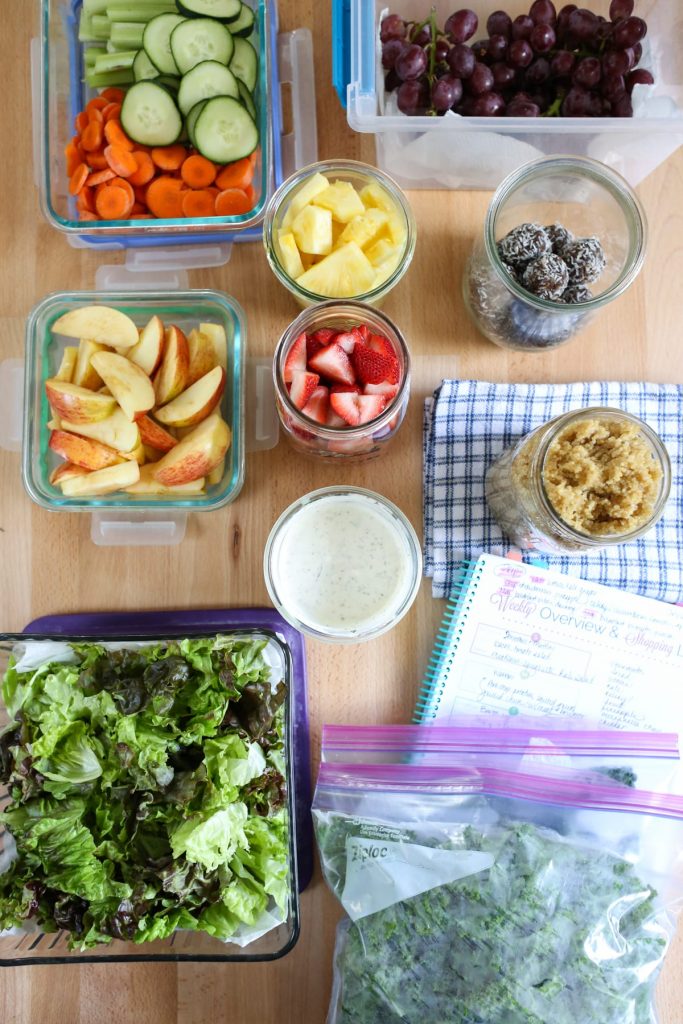 Each week my plan is to keep these posts rather short. I plan to keep my chit-chat to a minimum during this time and focus on the lesson at hand.
This week the focus of our prep day lesson is how to prepare leafy greens–lettuce, kale, spinach, chard, etc.–in advance.
First, let's focus on the main reasons why you should think about adding leafy greens to your prep time. After all, if you're going to include a task on your prep day printable or mental plan, it must help maximize your time throughout the week (AKA: it better be important!). 
Why You Should Prep Leafy Greens in Advance
1. Zero Waste:
Leafy greens are one of the most delicate foods. I think most of us have experienced the disappointment of purchasing a head of lettuce only to find it rotting in the back of the fridge days later when we actually need to use it for dinner. Not only does this disrupt the dinner plan, it also wastes money and food. Prepping greens in advance ensures greens won't rot.
2. No Excuses:

Raise your hand if you've ever purchased greens at the store or market (or maybe pulled them from your garden) with the excitement of using them for the next week's meals, but life soon gets busy.  Busy means you quickly forget or just don't have time to prepare those gorgeous greens in your fridge. I'm raising my hand. You're not alone.
Prepping greens allows you wash and cut greens in advance so you can always enjoy a salad, sauteed greens, stir-fry, kale chips, etc. No excuses!
3. Family Participation:

Prepping greens in advance also encourages your family to take charge of eating "real" throughout the week.
There have been many mornings when I simply can't make Dustin a sandwich for work (something I try to prep in advance, if possible, but it doesn't always happen). With lettuce chopped and ready to go, Dustin can easily grab a few pieces from the container and make a veggie-packed (and meaty) sandwich on his own.
I can also put the kids to work at night prepping a salad because the work which requires supervision–washing and drying greens–is already done!
How to Wash and Store Leafy Greens in Advance
Now for the practical lesson of the day:  the "how to" of prepping greens in advance.
My method isn't rocket science, but it works! In fact, my greens will last 7-10 days, depending on the green, in the fridge when prepped in advance using this method. This method works great for bulky greens (kale, romaine, chard, etc.). I don't recommend washing delicate baby greens in advance. Just wash the baby greens as you need them.
1. Separate and chop large leafy greens.
I've found this is particularly helpful for lettuce and large heads of greens (chard, kale, etc.). Of course, as mentioned, this won't work for baby greens.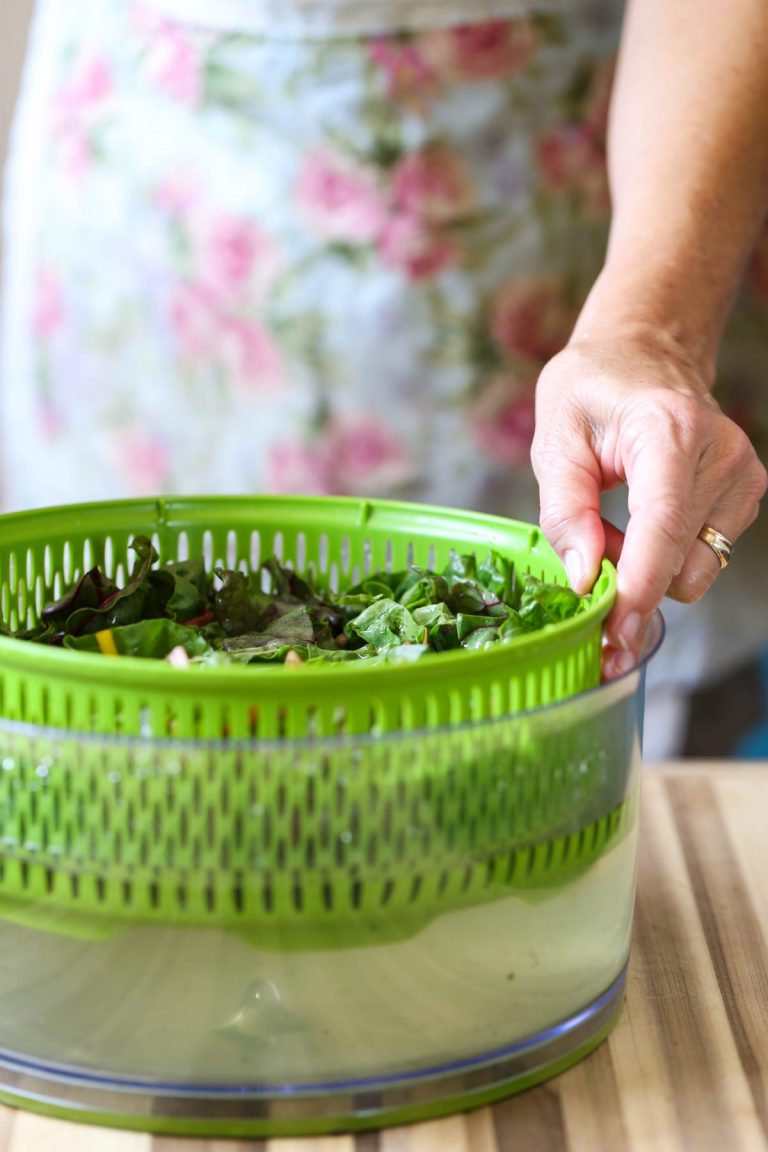 2. Place the greens in a large bowl or salad spinner base (and the colander part). Fully cover the greens with water. 
I highly recommend the salad spinner method. This allows you to easily wash and dry greens in very little time. This is the salad spinner I use. A salad spinner is a prep day time-saver and one of the best kitchen investments I've made to date.
3. Soak the greens for 5-10 minutes in clean, cold water.
One little piece of rotten lettuce can corrupt everything and ruin your fresh greens very quickly, so make sure you also pick out any "bad" greens during this time.
4. Drain the water and let the greens fully dry.
If you're using a salad spinner base, simply raise the colander part with the greens inside and drain the water from the greens. Spin your greens in the salad spinner, and then lay them out in a single layer on a towel if they need more help drying. If you don't have a salad spinner, lay your greens out on a towel to dry (flipping them a few times while they dry to ensure even drying).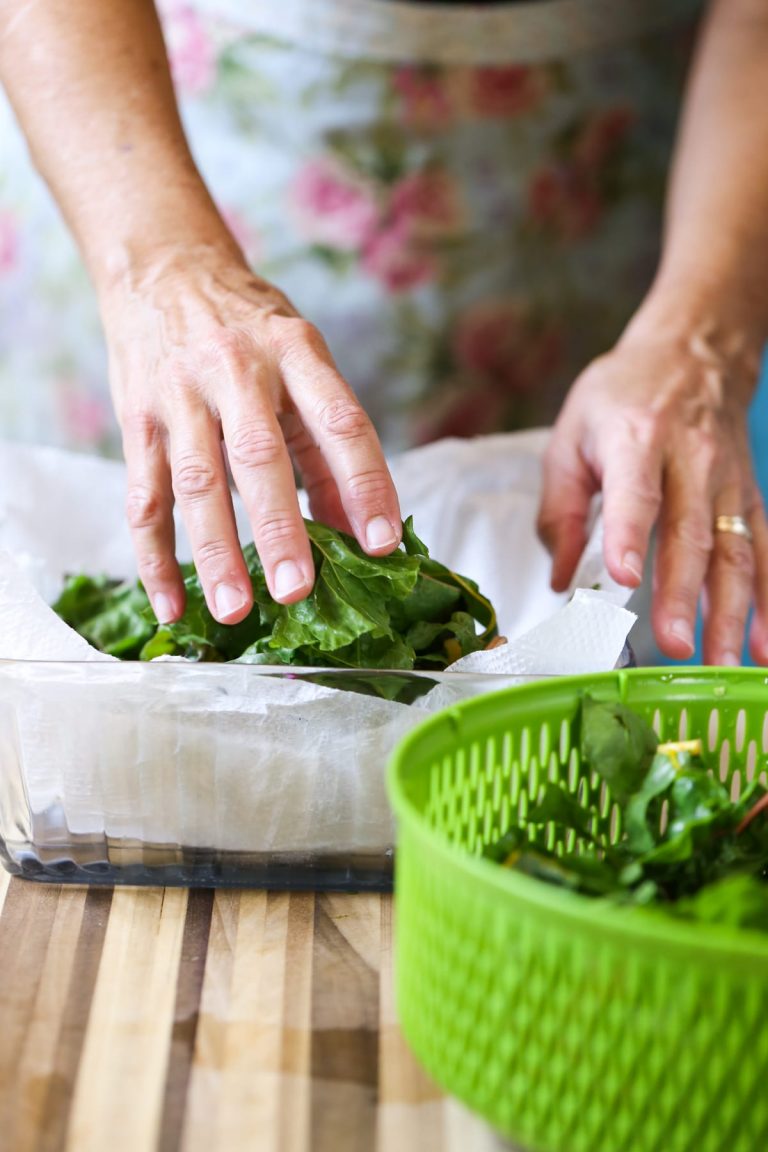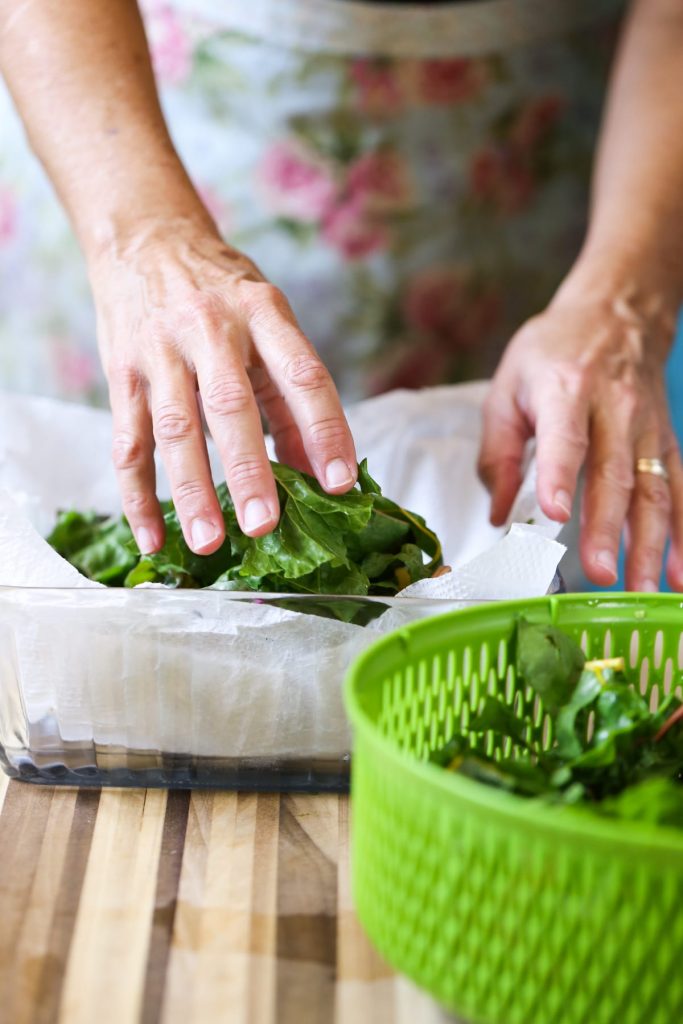 5. Store the leafy greens in a container lined with paper towels.
While large Ziploc bags can be used, I've found large containers work best for storing leafy greens. There are two choices for storage: 1. Line the container with one or two paper towels (or unfolded paper napkins) and then place the dry greens over the top. Seal the container and store the greens in the fridge. The container pictured is my favorite for storing leafy greens (find it here). 2. As of 2017, I started using a OXO Produce Keeper for my greens (I have medium boxes). The containers use (natural) charcoal filters and a raised basket to keep the greens fresh (and herbs!). Using the OXO Produce Keeper, my greens will keep in the fridge for two weeks. I don't use a paper towel base with these containers. I just add my greens and place the top of the box.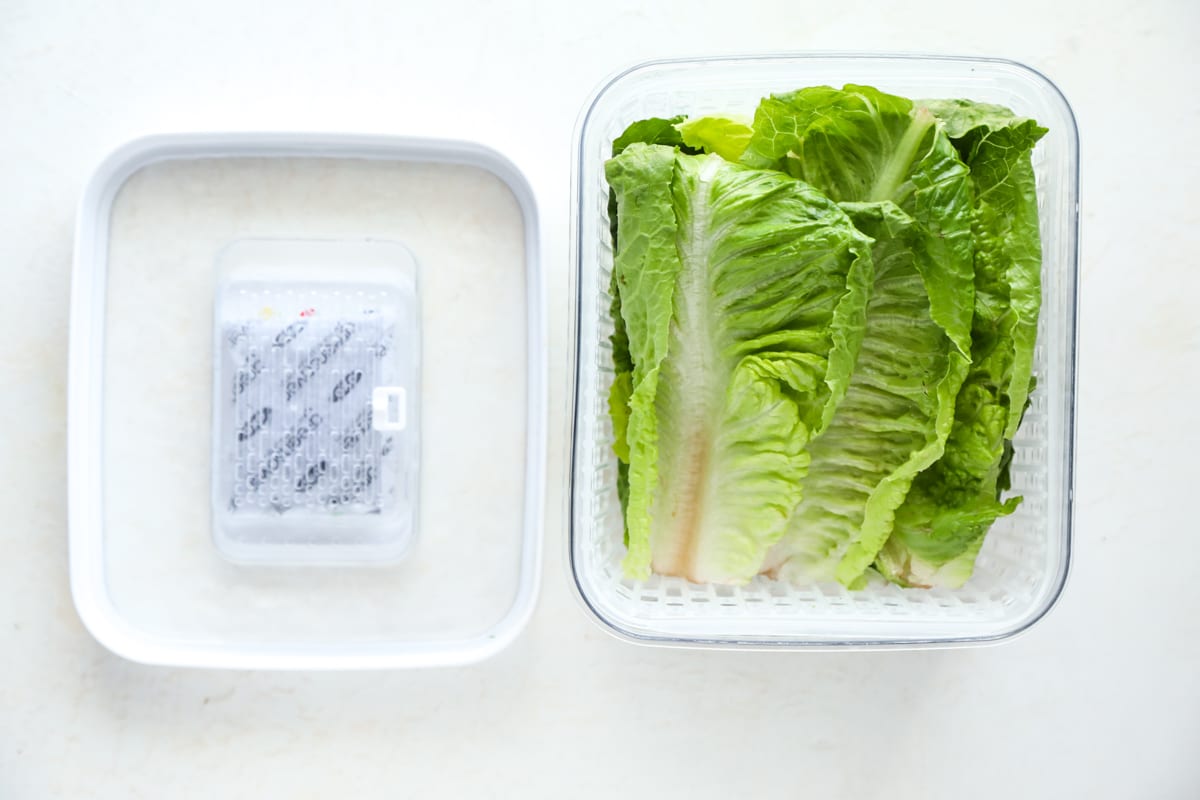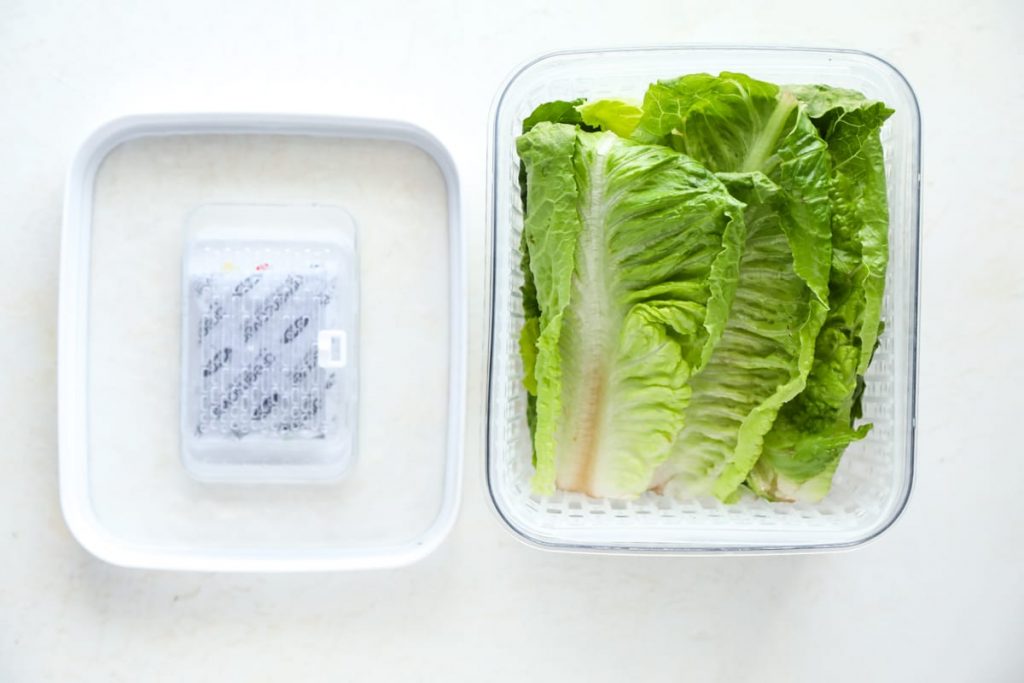 More Practical Tips
1. Go Seasonal
Seasonal greens will always last longer and taste better.
2. Avoid Boxes
It can be hard when shopping in a conventional store to avoid purchasing greens in plastic boxes, but if you have a choice, go with the loose greens versus the boxed option. Boxed greens tend to rot faster thanks to one or two bad pieces that corrupt the whole bunch. This can be difficult when purchasing some greens like baby spinach. If a box can't be avoided, follow this same method with the greens even if the box states, "already washed." Spinach and arugula are my exceptions to this rule.
3. Go Fresh

Always look at your greens before making a purchase. Look for super fresh greens; not greens with brown spots and slimy leaves that need to be used ASAP! This may mean digging to the bottom of the "pile" or maybe going with the red leaf lettuce this week versus the butter lettuce.
This week, your homework is to create a meal plan, go shopping for the food you'll need to implement the meal plan, set aside a specific day/time for prep time, and then print and fill out the Prep Day Action Plan printable. Focus on five foods you can prep this week based on your meal plan and schedule: washing and storing greens, making rice, baking muffins, etc.

More Real Food You May Like: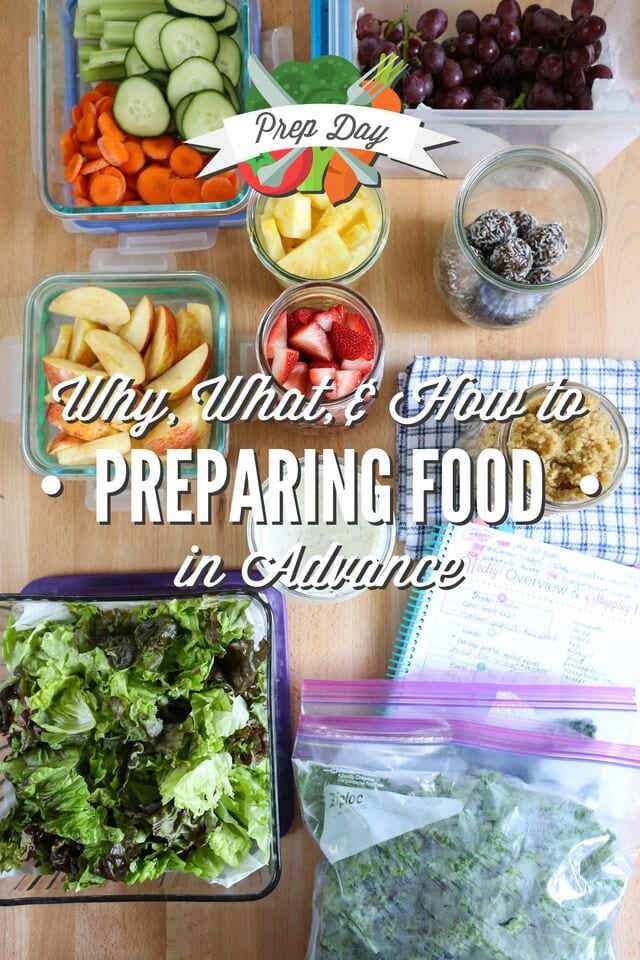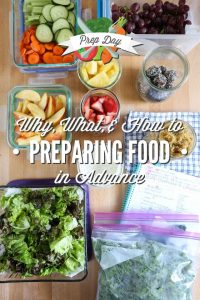 Prep Day: The Why, What, and How To of Prepping Food in Advance
7 Kitchen Staples to Stop Buying and Start Making