This post may contain affiliate links. Affiliate links come at no extra cost to you. These links allow me to share the products I authentically recommend (and use) and support Live Simply by receiving a small commission.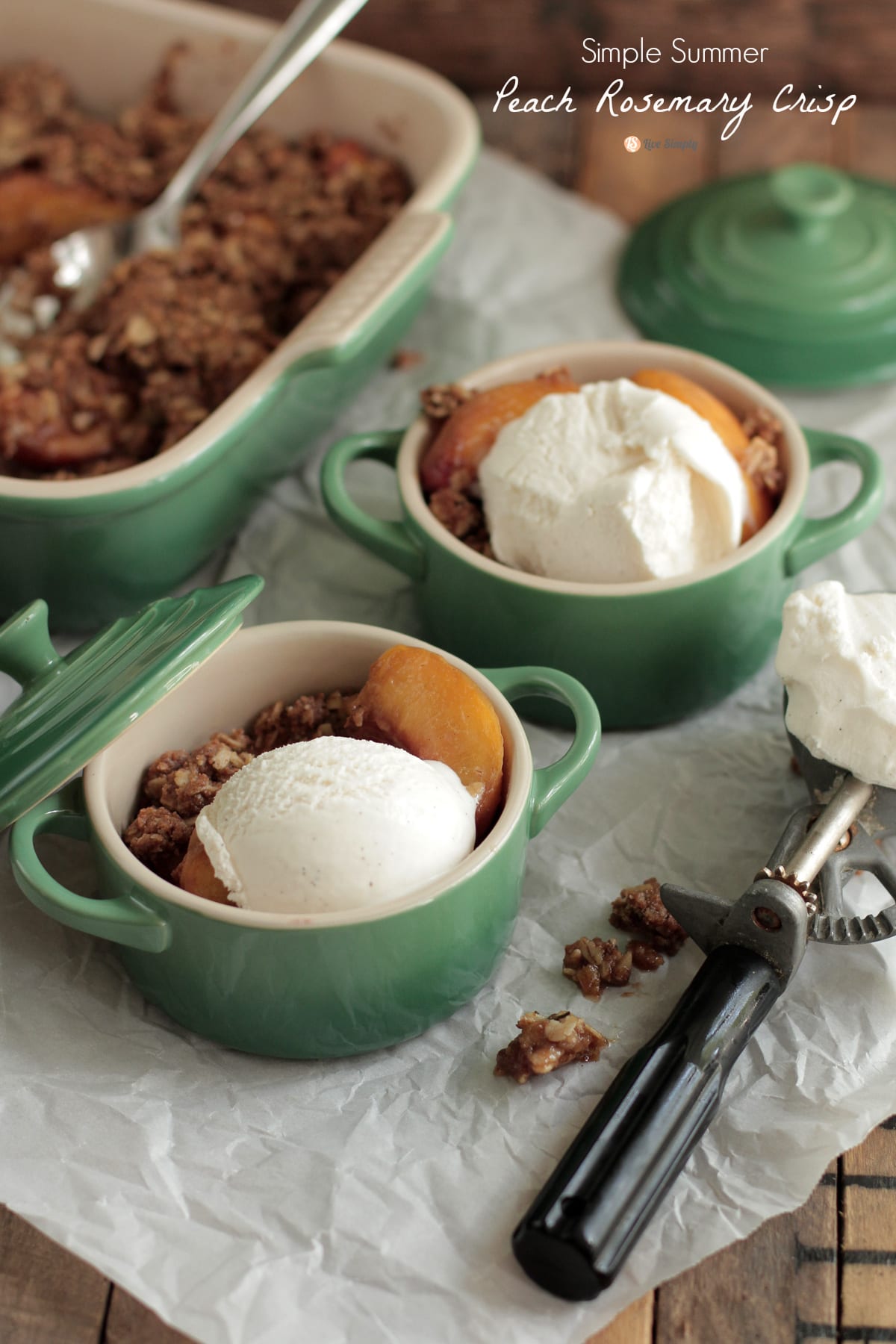 Hello, friend! It's been a week. Where have I been? Did I run away from this little thing called spilling the beans about my life on the internet "blogging"?  I've truly missed you during my one-week hiatus.
Last week, Mr. Unexpected came knocking on my door with a visitor called, "the flu". Despite my best attempts to show my new guest the front door, he decided to stay and get comfy.
I decided to take a few days to rest and work on an upcoming, super-exciting project launching in the fall. I missed our days sipping lemonade kombucha and talking about the crazy hen that escaped for the fourth time in two days, smothered in our crunchy lotion.  But, I knew you'd understand the sudden hiatus.
The good news? I'm back! You thought you could keep me away?  Of course not, chicken noodle soup works wonders. Now, let's move on to the important things in life…butter, summer fruit, and ice cream.
A few weeks ago, my secret blogger crush, Gina from So, Let's Hang Out, sent me an invitation to a real foodie's virtual potluck. Hello, sweet little invitation of my lifetime, of course, I'm coming!
FREE Real Food Crash Course
I get it, switching from processed food to a real food lifestyle can feel overwhelming and confusing. Friend, it doesn't have to be this way.
Here's what to expect: 
printable charts (real food defined, a seasonal produce guide, 

meal planning)

how to get started with a real food lifestyle

how to create a meal plan and stay within a budget

7 real food recipes

emails from me to help you enjoy real food
Bonus: Step-By-Step Guide to Real Food
Can you imagine a potluck attended by over twenty foodies, all in one little place?  Gorgeous dishes (we bloggers are notorious for our dish and prop obsession) and delectable food, with the amazing folks that make this land of the internet a beautiful and tasty place. Talk about pressure and excitement.
Since that invitation arrived in my inbox, I've been agonizing over the perfect meal to bring. You'd think as a blogger who spends half her time playing with butter and creating recipes, coming up with a meal would be as easy as pie (which was a leading option). Clearly, this introvert needs to get out to more potlucks.
The final decision? A quintessential summer dessert, Peach Rosemary Crisp. Simple, yet refined. Sweet and savory. Who doesn't love a good helping of fruit, butter, a touch of savory herb, and churned cream?
This dish is the ultimate summer dessert and takes less than ten minutes to prepare, which means plenty of time to get ready for a big blogger shin-dig like a potluck. If possible, I highly recommend serving this pan of guiltless pleasure straight from the oven and topped with homemade vanilla bean ice cream (also guiltless). You won't regret it.  In fact, you'll probably need more than just one bowl. Sneaking over to the loaded dessert table for a second and third helping is A-okay at this foodie potluck. In fact, I'll race you.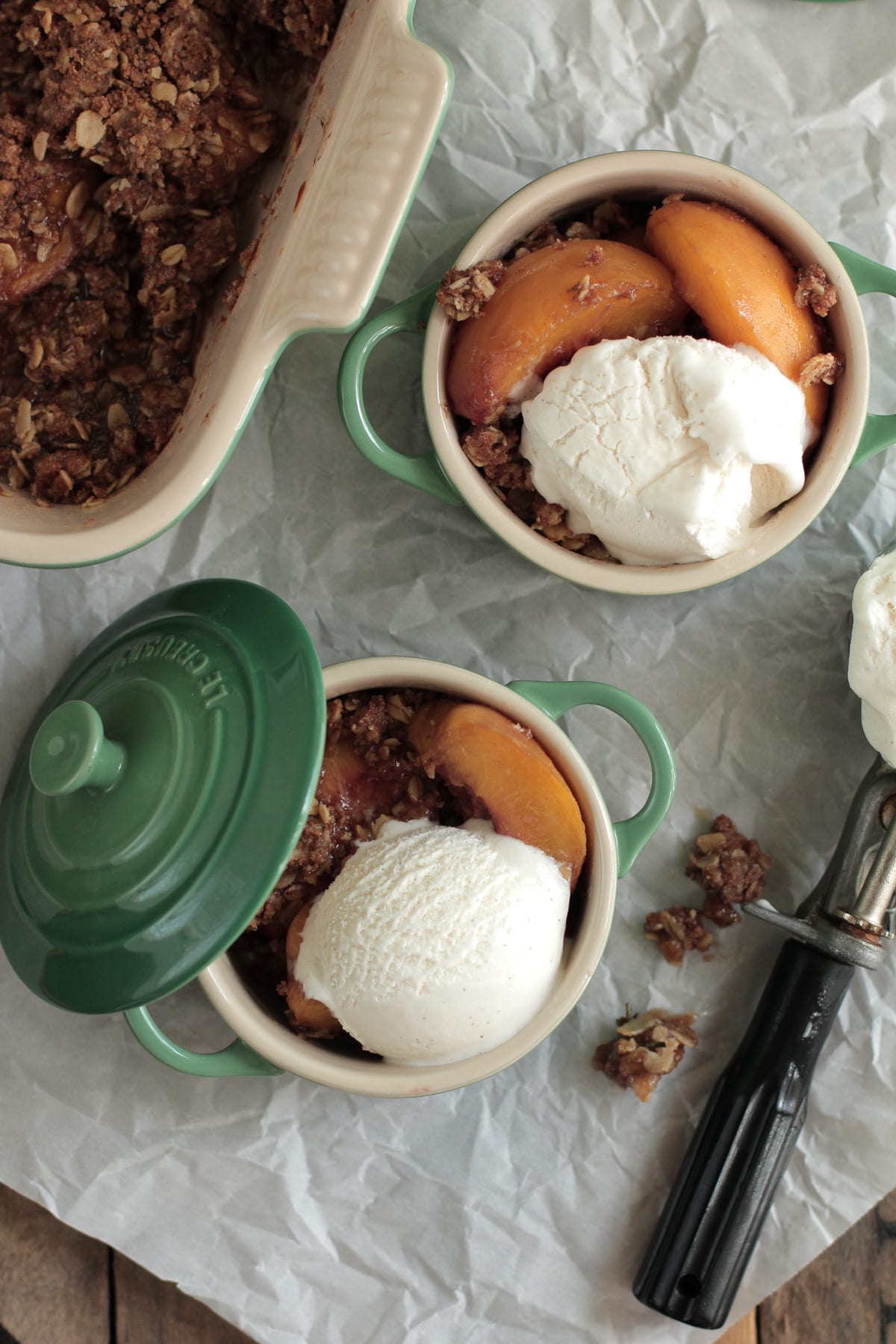 I hope you brought your yoga pants, if not, I'll loan ya' a pair.
Peach Rosemary Crisp
A quintessential summer dessert, Peach Rosemary Crisp. Simple, yet refined. Sweet and savory. Who doesn't love a good helping of fruit, butter, a touch of savory herb, and churned cream?
Ingredients
5

peaches

cut in quarters

3

TB

honey

3/4

cups

old fashioned rolled oats

1/2

cup

spelt flour

or your choice of wheat-based flour

1/2

cup

sucanat

1/2

tsp

ground cinnamon

1/4

tsp

ground nutmeg

1

TB

fresh rosemary

finely chopped

6

TB

butter

cubed
Instructions
Preheat the oven to 350F.

Cut the peaches into quarters. Place in a 9x9 baking dish

(I use this one)

. Pour the honey over the peaches. Toss the peaches in the honey.

In a large bowl, whisk together: oats, flour of choice, sucanat, cinnamon, nutmeg, and rosemary.

Add the cold butter cubes to the oat mixture. Using your hands or a pasty cutter crumble the butter into the oat mixture until the mixture is dough-like. Evenly pour the oat "dough" over the peaches.

Bake for 30 minutes, until the peaches are soft and juicy and the "dough" is brown and crispy.
You can find my little stoneware "bowls" here.
 More Summer Recipes You May Like: 
 Sweet Chicken Kabobs with Citrus-Soy Marinade
 Strawberry-Lemonade Cream Pops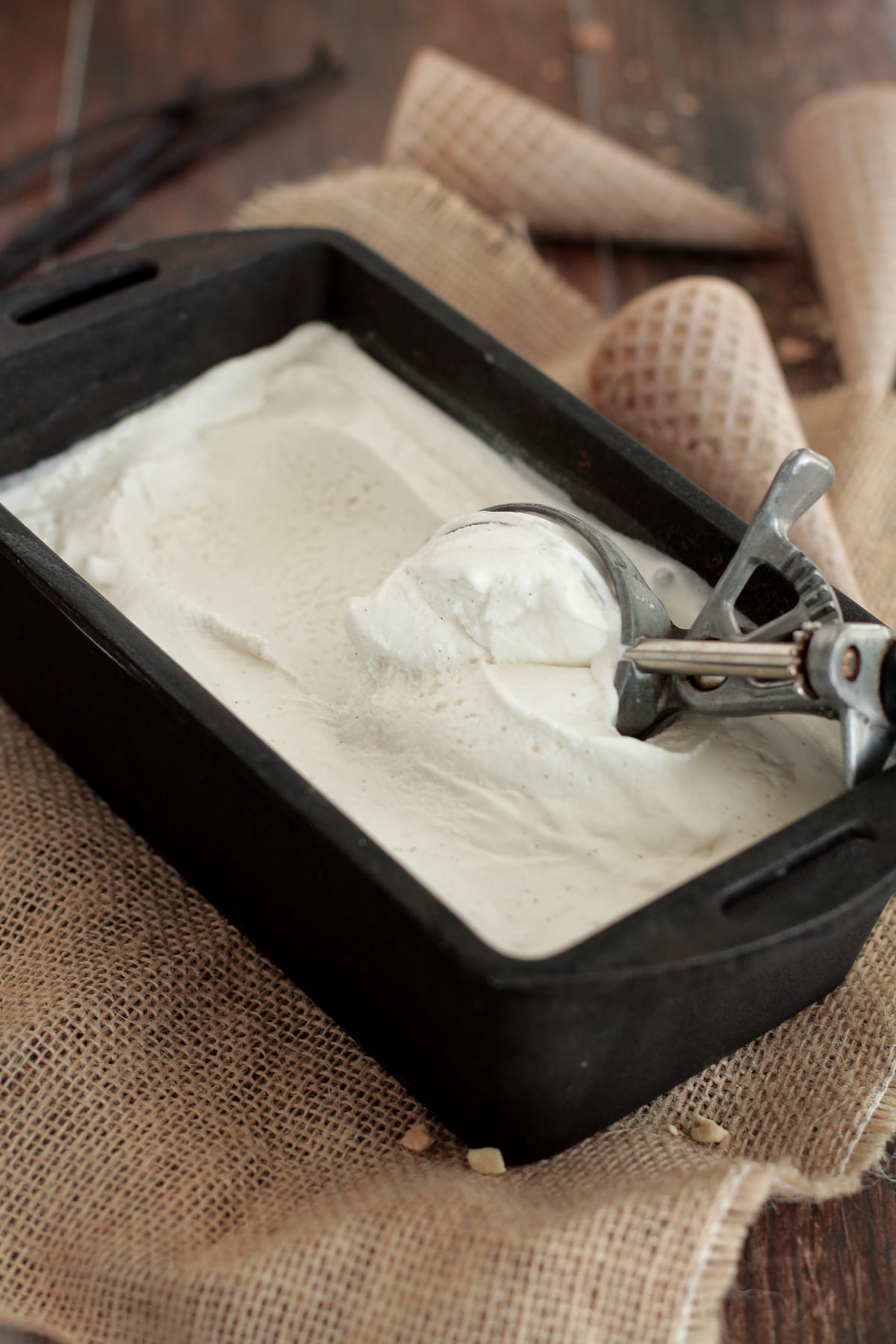 See my lifestyle in real life