In the past few days, I've heard three different people, in three very different places, talk about the fast-approaching fall season. This means many of us have fall time on the brain, and rightfully so. This also means it's probably time to wrap up the summer recipes and start sharing fall-inspired meals.
Before we do that, there are a few recipes left in my recipe folder that need to be shared. A few "summer inspired" recipes we need to enjoy before we embrace the idea of cooler weather (a welcomed feeling after the 100 degree temperatures we've been experiencing), jeans (truth be told, I'm a year-round jean gal), and heartier meals.
Over the next two weeks, I'm going to try my best to share the last of these summer meals, before we embrace back-to-school meal ideas, baked breads (sourdough is coming), and all the other foods we welcome during the cooler months.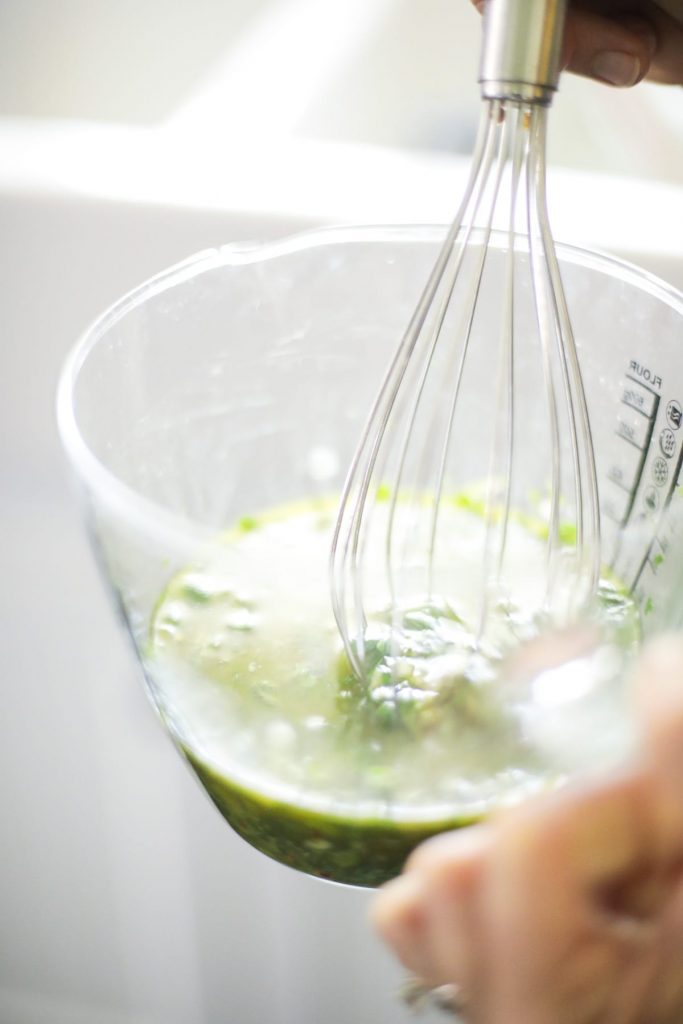 Today's recipe, in particular, has that classic summer feel and taste. How can a meal get more "summery" than an herb-based chimichurri sauce, yellow squash, zucchini, and skewered meat?
The answer: It can't!
The entire recipe, from making the chimichurri sauce to cutting up the the meat and veggies, only requires about 30 minutes (plus, two hours for marinating), making this recipe a meal that bridges the gap between the lazy days of summer and the structured days of late summer/early fall (hello, school! I see you trying to creep in.).
A side of rice or quinoa seems, to me, like the perfect side for these kebabs. (Also, important question… Is it kebabs or kabobs? After Googling both words, I'm still incredibly confused as to which one is the most appropriate, so I'm going with kebabs today. It appears that kabobs is more of an American term, and the rest of the world uses the word, kebabs.) I've also been having a moment with massaged kale salad, which pairs perfectly with the kebabs and rice/quinoa.
If you've never made a massaged kale salad before, I highly recommend trying it out with these kebabs. Simply de-stem rinsed kale (go for lacinato kale), roughly chop the leaves, and place the leaves in a bowl. Add lemon juice (depending on how much kale you're using, I usually go with 1/2 a lemon, juiced, or a bit less), a bit of olive oil, and salt. You can also add a minced garlic clove. Massage the dressing into the kale (the kale will break down, leaving behind a delicious salad) and serve. I made a similar salad, and wrote down the recipe, in this pizza post (without the basil and cheese).
Summer Squash Chicken Kebabs with Chimichurri Sauce
Summer squash and chicken kebabs flavored with a homemade, easy-to-make chimichurri sauce.
Ingredients
Chimichurri Sauce:
1

bunch

fresh cilantro

(about 1 cup)

1/3

cup

fresh parsley

1

medium

shallot

roughly chopped (about 1/2 cup once sliced)

2

medium

garlic cloves

3/4

cup

extra virgin olive oil

1/4

cup

red wine vinegar

1

TB

lime juice

1/2

tsp

salt

1/2

tsp

red pepper flakes

1/4

tsp

black pepper
Kebabs:
1

lb

chicken breasts

1

medium

zucchini

cut into 1" thick half moons

1

medium

yellow squash

cut into 1" thick half moons

1

medium

red onion

cut into 1" thick half moons
Special Equipment:
medium

bowl

or plastic bag

skewers

*

grill
Instructions
For the Chimichurri Sauce:
Pulse the cilantro, parsley, shallot, and garlic in a food processor until finely chopped.

Remove the herb mixture from the food processor. Whisk in the olive oil, red wine vinegar, lime juice, salt, red pepper flakes, and pepper.

Set a 1/3 of the sauce aside for a marinade, refrigerate the rest of the sauce for later.
For the Kebabs:
Cut the chicken breasts into 1" cubes and place the cubes in a medium-size bowl or plastic bag. Add a ⅓ of the chimichurri sauce and mix until the chicken is completely covered. Cover the bowl (or close the bag) and place in the refrigerator to marinate for 2-4 hours.


If you're using wooden skewers, soak them in water for 20-30 minutes before using.

Heat the grill on medium-high heat.

When the chicken is finished marinating, remove it from the bag or bowl and discard the excess marinade. Alternate the chicken, zucchini, squash, and onion on the skewers, then spoon 1 tablespoon of chimichurri sauce over each kebab.

Grill until the chicken is cooked through and veggies are soft, about 12 to 15 minutes, turning once during this time.

Serve warm with the remainder of the chimichurri sauce (also delicious spooned over rice or quinoa).
Nutrition
Calories:
2046
kcal
Carbohydrates:
17
g
Protein:
102
g
Fat:
175
g
Saturated Fat:
25
g
Cholesterol:
290
mg
Sodium:
1748
mg
Potassium:
2855
mg
Fiber:
5
g
Sugar:
9
g
Vitamin A:
3440
IU
Vitamin C:
107.1
mg
Calcium:
111
mg
Iron:
5.5
mg