This post may contain affiliate links. As an Amazon Associate I earn from qualifying purchases.
It's time to talk about, and make, one of my favorite, time-saving hair products: DIY dry shampoo! All you need for a DIY dry shampoo are a few all-natural ingredients: arrowroot starch (similar to cornstarch, easy to find in the grocery store), bentonite clay (also makes a great face mask), and cocoa powder (for dark hair).
Many years ago, my mother-in-law introduced me to DIY dry shampoo. Over a phone conversation, she mentioned that when she wasn't able to wash her hair, she would use a simple baby powder solution to add some fresh life to her roots and take away any grease buildup. I remember thinking, That's a weird concept. I'll never get that desperate.
At the time, I was a young married woman with more than enough time each morning for a proper shower. I couldn't understand why anyone would need such a product. Why would someone skip washing their hair every single day? The very thought was preposterous to me.
Many years later, my life looks different. I now have 2 kids, 6:30 am wakeup calls, a daily coffee-driven carline appointment, work deadlines, and the list could go on. With these life changes, let's just say that I have totally embraced dry shampoo. Today, I hope to convince you of how easy it is to make this marvelous, time-saving hair product.
How to Make DIY Dry Shampoo
There are various types of dry shampoo options (sprays, powders, foams), but for DIYing, powder is the easiest to make. So that's what we're going to make today.
Ingredients needed…
Arrowroot Starch: Similar to cornstarch. A lightweight, white, powdery substance that's generally used to thicken sauces in cooking recipes. This ingredient works to absorb the oils in your hair, without leaving your hair feeling starchy or stiff.
Bentonite Clay: This naturally-occurring, organic powder is commonly used to make a detoxifying face mask. In this recipe, it's used for oil absorption. Just like with arrowroot, this ingredient won't leave your hair feeling starchy or stiff.
Unsweetened Cocoa Powder: If you have dark hair, a white powder isn't going to work so well. You don't want to be left with a white/gray powdery look after using this dry shampoo. To tint the dry shampoo, add cocoa powder (yes, the stuff used to make hot chocolate and chocolate cake). Not only will this ingredient add a natural tint to the powder, but also leave your hair with a pleasant and very subtle chocolate scent–which I love!
Essential Oil: If you'd like to add a subtle and natural scent to your dry shampoo, go with a few drops of your favorite essential oil. I love lavender essential oil as it has a calming scent that is perfect for a busy morning (ah, feel the zen). Other options include: rosemary essential oil or tea tree essential oil (would also work as a lice repellent–which every mom knows can be quite the battle when little ones are in school).
How to make dry shampoo…
Step 1: In a small bowl, whisk together the arrowroot starch, bentonite clay, cocoa powder (if using for a tint), and essential oil (if using for a scent). Then pour the ingredients into a storage container of choice. Alternatively, you can add the ingredients directly to a spice bottle, place the shaker spout and cap on the bottle and give the ingredients a good shake to combine.
Step 2: Store the dry shampoo for up to 6 months at room temperature.
How to Use Dry Shampoo
Now, please don't get the wrong idea: I'm a firm believer in good hygiene. I still work a shower into my schedule each morning or night. But when it comes to hair, as it turns out, skipping a daily hair washing appointment may actually be a very healthy activity.
Hair naturally produces oil called sebum. The sebum provides a barrier to the hair and skin and also moisture. When hair is washed every single day, shampoo strips the hair of the natural oils which can result in very dry hair or the overproduction of sebum.  Even my hair stylist has commented that she doesn't use traditional shampoo on her hair every single day and instead uses a dry shampoo in between washes.
For in between wash days, you may feel like you need something to keep your hair fresh and bouncy. This is when dry shampoo is a great product to reach for. Personally, I usually go about 3-4 days between traditional washes and use dry shampoo (or a hat) in between wash days.
How to use dry shampoo…
Step 1:

Lift sections of your hair.

Sprinkle the DIY dry shampoo powder near the scalp and crown of your head. There's no need to get the ends of your hair, just the roots. I recommend using a spice bottle so you can easily sprinkle the powder in your hair. If you don't use spice bottle, either sprinkle some of the powder into the palm of your hands and apply near the crown and scalp of your head, or use a large makeup brush by dipping the brush into the powder and then applying the powder.
Step 2: Wait a few minutes for the dry shampoo powder to set in and get to work absorbing the oils.
Step 3: Massage the dry shampoo into your scalp and crown.
Step 4: Then run a brush through your hair to ensure the dry shampoo powder is distributed evenly. (You should not be left with any visible powder after this step.)
Does DIY Dry Shampoo Work?
So you may be wondering, this is all great but does DIY dry shampoo actually work? Of course, I'm bias, but yes…it totally works. And here's why…
The magic of this recipe happens thanks to the two oil-absorbing ingredients: arrowroot starch and bentonite clay. Both ingredients work wonderfully at absorbing excess oils in the hair, without leaving your hair feeling stiff or starchy. I've tried a lot of dry shampoos over the years, from store-bought options to DIY versions, and the arrowroot and bentonite mixture works the best for me. I hope you'll give this a try and let me know what YOU think!
More Natural Hair Tips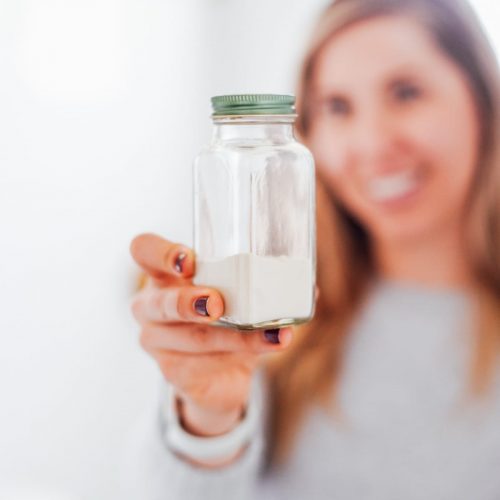 DIY Dry Shampoo
An easy-to-make dry shampoo powder made with arrowroot starch, bentonite clay, and cocoa powder (if desired for a tint). This DIY dry shampoo works for light or dark hair, absorbing excess oils and leaving your hair feeling fresh on non-wash days.
Instructions
To a small bowl (or spice bottle), add the ingredients. Whisk the ingredients or shake the bottle to combine. (Do not use metal utensils to stir the bentonite clay with the other ingredients.)

Store the dry shampoo powder at room temperature for up to 6 months.
To Use:
Lift sections of your hair. Sprinkle the dry shampoo on your scalp and the crown of your hair with either a large foundation brush (that's been dipped into the powder) or use a spice container with a shaker lid.

Wait a couple of minutes for the powder to begin absorbing the oils, then use your hands to massage the powder into your roots and scalp. Finally, brush out your hair and viola...you're ready to face the day!
Recipe Notes
Cocoa Powder Note: This amount will vary depending on your hair color. I recommend starting with 2 teaspoons, and then increasing the amount until the desired color is achieved (up to a few tablespoons).