This post may contain affiliate links. Affiliate links come at no extra cost to you. These links allow me to share the products I authentically recommend (and use) and support Live Simply by receiving a small commission.
I have been waiting to share today's post for three months. Okay, more like five years.
When Dustin and I first purchased our home five years ago, we knew the kitchen would someday need an update. The countertops were less than desirable, the cabinets were chipping, and the appliances had lots of little quirks. And even though the kitchen needed help, it was my happy place for five years. In fact, the counters and chipped cabinets began to grow on me.
The moment Dustin mentioned the words kitchen remodel at the end of 2014, I immediately turned to Pinterest and hours of daydreaming! The thought of designing a kitchen was something I always dreamed about, and now it was happening.
After hours of browsing design options, we decided our goal for the kitchen remodel was to create a family-friendly space with lots of room. My old kitchen lacked both qualities.
We started the remodel at the end of May 2015. I honestly believed remodeling was going to be an easy project–tear down old cabinets, put new ones up, add some tile and paint. Remodeling proved to be quite the process. Throughout the process I continually had to remind myself of the end goal: a new kitchen!
And three months later…
Today is the day…
The final kitchen remodel reveal day.
Before and During Remodeling
Our kitchen is a small space, which meant we couldn't just tear down cabinets and put up new ones. The remodel process meant opening up a tiny pocket door that passes from the main entrance and stairs to the kitchen and living room. I'm still sweeping up dust from this project…still! Along with opening up the pocket door, we also worked with a designer from Home Depot (I highly recommend their design service!) to maximize the space. This meant everything in the kitchen would be relocated.
Once the cabinets and drywall were out, it was time for the drywall installers to come in and make everything pretty again. Within two days we were ready for the next stage of the project, cabinets.
I knew the blog and freelance recipe development and photography work must continue during our remodel, so Dustin and our contractor built a temporary kitchen in our garage. Florida + summer + garage cooking = the hottest experience ever!!! I should design a t-shirt, "I survived cooking in my garage!" The flies were my constant companions and the sweat, I'm told, was an added bonus.
The Kitchen Remodel Final Reveal
I know you saw our new kitchen in the video, but let's take a look at some photos, too. Okay?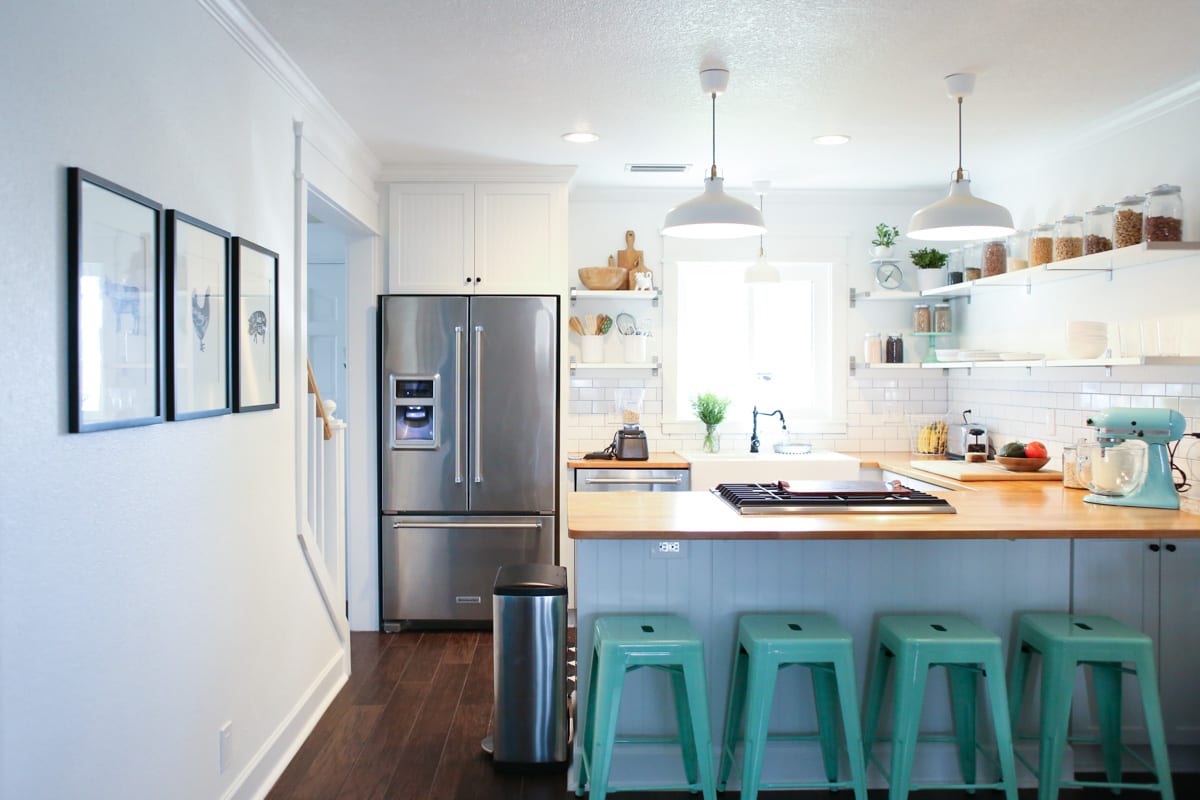 My desire was to create a welcoming and homey kitchen where our family and guests can gather to enjoy a meal and fellowship. I'm so happy to say our goal/desire was achieved. We have only been in our new kitchen for three weeks, but already it has become the place to be in our house. The kids love to sit at the bar and help or play, and Dustin and I have spent many evenings cooking together–something that didn't happen in the old kitchen.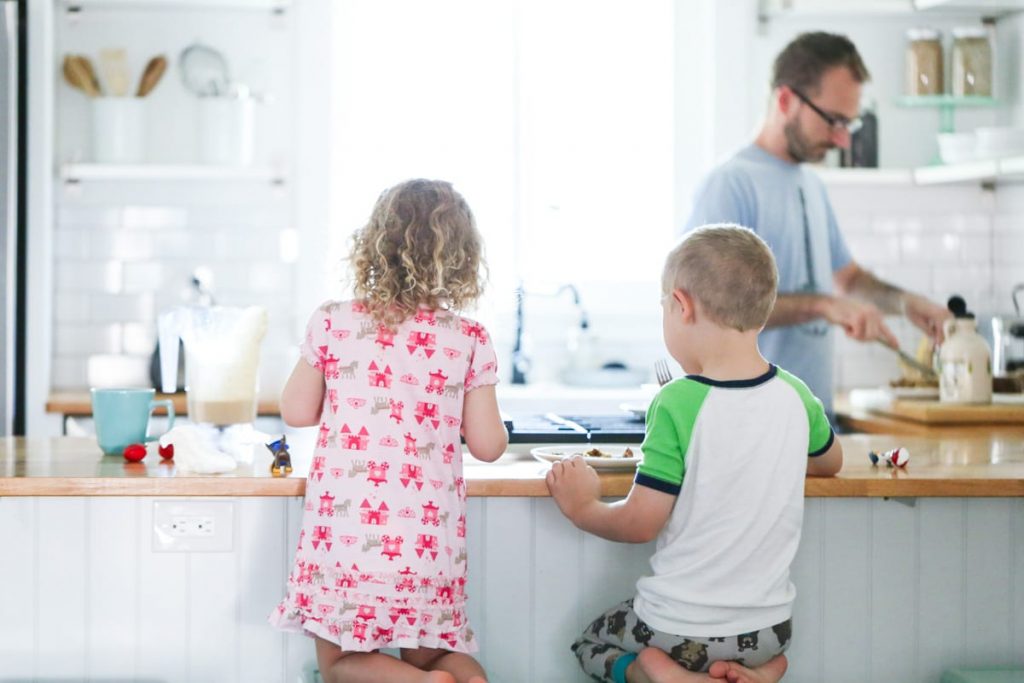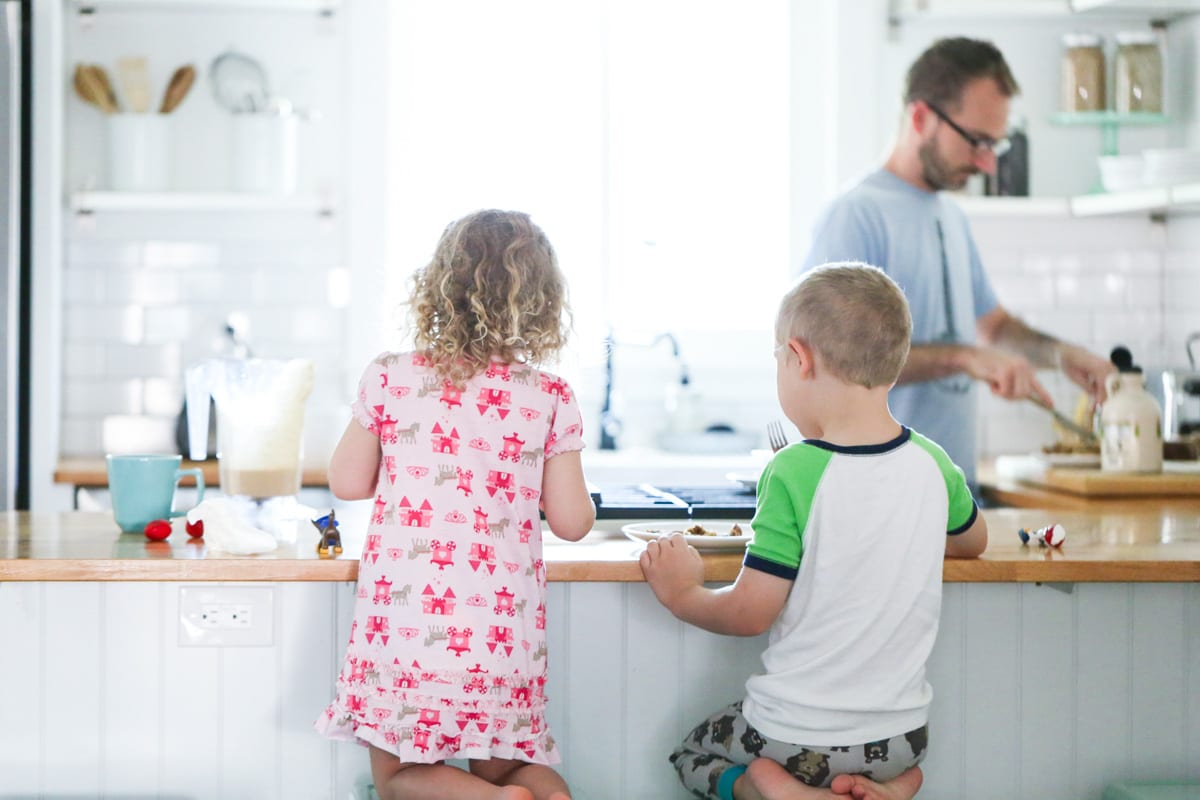 One of the highlights of the kitchen is the open shelving. The moment I saw the open shelving trend, I fell in love!
Upper cabinets are great, but I've always been horrified by the amount of junk I collect and hoard in cabinets. Since our kitchen is rather small and we wanted to simplify the space, open shelving was the perfect addition! Yes, this meant we lost cabinet space. The loss of cabinet space caused us to simplify: clean out the excess and focus on the important items we really need and use. I still have my kitchen gadgets and ten spatulas, but gone are the millions of kiddie plates, thirty different chipped dessert plates, and miscellaneous mugs we never used.
And now the pocket door opening…
We spent countless hours talking about countertops. Should we go with granite, soapstone, marble, etc? In the end, we decided to go with butcher block, and I couldn't be happier with the final result! Our contractor was greatly concerned about the wood and water–particularly around the sink–so we sealed the countertops similar to the way one would seal wood floors or stairs. The butcher block is not only gorgeous and unique, it's also very warm and welcoming.
Finally, can we talk about the farm sink? I have been dreaming about a farm sink in my kitchen for years! The large basin and unique design add such character to the new kitchen. To say that I'm in love is an understatement!
PS: If you want to put a farm sink in your kitchen, but feel discouraged by the steep price, go to IKEA!
The sticker on the new window will be removed shortly–once we pass our window inspection this week. I think the map adds a nice decor element for now ;).
Thank you for joining me over the last three months as I shared updates about our kitchen. And thank you for allowing me to show off the final result!  I look forward to the future recipes, DIYs, tips, and videos we will be able to share from our new space.
Kitchen Resources
Domsjo Farm Sink: IKEA
Butcher Block Countertops: IKEA
Black Glittran Faucet: IKEA
White Shelving and Brackets: IKEA
Black Scoop Fagleboda Handles and Faglavik Knobs: IKEA
Light Fixtures- Ranarp (large and small): IKEA
Glass Storage Jars: IKEA
White Beadboard Cabinets: Kraftmaid
White Subway Tile and Gray Grout: Floors & Decor
Tile "Wood" Floors: Floors & Decor
Counter Depth French Door Refrigerator: KitchenAid
Dishwasher: KitchenAid
Slide-In Range: KitchenAid
Black Chevron Rug:  Overstock.com
Carlisle Metal 24″ Mint Counter Stools: Target