Following the Five Simple Steps you've taken the plunge to eat something called "real food".  An exciting time–changes are being made, healthy food is filling your fridge and pantry. Your family is blessed by delicious and healthy meals. After a few weeks, suddenly all those farmer market veggies begin to rot and that special grass-fed beef is still sitting in the freezer, just waiting to be used.  You need a plan! Without a good solid plan real food just is not going to happen.
If the thought of meal planning is overwhelming or seems too time-consuming, don't fret. Even as a blogger and long-time foodie, meal planning isn't my favorite activity. Laundry and dishes look so enjoyable when meal planning rises the top of the to-do list. But, here's the deal, I know it must be done. In order for real food to happen on a daily basis in our home, I need a practical plan.
We've talked about meal planning 101 in the past. I've shared my practical guide to a solid weekly meal plan, and even written the Real Food Planning Challenge! While I love sharing my tips, I find branching out and asking for advice is refreshing. This week, I reached out to some of my favorite bloggers. These bloggers are foodies making real food work for their family on a daily basis, while managing busy lives. Their practical tips are a breath of fresh air and have given me new ideas for how to simplify and implement a solid meal plan that actually works.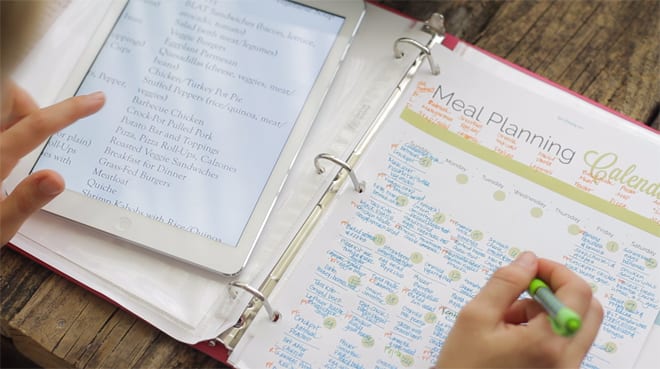 I realize seventeen tips may be overwhelming. Don't worry, you don't have to take them all today. Pin or bookmark this post, that way practical tips are waiting for you every time you feel a tad bit frustrated. I hope you find encouragement and fresh meal planning ideas as you read through the wonderful advice below.

"Keep an on-going list of your family's favorite meals. Circulate those meals often. I like to add one new meal a week or a recipe I plan on testing. No need to recreate a new meal every night when your family has favorites. I also keep it simple by having a designated night for "Mexican", "Italian", pizza night, etc. This allows me to keep regular meals from getting boring." Kristin at Live Simply