This post may contain affiliate links. Affiliate links come at no extra cost to you. These links allow me to share the products I authentically recommend (and use) and support Live Simply by receiving a small commission.
I wasn't ever a huge fan of the classic Frappuccino.
I was in high-school around the time Starbucks introduced their icy and sweet version of blended coffee. As any high-school freshmen knows, it doesn't hurt to score a bit of popularity by walking around with a coffee drink in your hand (and this was before coffee was all the rage like it is today). While I didn't care for the taste, I loved the cool image bought by this sweet treat.  I also realized $4-6 Frappuccinos were not in a high-school student's budget.
Gas money or popularity? I may have been sixteen, but I still had some wisdom.
Fast forward many years later…
Piper started soccer last weekend at 8am. As I sat on the bleachers, with a coffee mug in my hand, I noticed a huge trend amongst the parents: the Frappuccino was back. For some odd reason, despite my dislike for the Frappuccino, the craving hit: I need a Frappuccino in my life!
My real food commonsense woke up just moments later: Just think of the yucky ingredients lurking inside that icy treat. I instantly knew the answer to my intense craving: homemade! After all, everything is better when it's homemade. Don't believe me? Just try this homemade mayo (life-changing), and then this chai latte (homemade for the win). But first, you really should make a homemade Frappuccino!
My homemade DIY Frappuccino was an instant success: cold brew coffee, cream, milk, a bit of natural sweetener, pure vanilla extract, and a dollop of homemade whipped cream.
Of course, I didn't stop there. A bit of homemade caramel was added for authenticity purposes. As Dustin noted, "It's not a Frappuccino without caramel!"  I learned something about Dustin that day: He's pretty serious about caramel and his specialty coffee drinks! Don't even think about skipping it!
Since my first blend last weekend, I've recreated this drink 1,2,3,4,5….well, numbers don't really matter, do they?
The only thing that really matters is just how amazingly awesome this homemade version tastes. Plus, this DIY Frappuccino only takes 60 seconds to create and contains 100% real food ingredients. Need more proof? Just take a look…
DIY Frappuccino-Like Real Food Drink
Servings 2 -3 servings
Calories 478 kcal
Ingredients
Frappuccino
2 cups crushed ice increase this amount for an extra icy drink
1 cup cold brew coffee I purchase Stumptown from Whole Foods or you can make your own.
1/2 cup whole milk
1/2 cup heavy cream
3-6 TB sucanat or coconut sugar - The amount used will vary on your desired sweetness.
1 tsp pure vanilla extract
Homemade Whipped Cream
1/3 cup heavy cream
2 tsp sucanat or coconut sugar
1/2 tsp pure vanilla extract
Optional Extra Toppings
caramel or chocolate syrup *
Instructions
In a blender jar, add all the Frappuccino ingredients. Blend for 40-50 seconds until thick and creamy. Pour into glasses.

For the whipped cream: Place all the whipped cream ingredients in the bowl of a stand-mixer, fitted with the whisk attachment. Whisk on medium speed for 2-3 minutes, until the cream is thick. Add the whipped cream to the top of each Frappuccino. Note: You can also use a hand-mixer to make homemade whipped cream.

If desired, add the caramel and/or chocolate syrup.
Recipe Notes
The "where to buy" links provide links to the actual products I use. As always, I recommend shopping around online and at local stores for the best prices and products you love.
*Both recipes make more than you'll need for the drink recipe provided. Reheat the caramel (it will harden in the fridge) before using it in future drinks. Add 1 tablespoon of caramel or chocolate syrup to the blender (with the coffee ingredients) to create a mocha or caramel drink.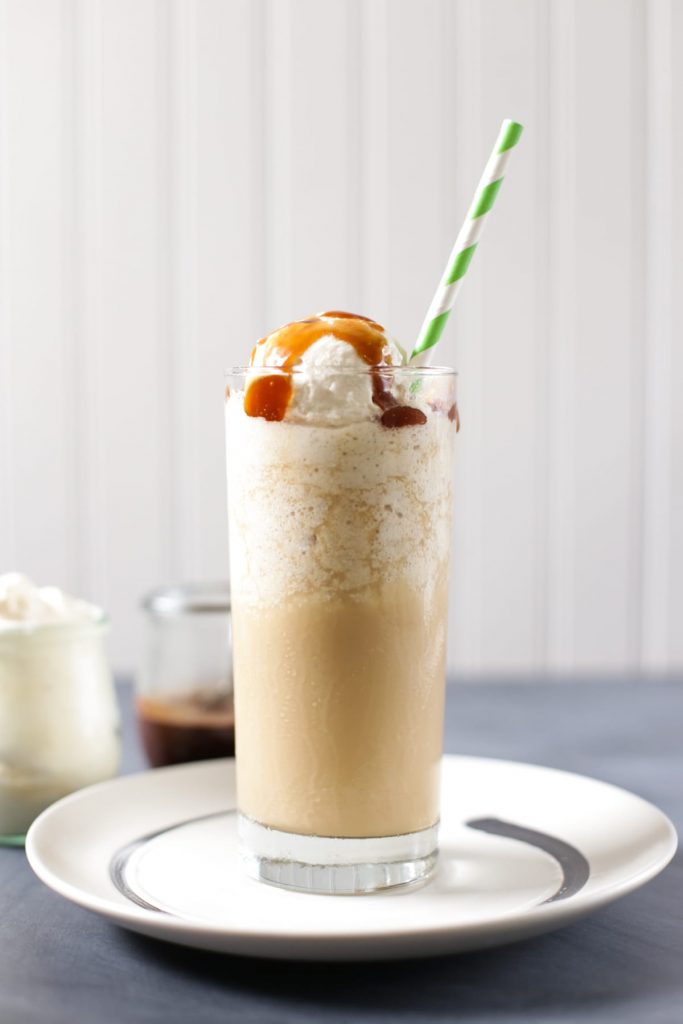 More Real Food You May Like:
If you make this recipe, be sure to snap a photo and hashtag it #LIVESIMPLYBLOG. I'd love to see what you make!
My Free Crash Courses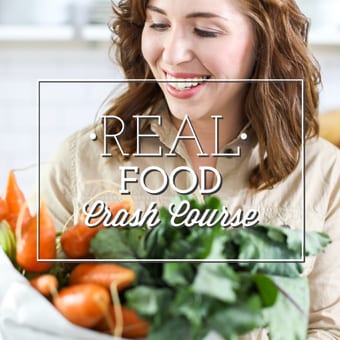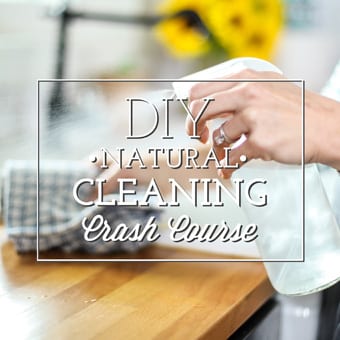 Subscribe to download the Courses