This post may contain affiliate links. Affiliate links come at no extra cost to you. These links allow me to share the products I authentically recommend (and use) and support Live Simply by receiving a small commission.
Last week we talked about homemade marshmallows and, more importantly, making the time to slow down and enjoy moments in the kitchen with our family. I know, it's hard to slow down this time of year. I get it, but it's so incredibly important for our children.
As we talked about last week, a real food lifestyle is about more than just nourishment. Although nourishing our bodies with real ingredients is so important. A real food lifestyle, which involves the act of making food in our own kitchen with simple ingredients, requires us to slow down, connect with our family, and practice the basic skill of caring for ourselves. These "things"–slowing down, connecting with loved ones, and caring for ourselves–enrich our lives in the very best way.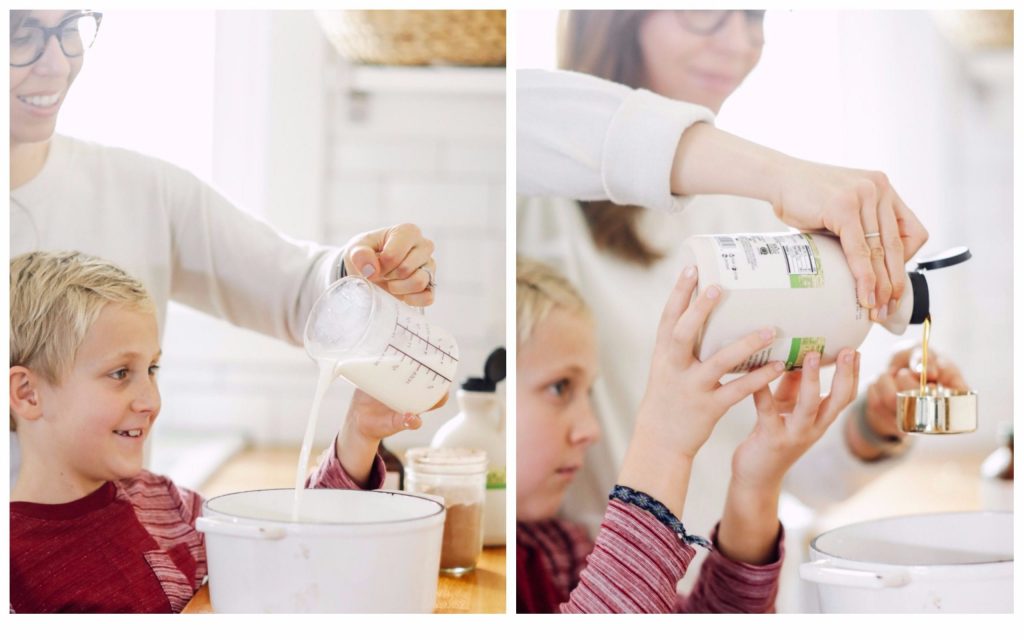 I've been challenged this holiday season to slow down and prioritize spending time with my family in the kitchen and outside the kitchen. I realize that slowing down isn't just going to happen without some intentionality on my part. I'm not going to wake up one day and my calendar is full of blank space. In order to slow down, I have to make this happen. I have to intentionally slow down and make family time a priority.
To do this, I created an advent calendar for our family over the weekend. We've never celebrated advent before (meaning, to prepare for Christmas). Our calendar isn't anything fancy–it's made from a string of cards with numbers on one side and an act of kindness or activity of togetherness on the other side.
FREE Real Food Crash Course
I get it, switching from processed food to a real food lifestyle can feel overwhelming and confusing. Friend, it doesn't have to be this way.
Here's what to expect: 
printable charts (real food defined, a seasonal produce guide, 

meal planning)

how to get started with a real food lifestyle

how to create a meal plan and stay within a budget

7 real food recipes

emails from me to help you enjoy real food
Bonus: Step-By-Step Guide to Real Food
The advent calendar is my way (my family's way, I should say) of intentionally slowing down as a family. Some of the activities involve spending time in the kitchen and making homemade treats (like marshmallows and hot chocolate), and others involve non-food related activities (like dancing to our favorite Christmas songs and seeing Christmas lights).
Here's what I came up with for each day leading up to Christmas…
1: see Christmas lights
2: make a Christmas card for your teacher
3: watch a Christmas movie
4: dance to our favorite Christmas songs
5: make marshmallows
6: make hot chocolate + enjoy it with marshmallows
7: take a bubble bath
8: family game night with popcorn
9: make a favorite Christmas cookie
10: make a card for someone you care about
11: read a Christmas book
12: make beeswax taper candles
13: read The Gingerbread Man Story
14: make gingerbread men
15: donate a toy and book to children in need
16: make a favorite Christmas cookie
17: make a cookie box for your teacher with the cookies we've been making (in freezer)
18: pick out an ornament for 2017–at the store
19: give a compliment to each family member
20: make hot chocolate + enjoy it with marshmallows (in the freezer)
21: read the Christmas story
22: family game night with popcorn
23: s'mores outside with a backyard campfire
24: open stockings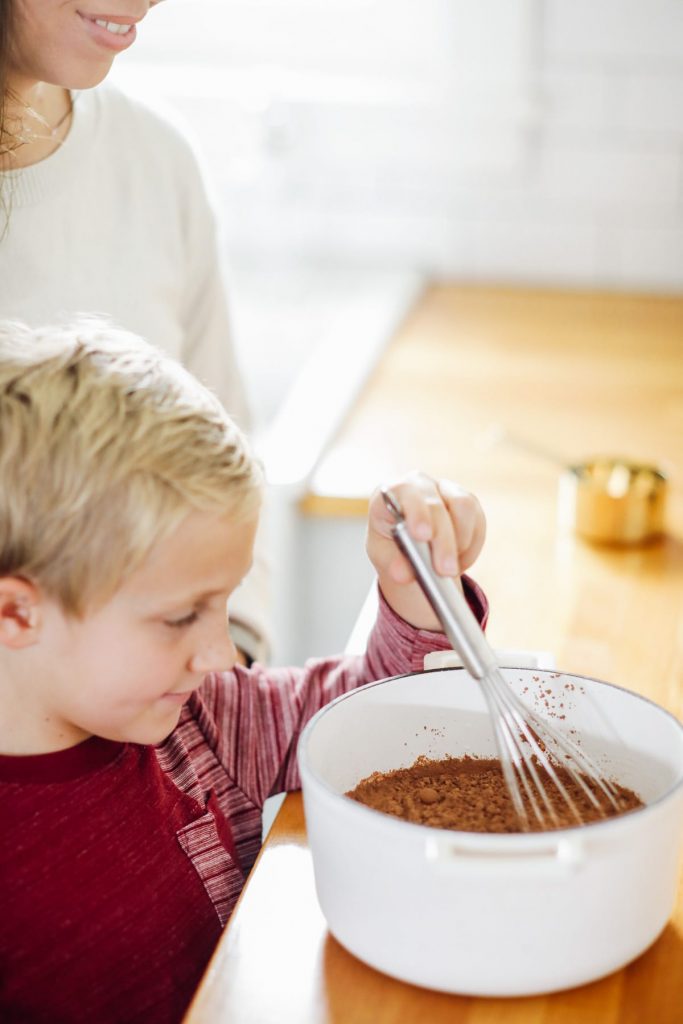 Making homemade hot chocolate is a repeat activity on this calendar, along with enjoying homemade marshmallows (which is a bit more time intensive).
Piper, my oldest, is particularly partial to making hot chocolate. While he loves a warm mug of hot cocoa, I think it's the act of making this special drink that's won his heart. He looks forward to the process–pouring the ingredients into the Dutch oven, whisking the cacao powder until it's dissolved in the milk, and waiting for the hot chocolate to reach an ideal drinking temperature.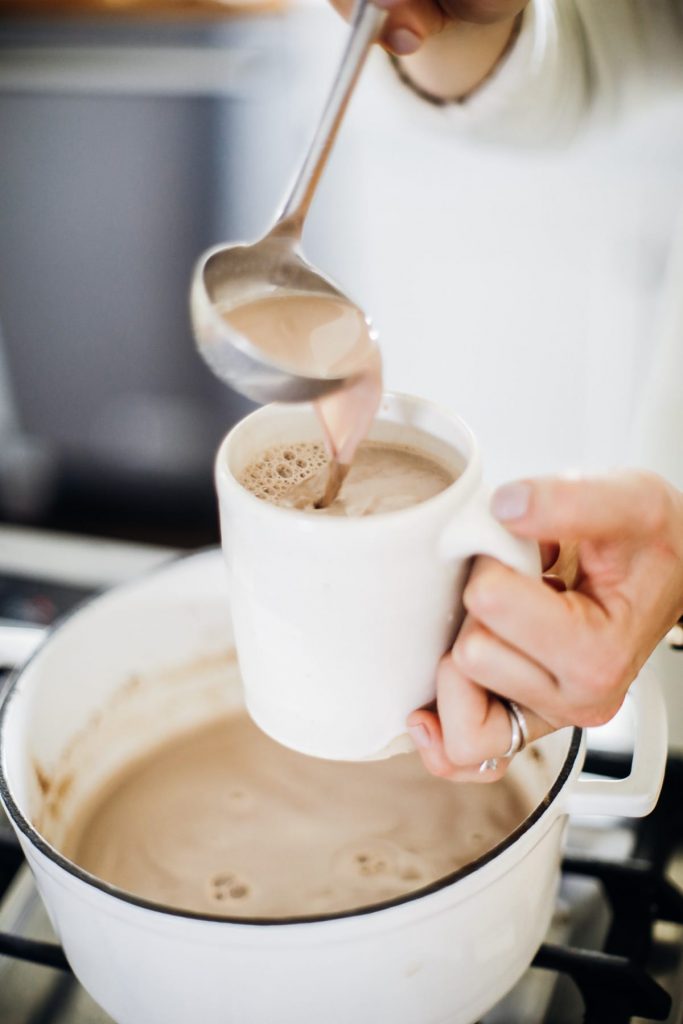 When he's grown and on his own, I hope he looks back at this time and remembers the sweet memories we made while making something as simple as homemade hot chocolate. I hope the sweet memories also serve as a reminder to him about how important it is to slow down and create memories with the people you love.
How to Make Homemade Hot Chocolate (Stove-Top Recipe)
A simple stove-top hot chocolate, sweetened with maple syrup. 
Ingredients
4

cups

whole milk

or milk of choice

1/3

cup

pure maple syrup

or more to taste*

1/3

cup

cacao powder

cocoa powder will also work

1 1/2

tsp

pure vanilla extract

pinch

salt
Instructions
Pour the milk into a Dutch oven, followed by the remaining ingredients: maple syrup, cacao powder, vanilla, and salt. Whisk the ingredients together. The cacao powder won't fully dissolve in the milk just yet; it's okay. 

Warm the mixture over medium heat on the stove-top, whisking every couple of minutes to fully dissolve the cacao powder in the milk. Once fully dissolved and warm (or to your desired temperature), turn off the heat. 

Ladle the hot chocolate into mugs. Enjoy warm.