Yesterday, we made homemade marshmallows and talked about the importance of slowing down and fostering meaningful traditions. In the spirit of slowing down, today, we're going to make easy homemade hot chocolate.
I've been challenged this holiday season to slow down and prioritize spending time with my family in the kitchen and outside the kitchen. Slowing down isn't just going to happen without some intentionality. I'm not going to wake up one day with margin in my calendar and space to breathe. In order to slow down, I have to make this happen.
To do this, I created an advent calendar for our family. Our calendar isn't anything fancy–it's made from a string of cards with numbers on one side and an act of kindness or activity of togetherness on the other side.
The advent calendar is my way (my family's way, I should say) of intentionally slowing down during the busy holiday season. Some of the activities involve spending time in the kitchen and making homemade treats (like marshmallows, hot chocolate, and cookies), and others involve non-food related activities (like dancing to our favorite Christmas songs and seeing Christmas lights).
Here's what our advent calendar looks like…
1: see Christmas lights
2: make a Christmas card for your teacher
3: watch a Christmas movie
4: dance to our favorite Christmas songs
5: make marshmallows
6: make hot chocolate + enjoy it with marshmallows
7: take a bubble bath
8: family game night with popcorn
9: make a favorite Christmas cookie
10: make a card for someone you care about
11: read a Christmas book
12: make beeswax taper candles
13: read The Gingerbread Man Story
14: make gingerbread men
15: donate a toy or book to children in need
16: make a favorite Christmas cookie
17: make a cookie box for your teacher with the cookies we've been making (in freezer)
18: decorate the Christmas tree
19: give a compliment to each family member
20: make hot chocolate + enjoy it with marshmallows (in the freezer)
21: read the Christmas story
22: family game night with popcorn
23: s'mores outside with a backyard campfire
24: open stockings
Making homemade hot chocolate is a repeat activity, along with enjoying homemade marshmallows (which is a bit more time intensive, but you can make a big batch and store them in the freezer).
Piper, my oldest child, favors making hot chocolate. While he loves a warm mug of hot cocoa, I think it's the act of making this special drink that's won his heart. He looks forward to the process: adding the ingredients to the Dutch oven, whisking the cacao powder until it's dissolved in the milk, and waiting for the hot chocolate to reach the perfect temperature.
When he's grown and on his own, I hope he looks back at this time and remembers the sweet memories we've made while making something as simple as homemade hot chocolate. I hope the sweet memories also serve as a reminder to him that it's important to slow down and create memories with the people you love.
Hot Cocoa Versus Hot Chocolate: What's the Difference?
Before sharing today's easy recipe, let's talk about the difference between hot cocoa and hot chocolate. Technically, today's recipe is more of a hot cocoa recipe versus a hot chocolate recipe. So, what's the difference?
Hot cocoa is usually made with cacao or cocoa powder, milk, and a sweetener, making it a lighter version of hot chocolate.
Hot chocolate, on the other hand, is made with melted chocolate and milk, making it a thicker, more indulgent chocolate drink.
Today's recipe is more of a hot cocoa as it's made with cacao or cocoa powder, maple syrup, and milk. If you want a rich, more chocolatey drink, melt in a handful of chocolate chips (Enjoy Life is my favorite brand).
How to Make the Easiest Homemade Hot Chocolate
The trick to making super easy and delicious homemade hot chocolate is to keep things simple! There's no need to overcomplicate this drink. There are two ways to go about making the easiest hot chocolate…
Make a Hot Chocolate Mix: If you want to easily make hot chocolate at any moment, in just under two minutes, make a homemade hot chocolate mix. Just warm milk and stir in a tablespoon or so of powder.
Make a Stove-Top Hot Chocolate: This is the recipe we're going to make today. Add a few ingredients (milk, cacao or cocoa powder, maple syrup, vanilla, and salt) to a pot and warm the ingredients on the stove-top. The entire process takes just a few minutes.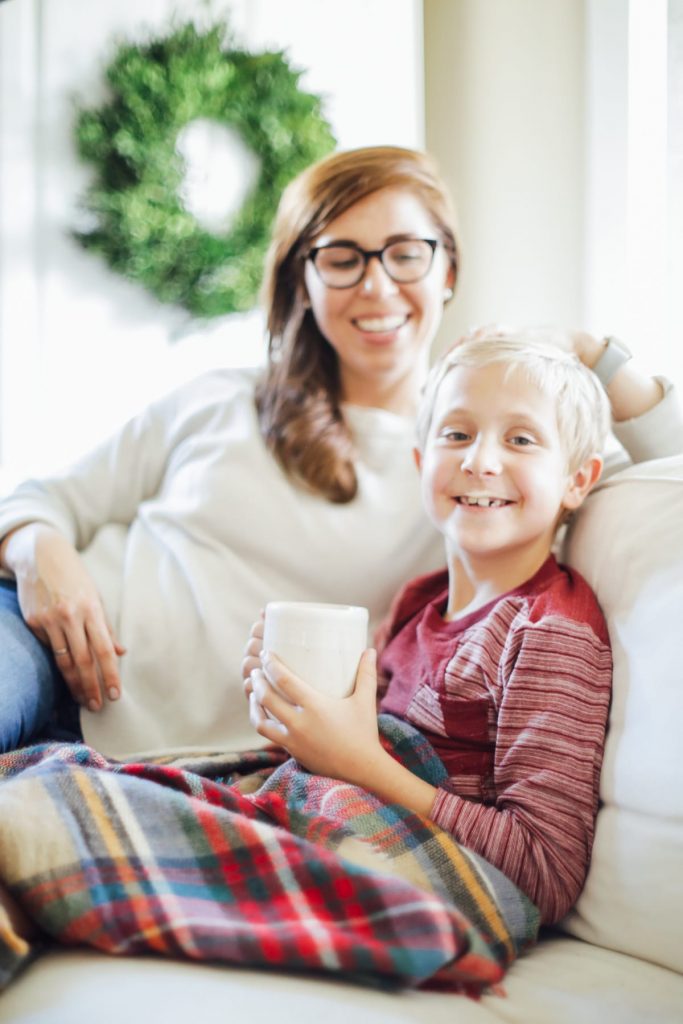 Easy Homemade Hot Chocolate
A super easy homemade hot chocolate made on the stove-top and made with simple ingredients: cacao or cocoa powder, maple syrup, milk, and salt.
Ingredients
4

cups

whole milk

or a plant-based milk: coconut, almond, cashew

1/3

cup

pure maple syrup

or more to taste

1/3

cup

cacao powder

cocoa powder will also work

1 1/2

tsp

pure vanilla extract

pinch

salt
Instructions
Pour the milk into a Dutch oven, followed by the remaining ingredients: maple syrup, cacao powder, vanilla, and salt. Whisk the ingredients. The cacao powder won't fully dissolve in the milk just yet.

Warm the mixture over medium heat on the stove-top, whisking every couple of minutes to fully dissolve the cacao powder in the milk. Once fully dissolved and warm (or to your desired temperature), turn off the heat.

Ladle the hot chocolate into mugs. Enjoy warm.
Nutrition
Calories:
242
kcal
Carbohydrates:
34
g
Protein:
9
g
Fat:
8
g
Saturated Fat:
5
g
Cholesterol:
24
mg
Sodium:
108
mg
Potassium:
491
mg
Fiber:
2
g
Sugar:
28
g
Vitamin A:
395
IU
Calcium:
314
mg
Iron:
1.1
mg
Take the Guess Work OUt of meal planning
Free 64 Rotational Meals Ideas Cheat Sheet
Breakfast, lunch, dinner, and snack recipes to rotate week after week. Put healthy meals on auto-pilot.