Meet the perfect holiday drink: a homemade mocha peppermint latte. It's super easy to make with brewed coffee, peppermint extract, and your favorite milk. And dare I say? It's even better than Starbucks and much healthier. Let's make this classic holiday drink together.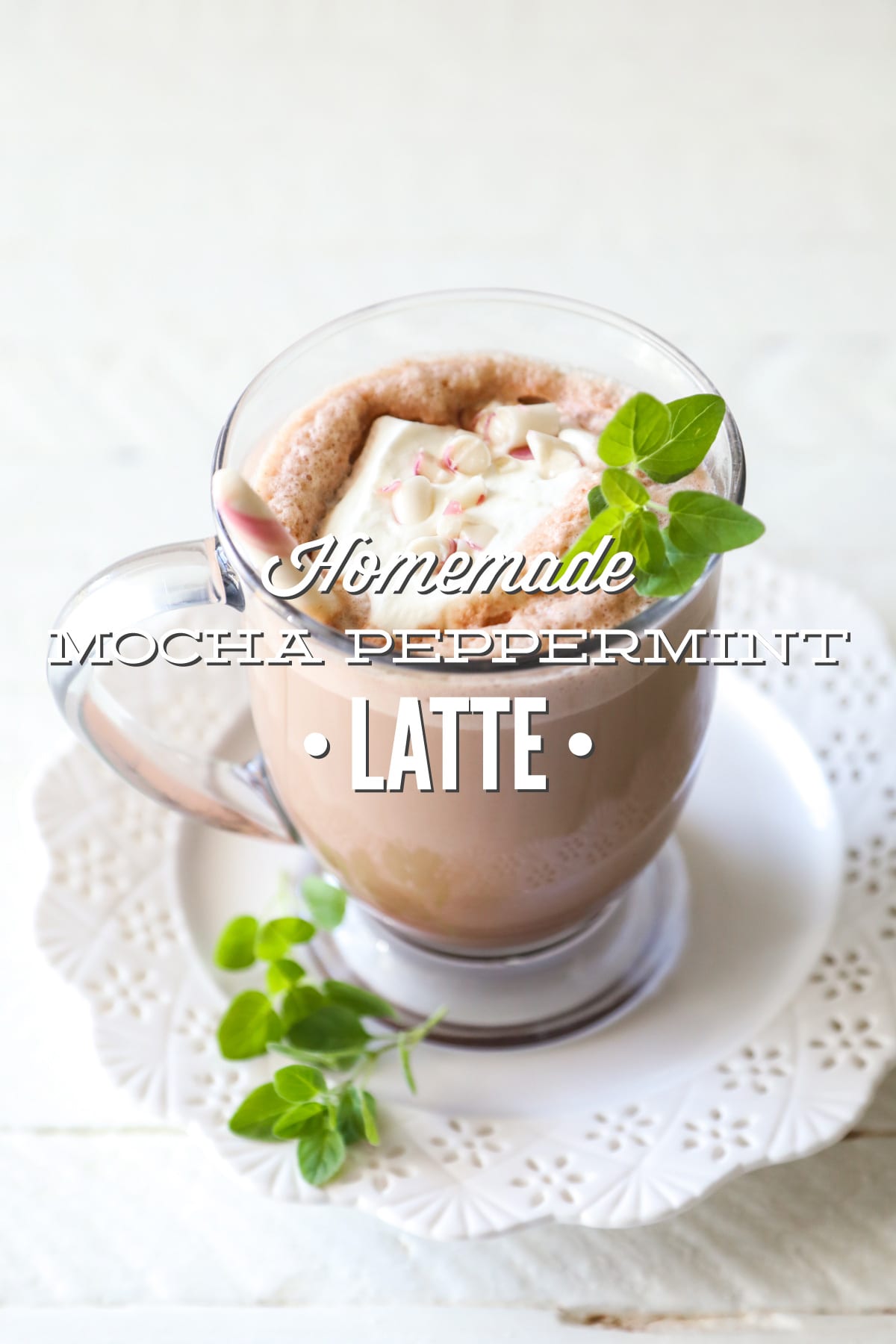 I thought this would be my year for planning ahead and being fully prepared for the holiday season. So far, we've made lovely homemade teacher gifts, but that's about it. And to complicate my to-do list, we're leaving in just four days for a three week road and cruise trip. I've spent the last week making lists and checking them twice. There are so many details that go into planning for the holidays, and then leaving over the holidays (with two kids!).
So, today, I'm sitting down with you to just breathe. Of course, taking a deep breath is calming and relaxing, but when that deep breath is paired with a coffee-house style drink…pure bliss!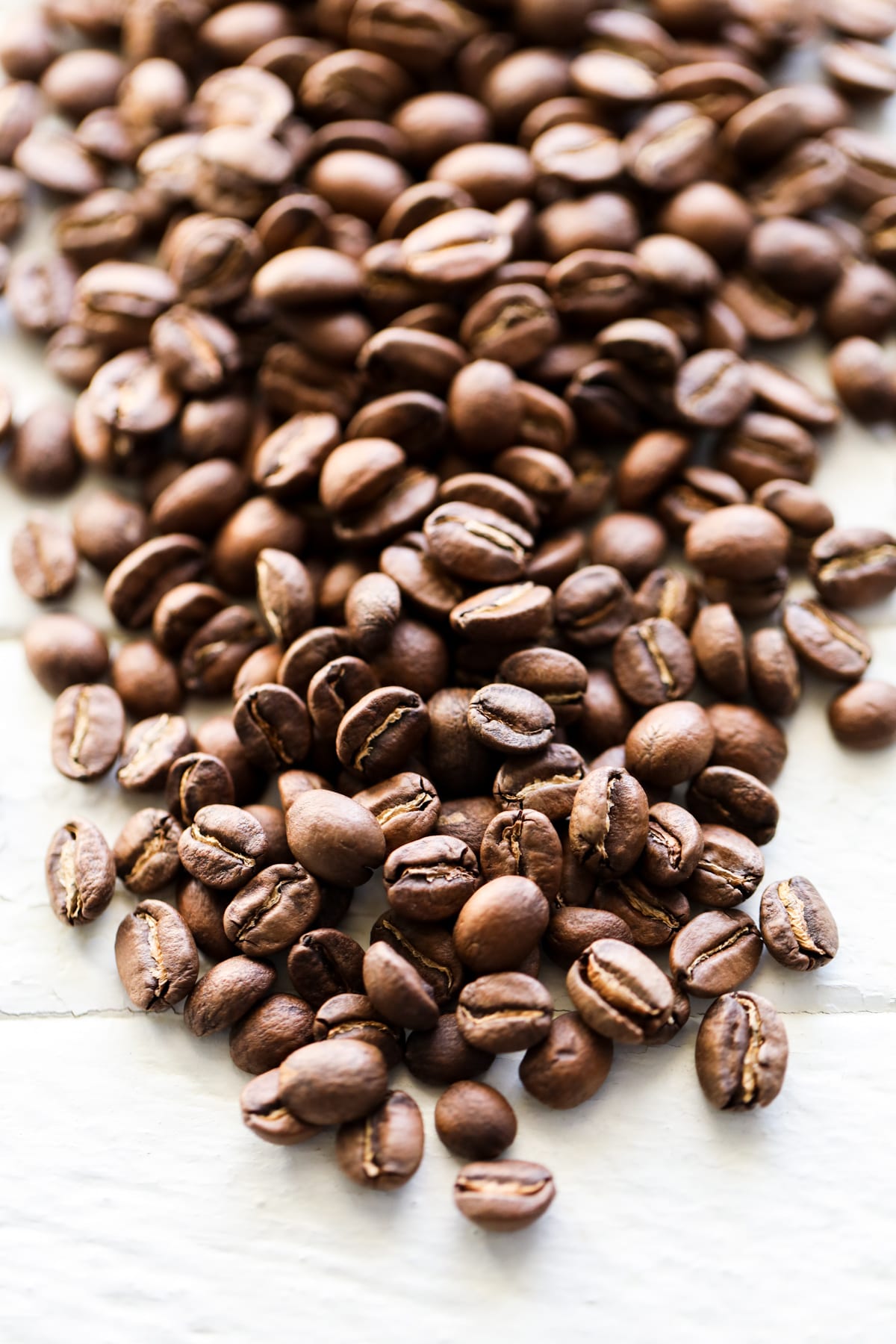 By now it's probably evident that I have a "thing" for fancy coffee-house style drinks. I love making iced chai lattes, hot chai lattes, pumpkin spice lattes, and matcha drinks at home. SO easy and so much cheaper.
The irony in that statement is that I never order fancy coffee drinks when we're out. When we visit a coffee shop, I always go for a black coffee. Yep, no cream, sugar, or milk; just black coffee. Pretty boring.
It's not that I don't want to order one of those over-the-top-loaded-with-flavor-drinks, it's just that most of the ingredients used to make those drinks give me a crippling headache. I'm incredibly sensitive to the processed flavorings and other imitation ingredients used in popular beverages. And that's why I'm so keen on recreating these drinks at home. There's a growing inventory of homemade coffee-house style drinks here on Live Simply: pumpkin spice latte, matcha latte, chai latte, frappuccino-style drink, and a turmeric latte.
The month of December is the perfect time to add another drink to this ever-growing list.
Let me introduce you to my Homemade Mocha Peppermint Latte.
Do you remember the peppermint extract we used to make the no-bake cookie bites last week? Well, with that same peppermint extract, and a bit of cocoa powder, freshly-brewed coffee, maple syrup, and milk, a minty latte may be recreated at home. Simple, right?!
Honestly, I think this is my favorite homemade latte so far. There's just something so refreshing about mint and chocolate mixed with caffeine.
Sip.
Breathe.
Pure bliss.
Homemade Mocha Peppermint Latte
Honestly, I think this is my favorite homemade latte so far. There's just something so refreshing about mint and chocolate mixed with caffeine.
Instructions
Brew the coffee. You may desire more coffee, so make a little extra if desired. Set the coffee aside.


In a small saucepan, over medium heat, warm the milk, maple syrup, cocoa powder, and peppermint extract. Whisk the ingredients until the milk begins to bubble on the sides. Turn off the heat.

Use an immersion blender (like this) to create the milk froth. Place the immersion blender in the warm milk mixture, and pulse until the milk is frothy. This is the secret to creating a homemade latte without an expensive machine. This little gadget is also perfect for pureeing homemade soups in the winter. If you don't have a immersion blender, vigorously whisk the milk in the saucepan as the bubbles begin to form (while heating the milk).

Pour the frothy milk into a large coffee mug. Carefully pour the coffee over the frothy milk.

Top the latte with homemade whipped cream and crushed peppermint candies, if desired.
Notes
*The amount of sweetener used will depend on your taste. I've found that 2 tablespoons of maple syrup fits my taste. If you're using coconut sugar (or sucanat), you may need to decrease the sweetener to 1 tablespoon. The same applies to honey. Feel free to increase or decrease the sweetener to your desired taste. 
Nutrition
Calories:
236
kcal
Carbohydrates:
38
g
Protein:
6
g
Fat:
6
g
Saturated Fat:
3
g
Cholesterol:
18
mg
Sodium:
85
mg
Potassium:
471
mg
Fiber:
1
g
Sugar:
33
g
Vitamin A:
295
IU
Calcium:
250
mg
Iron:
0.8
mg
Take the Guess Work OUt of meal planning
Free 64 Rotational Meals Ideas Cheat Sheet
Breakfast, lunch, dinner, and snack recipes to rotate week after week. Put healthy meals on auto-pilot.