Let's make one of my favorite trendy drinks: golden milk, also known as a turmeric latte. Made with ground turmeric, milk of choice, and a natural sweetener, this drink is a healthy, cozy, flavor-rich beverage. And it's much cheaper to make at home, with from-scratch ingredients.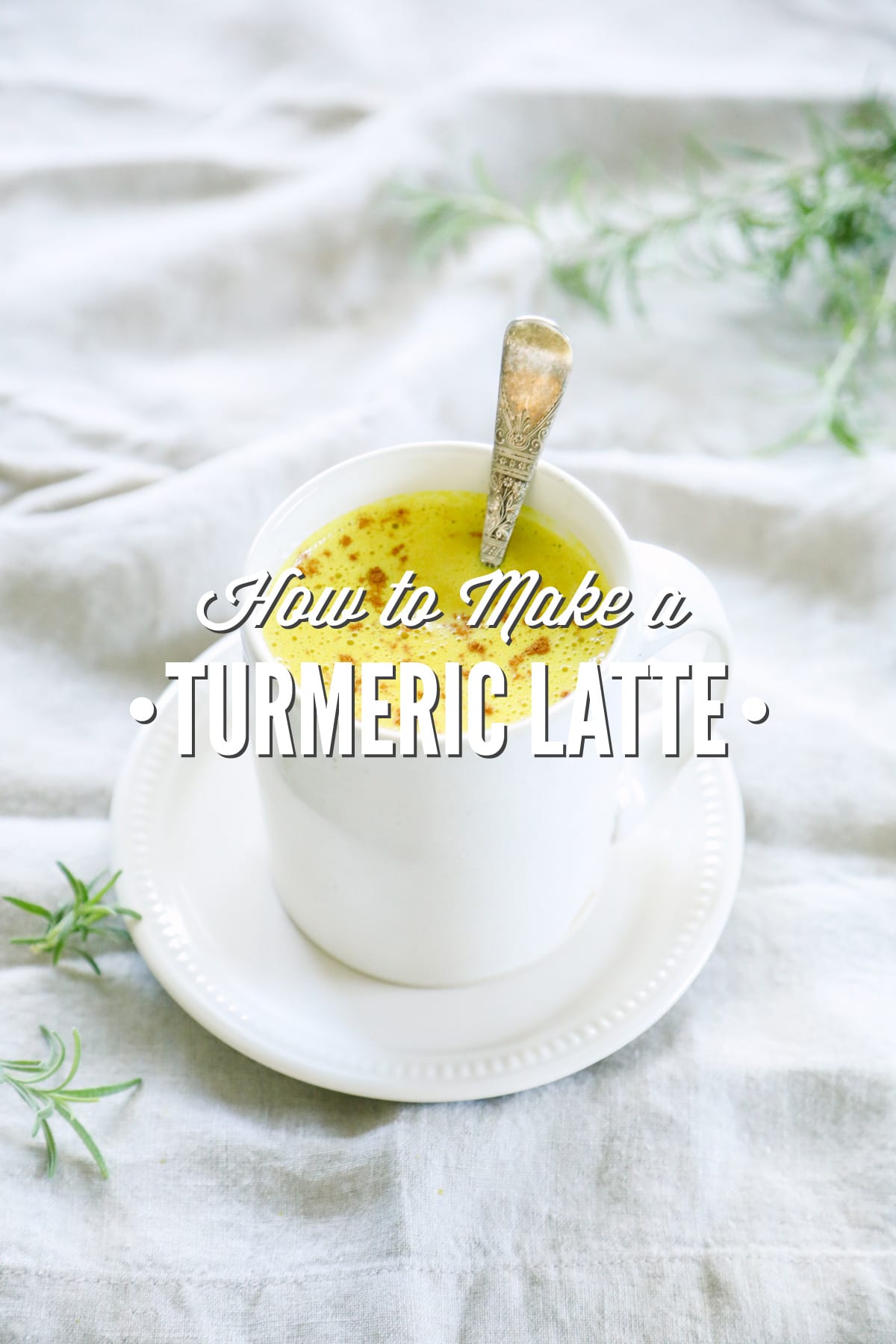 When it comes to food trends, I'm generally the very last person to jump in and embrace something.
That's probably not the best quality for a food blogger. But, then again, maybe that's a good thing. Take eggs and full-fat dairy for example. Just a few years ago, the trend was to avoid fat at all costs, which ended up being a very wrong trend that's led to the over-consumption of sugar, a ton of fake products, and a very confused food culture.
Last year, I finally embraced the trend of putting an avocado on toast. A trend that's both tasty and incredibly nourishing. Then, this past summer, I embraced the use of turmeric in something other than a curry. Have you tried avocado toast or a turmeric smoothie yet?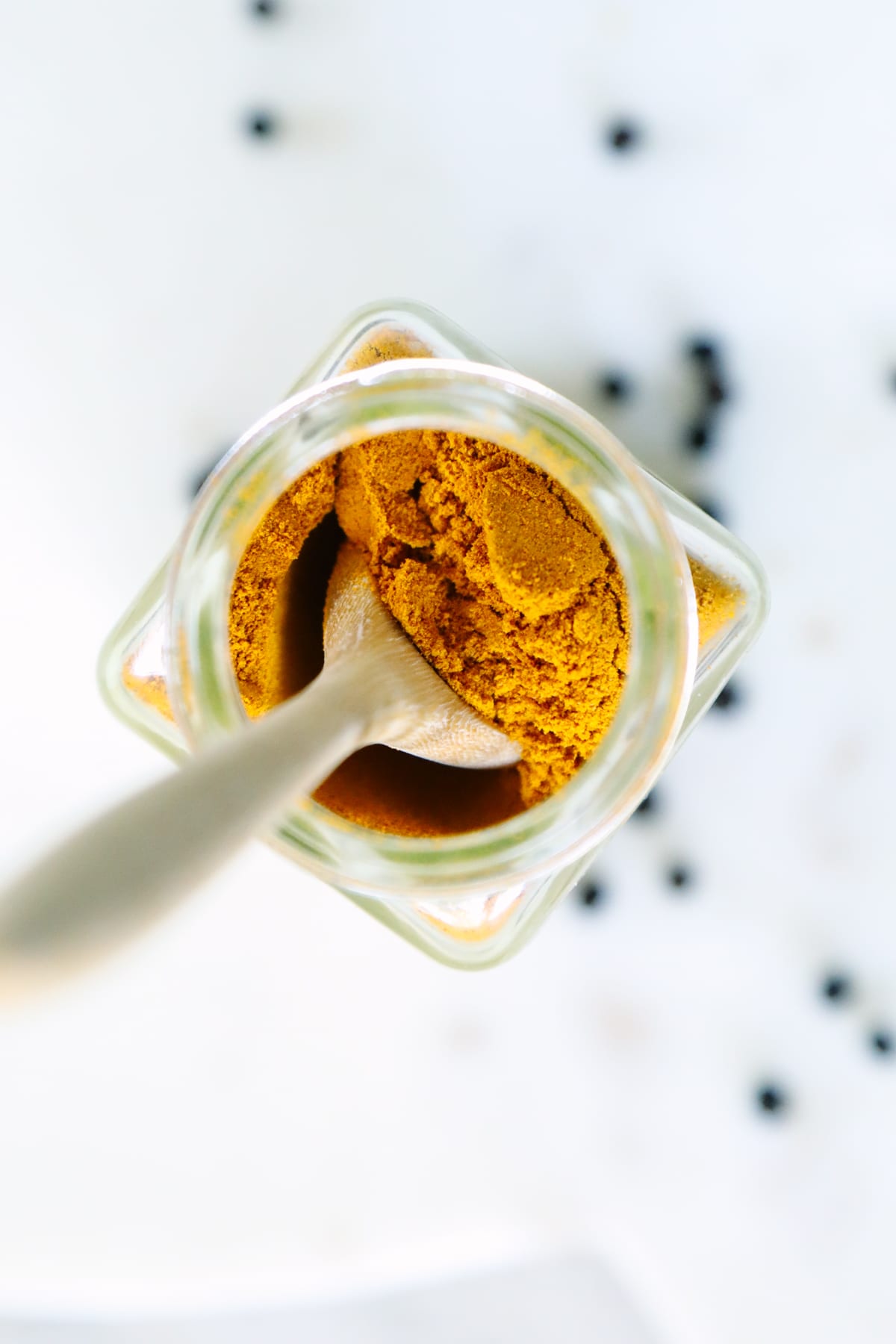 One of the biggest trends, that's been in my Instagram newsfeed over the last year, particularly during the fall and winter seasons, has been turmeric milk, also known as a turmeric latte or golden milk. Just like every other food trend, I was a bit slow to warm up to this idea.
Turmeric in milk? Yuck!
And you drink that milk? No way!
I've had a hard time getting past the idea of turmeric being used for something other than a savory meal. Finally, last month, when I just couldn't take one more pumpkin spice latte or chai tea latte (whether hot or an iced latte), I decided to try making a turmeric latte. That's what you call desperation, right?!
Well, friend, desperation tasted really good! And so, today, I've decided to finally endorse the turmeric latte trend, and share my version of this popular drink.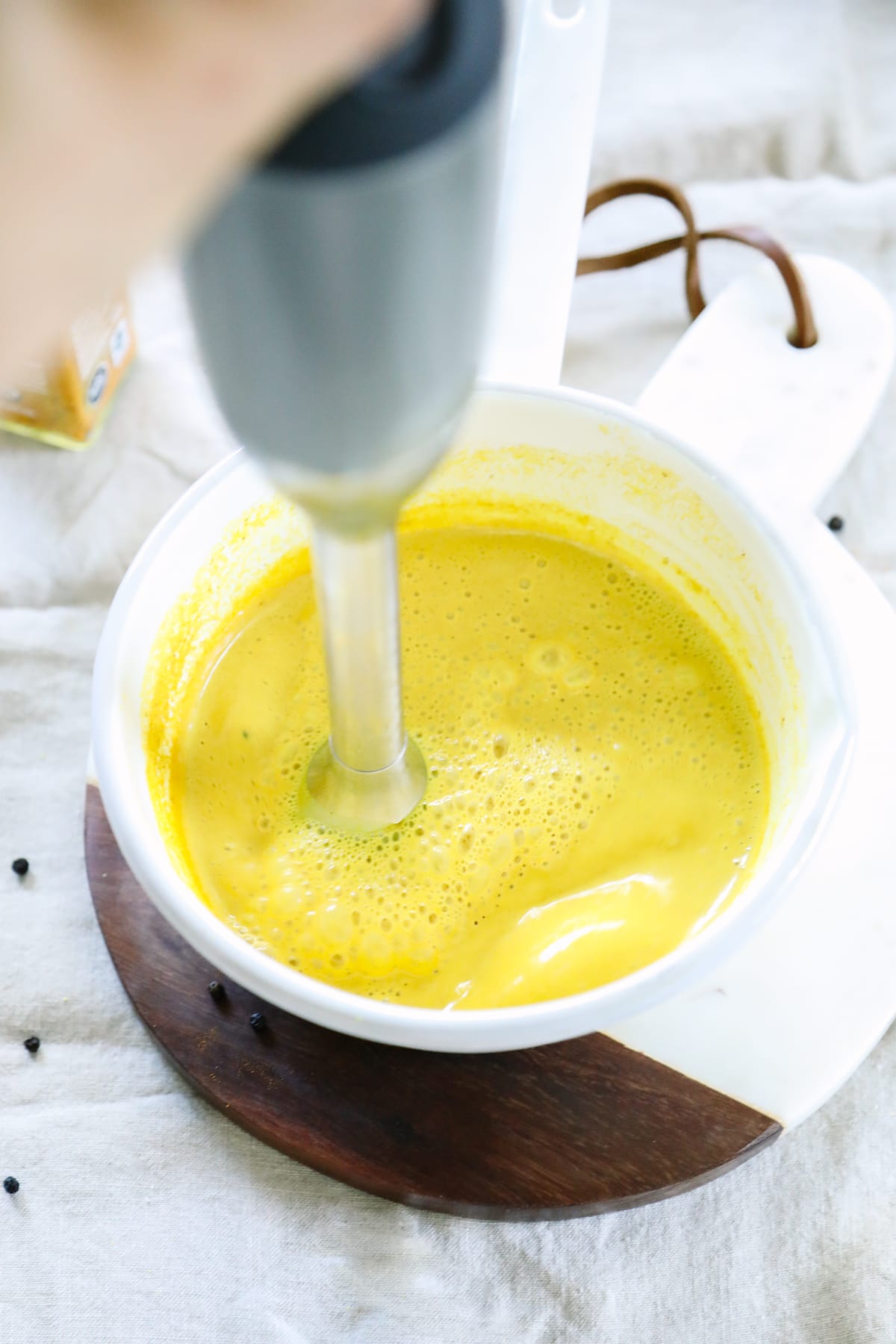 Maybe you're like me, and you just can't wrap your tastebuds around the idea of consuming a latte made with turmeric. Friend, let me assure you that there's good reason to enjoy this spice, beyond just the fact that it tastes amazing when added to milk with a bit of sweetener and cinnamon. Let's talk about this good reason…
Turmeric, commonly found in Middle Eastern and Indian dishes, is antioxidant-rich, an anti-inflammatory, may help prevent plaque from building up in the arteries, and may help reduce the pain from osteoarthritis (read more).
Normally, on Friday (or a day closely related to Friday), we talk about natural cleaning or body-care. You know, all-things "natural living." A turmeric latte may seem a bit out of place for a Friday. I assure you it's totally related to body-care and natural living.
Caring for our bodies is about more than just a natural cleanser or luscious lip balm. Caring for our bodies starts with consuming real food. Turmeric is definitely one nourishing spice, and 100% real, with all its amazing properties, so a drink containing turmeric definitely qualifies as a body-care recipe.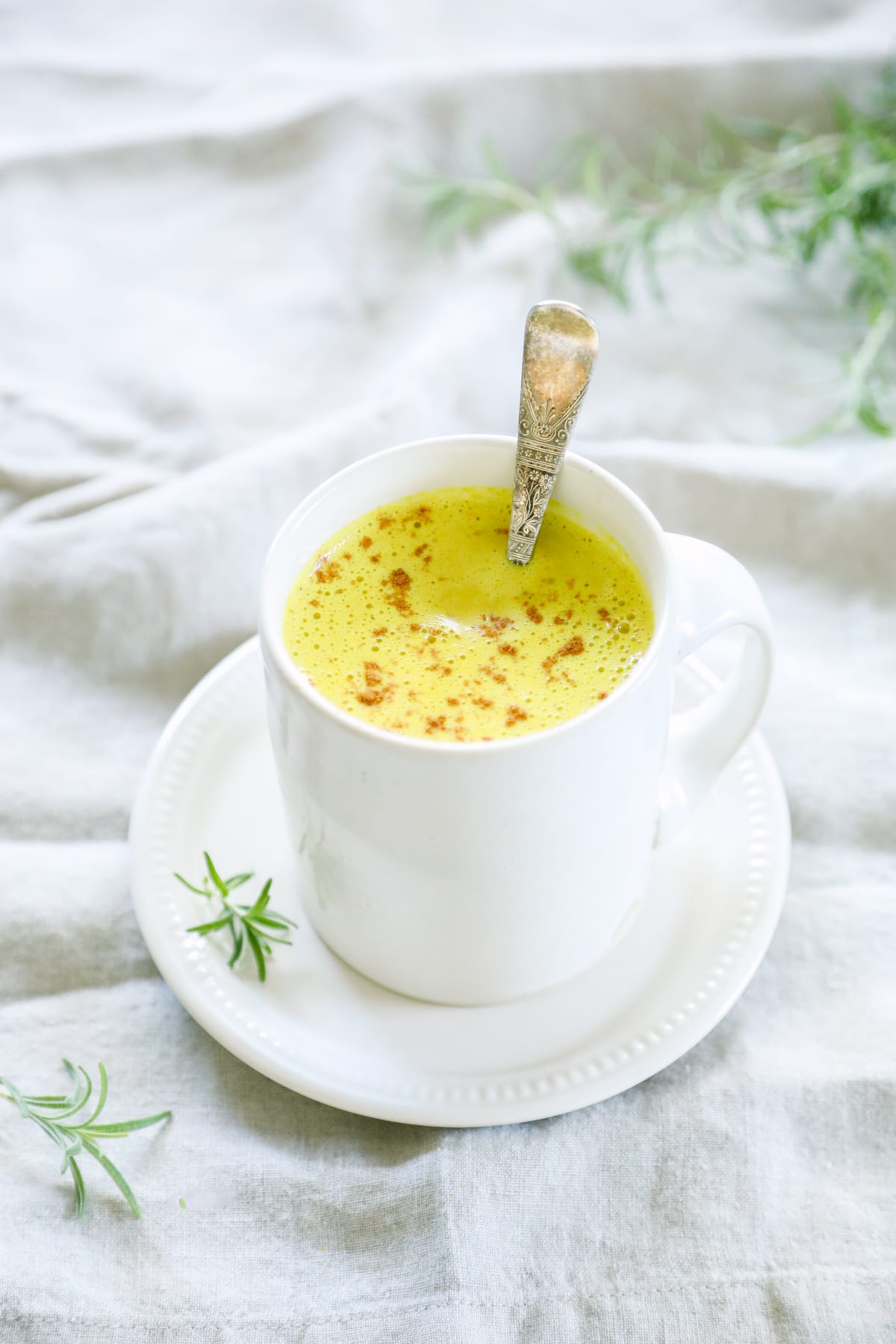 Granted, you don't need to drink a turmeric latte to enjoy turmeric. You can definitely consume this spice in a soup, smoothie, or just sprinkled over roasted veggies. But, in the winter, I crave more than just a warm soup or a plate of roasted cauliflower, I also crave warm drinks. A turmeric latte is just one more way for me to get an antioxidant boost (take that sick germs!) and enjoy a cozy latte-style drink.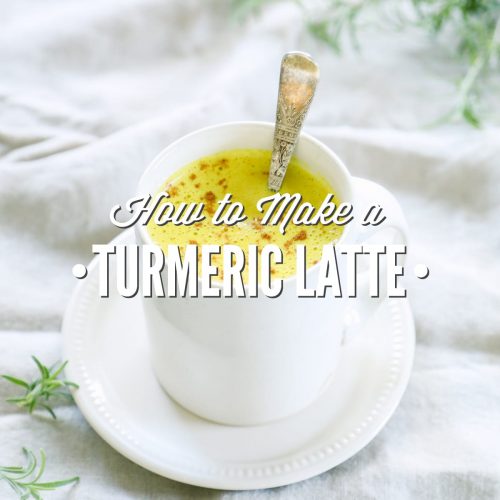 Turmeric Latte (Golden Milk)
I've decided to finally endorse the turmeric latte trend, and share my version of this popular drink.
Ingredients
1 1/2

cups

almond milk

or cashew milk

2

TB

honey

or to taste

1

TB

butter

1 1/2

tsp

pure vanilla extract

homemade

3/4

tsp

turmeric powder

Found in the spice section of the store. I like Whole Foods or Simply Organic brands.

1/4

tsp

ground ginger

1/4

tsp

ground cinnamon

3

whole peppercorns

See "Ingredient Notes" for explanation.
Instructions
Add the ingredients to a medium-size saucepan. Whisk the ingredients until well combined. Warm the mixture over medium heat until the sides of the milk begin to bubble. The goal isn't to bring the mixture to a boil, just to warm the milk.

Once warm, remove the pan from the heat, and remove the peppercorns with a spoon.

Use an immersion blender

(like this)

to create the milk froth. This is the secret to creating a homemade latte without an expensive machine. This little gadget is also perfect for

pureeing homemade soups

. If you don't have a immersion blender, vigorously whisk the milk in the saucepan as the bubbles begin to form. This method won't create the same froth or texture of the immersion blender method, but it will still create a tasty drink.

Pour the frothy milk into a large mug. Sprinkle with additional cinnamon, if desired. Enjoy warm.
Nutrition
Calories:
309
kcal
Carbohydrates:
39
g
Protein:
2
g
Fat:
16
g
Saturated Fat:
7
g
Cholesterol:
30
mg
Sodium:
591
mg
Potassium:
41
mg
Fiber:
1
g
Sugar:
35
g
Vitamin A:
355
IU
Calcium:
450
mg
Iron:
0.7
mg
Ingredient Notes
If you're new to turmeric, I recommend starting with 1/2 teaspoon. You can always increase this amount to 3/4 teaspoon the next time you make this drink.
I've read that you need heat and healthy fat in order to activate the full benefits of turmeric, and really enjoy the flavor of this unique spice. The peppercorns are added to this recipe to add the heat. You'll notice that I don't add this heat element to my turmeric smoothie (I just can't ruin a good smoothie with pepper). If you don't have any peppercorns, you may skip this ingredient and still enjoy a great latte. The butter is added for the additional healthy fat, but also for the extra creaminess. If you don't want to add dairy to this latte, then I recommend subbing the butter with raw coconut butter…so good!! I've used both salted and unsalted Kerrygold Butter in this recipe without any issue.
I like to use 2 tablespoons of honey in this recipe. Feel free to sweeten your latte to taste. Maple syrup may be used as a replacement for the honey.
If you really want to create a decadent latte, you could also add some homemade whipped cream.
Take the Guess Work OUt of meal planning
Free 64 Rotational Meals Ideas Cheat Sheet
Breakfast, lunch, dinner, and snack recipes to rotate week after week. Put healthy meals on auto-pilot.