A few years ago, most of my skincare products were homemade, because it was hard to find clean products that didn't cost a fortune. Today, most of my skincare routine consists of store-bought products.
I welcome this shift. This means that I now have more time to do other things, like make homemade meals or spend time with my family. Minutes add up!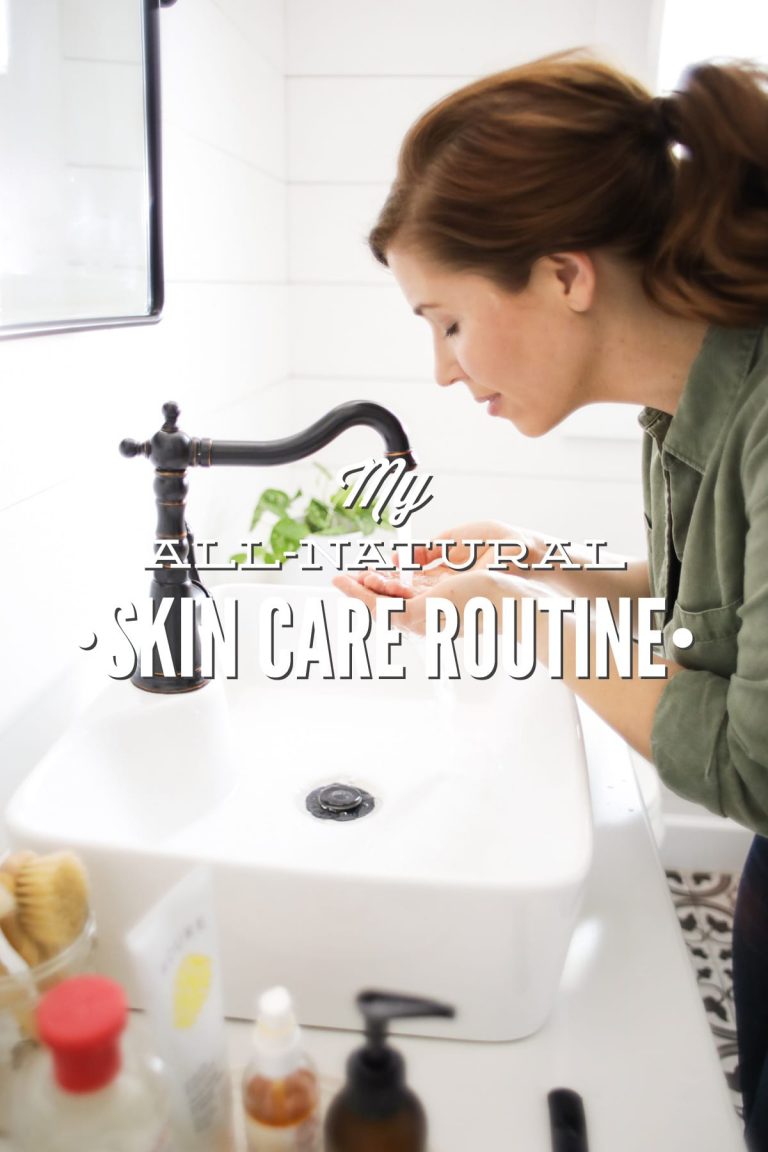 Now, I can walk into Target (just one example) and find some incredible skincare options. Target! A store that once sold only toxic skincare products now proudly sells brands like W3LL People (lovely makeup), Meow Meow Tweet (natural deodorant), S.W. Basics, and Acure (fantastic products, ranging from facial products to shampoo).
With that said, I still love dabbling with homemade products and sharing them on the blog. Knowing how to make something, along with knowing how to purchase clean products is a gift. A gift that empowers the consumer (that's you and me).  A gift that I feel strongly about sharing here on Live Simply.
If you'd like to take the homemade route with skincare (which can be more budget-friendly), I recommend downloading my body care book. I poured all my knowledge into this resource–thanks to experimenting on my own skin, receiving feedback from reader friends, and exploring research.
If you want to go the store-bought route (which can be more of a time-saver), know that there are amazing products out there that make this 100% possible. You don't have to use toxic skincare products. In my book, I created lists detailing my favorite products, from shampoo and toothpaste to makeup and cleansers. It's all in there.
I've also been sharing a monthly series on the blog called, Switching to Natural Products. In this series, I share my favorite natural products (homemade and store-bought). So far we've talked about deodorant, toothpaste, dish and dishwasher soap, all-purpose cleaner spray. Along with sharing my picks, reader friends also chime in with product suggestions. I love that!
Will you step inside my bathroom and let me show you what I'm currently using on my skin? After I share, I would love to hear about your skincare routine via the comment section below this post.
Cleanser
I have three favorite store-bought cleansers right now. Each one varies in price and accessibility. It's not uncommon to find me switching between these cleansers, because I truly enjoy each of them.
Cleansers don't fully remove makeup, so if I'm wearing full-coverage makeup I use a makeup remover before cleaning. I go between two makeup removers: 100% oil (usually olive oil) or these makeup remover pads.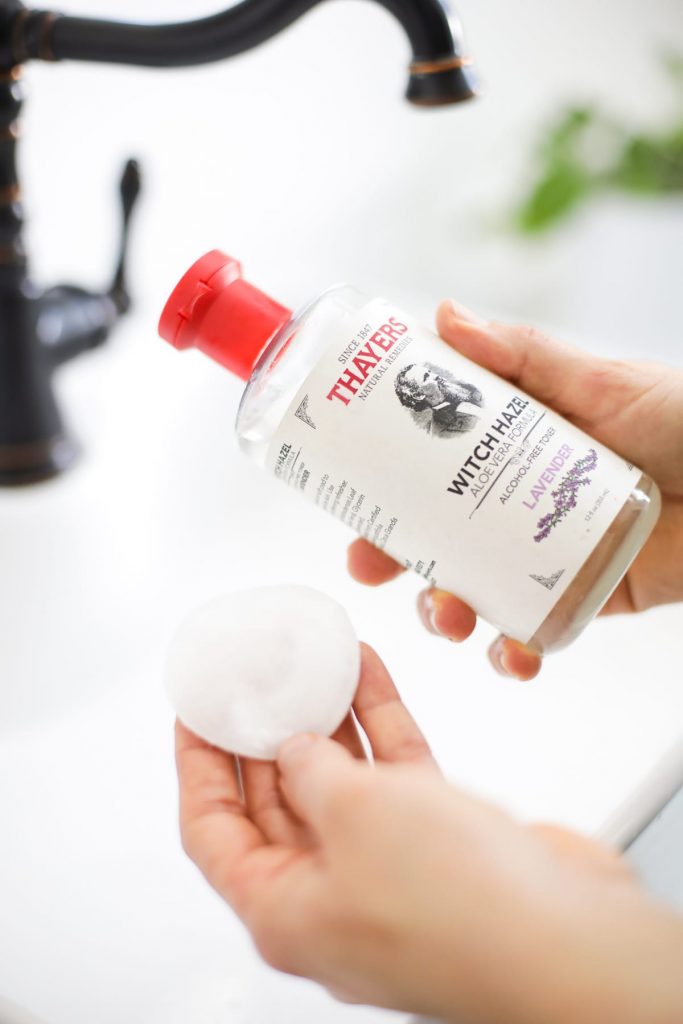 Toner 
If you've been around Live Simply, you know that I've experimented with a number of different toner options. A toner helps to balance the pH of the skin after cleansing. I love rose water and (non-alcohol based) witch hazel. Quality rose water is expensive, so to cut back on my skincare expenses I've been using witch hazel (Thayer's brand) as a toner.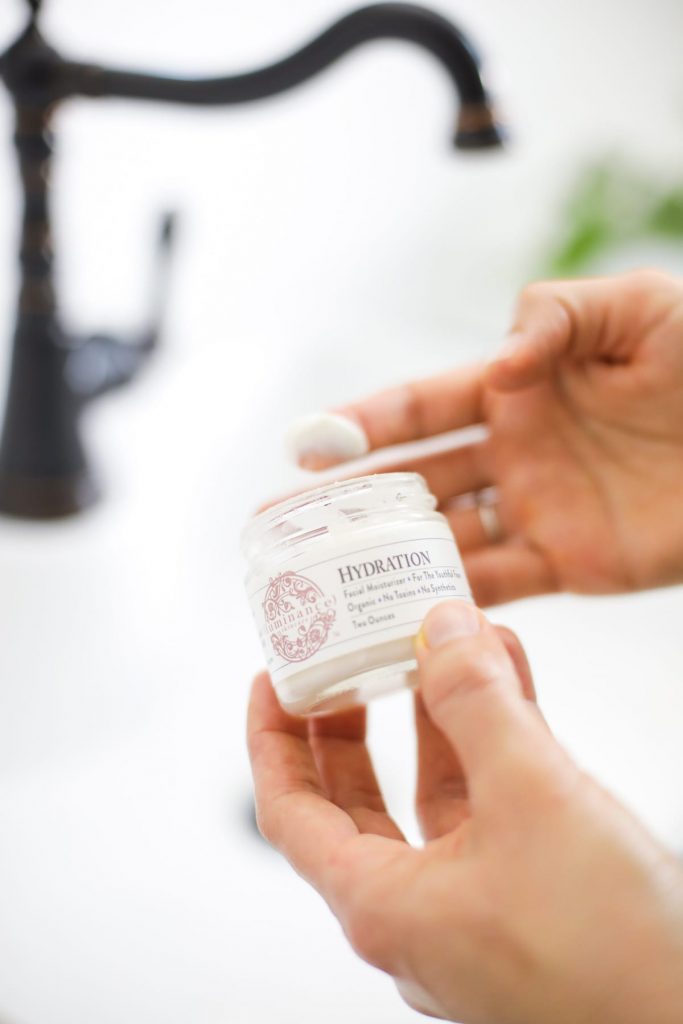 Moisturizer
My favorite moisturizer is from Luminance Skincare, Hydration. This moisturizer is lightweight and hydrating. I also love the Acure line of Day Cream and Night Cream (Target or Whole Foods).
Exfoliator and Mask
My goal is to exfoliate my face twice a week. Exfoliating helps my skin glow by sloughing off dead skin cells, and also improves the overall performance of other products used on my face. My favorite store-bought exfoliator is Acure Brilliantly Brightening Facial Scrub. My other go-to product is this homemade baking soda exfoliator.
Homemade masks are my jam. (It's still okay to say "my jam" in 2018, right?!) My goal is to mask once or twice a week. I have three favorite masks at the moment:
Sunscreen 
I live in Florida, the sun capital of the world. For this reason, I use a sunscreen every single day. I haven't always used sunscreen on my face, which is very evident by the darker spots speckled across my forehead. Live and learn to do better.
My favorite sunscreen (for the face) is from Luminance Skincare.
Extra Products
Since turning 30 a few years ago (and taking the pledge to take care of myself), I've been taking my skincare routine very seriously. I've also been working on adding or taking away products based on my skin's current needs. I just recently ordered two new products to complement my skincare routine. Here are two new products I've added to my skincare routine.
My Skincare Routine
Putting It All Together
Now that I've shared the products I've been using (and a couple that I plan to use in the future), here's what my routine currently looks like: