May is the last month for enjoying our CSA produce share. I'm looking forward to a break from driving down to the market often (a 25-30 minute drive on Saturday mornings), but I'm also going to miss the fresh harvest shares. If you're new to the idea of a CSA, let's recap.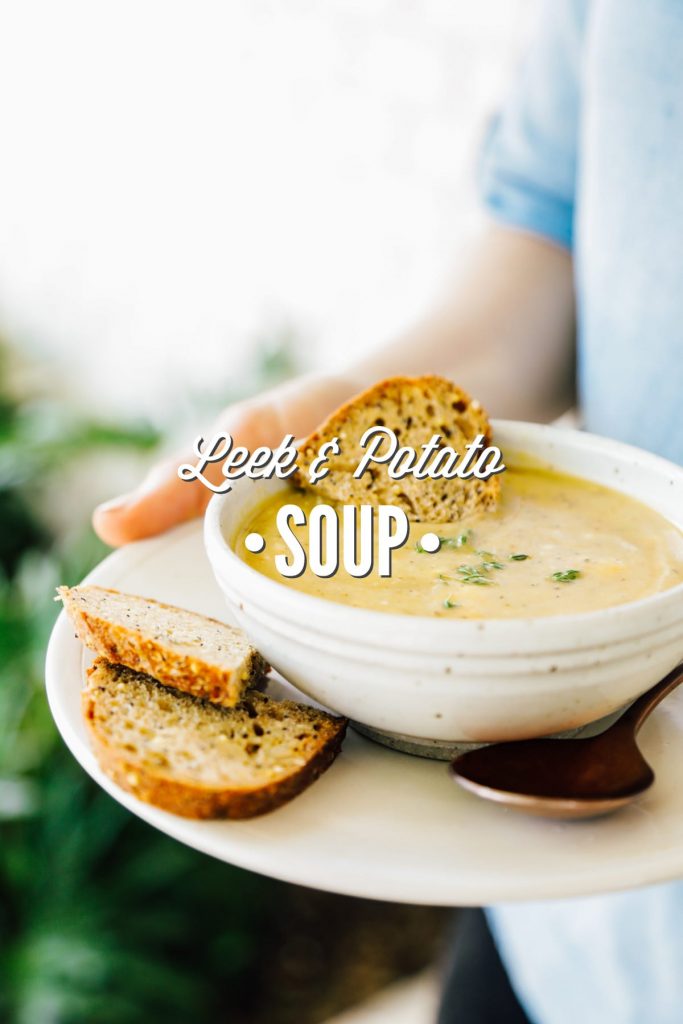 CSA is short for Community Supported/Sustained Agriculture. Crop Share is another common term for this.
A CSA allows consumers to support local, small farms and provides these farms with the assurance (through an upfront financial commitment) that consumers are invested in their hard work and future harvest. The consumer (that's you and me) pledges to pay a farm upfront for future harvest shares provided by the farm. The farm pledges to grow, tend to, and deliver the harvest to the customer over a certain period of time. A CSA can be strictly for produce, while others may include meat, eggs, milk, and even cheese. Of course, this depends on what the farm grows or raises, or if the farm partners with another farm in the area (think: a veggie farm partners with a dairy farm).
The CSA we joined with Little Pond Farm is strictly for veggies and some fruit (think Florida fruit: strawberries, watermelon, etc.). I'll admit, when I first wrote the check to cover eight month's worth of produce I was intimidated. Financially committing to that much produce (that was our CSA program, every program differs) was a new experience for me. After two months of harvest boxes, I fell in love with being part of a CSA and realized the many advantages of purchasing food this way.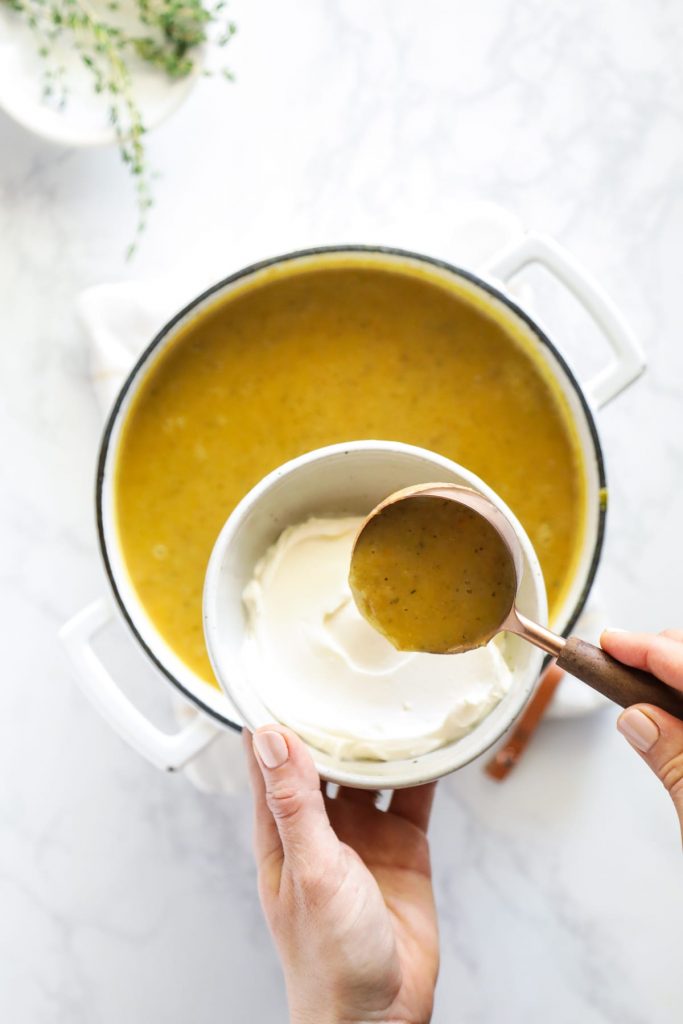 Joining a CSA has been the best way to get out of a food-buying rut, particularly when it comes to produce. Joining a CSA has challenged me to find creative ways to prepare and enjoy new veggies. After all, I don't want to waste my money or disrespect the farm's time and effort. Thanks to our produce CSA, I've fallen in love with veggies that I would have passed up if the shopping was up to me. If I don't know how to use something (like kohlrabi), I can always find helpful tips and recipe suggestions from the farm and Google.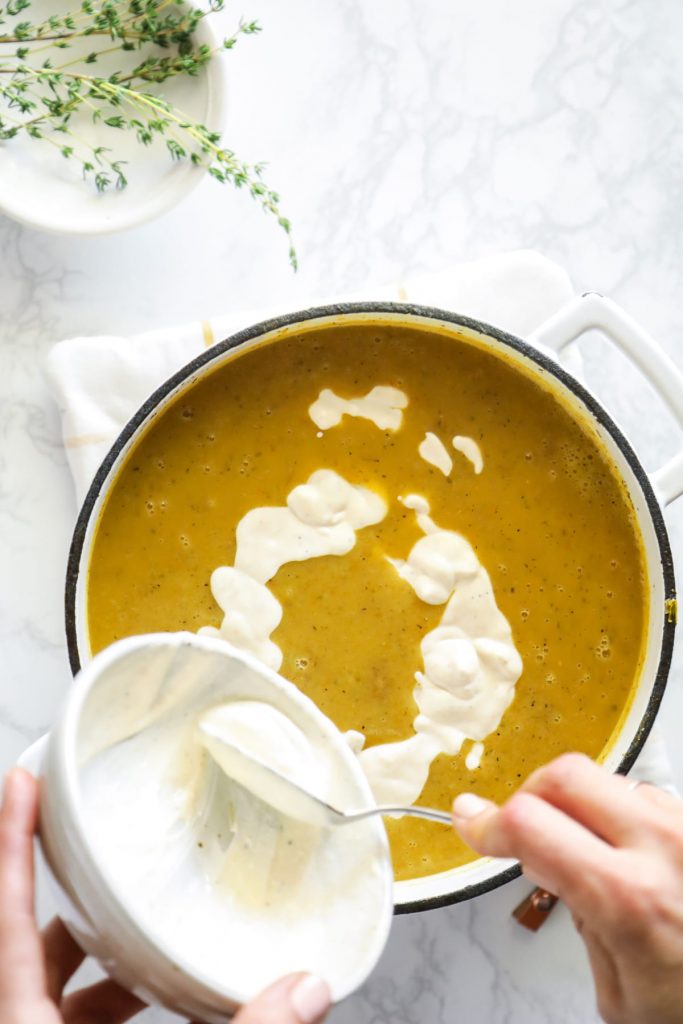 Lately, I've been receiving a ton of leeks and potatoes in my CSA box. Naturally, leek and potato soup has become a regular meal on my meal plan calendar. I've made a number of different leek and potato soup recipes over the years, and today's recipe is my absolute favorite.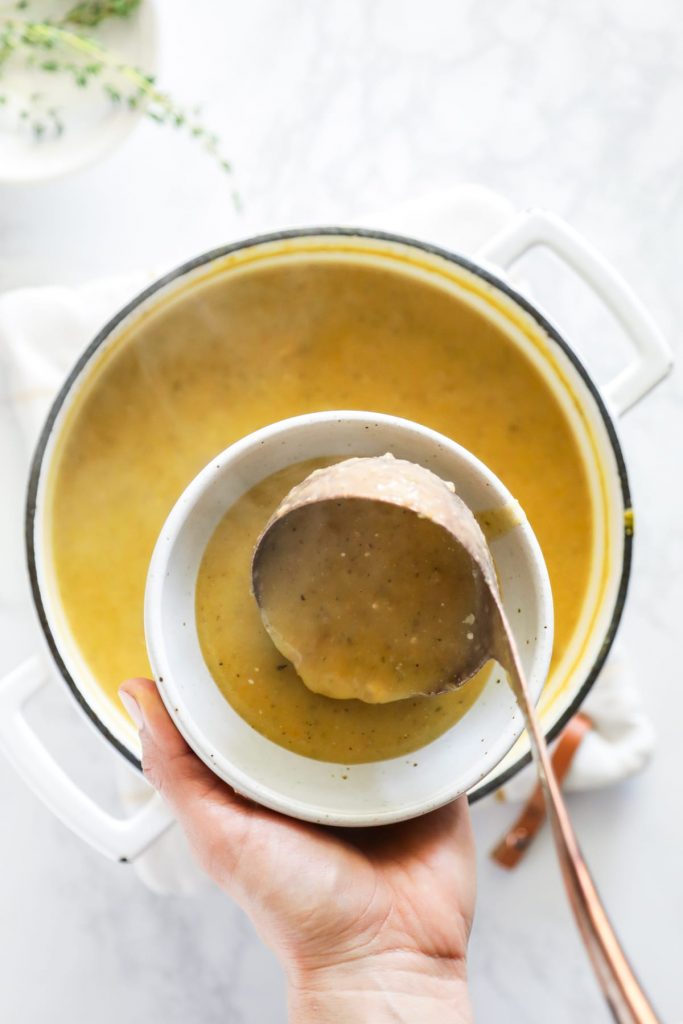 The classic, hearty soup takes less than 45 minutes to make on the stove-top. (I'm sure it could also be made in the Instant Pot.) Sour cream is added during the last few minutes of cooking time to add that classic creamed soup experience.
Soup not only makes for a nourishing dinner, but also a great prep-ahead lunch meal. When I'm not cooking a whole chicken, or putting together a bowl-style lunch, soup (and, lately, this soup) is my go-to make-ahead lunch. Serve the soup alongside a sandwich, crackers and fruit, or a salad.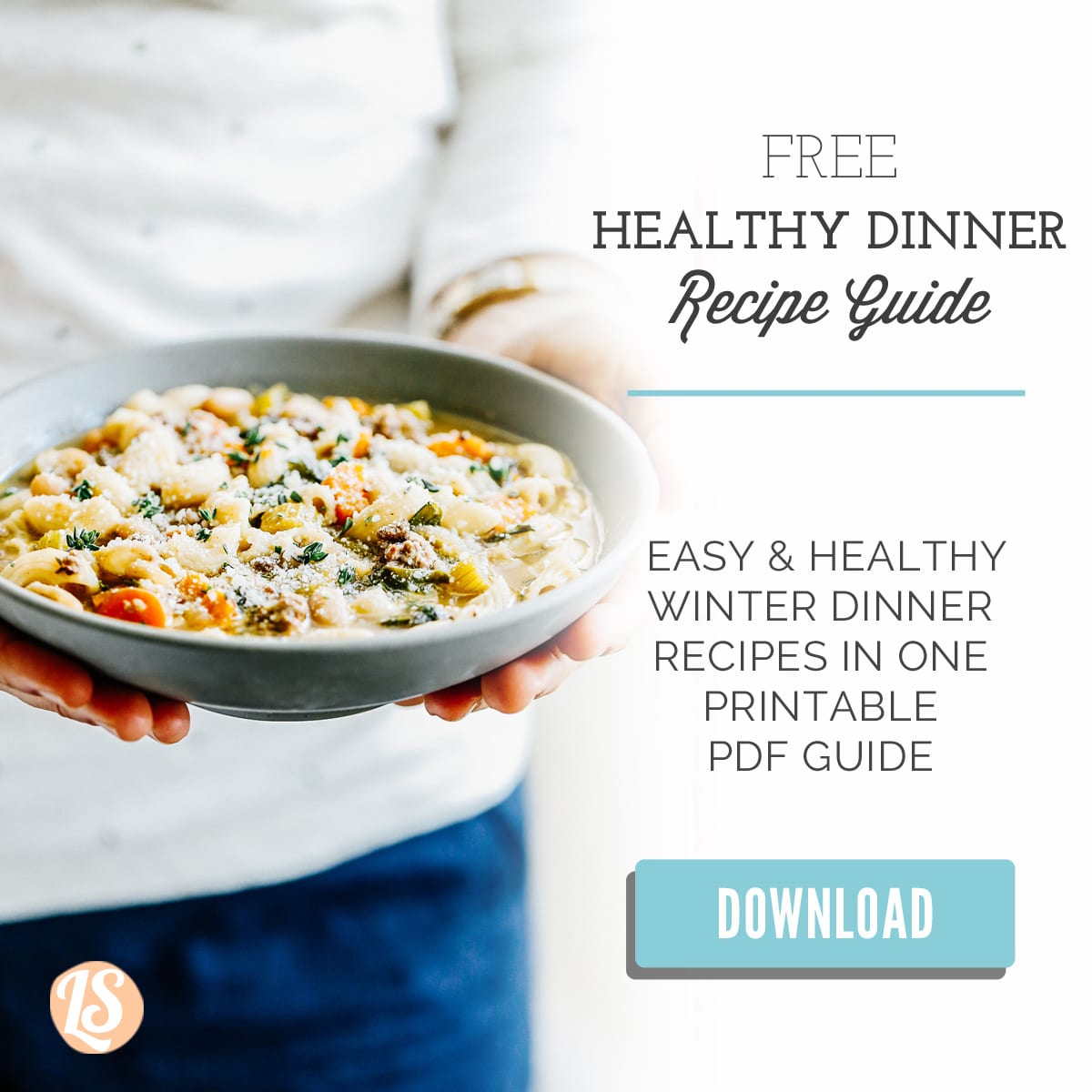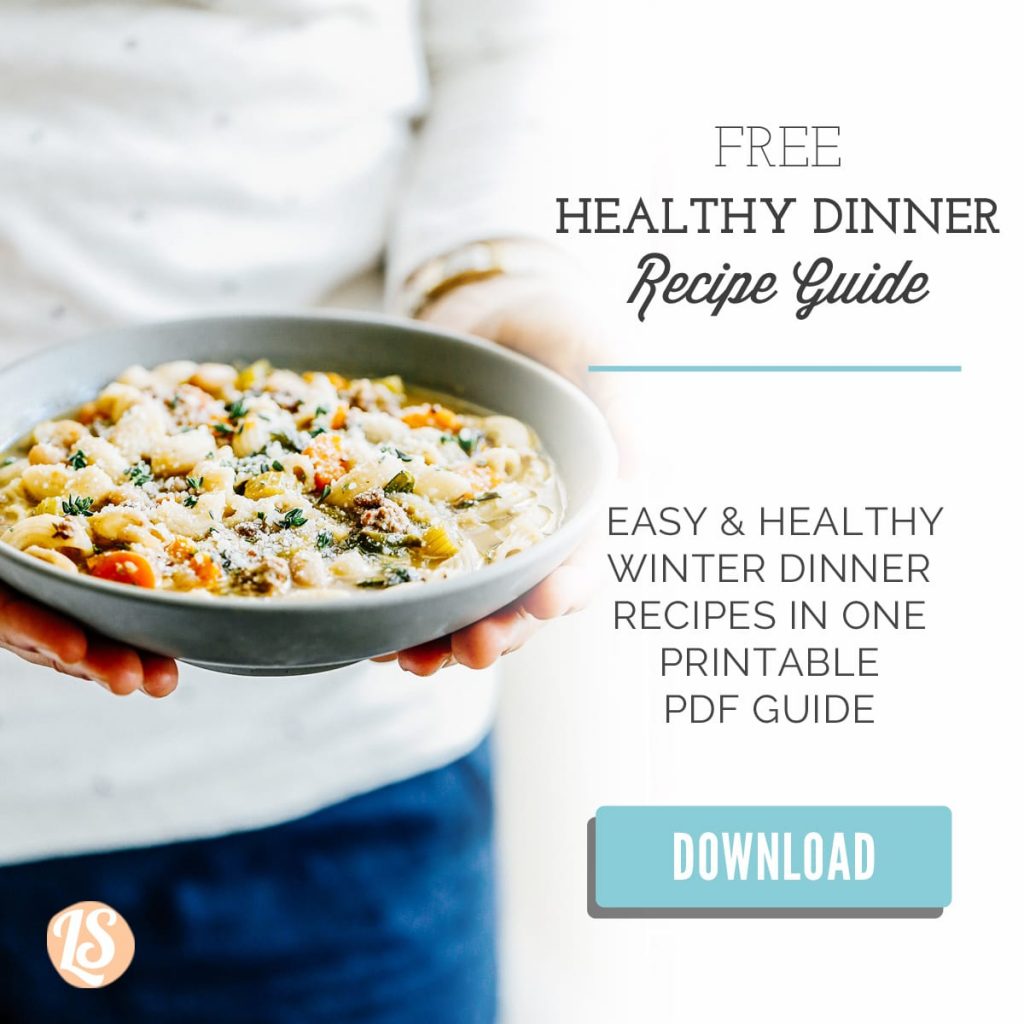 Leek and Potato Soup
A classic, hearty vegetable based soup. Serve the soup as a meal, or paired with sandwiches, crackers, or a salad.
Ingredients
2

TB

butter

2

large

leeks

* sliced (about 3 cups once sliced)

1

cup

chopped celery

about 2-3 ribs

1

cup

chopped carrots

about 2-3 carrots

4

cups

chopped Yukon gold potatoes

about 3-4 potatoes

4

garlic cloves

minced

1.5

tsp

dried oregano

1.5

tsp

dried thyme

1

tsp

dried parsley

1 1/2

tsp

salt

to taste

1/2

tsp

black pepper

to taste

6

cups

chicken broth

or vegetable broth

½

cup

full-fat sour cream
Instructions
In a Dutch oven or a soup large pot (3 quart or larger), melt the butter over medium-high heat.

Add the sliced leeks and saute for 5 minutes. Add the celery and carrots. Saute for another 5 minutes, until the vegetables begin to soften and sweat.

Add the potatoes and garlic, and saute another for 4-5 minutes.

Add the oregano, thyme, parsley, salt, pepper, and broth.

Bring the soup to a boil, then cover and reduce to a simmer. Simmer the soup for about 25 minutes, or until the veggies are soft.

Remove the soup from the heat source. Use an immersion blender to puree the soup until smooth.

Spoon the sour cream into a small bowl. Whisk 2 tablespoons of hot soup into the sour cream.

Stir the (now tempered) sour cream mixture into the soup. Serve warm.
Notes
*Leeks are usually very dirty, so I recommend soaking them, after they're sliced, in a bowl of water. After a few minutes of soaking, drain the water and rinse the leeks with fresh water.
If you don't have sour cream on hand, use heavy cream. Simply substitute 1/2 cup of cream in place of the sour cream. 
Nutrition
Calories:
165
kcal
Carbohydrates:
19
g
Protein:
4
g
Fat:
8
g
Saturated Fat:
4
g
Cholesterol:
20
mg
Sodium:
1531
mg
Potassium:
803
mg
Fiber:
3
g
Sugar:
1
g
Vitamin A:
3885
IU
Vitamin C:
31.9
mg
Calcium:
95
mg
Iron:
4.7
mg