Last summer, after watching a film called Sustainable, we decided to join a CSA program with a local farm.
A CSA is a way of supporting small farms. A CSA allows us city folks to teach our kids where food comes from and to appreciate the source of our food (a man and/or woman worked hard to grow the broccoli and carrots, and raise the chicken), enjoy the freshest food possible, and directly support the hard-working farmers in our local community.
We've been enjoying our CSA since the first week of October. Every two weeks (we opted for the bi-monthly option) we pick up a large box of veggies from the farmer. The selection is based off what's currently growing and ready to harvest on the farm. Because of this I also supplement what we may need from either the grocery store or other farm stands at market (the pick up location).
I'll admit, when I first wrote the check to cover nine month's worth of produce I was intimidated. Joining a CSA isn't like shopping at the grocery store, where you can find a massive selection of fruits and veggies that have been shipped from all over the world regardless of the local season.
After four months of consistently picking up, cooking from, and enjoying our CSA shares, I can say that joining the CSA with Little Pond Farm was a very good decision. I've been pushed beyond my comfort zone when it comes to enjoying a variety of veggies. I've had to learn how to prepare and enjoy produce that I would have otherwise ignored in the grocery store: kholarbi (a veggie that I'm currently obsessed with), pea shoots (a new love for sandwiches, stir-fry, and avocado toast), and more. I've also been exploring ways to put common veggies to use in different ways, such as: cauliflower in tacos and beets in smoothies.
Today's beet-inspired recipe, Blueberry Avocado Beet Smoothie, is one of the ways I've been putting this  "common" produce to good use.
Beets are packed full of good-for-you-nutrients, including vitamin C, potassium (good for your muscles), and manganese (good for your liver). They aren't exactly the tastiest vegetable, in my opinion, but with the help of acidic orange juice and the combination of blueberries and banana, the beet flavor is really enjoyable in this smoothie. And that's coming from a former beet-hater.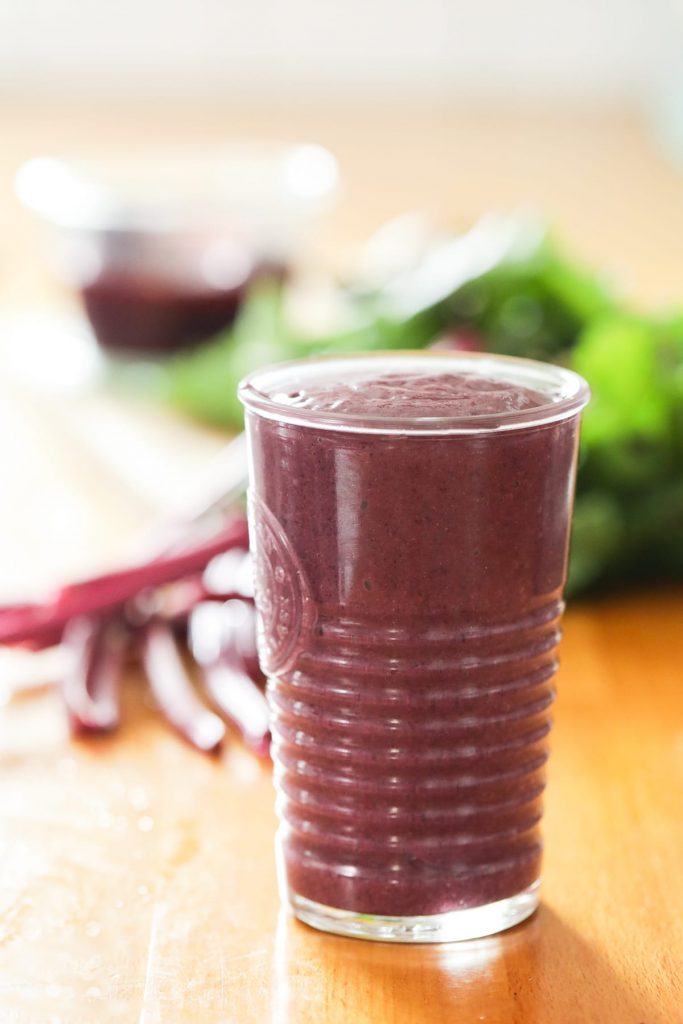 I've been enjoying this smoothie in the morning (or in the afternoon, before picking up the kids from school), so I also like to add some healthy fat to keep me satisfied and full. Smoothies, on their own, don't typically satisfy me but this smoothie does. The fat from the avocado, the fiber from the flax seeds, along with the beets and fruit keep me full until lunch (or dinner) if need be. The kids also like this smoothie, and have been enjoying a few sips alongside sourdough toast and butter, or hardboiled eggs. <–I think the beautiful pinkish-purple color won Londyn's heart.
Blueberry Avocado Beet Smoothie
A satisfying smoothie made with avocado, roasted veg (beets), and fruit (blueberries and banana).
Ingredients
1

cup

water

or milk of choice

1

cup

frozen blueberries

2

roasted beet chunks

= 1/2 of a small beet, 1/4 of a large beet

1

banana

1/2

hass avocado

2

leafy green leaves

(such as: kale leaves) or 1/2 cup baby greens (such as: baby spinach)

1/2-1

cup

ice

(optional)

1

tsp

flax seeds

(optional)

1

tsp

hemp seeds

(optional)
Instructions
Add the ingredients to a blender jar, starting with the water as the base.

Blend the smoothie until thick and creamy. Serve immediately.
Nutrition
Calories:
173
kcal
Carbohydrates:
21
g
Protein:
4
g
Fat:
9
g
Saturated Fat:
1
g
Sodium:
129
mg
Potassium:
723
mg
Fiber:
8
g
Sugar:
10
g
Vitamin A:
2515
IU
Vitamin C:
25.6
mg
Calcium:
57
mg
Iron:
2.1
mg