Over the years, I've learned that people, from little kids to big grown ups, can have very strong opinions about food. I've also learned that just because a person may claim to not like a particular food prepared in a particular way, doesn't mean they don't actually like that food.
I think it's important to remember this when it comes to our kids. Sure, salad greens may not be the most appealing at the moment for my 5 and 7 year-old (although we still serve salads with some dinners, so they are getting exposure and the opportunity to try a variety of salads), but that doesn't mean they can't enjoy greens. There are plenty of other ways to enjoy leafy greens, such as: in a stir-fry, blended in a smoothie or even popsicles, on a pizza, or in a hash.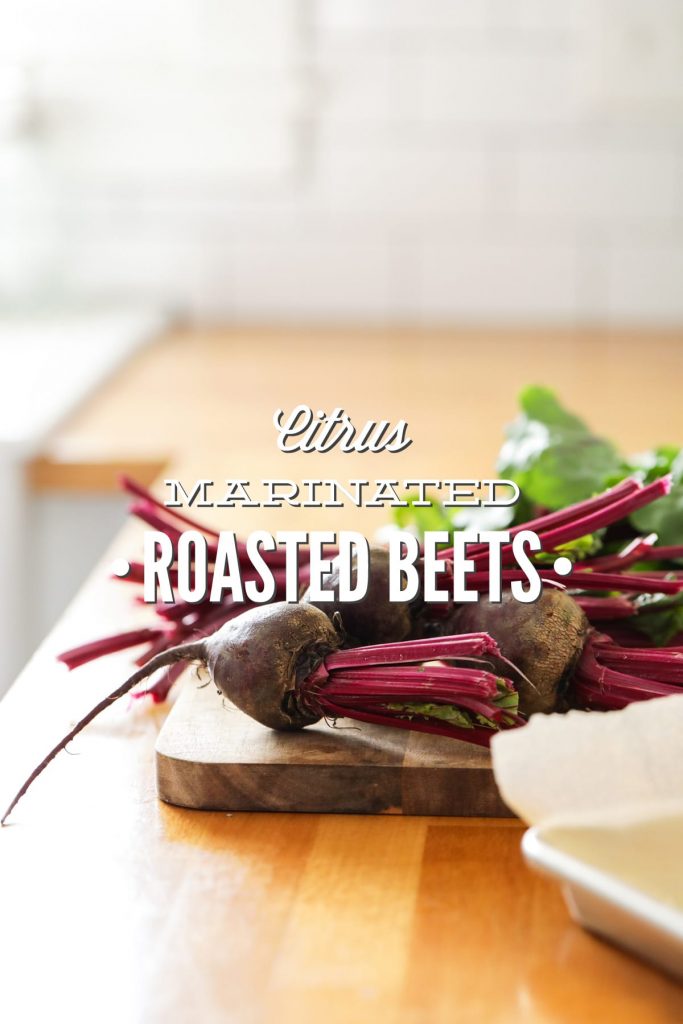 Beets are one food that I've shared a strong opinion about over the years. It took me nearly 28 years to even try a beet. It's true! Over the past five years, I've tried to prepare beets in various ways and find a way to love them. So far, I know that beet salads (the kind with just beets and a speckle of cheese) aren't my thing, but I love adding roasted beets to smoothies and leafy green salads with lots of feta cheese. I don't like pickled beets, but I love roasted beet hummus.
I hope this serves an encouragement to you: Don't be afraid to prepare food in a variety of ways. If you don't love one method, try another. There's a variety of delicious ways to eat a beet, leafy green, or whatever food you may not love at the moment due to a one-time experience. 
With that said, let's talk about these citrus-marinated beets.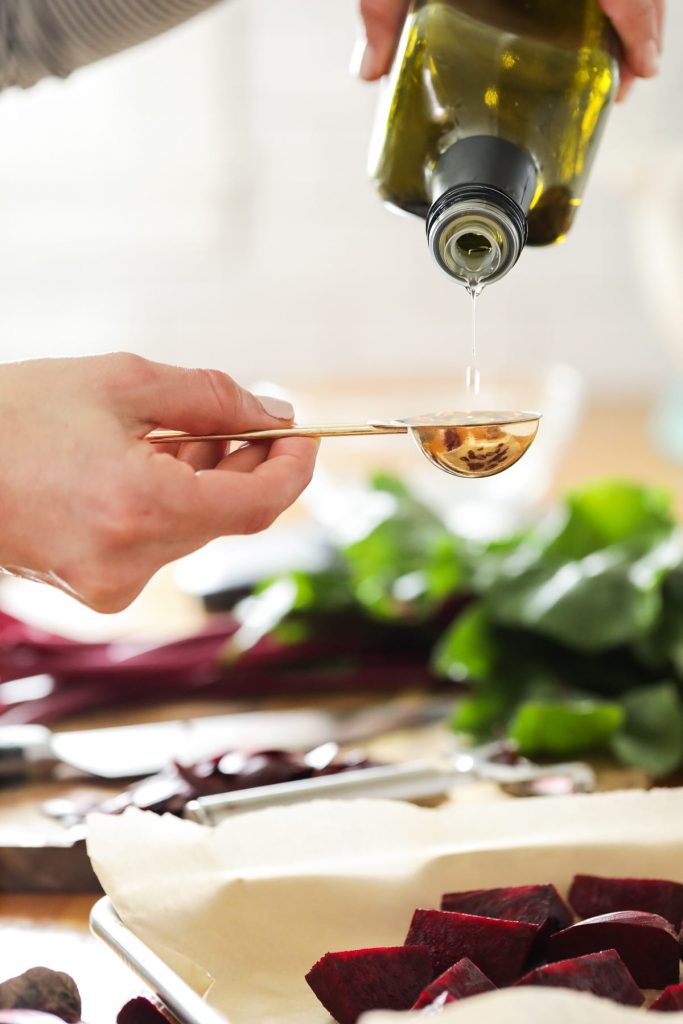 A few years ago, I found a recipe in a magazine for a beet smoothie that called for roasting the beets and then placing the beets in an orange juice marinade before blending a few chunks in a smoothie. I shared the smoothie recipe many years ago here on Live Simply.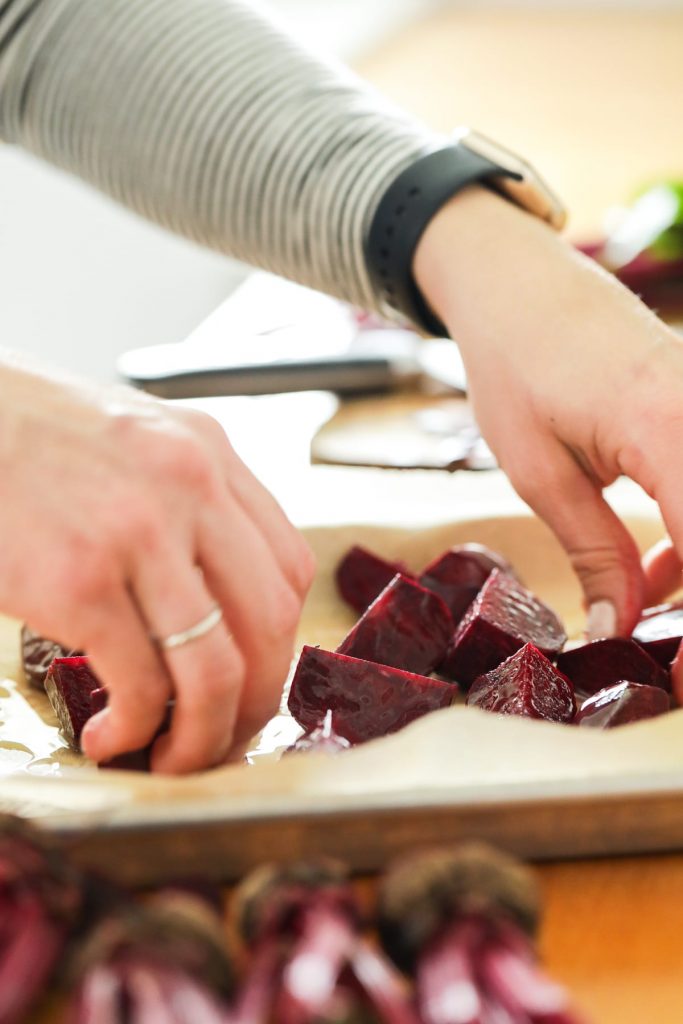 Roasting beets and then marinating them in orange juice has continued to be one of my favorite ways to enjoy beets. I find that the orange juice, an acidic ingredient, helps cut through the earthy taste of the beets. The citrus-marinated beets are great to add to salads or blended in a smoothie.
Today's beet recipe is a component for a smoothie recipe that will be shared later this week. The smoothie is my latest obsession. It's a smoothie that fills me up, which isn't something I can usually say about a smoothie. It's also a kid approved smoothie, and husband approved. <–Sometimes the latter is a greater victory.
See, just as we talked about, there's a variety of ways to enjoy food. You just have to be willing to experiment and try one bite, or one sip, until you find a method (or methods) you love.
Before we can talk about the beet smoothie, we need to roast and marinate a few beets.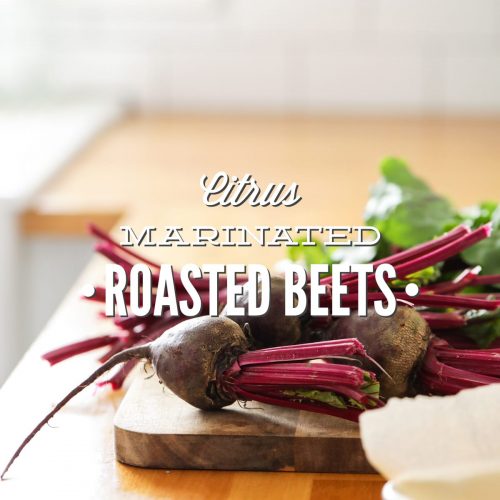 Citrus-Marinated Beets
Roasted beets marinated in orange juice. Enjoy these beets in a smoothie, on salad, or straight from the jar as a snack.
Ingredients
1/2

lb

beets

washed, peeled, and quartered into chunks*

1/2

TB

extra virgin olive oil

avocado oil or coconut oil also work

1/3

cup

orange juice
Instructions
Preheat the oven to 400F.

Arrange the beet chunks on a sheet pan, lined with parchment paper (optional for easy clean up). Drizzle the oil over the beets, and then use your hands to toss the beets in the oil.

Roast the beets, uncovered, for 30-35 minutes (depending on the size of the chunks), until soft when pierced with a fork.

Once the beets are cool enough to handle, place the beets in a storage containers. Pour the orange juice over the beets, and toss to coat the beets in the juice. The beets won't be fully submerged in the orange juice.

The beets will keep in the fridge, in an air-tight container, for up to a week. Use the beets to top on salads (try leafy greens and feta or goat cheese, and add some toasted nuts), or blended in smoothies (I use 2 chunks in a 2 serving smoothie).
Notes
*If you prefer not to peel and cut the beets then I recommend roasting them whole, particularly if the beets are on the smaller side. Simply wash the outside of the beets, place a piece of parchment under each beet (each sheet should be big enough to wrap around each beet), and drizzle the skin with a bit of oil. Wrap the beets in the parchment, and roast at 400F until soft when touched. Once cool, remove the parchment paper and peel the skin from the flesh. Cut the beets in half (presuming the beets are smaller). 
Nutrition
Calories:
65
kcal
Carbohydrates:
10
g
Protein:
1
g
Fat:
2
g
Sodium:
59
mg
Potassium:
300
mg
Fiber:
2
g
Sugar:
7
g
Vitamin A:
80
IU
Vitamin C:
17.5
mg
Calcium:
12
mg
Iron:
0.6
mg