From an easy weeknight salad to burgers, that's how we roll around here!
One of my goals for 2016 is to bring you even more real food recipes. I currently have a list of over 75 food recipes (that's technically a cookbook, friend) just waiting to be photographed and shared with you. 75!! And here's the best part: every single recipe is easy to make, 100% real, and totally delicious. Okay, enough talk about the future, let's enjoy some burgers.
I'm a pretty simple gal, despite the 75 recipes mentioned above. I could live off just a few basic food groups for the rest of my life: beans, burgers, arugula, eggs, cheese, homemade bread, and cucumbers. Okay, so technically none of those are "food groups," but since I write Live Simply and kind of create the rules around this little internet space, let's go with the term "food groups." Cheese and burgers definitely deserve their own food group, and then there's homemade bread. "Food group" may be too little of a word for such a heavenly food. Wouldn't you agree?
A few weeks ago, Piper inquired at the dinner table, "What's your favorite food?" The next five minutes were spent discussing each person's favorite food. Piper decided on chicken. Londyn went with pizza. Dustin ranked steak as his favorite food. The conversation ended with me, Oh the possibilities. After a few seconds in deep food thought, I finally decided on a hamburger. To me, there's nothing better than a well-crafted, juicy, loaded-with-all-the-healthy-toppings burger.
In honor of my favorite food (group), it's high time that I actually share a burger recipe on Live Simply.
Now, I'm sure at some point someone will find this recipe on Pinterest or even Google and wonder what a burger recipe is doing on a real food, "healthy eating" blog? To be honest, before our real food days, I wouldn't have associated healthy eating with a burger. Nope, I was 100% convinced (thanks to American diet books and "health food" commercials and special products) that healthy food could only be associated with green smoothies, kale, salad, quinoa (actually, quinoa wasn't a big thing nine years ago), goji berries, and any other exotic fruit that originates in the jungles of South America. Oh how I was wrong!
Real food isn't about being a rabbit and only eating kale and carrots (although vegetables should have a very prominent place in a real food lifestyle). Real food is about good food made with good ingredients. Seriously, it's that simple.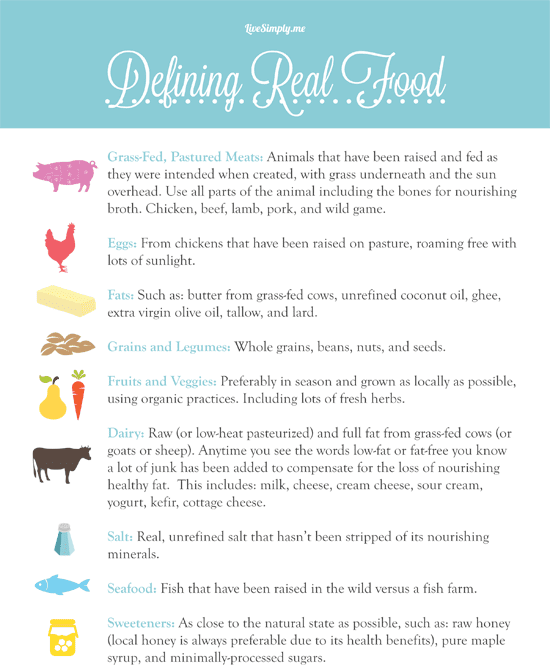 This means when you're enjoying a real food lifestyle, a burger is upgraded to real food status by swapping out the conventional, corn fed beef for pasture-raised beef (AKA: grass-fed beef). The mystery mayo (if you're a mayo person) is replaced with homemade mayo or a cleaner store-bought brand (like Primal Kitchen or Sir Kensington's). The burger is loaded with fresh ingredients, similar to building a salad: real cheese (fake, plastic-like cheese isn't allowed on this burger), lettuce, spinach, arugula, mushrooms, onions, avocado (try an avocado on your next burger!!), tomato, sprouts, and/or anything else your real food lovin' tummy desires. Finally, the bun. When it comes to a real food hamburger bun there are three options:
1) Do without the bun: There are many times when I simply eat my burger with a fork and knife.
2) Go with a cleaner bun: There are a few cleaner store-bought buns sold in health food stores these days. My favorite brand is Silver Hills Sprouted Bakery.
3) Make your own bun: Making your own hamburger bun sounds complicated, but if you make a big batch every so often and freeze the extra buns, you'll have homemade buns available whenever a hamburger craving hits (which is quite often in our home). Looking for a good bun recipe? You're in luck! Grab my einkorn hamburger bun recipe.
Okay, enough chatting. Let's get cooking, and more importantly, eating!
Chipotle Blue Cheese Burgers with Mushrooms and Onions
...finally decided on a hamburger. To me, there's nothing better than a well-crafted, juicy, loaded-with-all-the-healthy-toppings burger.
Ingredients
Chipotle Blue Cheese Burgers:
1

lb

ground beef

grass-fed beef is preferable

1

tsp

chipotle powder

1/2

cup

blue cheese crumbles

packed, + extra for topping the burger, optional

salt and pepper
Mushroom and Onion Topping:
2

TB

extra virgin olive oil

or butter, ghee, coconut oil, or avocado oil also work

1

cup

sliced mushrooms

I prefer cremini or mini portobellos but any variety will work.

1

cup

sliced yellow onion

1

pinch

salt and pepper
Instructions
Heat the grill to high (about 450F). In a large bowl, combine the ground beef, chipotle powder, and blue cheese crumbles. Form the beef into 4 equal-size patties. Sprinkle the patties on each side with salt and pepper (just enough for a light seasoning and flavor). Place the burgers on the grill. Grill the burgers for 4-5 minutes on each side, or until cooked to your desired doneness. If you'd like toasted buns, place the buns on the grill, but away from the direct heat, during the last 4-5 minutes of cooking time.

While the burgers cook, prepare the mushroom and onion topping. Warm the olive oil in a skillet, then add the sliced mushrooms and onion slices. Sauté the mushrooms and onions for 5-7 minutes, until the onions are translucent and the mushrooms are tender. Sprinkle a pinch of salt and pepper over the mushrooms and onions.

To build your burger: top your burger, on the toasted bun or on a plate for a fork and knife burger, with arugula (spinach or lettuce also work), extra blue cheese crumbles (optional), mushrooms and onions, and

homemade mayo

(or cleaner store-bought mayo--see options in the story above). I also love to add a few slices of avocado to this burger...yum!!
Nutrition
Calories:
432
kcal
Carbohydrates:
5
g
Protein:
24
g
Fat:
34
g
Saturated Fat:
12
g
Cholesterol:
93
mg
Sodium:
335
mg
Potassium:
497
mg
Fiber:
1
g
Sugar:
2
g
Vitamin A:
330
IU
Vitamin C:
3.5
mg
Calcium:
119
mg
Iron:
2.6
mg
Prep in Advance: These burgers can be prepped 24 hours in advance. Simply combine the burger ingredients, and form the burger patties. Place the burger patties in a storage container (or a plate with a covering) and refrigerate. Allow the burgers to rest at room temperature for 20-30 minutes for cooking.
Stove-Top Version: I prefer to cook burgers on our grill. We live in Florida, so grilling is an option year-round. If you'd prefer to cook these burgers on the stove-top, I recommend using this tutorial from The Kitchen.