This post may contain affiliate links. Affiliate links come at no extra cost to you. These links allow me to share the products I authentically recommend (and use) and support Live Simply by receiving a small commission.
"You don't have to cook fancy or complicated masterpieces–just good food from fresh ingredients." -Julie Child
Today's Easy Weeknight Salad and 3-Ingredient Homemade Dressing is a recipe that would make Julia proud.
Good food? Check.
Fresh ingredients? Check.
Super simple? Double check.
FREE Real Food Crash Course
I get it, switching from processed food to a real food lifestyle can feel overwhelming and confusing. Friend, it doesn't have to be this way.
Here's what to expect: 
printable charts (real food defined, a seasonal produce guide, 

meal planning)

how to get started with a real food lifestyle

how to create a meal plan and stay within a budget

7 real food recipes

emails from me to help you enjoy real food
Bonus: Step-By-Step Guide to Real Food
Incredible flavor? Triple check.
Family-friendly? Check. Check. Check. Check.
Real food doesn't have to be complicated or fancy. Real food is in fact so delicious on its own, thanks to the quality of ingredients and "realness" of the food, that recipes don't need to be complicated or fussy to be utterly delicious and AMAZING!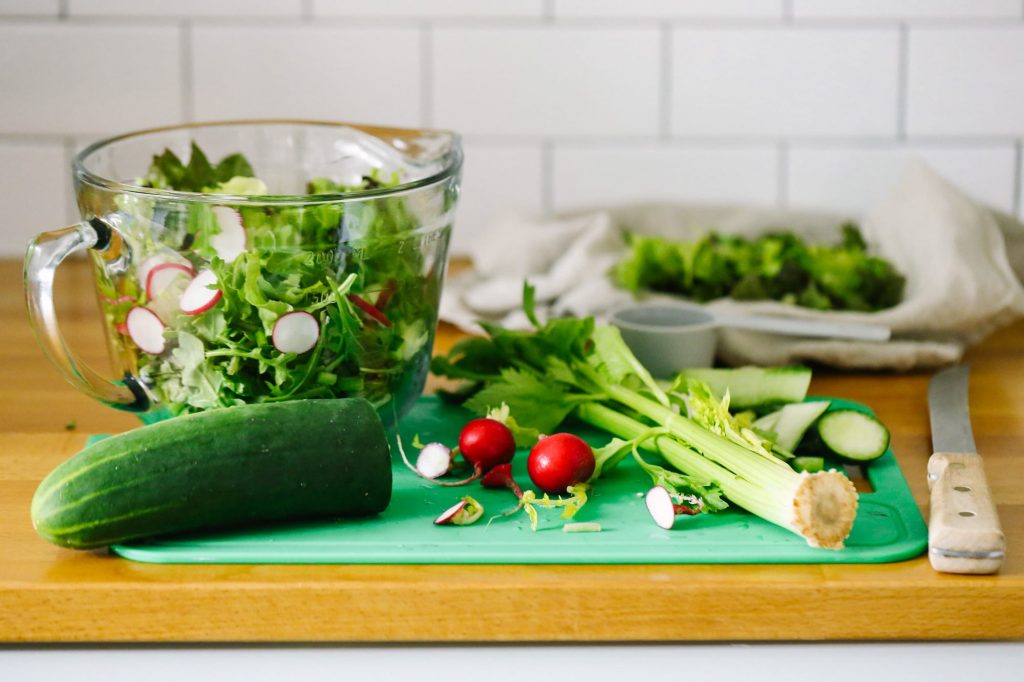 I know many people, maybe even you, are scouring the internet right now after setting a healthy food goal, looking for tasty recipes. And by now, you (a hypothetical "you") may feel a tad bit overwhelmed by the number of complicated healthy recipes available on Pinterest, Google, and every social media channel out there. Now, I'm all for variety and trying out new recipes, but sometimes the idea of cooking new meals that require multiple steps and ingredients every single night can be tiring. Or maybe that's just me?
Friend, if you're at that point, let's sit down to an uncomplicated salad and enjoy the simplicity of real food.
My Easy Weeknight Salad and 3-Ingredient Homemade Dressing isn't the most innovative recipe ever created, but it's packed full of simple ingredients that tantalize the tastebuds and deliver fresh nutrients in every bite. And aren't those two things, nutrition and taste, the very characteristics that separate real food from boring processed food?
Thanks to the simplicity and pleasing flavors of this simple salad, this recipe is regularly served at our dinner table (and sometimes for lunch, too). Sometimes this salad accompanies crispy herb-roasted chicken thighs (I'll be sharing this recipe soon), quesadillas, a grilled steak with a simple salt and pepper seasoning, a simple homemade soup, or pasta with a meat or veggie spaghetti sauce.
Before we dig in, let's talk about one more reason this salad is a regular guest at our dinner table. Maybe that doesn't sound quite right…come be our guest and let us eat you. Oi! Okay, moving on…
This salad is super versatile, which makes it a very affordable side dish or even main meal (when served with a protein, like shrimp, sliced meat, or shredded chicken and homemade bread). While my favorite veggies to use in this salad are radishes, green onions, celery, and cucumbers, many other seasonally-appropriate veggies may be used. Sometimes this means adding sliced cherry tomatoes instead of cucumbers, or subbing parsnips for the radishes. If you plan to sub veggies in this salad, think about adding a mixture of crunchy and soft veggies.
Finally, this salad is "family-friendly" even if your kiddos aren't quite into the salad thing yet. As I mentioned in the soup recipe shared earlier this week, Piper isn't a big salad fan. To make a salad appealing to him, I serve carrot sticks or cucumber slices (or whatever veggies are served in the salad) on the side of the salad just for him. I know he will eat the carrots or cucumber slices, so he's getting good nutrients. But I also don't want Piper to get the idea that he receives "special treatment" at every meal, so he's served a very small amount of salad on his plate. He's encouraged to taste the salad, but doesn't have to eat it. Now, Londyn on the other hand…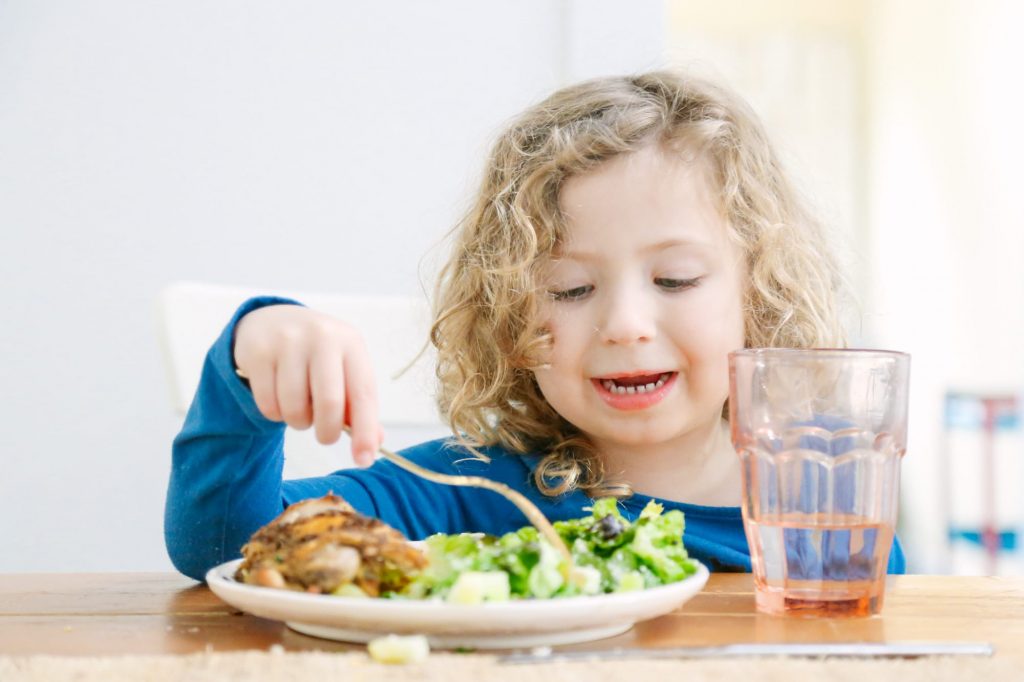 Let's dig in, friend, and enjoy the simplicity of "good food from fresh ingredients."
Easy Weeknight Salad and Three Ingredient Homemade Dressing
My Easy Weeknight Salad and 3-Ingredient Homemade Dressing isn't the most innovative recipe ever created, but it's packed full of simple ingredients that tantalize the tastebuds and deliver fresh nutrients in every bite. 
Servings
2
-4 people, depending on size served
Ingredients
Salad:
3

cups

chopped lettuce

packed, such as: green or red leaf lettuce or butter lettuce

1

cup

arugula

packed

1/3

cup

chopped cucumbers

1/3

cup

sliced green onions

greens and whites

1/3

cup

sliced radishes

1/3

cup

grated parmesan cheese

1/3

cup

chopped celery

2

TB

chopped fresh basil
Dressing:
1/4

cup

extra virgin olive oil

1/2

lemon

juiced (about 2 TB of juice)

1

small

garlic clove

minced*

1

pinch

salt
Instructions
In a large bowl, combine the lettuce, arugula, chopped/sliced veggies, parmesan cheese, and basil leaves.

In a small bowl, whisk together the olive oil, lemon juice, minced garlic, and salt. The salad dressing will appear "cloudy" when it's ready (about 20 seconds of whisking). Pour the dressing over the salad.

Serve as a side. Add chicken, shrimp, or steak for a main course salad.
*The flavor of your salad dressing will depend on the size of your garlic clove. I love a super garlicky salad, so I tend to choose a large garlic clove. If you're not a big garlic fan, try a smaller clove. Want to experiment with a different flavor? Try adding a few squirts of dijon mustard to the dressing, then whisk the ingredients.