I was so close to sharing another pumpkin spice recipe with you. So close, my friend. But then, I came to my senses…
It's the end of October and if you've spent much time on Pinterest or Facebook, even Instagram, then you're probably waving the white flag of pumpkin spice surrender and praying the madness will soon end. Seriously folks, how many more things can we pumpkin spice? It's maddening and delicious, but a bit more on the maddening side at this point.  
No offense, Pumpkin Spice.
I still big puffy heart love you.
Sip. 
Now, let's move on to the underdog of the season: Chili. Personally, I feel bad for little ol' Chili.
See, before Starbucks came along and created the Pumpkin Spice Cult and long before Pinterest existed, Chili ruled the fall and winter seasons. Sure we all loved a good pumpkin spice treat… hello, pumpkin pie (remember the original pumpkin spice treat?). And while Pumpkin Spice certainly held a dear place in our hearts, fall and winter were the seasons for Chili. Her warmth and heartiness welcomed this time of sweaters and boots (yep, even in Florida…we like to play along with the cold weather idea). 
Let's give our good ol' gal Chili another shot today. Okay?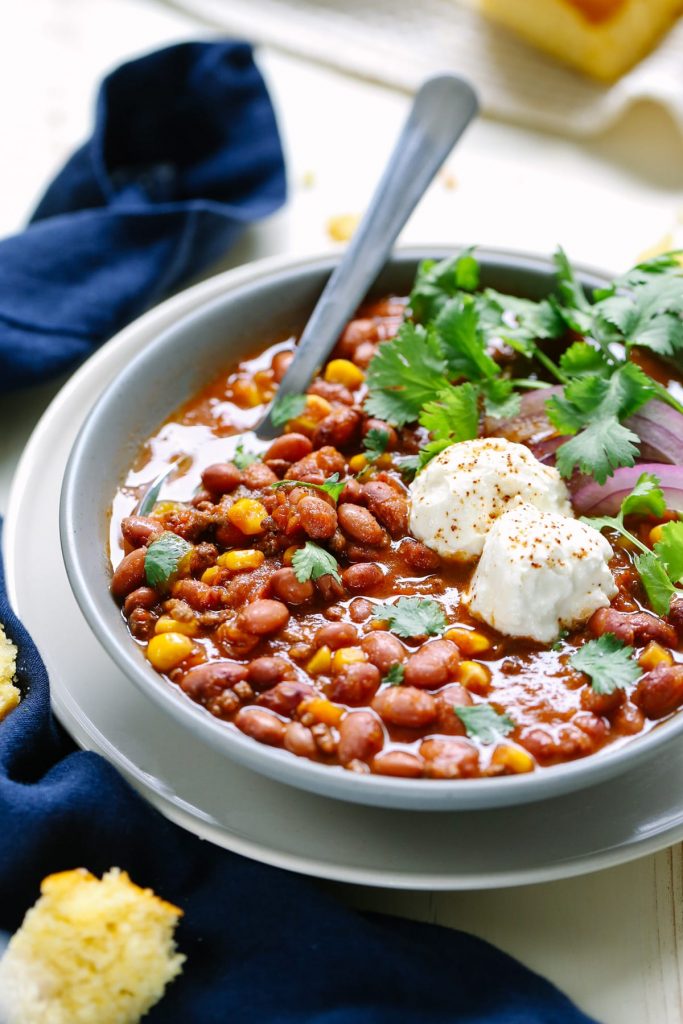 Fall and Winter are my favorite seasons for putting the crock-pot to use. Yes, I know that seems a bit backwards considering both these seasons are a time when many of us are baking and enjoying hot ovens, but let's think about it…
crock-pot=soft and tender food
winter/fall time = hearty soups
winter/fall time + soups = soft and tender, plus effortless and hearty meals on the cheap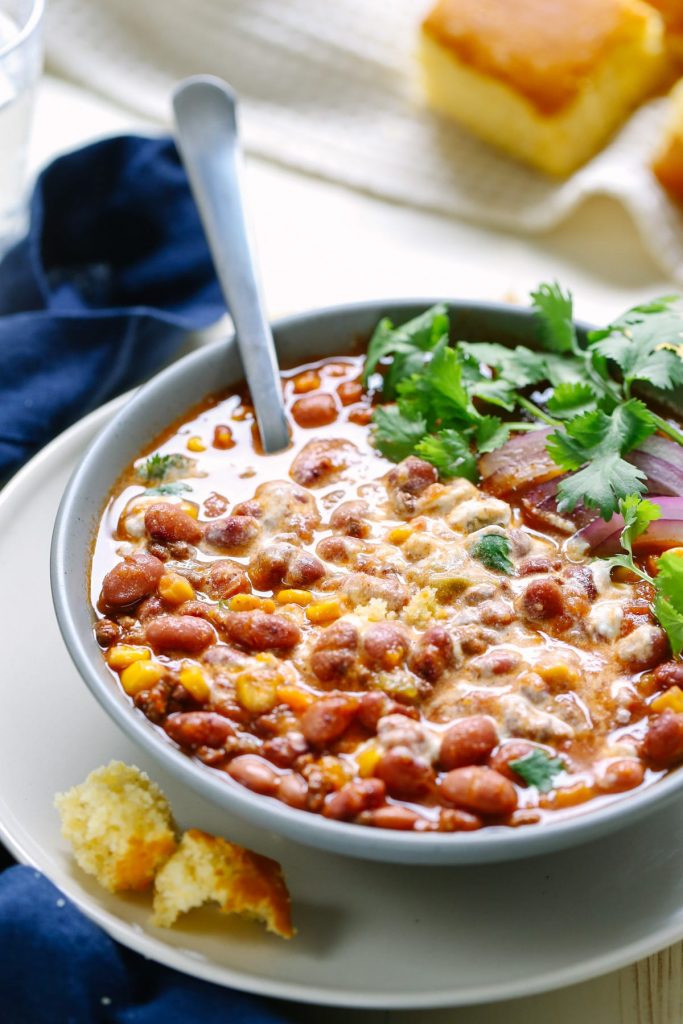 I beg of you, let's give Chili another chance. Sure, we can still pumpkin spice everything, but let's not forget about our dear friend Chili, especially when the friendship is effortless and the results are extra hearty bowls of warmth.
Easy Crock-Pot Chili
Easy crock-pot chili thats amazing!
Ingredients
1

cup

dry chili beans

A smaller version of kidney beans. Kidney beans may also be used.

1

TB

coconut oil

or olive, or avocado oils work well

1

lb

ground beef

1 1/2

cups

chopped sweet potatoes

1 1/4

cups

frozen corn kernels

1

cup

chopped bell peppers

any color

1/2

cup

chopped yellow onion

4

garlic cloves

minced

1

TB

chili powder

2

tsp

cumin

1/2

tsp

black pepper

28

oz

diced tomatoes

1 can

2 1/2

cups

broth

veggie, chicken, or beef all work well

1 1/2

teaspoons

salt

or to taste--This amount will vary based on the saltiness of your broth.*

toppings

cilantro, red onions, sour cream, optional
Instructions
Eight to twelve hours before starting the chili in the crock-pot, place the beans in a medium-size bowl. Cover the beans with water. Soak the beans at room temperature for eight to twelve hours. After soaking, drain and rinse the beans. Add the soaked beans to the crock-pot base.

In a large skillet, over medium-high heat, heat the oil (depending on your skillet and the amount of fat in the beef, you may not need oil). Add the ground beef and brown (about 5-7 minutes). Do not overcook the beef, just cook the beef until no longer red/pink. Once browned, add the beef to the crock-pot.

To the crock-pot add the remaining ingredients except the salt. The salt can interfere with cooking the kidney or chili beans in this recipe.

Cook for 6 hours on high (10 hours on low). Before serving, stir in the salt to taste.

This chili is perfect to freeze for later.
Notes
Find my favorite kitchen essentials, here.
Nutrition
Calories:
181
kcal
Carbohydrates:
15
g
Protein:
9
g
Fat:
9
g
Saturated Fat:
3
g
Cholesterol:
26
mg
Sodium:
693
mg
Potassium:
471
mg
Fiber:
3
g
Sugar:
5
g
Vitamin A:
3175
IU
Vitamin C:
24.4
mg
Calcium:
49
mg
Iron:
2.4
mg
Prep Ahead Tip: Brown the ground beef up to 3-4 days before cooking the chili. This is a great prep day activity!
*Salt Note: In the crock-pot picture (above) you'll notice salt. Since taking that photo (a couple of months ago–I've had fall time on my mind for a while now) I've learned that salt can slow down the cooking of kidney beans in particular. I'm not sure why exactly this happens, but it's best to add the salt after cooking the chili.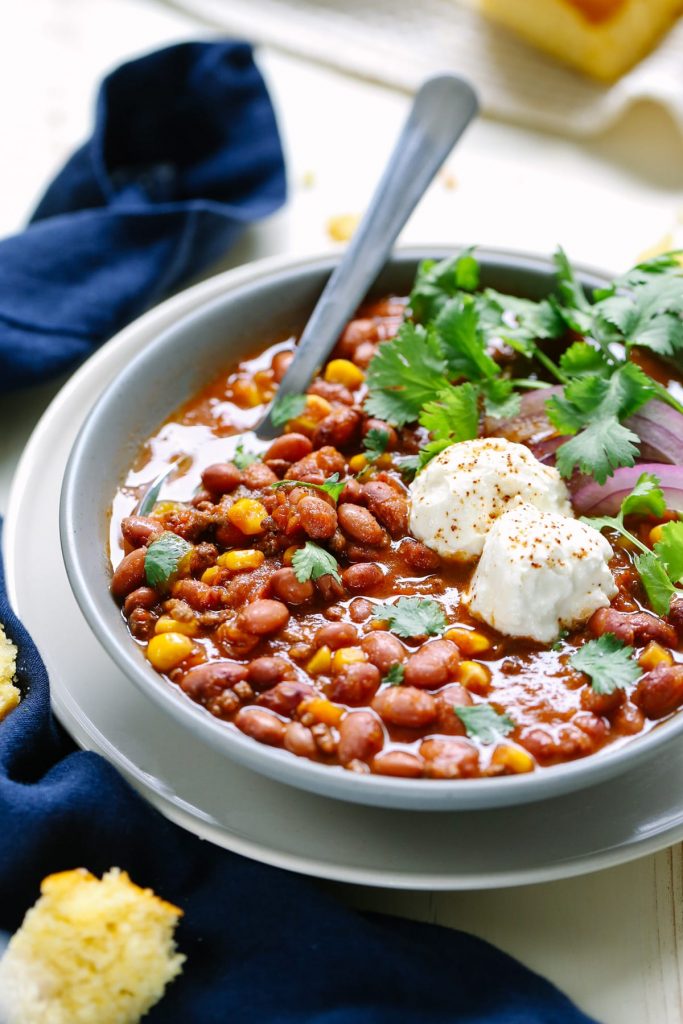 More Real Food You May Like:
Easy Crock-Pot Pulled Pork Burrito Bowls