A new chapter unfolded in our family's life storybook this week…
My baby, Piper, started Kindergarten (pictures to come).
I'm not sure if this makes me a "bad" mom, but I didn't even cry. I totally expected the tears to come, but they just never showed up. I can honestly say that I'm excited for Piper and this new chapter. Maybe I'm in a bit of a honeymoon phase? I'm sure the excitement of waking up at 5am to make breakfast, shower, and load everyone in the car will fade in a few months, and I'll be writing about the much anticipated Christmas break. For now, I'm 100% embracing the Montessori Kindergarten life with open arms.
Piper has only been in school for three days now. Yes, a short time–like I said, the honeymoon phase. Despite only being a kindergarten mom for three days, I have already learned two valuable lessons:
1.  Coffee gives me superpowers!
I literally dream about the first sip of my morning coffee the moment I lay my head on the pillow the night before. I'm not a huge morning person, so I've been pushing myself over the last year to wake up early to get work done by noon. And while I love/hate waking up super early, I usually don't have to be a functioning person by 7am–functioning enough to socialize with my kids, fellow moms, and a teacher. Coffee gives me superpowers. Trust me, the world is a better place when I have a mug of coffee topped with grass-fed cream.
2. My car is basically a bathroom/powder room in disguise.
As I mentioned above, mornings aren't really "my thing." School mornings mean I must shower, feed everyone a healthy breakfast, make sure the lunchbox is packed (although I'm trying to get everything packed the night before), dress the kids, and somehow remember to brush my teeth and make myself presentable.
By the first school morning, I had already discovered the reason my mom kept things like lotion, mascara, and deodorant in the car when I was kid. I now have a nice little bag sitting in my glove box with a few of my essentials. You're welcome, fellow kindergarten moms. The world is just a better place with a bit of deodorant and coffee at 7am.
PS: I'm not driving and applying mascara or deodorant. Don't worry, my friend! I park my car and apply the essentials super fast before anyone sees me.
A few months ago, I had a lighbulb DIY moment: On-the-Go Lotion. It's almost like my brain was thinking in advance about getting ready in the morning for school.
Homemade lotion is super easy to make, but it can be a messy product when it comes to traveling. Beeswax was just the addition my basic homemade lotion recipe needed to make it more portable and purse-friendly. Of course, creating a travel lotion also meant a portable container was a must. I thought about glass jars, but who wants a glass jar rumbling about in an already over-stuffed purse? Talk about a hazard! Purchasing tins specifically created for DIYs also came to mind. And that's when it came to me…mint/candy tins!
Before our real food days, Altoid mints were my favorite treat. In all honesty, I treated them less like a treat and more like a daily snack. While I may no longer enjoy the mints, the mint tins proved to be the perfect home for my on-the-go lotion–they are easy to open, won't break (hello, glass), and can even be decorated.
If don't want to walk around with an Altoid mint tin in your bag, I completely understand! Trader Joe's and Whole Foods both sell organic candy in metal tins. I decided to go the processed food route and purchase the Altoid mint tin since Target sells two-packs for $3, dump the candy, and wash and reuse the tin.
Today's homemade lotion recipe is the perfect way to take our homemade hippie ways on-the-go. This lotion is super easy to make requiring only three ingredients and about ten minutes of time! If you've made homemade cosmetic products in the past you probably own all three ingredients needed to make this portable moisturizing lotion. And if you're new to homemade products, rest assured the ingredients called for in this recipe can be used to make multiple other products, such as: lip balm (shea butter and beeswax), deodorant (shea butter and beeswax), boo-boo cream (beeswax), make up remover (nourishing oil), face wash (nourishing oil) and even candles.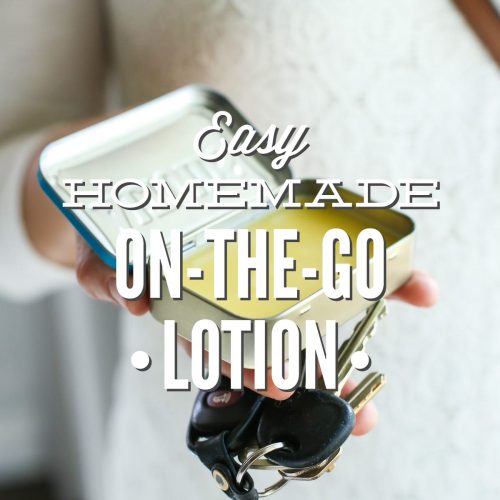 Easy Homemade On-the-Go Lotion Bars
Homemade lotion is super easy to make, but it can be a messy product when it comes to traveling.
Instructions
In a double boiler, over medium-high heat, place the shea butter, nourishing oil, and beeswax. Bring the water underneath to a boil. The ingredients will melt, stir every few minutes to help the melting process. This process takes about 5-7 minutes.

Once melted, remove the bowl from the heat. If you plan to use an essential oil, add the drops now and stir. Pour the liquid into two traveling tins (my tins hold 1.76oz). Remember, there are two holes in the back of the candy tins, so fill the lotion just to the holes to prevent a huge mess! Store the lotion at room temperature for up to 12 months.
Notes
The "where to buy" links provide links to the actual products I use. As always, I recommend shopping around online and at local stores for the best prices and products you love. Find my favorite DIY ingredients and tools, here.
*Decrease the beeswax to 2 tablespoons for a softer lotion.
More DIYS You May Like: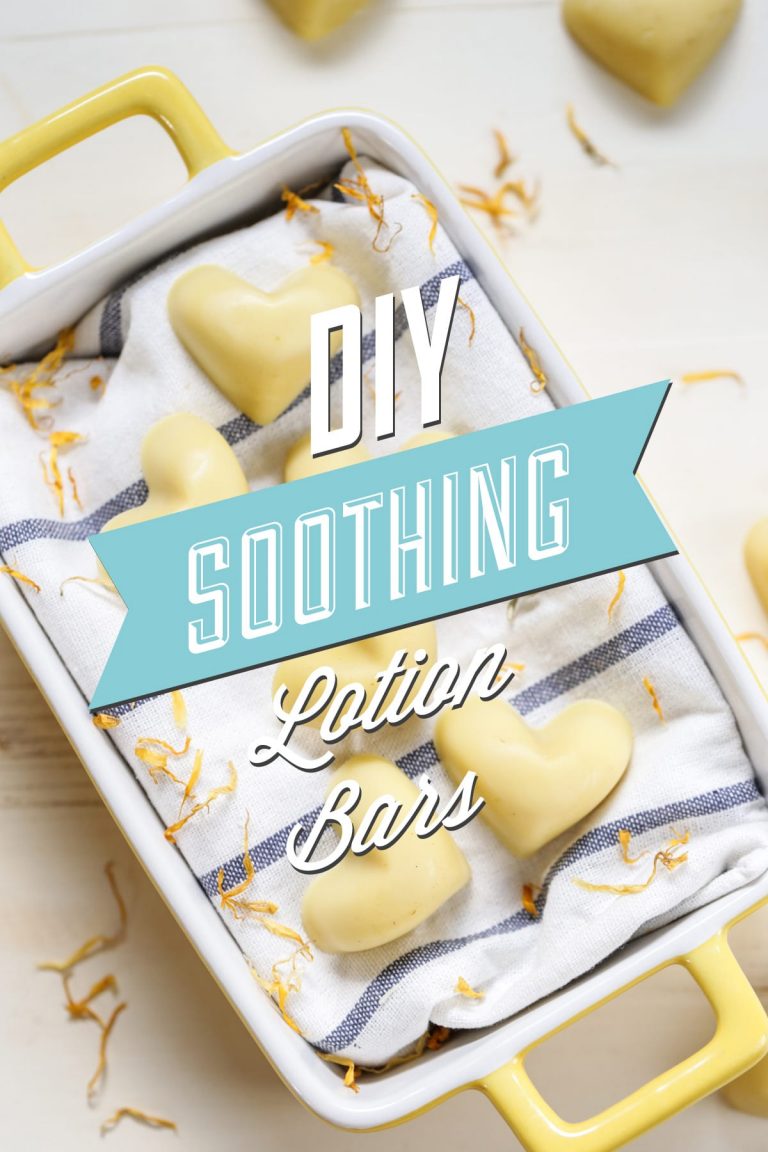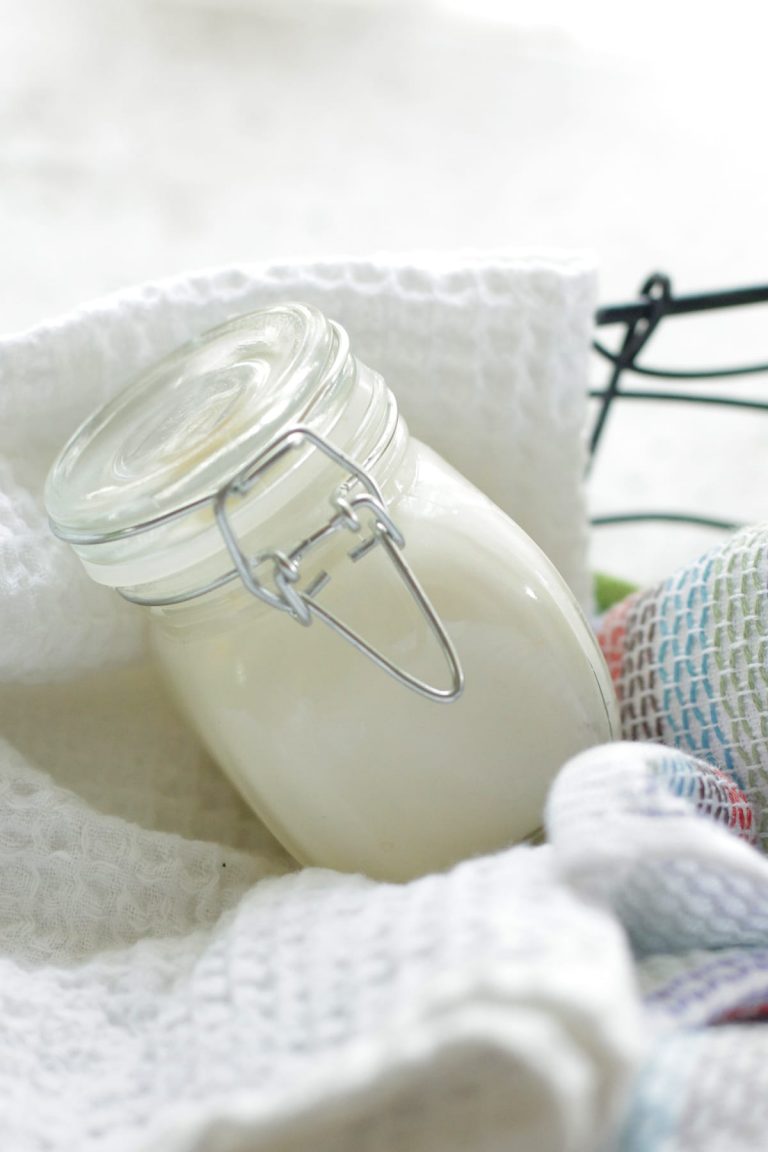 Homemade Ultra-Moisturizing Lotion (without Coconut Oil)