If you were around for last week's Soothing Sunburn Spray recipe and chat, then you probably remember how I feel about summertime in Florida. I'll sum up my feelings in two words: It's hot! Beyond hot. And when you add in stifling humidity, a Florida summer is basically the equivalent of a sauna without a temperature gauge. Seriously, friend, hot just doesn't even begin to describe summertime in this neck of the woods.
When the rest of the country hibernated in the fall and winter due to snow and super chilly temperatures, we Floridians were out and about enjoying moderate temperatures and lovely farmer's markets. And when the rest of the country comes out of hibernation and starts enjoying moderate temperatures and colorful summer bounties, we Floridians go into hibernation in our air conditioned homes.
Even in the extreme heat, we Floridians must leave our homes, mow or tend to our weeds yards, and enjoy the freedom that comes with summer. All of this we-want-to-but-can't-actually-hibernate talk leads me to today's popsicle recipe. A recipe that helps to rehydrate and replenish our energy in the draining heat.  What makes these popsicles so special for summer?
One word: electrolytes.
Many of us are probably familiar with this word, electrolytes, thanks to a couple of very popular sport drinks. In fact, for years, I consumed those drinks, particularly one colorful brand, each summer to keep me hydrated through my very active days in camp and during summer activities.
After we made the switch to real food, and I started reading ingredient labels, I was quite shocked to find that our favorite sport drinks were filled with sugars and artificial dyes. The latter, I believe, caused me to suffer from horrible migraines for many years, so cutting out all artificial dyes was essential for me.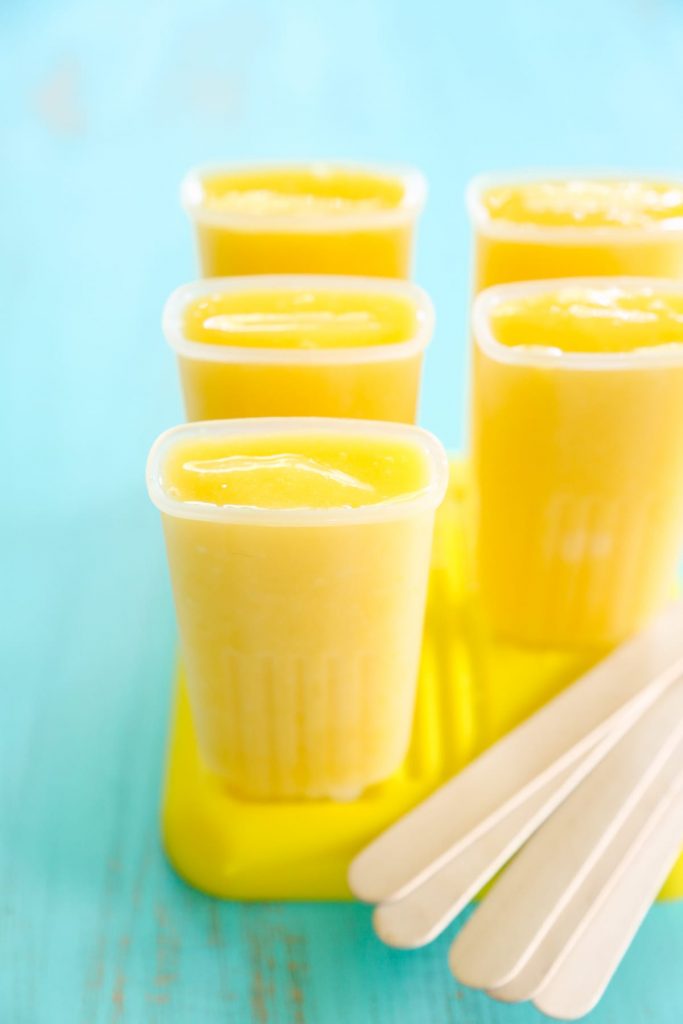 A few years ago, before giving birth to my second child, a friend introduced me to a natural way to rehydrate without the artificial dyes, flavors, or added processed sugars. Her solution? Coconut water.
Coconut water, particularly fresh coconut water or minimally-processed boxed or bottled varieties, is naturally rich in electrolytes, magnesium, and potassium. Since coconut water naturally hydrates and replenishes the body, I decided to pack a couple of bottles in my birth center bag to help get me through my second labor and delivery.
Londyn's birth was super short, a mere four hours, so her birth was too fast to have consumed anything during labor. But after her birth, I truly believe the coconut water helped rehydrate my tired and drained body. Hello, ten pound baby!! PS: I know many hospitals aren't for drinking something like coconut water during labor. My birth center was okay with this and encouraged staying hydrated during labor. I'm just sharing my personal experience.
After Londyn's birth I was hooked on using coconut water to get through the heat and labor intensive (pun intended 😉 ) activities. Each summer I stock up coconut water during my weekly grocery trips to keep on hand for beach trips, summer camp activities, and just Florida summer life. But here's the thing about coconut water…
Some people just aren't into the taste of coconut water, which I totally get. The taste of coconut water definitely takes some getting used to in the beginning.  Londyn and Dustin both happen to be on the "not going to drink that" side, so I've learned how to creatively use coconut water in our smoothies and and popsicles.
Today's recipe is the perfect way to cover-up the taste of coconut water and still reap its rehydrating benefits. Mango is the prominent flavor in these popsicles along with a hint of coconut, making for a delicious and refreshing summer treat.
You could even up the electrolyte power of these pops by adding a few pinches of mineral-rich salt. Personally, I don't care to add the salt because the kids can definitely taste it, but if you're making these for adults or older children, they might not mind. If you're going to do this, maybe add a pinch of salt to just one portion of the popsicle mixture.
Here's to naturally beating the summer heat, friend!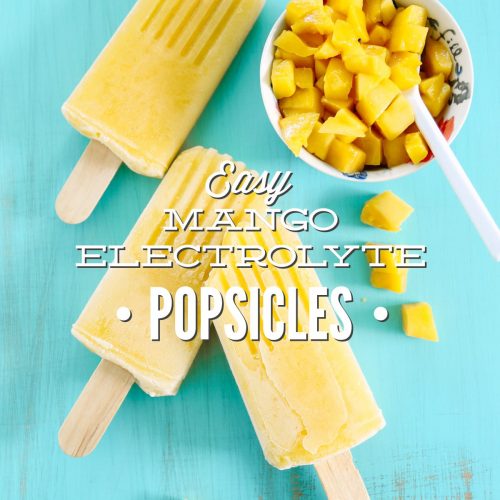 Easy Mango Electrolyte Popsicles
This recipe is the perfect way to cover-up the taste of coconut water and still reap its rehydrating benefits. Mango is the prominent flavor in these popsicles along with a hint of coconut, making for a delicious and refreshing summer treat.
Ingredients
2

cups

frozen mango chunks

due to the size of mango chunks you'll probably end up with 2 heaping cups

1 1/2

cups

coconut water

1

lemon

juiced (about 1/4 cup lemon juice)

2

TB

honey
Instructions
Place all the ingredients in a blender. Blend the ingredients on high until smooth. If you don't have a high-speed blender, you may need to add more liquid during the blending process, or wait to blend your ingredients until the mangos are semi-defrosted.

Pour, or spoon, the popsicle mixture into popsicle molds. This recipe makes enough for 6 popsicles using

my popsicle molds

.

Freeze the popsicles for about 12 hours. To remove the popsicles from the molds, run each mold under warm water for about 30-40 seconds, then slide the popsicle out of the mold. I like to keep our popsicles in a freezer container, with parchment paper in between each popsicle layer.
Nutrition
Calories:
70
kcal
Carbohydrates:
17
g
Protein:
1
g
Sodium:
64
mg
Potassium:
267
mg
Fiber:
2
g
Sugar:
15
g
Vitamin A:
595
IU
Vitamin C:
31
mg
Calcium:
25
mg
Iron:
0.4
mg
Ingredient Notes
My favorite brands of coconut water are Harmless Harvest and Harvest Bay. Harmless Harvest is essentially raw (they use a micro-filtration process), so the water is a natural pink color due to antioxidants interacting with light (they do not add vitamin c or ascorbic acid to stop this from happening). Harvest Bay is flash pasteurized for two seconds. You can also use fresh coconut water in this recipe. Food Babe offers a great breakdown on the best and worst coconut water options on the market.
The Harmless Harvest FAQ doesn't recommend freezing their coconut water and can't guarantee a shelf-life once frozen. I've researched freezing coconut water, and I can't find anything that would discourage this practice. I believe HH is probably concerned about people freezing the coconut water to extend its shelf-life by months or longer (that's my guess). Trust me, these popsicles aren't going to last months in your house. At least they don't in our house.