If you've been around Live Simply for any length of time, you've probably noticed that when it comes to baking, I lean towards using one particular grain: einkorn.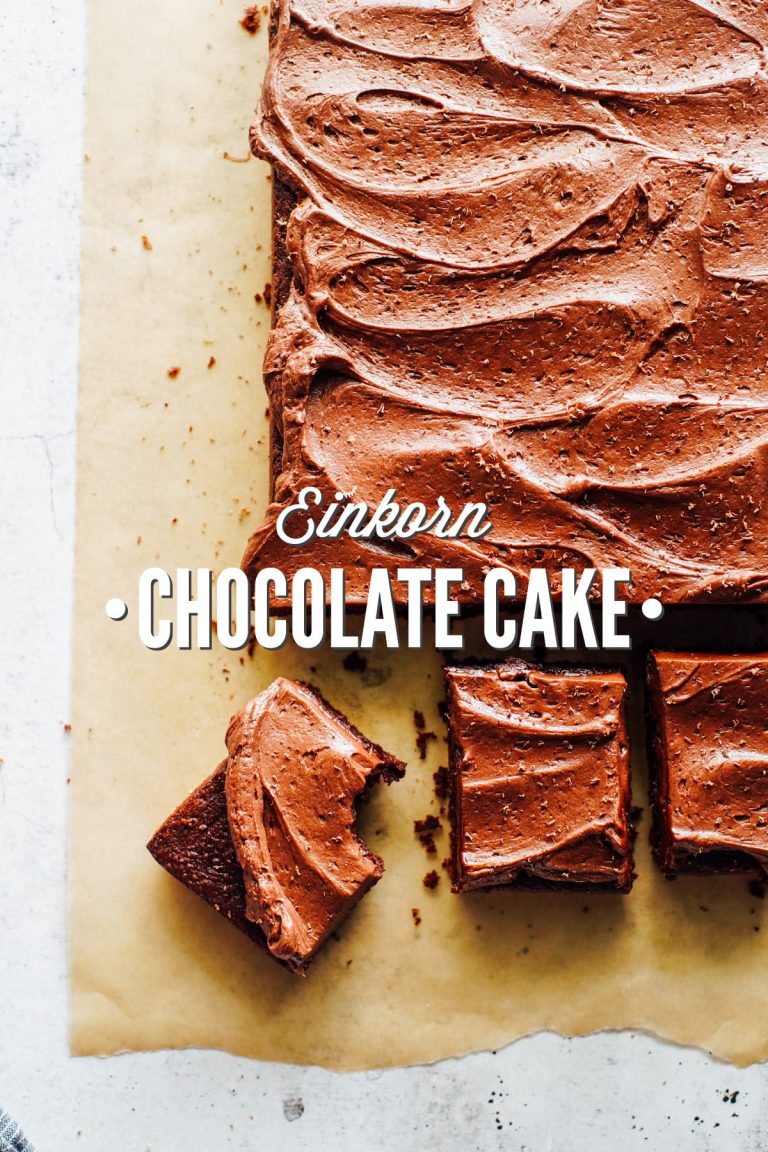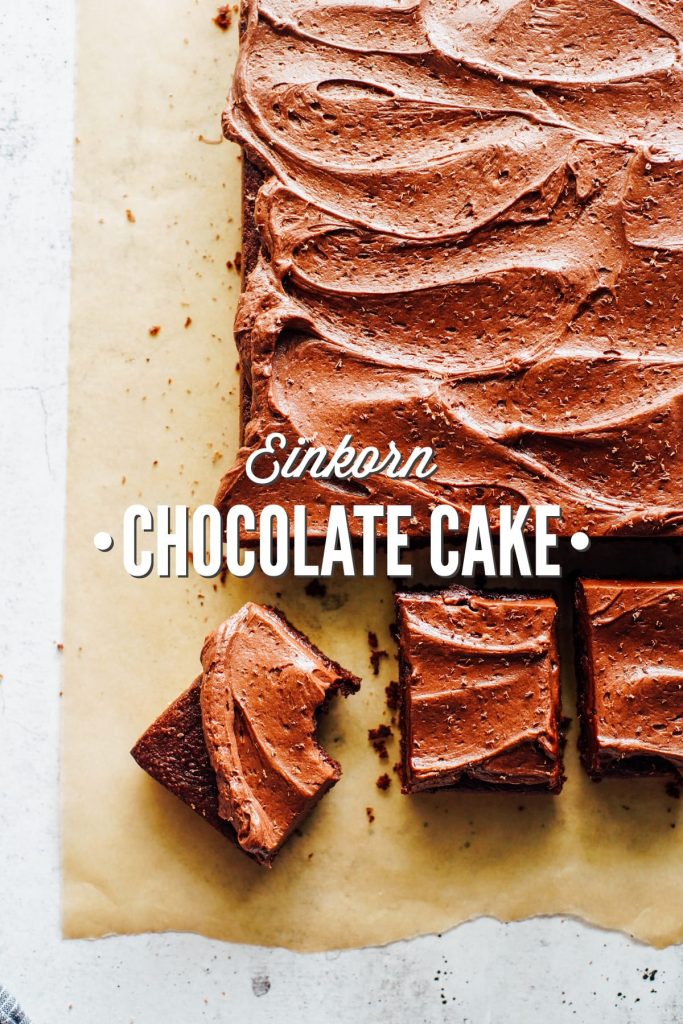 If you look back in the archives of the blog, you'll see a shift in how and what I use for baking. Back in 2013, when the blog was created, my family had been eating "real" for about 5 years and I was just learning how to cook from scratch.
At this time, I had just started learning about the idea of ancient practices, like souring and soaking grains (i.e. sourdough and soaking wheat flours to make them easier to digest). So, I began soaking whole wheat flour before baking. This practice became too much, as it demands a lot of planning ahead and also the texture of baked goods can be less than satisfying.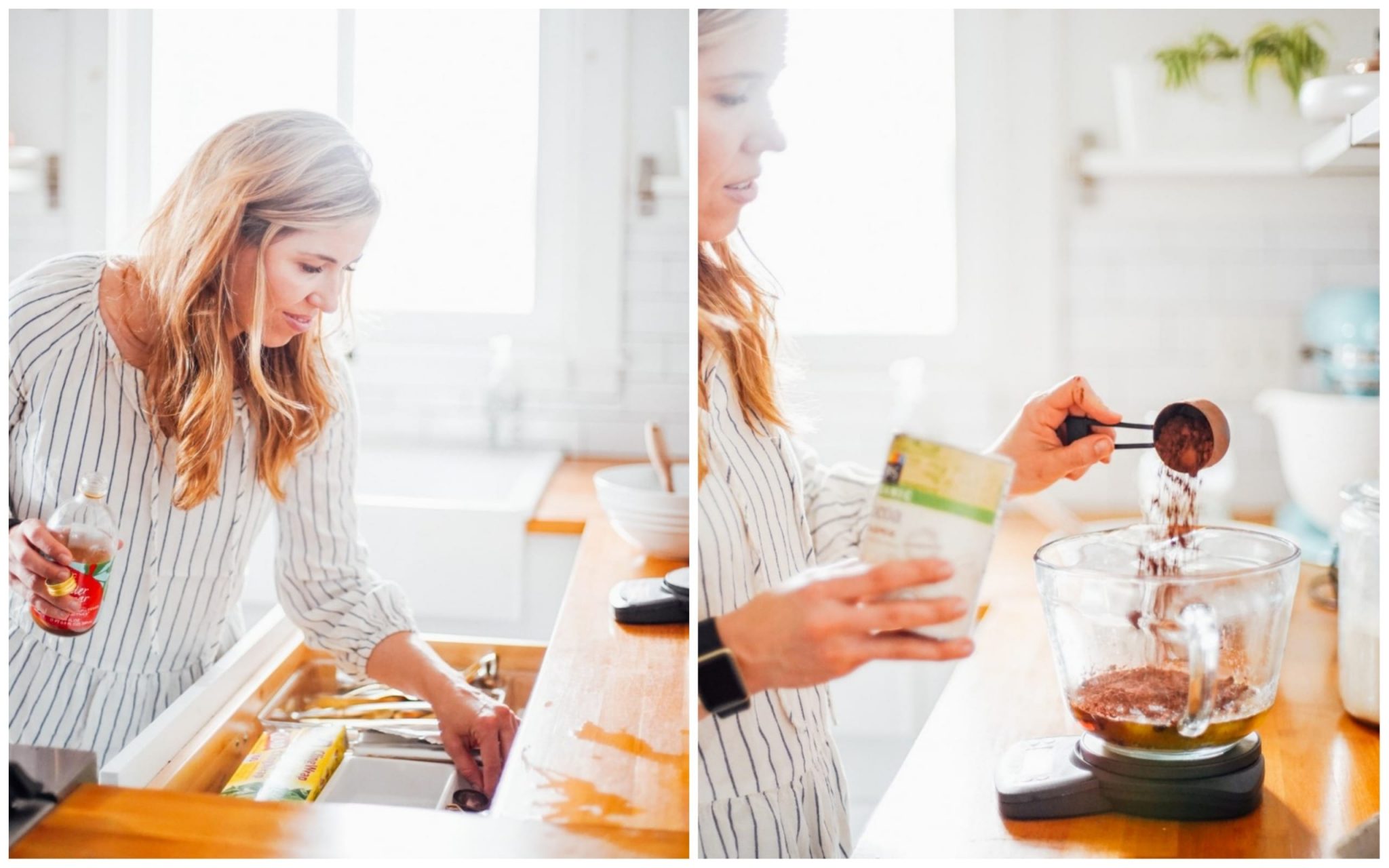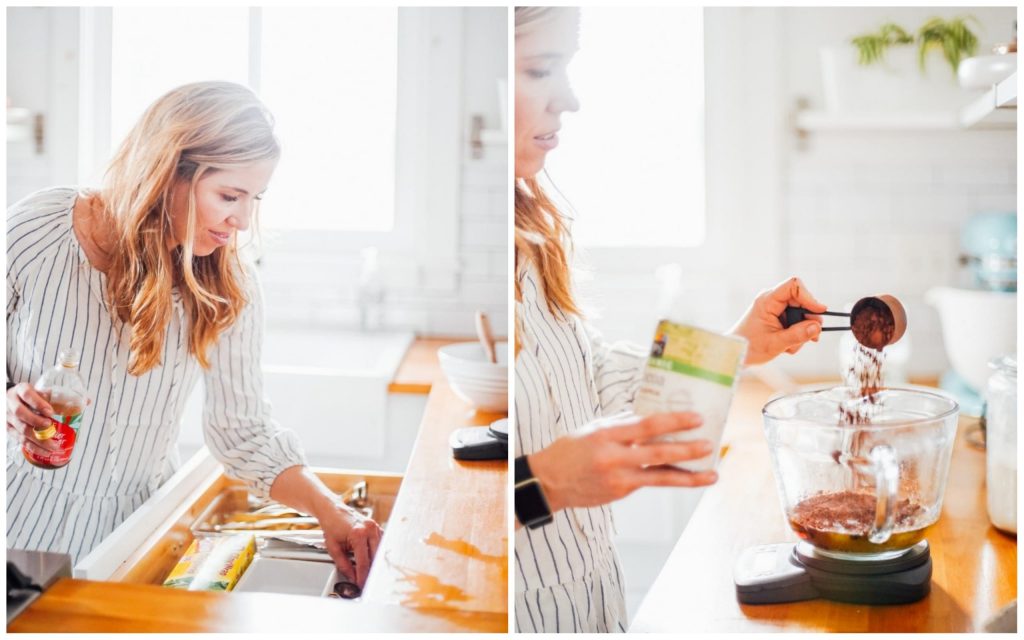 After a couple of years, I began learning about ancient grains, like spelt and einkorn, and how they tend to be easier to digest than modern wheat. At the time, einkorn was near possible to find in our local area and there weren't cool places like Vitacost or Amazon selling food, so I tried my hand at spelt. Then, slowly, as I found sources for einkorn (thanks to Jovial Foods), I began experimenting with einkorn flour, too.
Einkorn proved to be the trickiest grain to work with, but I was determined to figure out this new grain. Today, einkorn is my absolute favorite flour to work with.
I think it's fun to look back over the years and watch how my own real food journey has evolved. As I shared in a recent podcast about perfectionism…you don't have to know it all to begin making changes. You don't have to do it all, either.
Years ago, I didn't know a thing about ancient grains. I just wanted to get away from the overly-processed bread. You know, the kind made with canola oil, enriched flour, and chemically-enhanced fillers. So, I took that one small step and made the switch to a bread made with easy-to-recognize ingredients. That one small step led to another small step and another. And here we are today.
What makes blogging so incredible is that you can see what this journey has looked like for me over the years, and, hopefully, that will encourage you to take your own small steps.
Now, let's talk about today's recipe, which is made with the ancient grain, einkorn. When I shared a sneak peek of this recipe, on Instagram last week, many of you went CRAZY for the photo: "Is this recipe on your blog? When will this be up on the blog? I can't wait for this recipe!"
I had originally planned to share this recipe in June, but seeing that so many friends want/need the recipe ASAP (I mean, chocolate…hello!), let's make some cake.
Before we make the actual cake, let's talk about a few important notes.
Einkorn is known as the oldest variety of wheat making it an ancient grain. It is believed to have originated in the Tigris-Euphrates region. Einkorn is considered the most primitive species of wheat available today.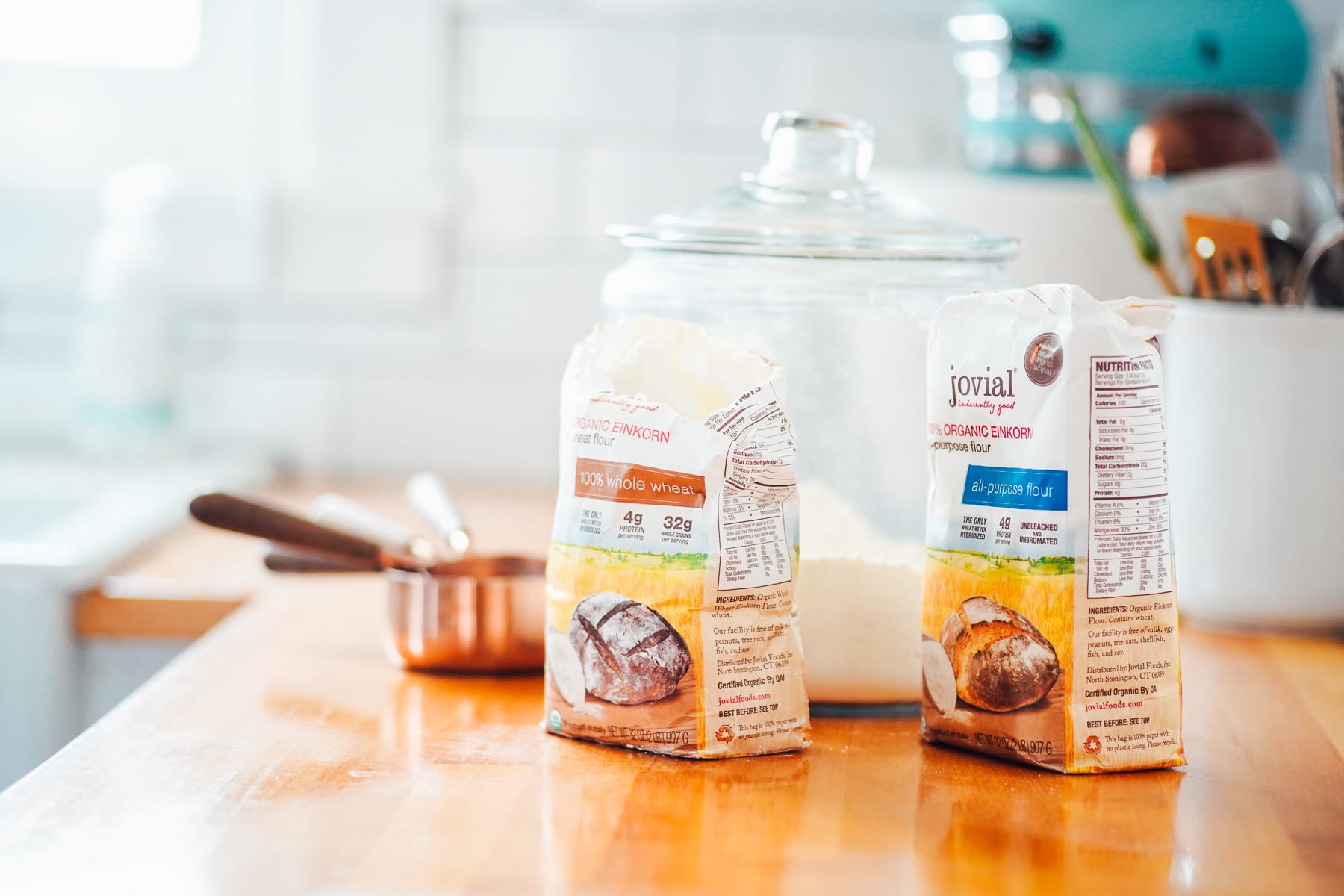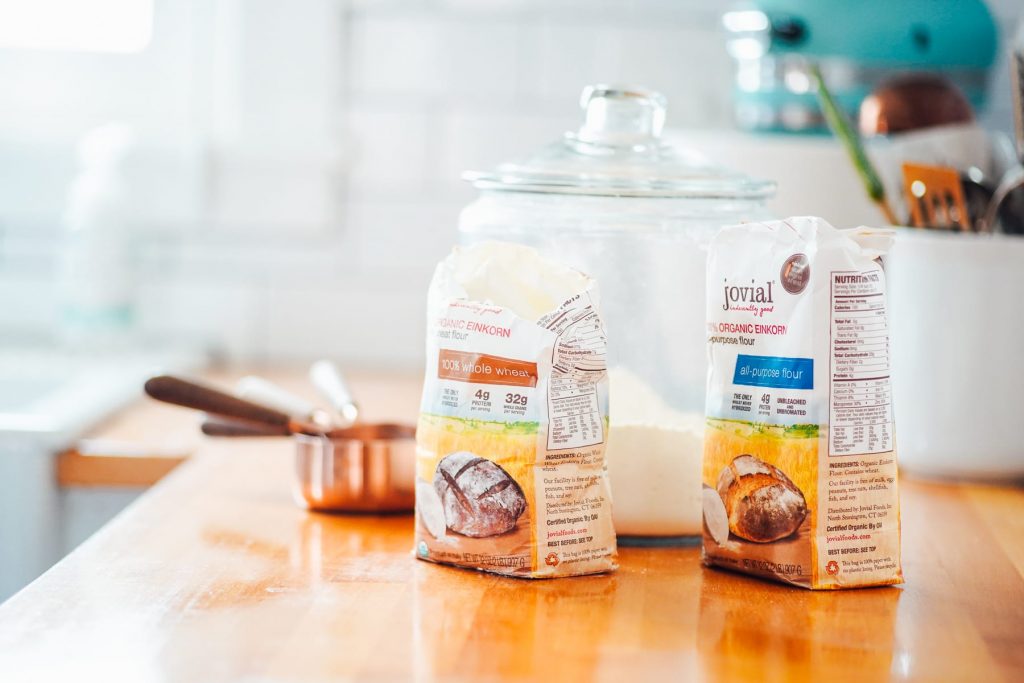 While modern wheat has been hybridized (to improve the yield and make wheat disease resistant), einkorn still holds true to its original properties. Einkorn is slowly gaining popularity, but is still grown in only a few regions in Europe and the US (some local farms in the US are now growing einkorn).
Einkorn is the only wheat that's missing certain types of gluten proteins which some people are sensitive to. Personally, I've found that I digest einkorn well, along with wheat breads and baked goods that have gone through the sourdough process. This is why so many of the recipes on the blog feature this grain.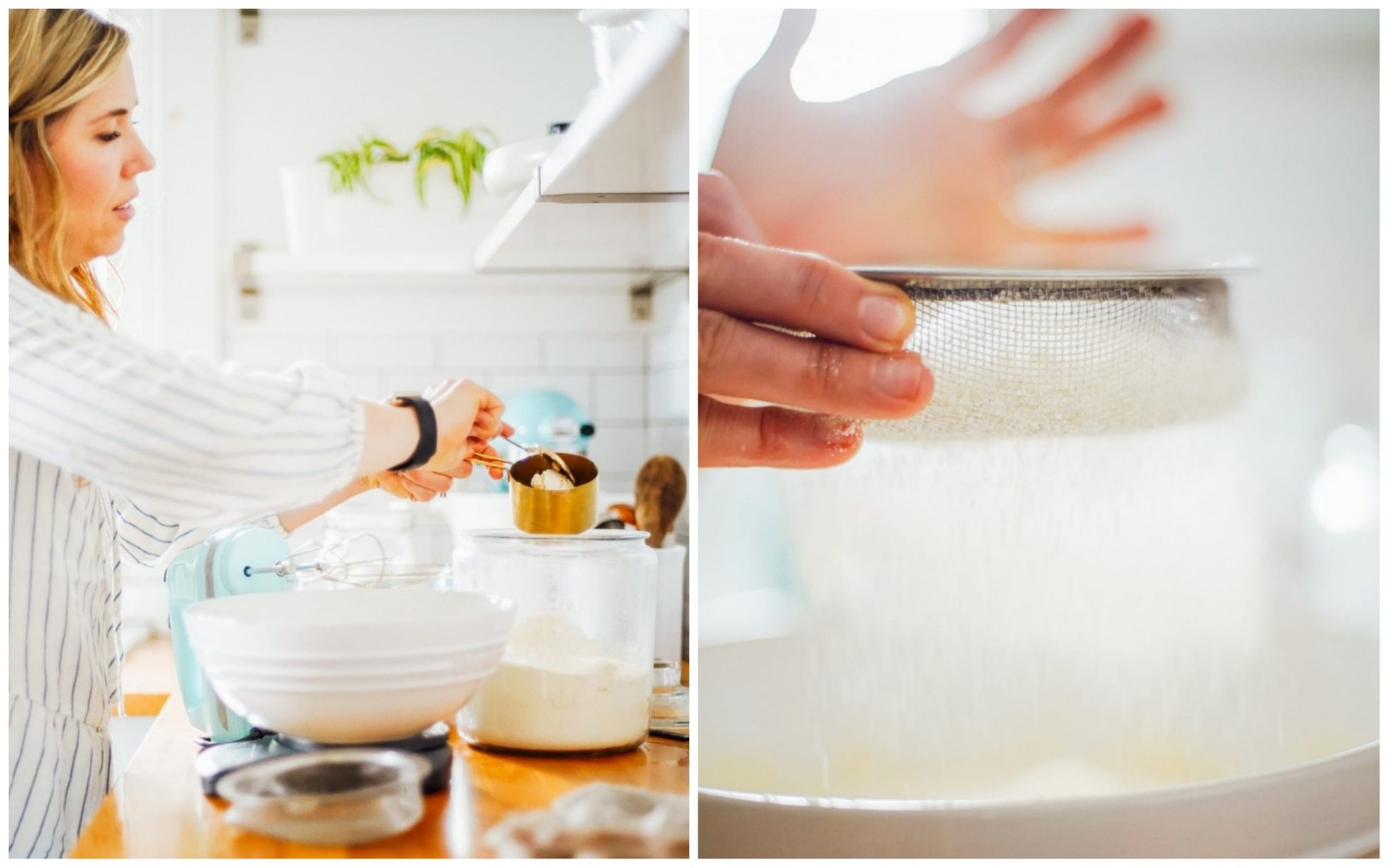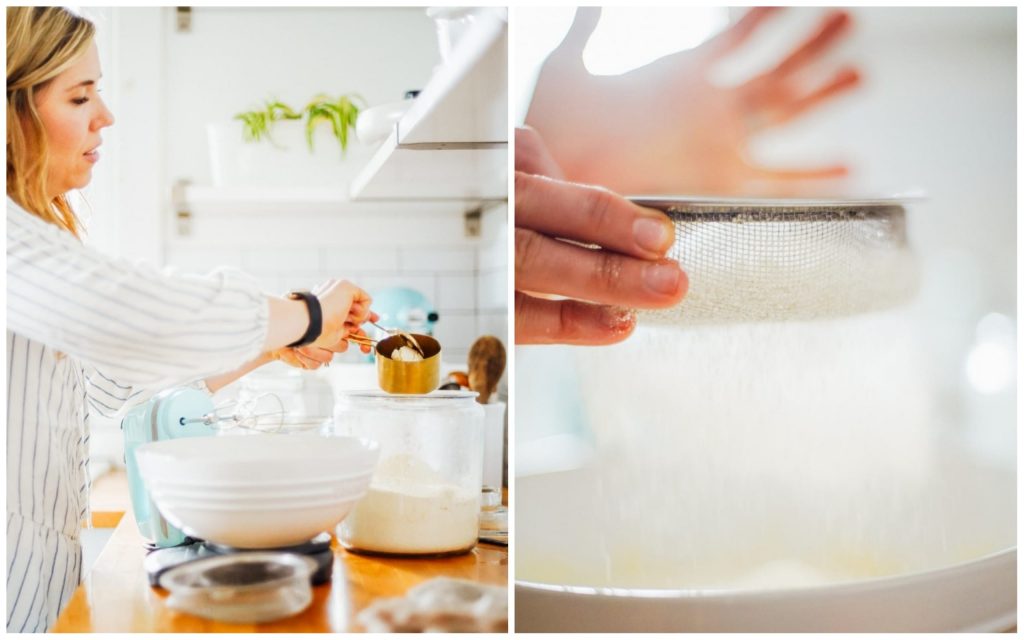 (Sourdough side note: If you have a Netflix account, I highly recommend watching Micheal Pollan's Cooked Series, particularly part three, Air. Pollan explores the art, science, and reason why we should get back to making sourdough, particularly in a day and age when so many folks are afraid of gluten. If you don't have a Netflix account, or don't want to watch the documentary, read this short article. We'll talk more about sourdough in the future.) 
Einkorn is NOT a gluten-free grain. If you have celiac disease, einkorn is not an option.
That said, in a day when so many folks are questioning gluten (and not because they are celiac), I think it's important for us to consider a question originally asked by Robyn O'Brien…
"Are we allergic to food, or are we increasingly allergic to what has been done to it?"
 
When it comes to the subject of gluten, I believe we need to take a step back and ask more in depth questions about how we consume gluten. We need to look at the fact that our entire diet now revolves around heavily processed and manipulated grains, the type of grain we consume, the lack of variety and seasonality in our modern diet, the fact that we no longer consume fermented foods as our ancestors once did (which contributes to gut health), and mega amounts of stress which wreak havoc on the body and gut.
There are a lot of factors to look at when it comes to the gluten issue, but just declaring all gluten as "evil" isn't the answer (in my opinion).
Where Can You Find Einkorn?
You can find einkorn at some Whole Foods and health food stores, Earth Fare, Vitacost, and Amazon. Definitely shop around as prices can vary based on the retailer. My favorite brand is Jovial since finding their products is fairly easy, and I've come to respect this brand as a leader in the real food movement. That's why I asked the founder of Jovial to come on the podcast–to share all about einkorn, its origins, and what makes this grain so unique. You can listen to the podcast, here.
Weighing Ingredients
And Why It's Important
This cake is fairly easy to make. In fact, the first time we made this cake for testing purposes, we actually forgot to the add milk. We had to scoop the batter from the prepared pan back into the bowl and then add the milk. I share this because the cake turned out just as delicious on that first oops trial as it did on every non-oops test. (We always test recipes at least 3-4 times before photographing and sharing.) This recipe is forgiving. If you've ever made a cake from scratch, you'll know that not every cake recipe is this forgiving.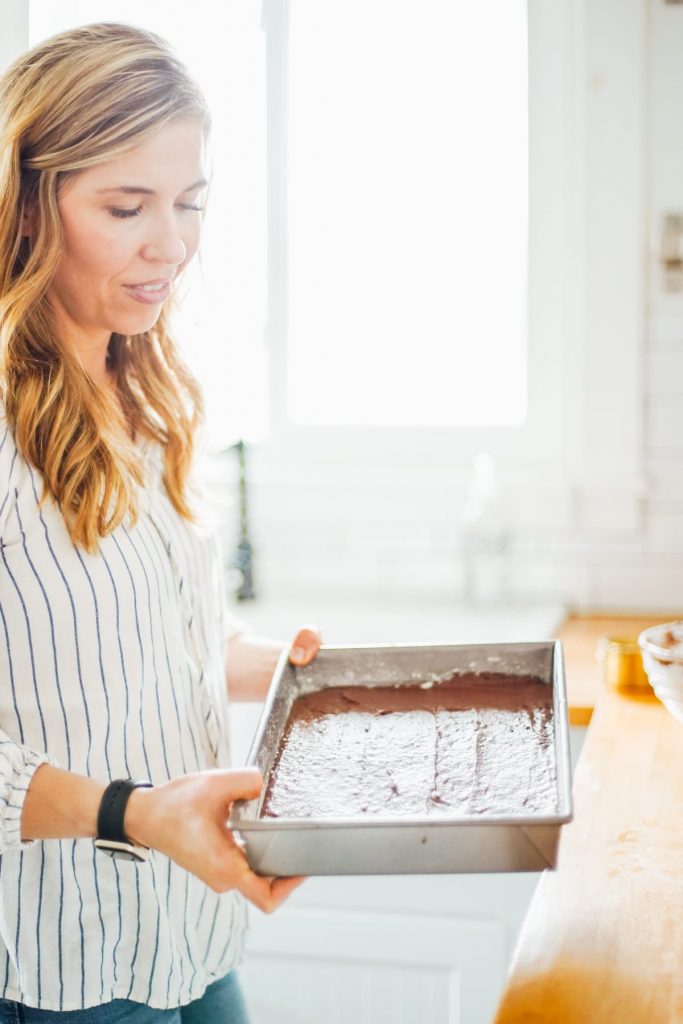 That said, there is one thing that I highly recommend for fail-proof baking: a scale. Well, actually, two things: a scale and quality ingredients.
It's so important to weigh ingredients. This isn't something that most Americans are used to hearing. We've become accustomed to relying on volume (cups) for baking. But here's the issue: my cup of flour may not be the same as yours. In fact, it's probably not. There are too many variables involved with volume measurements. This means that my results may be different than your results and vice versa.
When it comes to baking, I recommend weighing your most important ingredients. Plus, weighing ingredients is much easier; just keep adding ingredients to the bowl until the scale essentially tells you to stop. Trust me, it's easier and way more precise! If you've ever made a (baked good) recipe and it didn't turn out quite right (and the recipe is solid), it's probably because there was too much flour added. This is far too easy to do with volume measurements.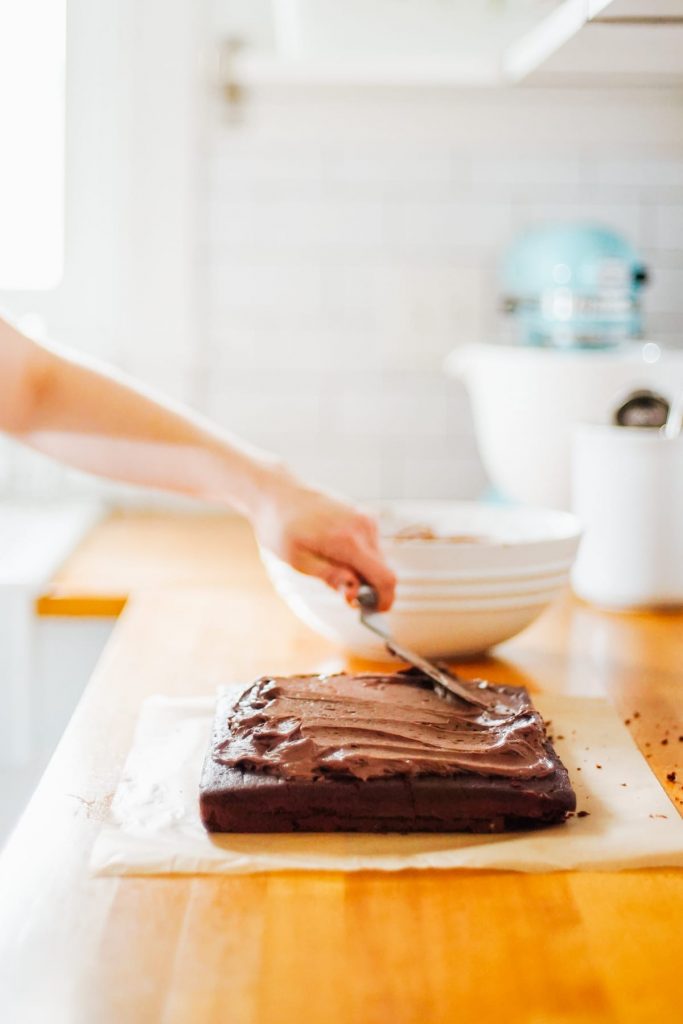 I've been using this scale, which we originally purchased for making coffee (weighing coffee beans), for a few years now.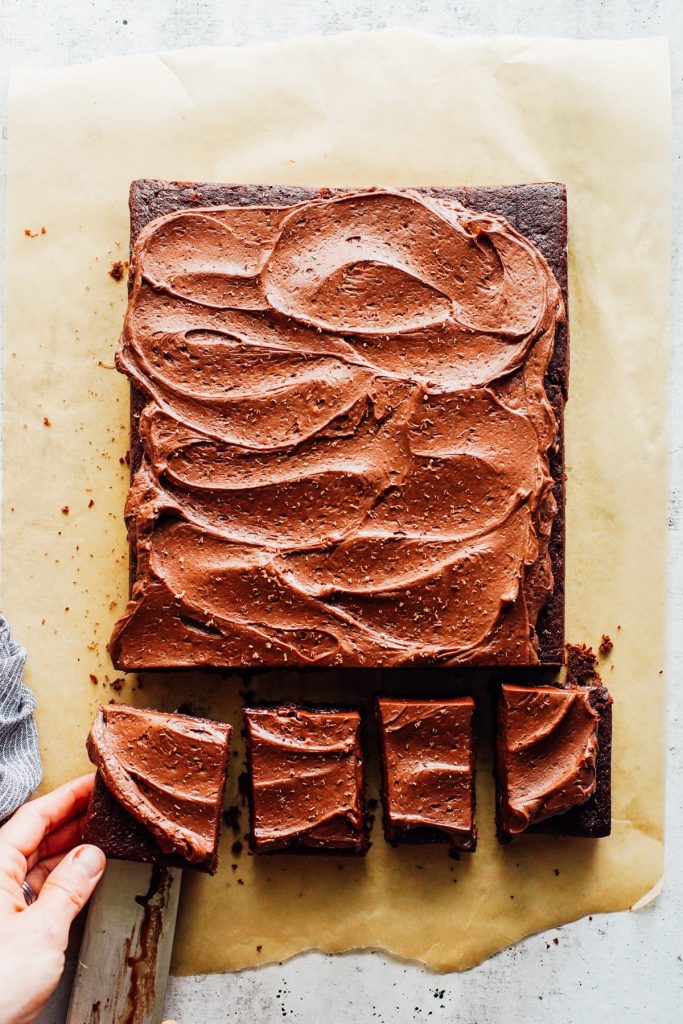 What Makes This Cake The Best?
I don't often describe recipes here on the blog as "the best." In fact, when people add such an adjective to a recipe, it drives me nuts. That's a BIG claim to add to a recipe. Plus, everyone has a different idea of what's considered "the best." It's a very subjective description.
I feel like every recipe we share on the blog is the "best of" Live Simply. That said, occasionally I'll add this description to a recipe, because it just knocks my tastebuds out of the park in some unique way. This cake recipe did just that.
This cake is exactly what I expect for a chocolate cake: rich (but not too overbearing), chocolatey, moist, and (in my opinion) perfectly sweetened.
It does contain cane sugar, which you probably know I use sparingly. I like to keep daily recipes low in the overall sugar content, but when it comes to treats that are made at home, I'm 100% okay with breaking out the cane sugar.
The Best Einkorn Chocolate Cake
A homemade chocolate cake made with einkorn flour. Rich, chocolatey, and perfectly-sweetened, topped with a homemade chocolate buttercream frosting.
Ingredients
Chocolate Buttercream Frosting:
16

TB

unsalted butter

(1 cup / 225g) softened to room temperature, this is generally two sticks of butter or 1 large Kerrygold bar

2 1/2

cups

organic powdered sugar

(324g)

1/4

cup

unsweetened cocoa powder

(28g)*

1/2

tsp

pure vanilla extract

1/4

tsp

salt

1-3

TB

milk

or heavy cream, or a plant based milk
Instructions
Preheat the oven to 350F.

In a small bowl, combine the milk and vinegar. Let sit for 5 minutes.

Meanwhile, in a medium bowl (if you're melting butter on the stove-top you can do this step directly in the saucepan), whisk together the melted butter and cocoa powder.

In a large bowl, add the cane sugar and eggs. Beat the ingredients, using a mixer on medium speed, for about a minute. 

Stir in the milk mixture (the vinegar and milk) and chocolate mixture (butter and cocoa powder) and vanilla extract. 

Add the flour by sifting it first through a sieve and into the bowl. Then, stir in the remaining dry ingredients: baking powder, baking soda, and salt. Stir just until all the ingredients are well combined. 

Grease a 13x9 baking dish with extra butter and sprinkle extra flour over the pan, shaking the pan to evenly coat the surface. The goal is to keep the cake from sticking to the surface when it's time to remove it from the pan. You don't want a ton of flour, just a light dusting over the butter. 

Pour the cake batter into the prepared pan.

Bake the cake for about 30-32 minutes, until a toothpick (or knife, since you'll be frosting the top no one will tell) inserted in the center comes out clean. I bake my cake in a dark pan, so if you're using a glass or light ceramic pan your baking time may need to be adjusted. As a good rule of thumb, take a peek at how the cake is doing (through the glass oven door) at around the 25 minute mark.

Remove the cake, once cooked through, and allow it to rest for about 10 minutes. Then, carefully flip the cake over on a cooling rack and allow to fully cool. You may also leave the cake in the pan if you prefer to serve it that way. Once fully cool, frost the cake with the chocolate frosting recipe, below. This cake is amazing enough to enjoy without frosting, too. This cake would also be delightful during the summer with a homemade whipped cream layer on top and some raspberries sprinkled over the whipped cream.

Store the cake, frosted or unfrosted, in the fridge for up to 4 days. The cool environment will dry out the cake (this is normal for cake), so it's best to return the cake to room temperature before enjoying a slice if you want the best texture. Or, you can store the cake in the freezer for about a month.
Make the Chocolate Frosting:
In a large bowl (wash out the bowl from making the batter and reuse it to make the frosting), add the softened butter, vanilla, and salt. Use a hand-mixer to beat the ingredients, on medium speed, until creamy and slightly fluffy.

Add the powdered sugar and cocoa powder, a small amount at a time (to ensure the dry ingredients don't go flying all over your kitchen). Beat until all the sugar and cocoa are added and the ingredients are well combined.

Finally, add the milk or heavy cream, a splash at a time, beating the frosting until you reach the desired consistency. Less milk results in a thicker frosting. More milk results in a fluffier frosting. Use as many splashes of milk (up to about 4 tablespoons) as needed.

Spread the frosting over the cooled chocolate cake.
Notes
*I tested this recipe with unsweetened cocoa powder (365 Whole Foods brand). If you'd like to use cacao powder, you're welcome to do so. This goes for the frosting and cake. 
**I use organic cane sugar in this recipe. If you want to use something like sucanat or coconut sugar, I think you could certainly try. I recommend sticking with the same weight measurement. I'm not sure what the overall flavor/sweetness will be like compared to using cane sugar. 
Dairy-Free Version: If you want to make a dairy-free cake, you could try using a neutral oil (like avocado oil) instead of the butter. Or, coconut oil--although it may impart some coconut flavor. A plant based milk (coconut milk, almond milk, or even oat milk) should work in place of the whole milk. You'll also need to find a homemade dairy-free frosting, or go with Simple Mill's Frosting (you can find this at most health food stores--it's a dairy-free store-bought option). 
If you're looking for a gluten-free and egg-free cake, this recipe is my recommendation. 
Cupcakes: You could definitely make cupcakes with this batter. I'm guessing this amount of batter would make around 24 cupcakes (?). Use muffin liners and cook the muffins for about 20-22 minutes. 
Nutrition
Calories:
402
kcal
Carbohydrates:
45
g
Protein:
4
g
Fat:
25
g
Saturated Fat:
15
g
Cholesterol:
93
mg
Sodium:
273
mg
Potassium:
155
mg
Fiber:
1
g
Sugar:
32
g
Vitamin A:
785
IU
Calcium:
54
mg
Iron:
1.4
mg