Today is the day. The day I share the last Live Simply recipe for 2017. That's hard to believe. It feels like we were just chatting about the end of 2016 a few days ago, and now 2018 is almost here…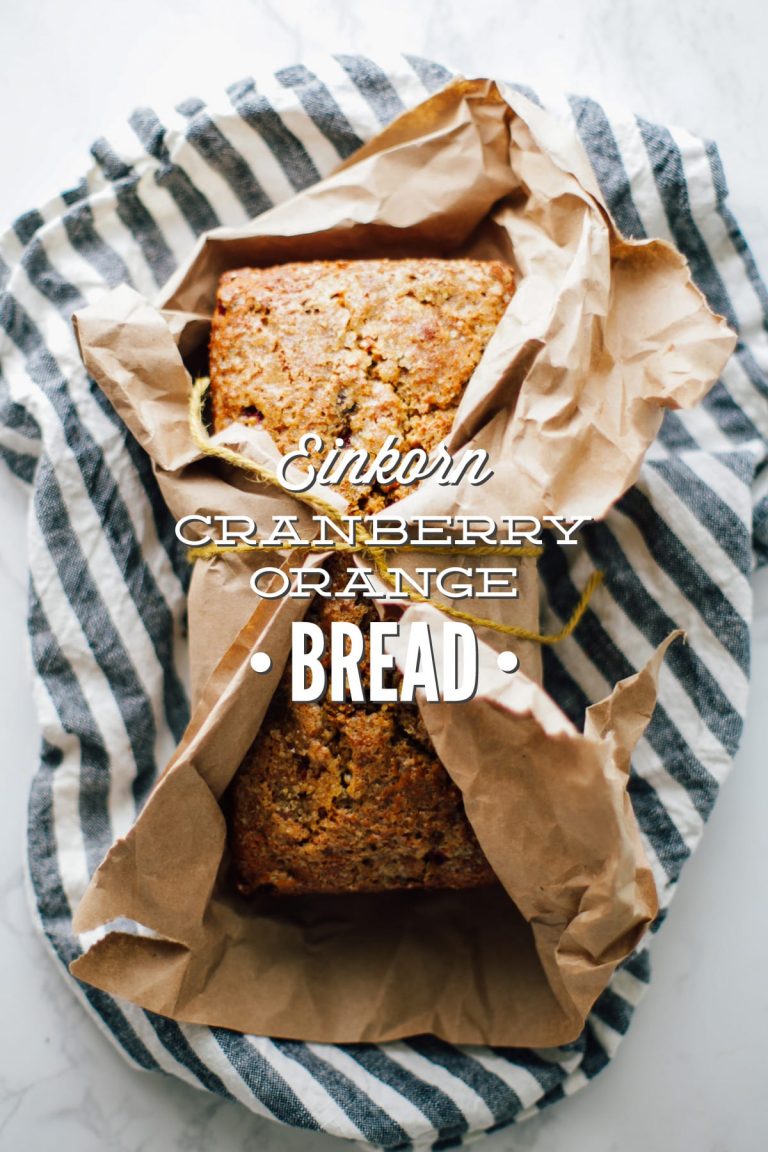 As I mentioned in the Winter Minty Mocha Mask post, Live Simply will soon be five years-old. It takes a lot of work to consistently publish blog content, interact on social media, share my life via Instagram Stories, and develop quality recipes that work. I love every second of this work. I also look forward to a break away from my computer and kitchen. The holiday season is the perfect time for me to do this. It's a wonderful time for me to rest, recharge, and refocus.
Over the next two weeks, I'm going to take a short break from sharing recipes and blogposts here on Live Simply.
Before this break, I want to share one last recipe with you. A recipe that my mom made when I was a child over the holidays, and one that I've tweaked a bit with her approval. Any guesses? I'm just kidding, you know what the recipe is…cranberry-orange quick bread.
Any bread that doesn't require yeast for leavening, and therefore doesn't require a long proof and rise time, is considered a quick bread. Quick breads are leavened with baking soda and baking powder, which means they should be baked immeadiately after making the batter (hence the name, quick bread) . Banana bread is probably the most popular quick bread, at least that would be the case in my home.
Growing up, my mom made two quick breads: banana bread (classic) and cranberry-orange bread (a holiday specialty). To this day, I still crave both of these breads. I make banana bread on a regular basis, particularly this einkorn and spelt recipe. When the holidays arrive, cranberry-orange bread becomes my go-to quick bread to make on the weekends.
In the past, I've used my mom's recipe to make cranberry-orange bread. This year, with her permission and her assistance with the taste-testing, I wanted to try making an einkorn version of this nostalgic bread.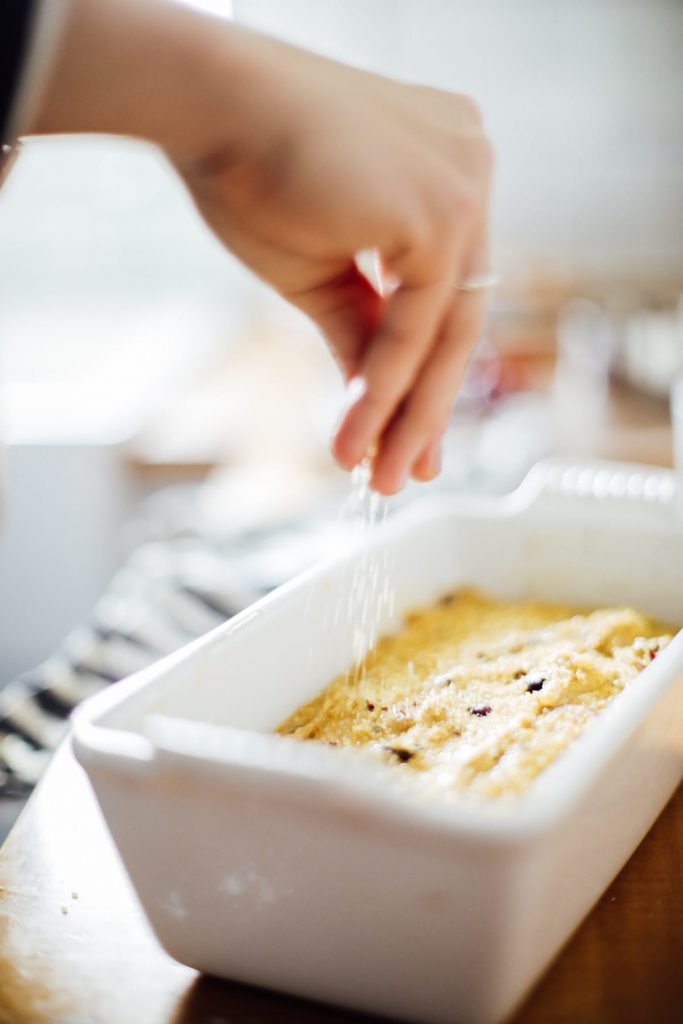 Over the past few weeks, we've made a couple of baked goods with einkorn flour. First, we made einkorn pumpkin scones just in time for Thanksgiving. Last week, we made Einkorn Coffee Cake with Cinnamon Streusel. Since it is the Christmas season, which means it's cookie season, I've been making lots of einkorn sugar cookies to share as gifts and also enjoy with the kids. Tomorrow I'm hosting the kids' cousin for a cookie-baking/decorating playdate, so I need to make more einkorn cookies today.
Einkorn is such a great flour to use this time of year for a couple of reasons.
First, einkorn is easier to digest than many other wheat-based flours. Since many of us are consuming a lot more baked goods this time of year, why not use a flour that's easier on your system? Second, all-purpose einkorn is the closest ancient grain I've found, in terms of taste and texture, to all-purpose white flour. This flour is ideal for quick breads, cakes, and cookies.
If you're new to einkorn, here's a bit more information about this flour…
Einkorn is known as the oldest variety of wheat making it an "ancient" grain. The ancient grain is believed to have originated in the Tigris-Euphrates region and is possibly the main grain referenced in the earliest accounts of the Bible.  To put it simply, einkorn is the wheat men were eating in the earliest days before modern day wheat varieties. While modern wheat has undergone hybridization, einkorn still holds true to its original properties. Einkorn is slowly gaining popularity, but is still grown in only a few regions in Europe.
The sweet, ancient grain has a lighter texture and taste than modern day wheat, and contains a more favorable gluten ratio. People with minor gluten sensitives may be able to consume einkorn without the issues associated with whole wheat due the lack of D-genome, however, einkorn is not gluten-free.
A Live Simply reader friend also emailed me recently and shared, "I recently read the book 'Wheat Belly', and it talks about how einkorn is the only wheat flour that is acceptable to use." I personally haven't read this particular book, but I think it's pretty cool that the author (who I believe is anti-wheat) puts out an endorsement (so to speak) for einkorn.
Well, it's time to say good-bye until 2018. I hope you all have a very Merry Christmas and a joyous New Year's celebration. I can't wait to reconnect with you in just a few days, when it's officially 2018.
Einkorn Cranberry-Orange Bread
A traditional cranberry-orange bread made with einkorn flour.
Ingredients
4

TB

unsalted butter

melted

1/2

cup

coconut sugar

(65g) or granulated sugar of choice*

1/3

cup

plain whole milk yogurt

(80g)

1/2

cup

orange juice

(132g)

2

eggs

1

TB

orange zest

from a fresh orange, packed

1 3/4

cup

all-purpose einkorn flour

(214g)

1/2

tsp

baking powder

1/2

tsp

baking soda

1/4

tsp

salt

1

cup

fresh cranberries

(100g) halved

1/2

cup

chopped pecans

(52g)
Instructions
Preheat the oven to 350F. Line a loaf pan with parchment paper, or grease the pan.

In a large bowl, whisk together the melted butter and sugar. Whisk in the remaining ingredients until the batter is smooth: yogurt, orange juice, eggs, and orange zest.

Add the flour, baking powder, baking soda, and salt to the wet ingredients. Gently stir the dry ingredients into the wet ingredients with a wooden spoon or rubber spatula. Stir until just combined - do not overmix.

Stir the pecans and halved cranberries into the batter.

Spread the batter into the prepared loaf pan. Top the loaf with the turbinado sugar (optional, but recommended since it adds a sweet crunch to the crust).

Bake the bread for 50-60 minutes, until a toothpick inserted in the center of the loaf comes out clean.

Let the loaf cool before cutting and serving.
Notes
*I used coconut sugar. Cane sugar or sucanat should also work. Stick with the weight measurement, if possible, when using a different sugar. 
Nutrition
Calories:
2174
kcal
Carbohydrates:
288
g
Protein:
43
g
Fat:
98
g
Saturated Fat:
37
g
Cholesterol:
460
mg
Sodium:
1546
mg
Potassium:
1291
mg
Fiber:
16
g
Sugar:
85
g
Vitamin A:
2285
IU
Vitamin C:
83.5
mg
Calcium:
355
mg
Iron:
13.8
mg