I'm currently sitting in a busy Starbucks (it's 8:45 am), with the goal of writing this post before going to the kids' school for a Thanksgiving gathering. Across from me is a case full of pleasantly-lit pastries, including a tray of pumpkin scones. 'Tis the season. 
Today I was planning to share my favorite things from October, but I decided last minute (as in 5 minutes ago) to skip over favorite things in favor of sharing today's recipe: pumpkin scones. We'll get to the favorite things chat next time. I think you need today's recipe sooner than later.
These scones are ideal to make for a Thanksgiving brunch, or as a special weekend breakfast during the colder months. Speaking of, there's colder weather headed to Florida next week. Woohoo! 
The scones are made with einkorn flour. Einkorn is known as the oldest variety of wheat making it an "ancient" grain. The ancient grain is believed to have originated in the Tigris-Euphrates region and is possibly the main grain referenced in the earliest accounts of the Bible.  To put it simply, einkorn is the wheat men were eating in the earliest days before modern day wheat varieties. While modern wheat has undergone hybridization, einkorn still holds true to its original properties. Einkorn is slowly gaining popularity, but is still grown in only a few regions in Europe.
The sweet, ancient grain has a lighter texture and taste than modern day wheat, and contains a more favorable gluten ratio. People with minor gluten sensitives may be able to consume einkorn without the issues associated with whole wheat due the lack of D-genome, however, einkorn is not gluten-free.
A Live Simply reader friend also emailed me recently and shared, "I recently read the book 'Wheat Belly', and it talks about how einkorn is the only wheat flour that is acceptable to use." I personally haven't read this particular book, but I think it's pretty cool that the author (who I believe is anti-wheat) puts out an endorsement (so to speak) for einkorn.
The rest of the ingredients used to make these scones are very basic: butter, quality cream, salt, and a leavening agent. Pumpkin, cinnamon, and nutmeg are added to these scones to make them a special fall treat. Pumpkin doesn't have a ton of flavor, so the real flavor comes from the cinnamon and nutmeg, as well as the maple frosting.
The scones can be made a day in advance, if needed, and stored in the fridge. But, of course, there's nothing like a freshly-baked scone, so if you can do that, do it! You won't regret it.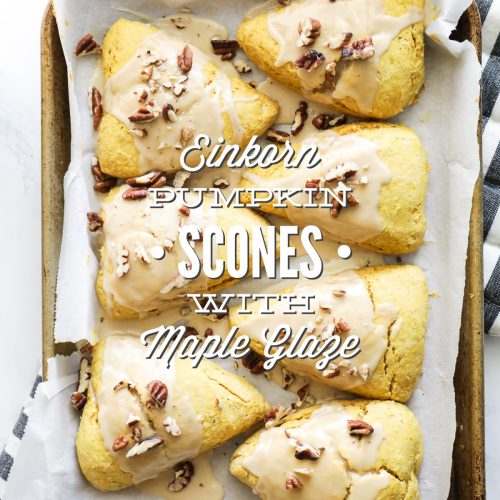 Einkorn Pumpkin Scones with Maple Glaze
Pumpkin scones made with einkorn flour and naturally-sweetened with honey or maple syrup.
Instructions
Pumpkin Scones:
Preheat the oven to 350F.


Whisk the dry ingredients together in a large mixing bowl.

Cut the butter (using your fingers or a pastry cutter) into the flour, until it resembles coarse crumbs.

Whisk the wet ingredients together in a small mixing bowl.

Add the wet ingredients to the dry ingredients and combine as much as possible with a wooden spoon. You'll probably need to finish with your hands (gently kneading the dough until well combined). Just don't overwork the dough.

Turn the dough out onto a lightly floured surface. Using your hand/fingers, shape the dough into a disc that is 1" thick.

Cut the dough into 8 triangles.

Place the scones on a parchment-lined baking sheet, and bake for 20-25 minutes until golden brown around the edges and the surface has cracked.

Allow the scones to cool before topping with the glaze.
Maple Glaze:
Whisk together the glaze ingredients: powdered sugar, maple syrup, cream, vanilla, salt, and (optional) nutmeg. I prefer thick glaze. If you'd like a thinner glaze, add another tablespoon of cream (or maple syrup).

Once the scones are cool, spoon the glaze over each scone. Use the back of a spoon to spread the glaze over the scones.
Notes
The scones are best enjoyed within 1-2 days. Store leftover scones in the fridge, or freeze for a later date. 
I topped the scones in the photos with chopped pecans for extra crunch. 
Nutrition
Calories:
404
kcal
Carbohydrates:
53
g
Protein:
6
g
Fat:
18
g
Saturated Fat:
10
g
Cholesterol:
68
mg
Sodium:
187
mg
Potassium:
259
mg
Fiber:
1
g
Sugar:
15
g
Vitamin A:
2940
IU
Vitamin C:
0.7
mg
Calcium:
98
mg
Iron:
2.6
mg