Contributor post written by Renee from Raising Generation Nourished. Today's post is part two of the Real Food Flour 101 mini series (learn about healthier gluten flour in this post). Our family consumes gluten, and since I don't work a lot with gluten-free flours, I asked Renee to share her baking knowledge with us.  This post is jam-packed with awesome flour and baking info. After reading this post, I've been inspired to try out a couple of the flours Renee mentions, like buckwheat, to help add more variety to our family's diet. Thank you, Renee!

I am going to totally go out on a limb here and just start out by saying, I love gluten. I seriously and truly do!
I have zero problems with gluten. Used in the proper way, gluten flours serve their purpose, and can even have health benefits for some people. I bake with properly prepared einkorn flour in my house on occasion, and we love it.
So with that out of the way, I want to share with you my favorite gluten-free flours to use in my kitchen.
Wait, why would I make baking any harder than it has to be by throwing gluten-free flour into the mix?
I totally understand that question. Gluten-free baking took me years to figure out and feel comfortable with, but I will tell you why it's so worth it.
Why I Bake with Gluten-Free Flour
1. Variety
I think it's pretty safe to say that most people today could use a little work on gut health. In our processed food world, our guts have taken a pretty big hit that is passing down to the next generation. Even if you do not show signs of digestion distress (though most do and don't realize it), giving your gut the same foods day in and day out is rough on digestion. And even if a household is eating clean, I have noticed in my own kids (who eat super clean) that if we get in a rut of eating the same thing day after day, digestion slows and even moods change. Rotating the flour you use to make those weekly breakfast biscuits or soup biscuits gives the gut a break from digesting the same flour over and over.
2. Nutrition
Again, I think gluten-based flours serve a purpose and have health and nutrition benefits even. Changing things up and using some gluten-based flours will broaden things out a bit more.
For example:  You can make a breakfast cookie with all einkorn flour for a healthy alternative to white flour, or you can make a breakfast cookie with two or three different gluten-free flours (or even the einkorn flour, plus a gluten-free flour or two) and really boost the variety of nutrition. Adding coconut flour or almond flour to a breakfast cookie offers a great protein and fat component to a baked good, making it more substantial than just a starch or carbohydrate based flour.
3. Medical Concerns
There are the obvious medical reasons for using gluten-free flours, such as: celiac disease, or maybe it shows up on an IGG or IGE food sensitivity test. Then there are the not so obvious reasons, which is actually where I fall into.
Personally, I have researched too much of a connection between gluten and Hashimoto's Thyroiditis that I have to be gluten-free on a frequent basis. In fact, while I do use einkorn for my family on occasion, I still stay completely gluten-free for the sake of my thyroid health. There is a direct correlation between when I eat gluten and when my thyroid numbers tank. I don't test positive for celiac disease, and I don't even test as sensitive to gluten anymore, but the numbers on my labs are enough for me to stick to enjoying a gluten-free lifestyle. Improved thyroid numbers are enough reason for me to learn how to use gluten-free flours.
Below, you'll find a list of my favorite gluten-free flours to work with in my kitchen. This list is not inclusive by any means. There are so many options out there. For instance, I tend to stay away from bean-based flours because we just don't digest them well, since they are not sprouted first. Many people love using bean flours because they give a really nice soft gluten texture to baked goods. I hope this list serves as a starting point for you, and gives you some confidence as you move into using gluten-free flours in your kitchen.
Real Food (Gluten-Free) Flour 101: My Top Picks for Gluten-Free Baking
Tapioca flour, sometimes called tapioca starch, is a grain-free starch taken from the cassava plant.
To Use

Tapioca flour gives baked goods a really nice soft gluten texture when used in the right proportion. This starch can also be used to thicken sauces and gravy. Keep in mind that a sauce or gravy will be "gooey" in texture when compared to a thick flour-based gravy. I like to use it for stir-fry sauce thickening, and it makes a great pudding. I also use it for coating meat for searing, or making chicken nuggets.
Tapioca flour is my number one go-to in baking to make things feel like they have gluten. I use it in these soft lemon breakfast cookies and savory breakfast biscuits, as well as pita bread and cakes. (You can see how I use it in cakes in this chocolate birthday cake, strawberry butterfly birthday cake, and carrot cake.) If you browse any baked recipe on my blog you will most likely find tapioca flour in the ingredient list.
Potato starch, not potato flour, is the grain-free starch extracted from a potato.
How To
If you have to be corn-free (a very common allergy these days), this is your substitute for cornstarch. I use potato starch to thicken sauces for stir-fry just like corn starch. About a year ago, I read about how to use potato starch to give moisture to cakes and ended up trying it to make a vanilla bean cake for my daughter's birthday. I was blown away at how soft and moist it turned out. Probably my favorite way to use potato starch is to make crackers with it. In the right proportions, potato starch gives a crisp end finish to baking, and it makes for really great crackers.
Arrowroot flour, sometimes called arrowroot starch, is a grain-free starch extracted from the roots of the arrowroot plant.
How To
Arrowroot behaves similar to tapioca starch in making baked goods soft and "gluten-y." It's also a nice thickener for sauces, gravy, and pudding. It tends to be pricier (at least where I live) which is why I lean toward tapioca starch more, but I wanted to include it in case it is more available where you live. Arrowroot starch may also be used as a DIY ingredient to make homemade foundation powder and/or deodorant.
Cornstarch
Cornstarch is the starch extracted from the corn grain. Since corn is a GMO heavy crop, I tend to look for GMO-free cornstarch, such as the Let's Do Organic brand. Unlike the other starches on this list, cornstarch is not grain-free, just gluten-free.
How To
Cornstarch is most popularly known for its ease of use in thickening sauces, stews, gravy, and pudding. It is a very affordable starch to keep on hand for those uses. I have not baked with corn starch before, but you can use it as a meat coating for searing beef into a stew, or a coating for chicken nuggets.
White rice flour is the flour ground from the white rice grain.
How To
White rice flour is another one of my staples that I use to blend gluten-free flours in order to create a texture similar to a gluten flour baked good. It's a sweet, light, and easy to digest carbohydrate to add to your gluten-free baking.
As with all the other gluten-free flours, use white rice flour in addition to a starch like tapioca – blending the two together will give your baked goods, like molasses breakfast cookies and pancakes, a soft, gluten feel. White rice flour is also the flour I like to use to make gluten-free gravy. The end product feels just like a gravy made with a gluten-based flour.
Brown rice flour is the flour made from grinding whole grain brown rice.
How To
Brown rice flour behaves similar to sorghum flour as it's a whole grain. Blended with a white flour, like white rice flour, and a starch, brown rice flour helps give baked goods a soft, whole grain baked feel. I rotate brown rice flour and sorghum frequently in my home just to change things up.
Sorghum flour is the flour ground from the sorghum plant's whole grain kernels.
How To
Sorghum flour is a whole grain flour that gives baked goods a whole wheat feel. It softens the dough, and, in my experience, is a great compliment to white rice flour. Using all white rice flour will make a baked good dry and crumbly, and using all whole grain flour, like sorghum, will make a baked good very heavy and dense. Combining the white rice flour and sorghum together, and then adding the "gluten feel" from one of the starches, is a great blend for baking.
Sorghum flour is also a good source of protein and minerals, making it a nice flour to rotate around for a nutritional component.
Corn Flour & Cornmeal
Corn flour and cornmeal are ground from the dried corn grain. Corn flour is ground all the way down into a very fine flour, whereas cornmeal is left more coarse, even leaving a bit of a crunch to baked goods. Since corn is a GMO heavy crop, I tend to look for non-GMO corn flour products, like Bob's Red Mill.
How To
My favorite way to use cornmeal is in cornbread. I like the texture of cornmeal for my cornbread so I tend to use that, and I feel like it gives a better flavor, too. That is personal preference though, and corn flour would work the same. Since corn flour has a distinct corn taste it does work best in baked goods, such as cornbread or even corn tortillas.
Gluten-Free and Grain-Free Flours
Despite its unique name, buckwheat is actually a seed. Buckwheat flour is ground from that seed, so it's actually a grain-free, seed-based flour.
How To
Buckwheat has a uniquely earthy and nutty flavor, and gives baked goods a great whole wheat taste. It's best blended with another gluten-free flour as it can taste overwhelming on its own. Buckwheat makes really great pancakes, crepes, and tortillas, and provides a change in nutrients as it's loaded with minerals.
Blanched almond flour is ground from almonds that have been blanched (to take the skins off) and dried.
How To
Almond flour behaves like many of the flours above, combining well with other gluten-free flours to create a great "gluten-y" feel to baked goods, as well as giving it a slightly sweet and nutty flavor. Almond flour adds a nice hit of protein to my ultimate breakfast cookies, energy bars, baked oatmeal, and Kristin's banana bread.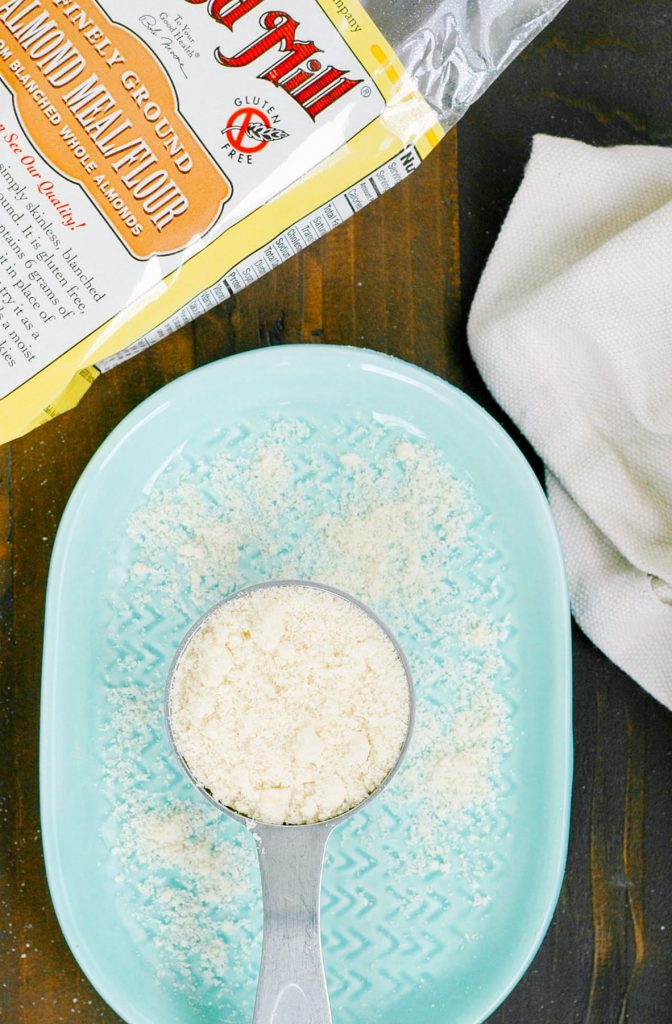 Coconut flour is ground from the fibers left behind from the coconut meat after it has been extracted of its oils for making coconut oil.
How To
Coconut flour took me the longest to figure out, but it was worth being able to add such a nutritious punch to my gluten-free baked goods; especially those that my kids are eating for breakfast, like granola cereal and lemon breakfast cookies.
Coconut flour is very absorbent. You'll notice after letting your batter sit for even less than a minute that the batter will tighten because it absorbs a lot of the liquid. Most recipes including coconut flour will have extra moisture either from eggs or fat. But if you can get the right ratios with the other flours above, you can really create a baked good that feels just like a gluten baked good. When I'm converting a recipe to a coconut flour recipe, I tend to half the amount of the flour being replaced to account for the absorbent coconut flour. For instance, if the recipe calls for 1/2 cup rice flour, I will use 1/4 cup coconut flour.
Coconut flour can be used in things like crackers and granola to give a light, crisp finish as well. And since coconut flour is grain-free, it's safe even for the little ones that aren't consuming grains as babies yet. I even figured out how to make a 1st birthday cupcake using coconut flour, which is perfectly safe for babies.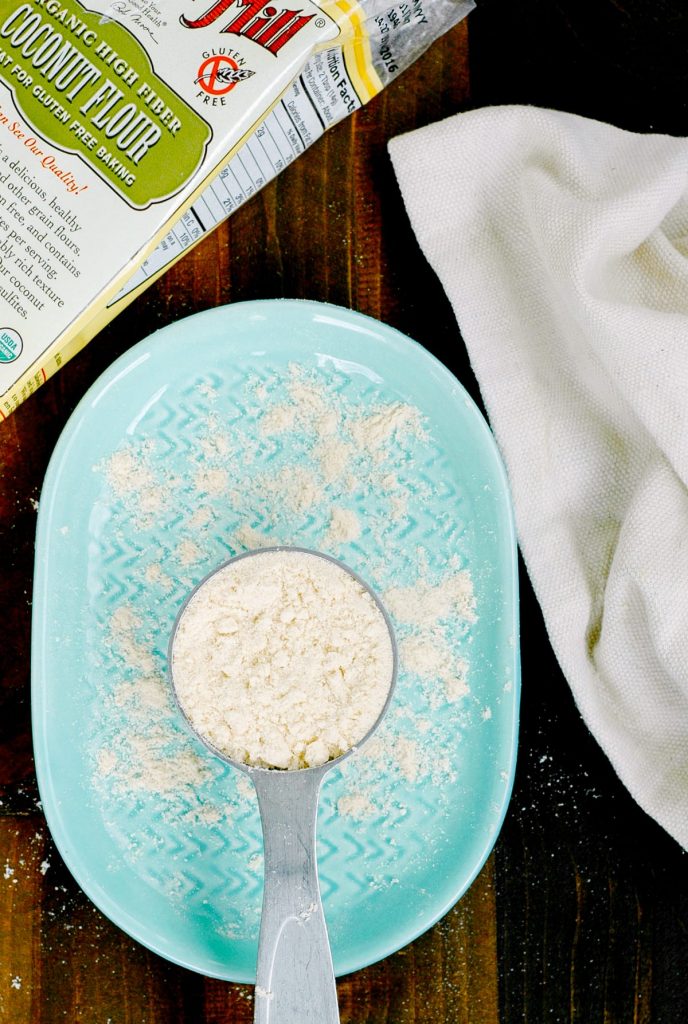 Gluten-free flours are sold in the bulk sections of health food stores, on conventional store shelves (even Walmart now sells coconut and almond flour), and online.