At the end of 2016, we were challenged as parents to focus more on providing the kids with new experiences (whether that's baking something together in our kitchen, traveling, or just taking a walk on the beach), and less on amassing more toys and stuff.
Part of this goal involves traveling as a family.
In December of 2016, we traveled for a week-and-a-half around Florida before jumping on a Caribbean-bound cruise boat. The kids were such amazing travelers, we decided to try air travel over their summer break.
Last week, we boarded a plane for a two-week adventure in Michigan and Chicago.
We started our trip by flying into Grand Rapids. During our stay, we visited family and enjoyed the food scene in the city. The food in Grand Rapids was incredible. INCREDIBLE! I was so impressed with the strong focus on local food at almost every restaurant we visited. We also visited a local market, Fulton Street Market, where we bought some local asparagus and apples (a treat for Floridians).
We also stopped in at Madcap, a local Grand Rapids coffee shop. We've been enjoying a monthly coffee subscription with Madcap, so this was a must-stop on our list. We finally visited the coffee mother ship, lol.
After Grand Rapids, we headed up to Traverse City and Mackinac Island where we made the climb up to Sleeping Bear Dunes and Pyramid Point. From there, we made our way to East Lansing, where we're currently staying with my Aunt and Uncle for a few days before taking a train to Chicago (tomorrow).
This adventure has allowed me to enjoy a small break from my kitchen and recipe development. I absolutely love cooking, but it's nice to get out of my kitchen every so often and experience "other people's" food.<–Experiences that can be both inspiring and eye-opening.
We'll return home next Wednesday, after two full weeks of living out of suitcases. I know we're going to return home with so many memories, from climbing Sleeping Bear Dunes to enjoying the best guacamole ever (Donkey in Grand Rapids). By the way, Piper discovered that he actually likes guacamole on this trip. Kids are always full of surprises!
I'm excited to get back into my kitchen and start enjoying summery meals, particularly meals from the grill. We just planted a small butterfly garden in our backyard, which makes grilling, and eating outside, even more appealing.
One of the meals I fell in love with before we left home, and one I plan to continue making all summer long, is a pesto salad flatbread. The flatbread is made with pizza dough (remember the einkorn pizza dough from last week?) and then tossed on the grill for a few minutes. The result is a quick, homemade flatbread. The perfect base for homemade pesto, arugula greens, tomatoes, radishes, feta cheese, and grilled chicken. The flatbreads can be served as a build-your-own meal, and the topping offerings can vary depending on what's available (try other veggies or salad greens).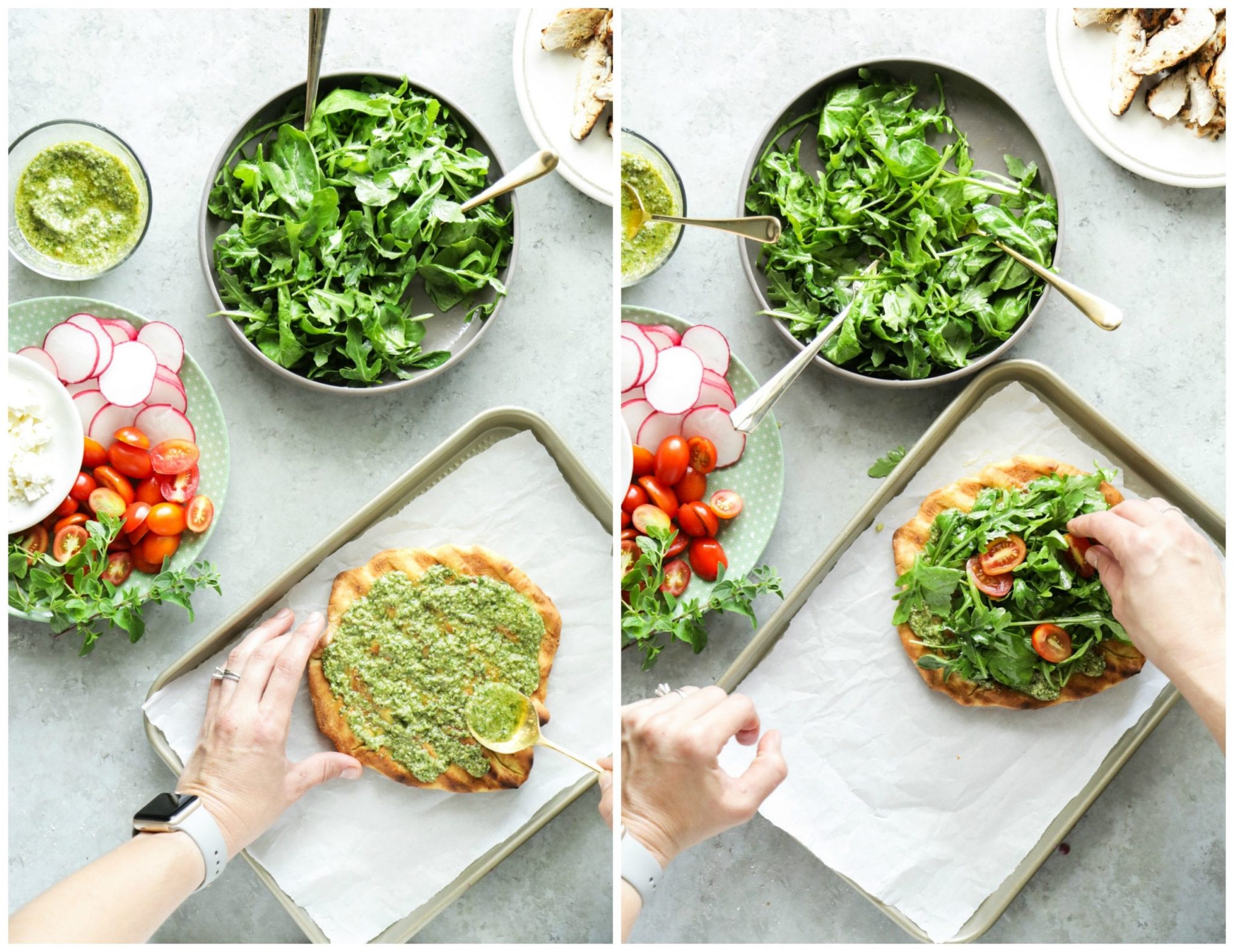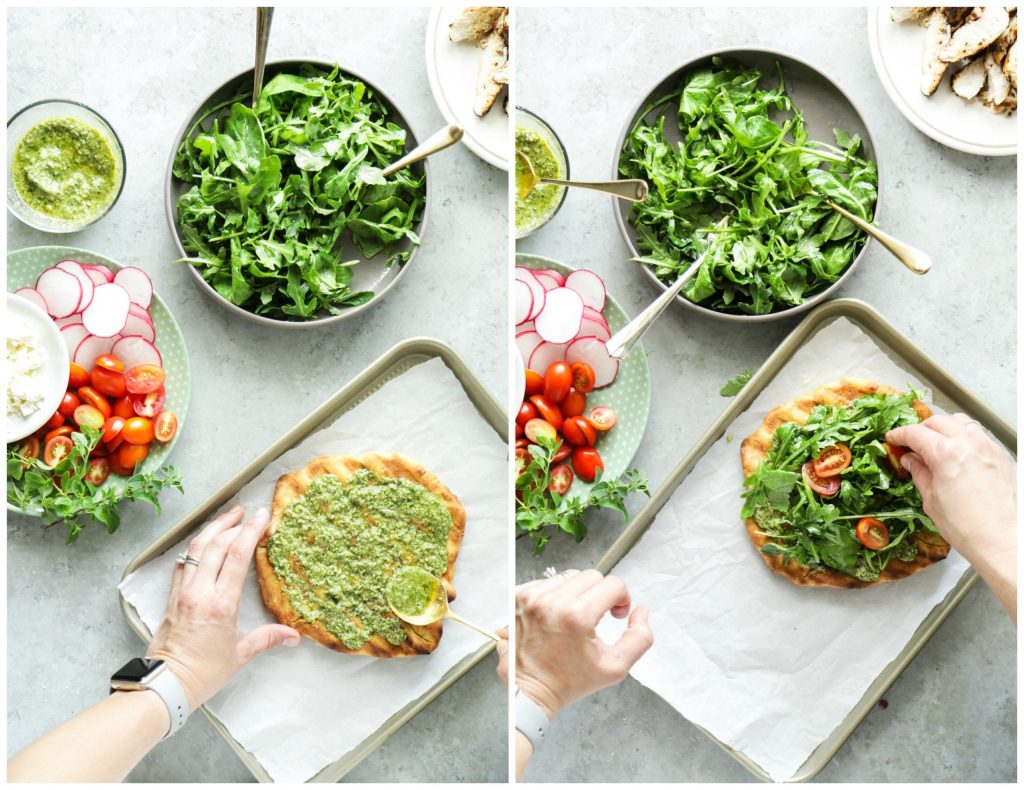 Grilled Pesto Salad Flatbreads
An easy and light summer meal featuring grilled pizza dough, homemade pesto, and fresh toppings.
Ingredients
Instructions
Note: You'll need to make the pesto (mentioned under "Other Toppings") before grilling the chicken and flatbreads. My homemade pesto only takes a few minutes to make. You can also use store-bought pesto.
Prepare and Grill the Chicken and Flatbreads:
For the chicken, rinse and pat the chicken breast(s) dry.

In a shallow and wide container, or a Ziploc, whisk (or shake) the marinade ingredients together: olive oil, lemon juice, red wine vinegar, dried oregano, minced garlic, salt and pepper.

Place the chicken in the marinade, and toss the chicken around so it's covered. Marinate the chicken in the fridge for at least 30 minutes, up to 12 hours. The chicken will appear to be "broken down" if you choose to marinate for 12 hours due to the acid, but the taste and texture don't reflect this once cooked.

Preheat an outdoor grill to roughly 450F (preheated for about 10-15 minutes on a high flame).


Remove the chicken from the marinade (toss the extra marinade in the trash), and cook the chicken directly over the heat (on the grill) until it's brown on the side that's facing the heat. Once brown, flip the chicken and continue to cook on the other side until brown. The time it takes for your breast(s) to cook will vary depending on the size of the breast(s). I usually cook the chicken for about 10 minutes on each side. The chicken is done when a meat thermometer registers at 160F.

While the chicken cooks, prepare and grill the flatbreads. D

ust a large sheet of parchment paper with einkorn flour. Divide the dough into 4-6 small balls, and then roll each dough ball out to create a small flatbread. Brush a small amount of olive oil over the top of each flatbread.

Work quickly to place the dough on the grill. Cook the flatbreads for about 3 minutes, with the grill covered, until the bottom of the dough easily lifts away from the grill and grill marks are apparent. Use a heavy spatula to get under the flatbreads and flip them. Cook the flatbreads, with the grill covered, for another 2-3 minutes. Each grill differs slightly, just like ovens, so keep a close eye on the flatbreads so they don't burn.

When the chicken is done cooking, let it rest for 5-10 minutes before slicing.
Make the Arugula Salad:
In a medium-size bowl, toss together the arugula, olive oil, lemon juice, and red wine vinegar.
Assemble the Flatbreads:
Spoon 1-2 tablespoons of pesto on each flatbread, followed by a small handful of the arugula salad, chicken, and toppings (cherry tomatoes, radishes, feta).
Nutrition
Calories:
579
kcal
Carbohydrates:
59
g
Protein:
31
g
Fat:
23
g
Saturated Fat:
6
g
Cholesterol:
73
mg
Sodium:
1576
mg
Potassium:
476
mg
Fiber:
3
g
Sugar:
10
g
Vitamin A:
1220
IU
Vitamin C:
11.8
mg
Calcium:
185
mg
Iron:
4.3
mg