This post may contain affiliate links. As an Amazon Associate I earn from qualifying purchases.
This post is sponsored by Plant Therapy. Thank you, Plant Therapy, for helping me get the word out about using natural ingredients, like essential oils, to create body-care products. 
Essential oil perfume is very different than commercially-produced perfume in that it's not a strong, overbearing product. Essential oil-based perfume is subtle and appropriate.<–If you've ever sat next to someone rocking too much commercial perfume, you know exactly why I chose those particular adjectives.
There are three ways to make a natural perfume. The first option is to make a spray perfume by diluting an essential oil (or oils) in distilled water and alcohol. Another option is to use a roller bottle and dilute an essential oil (or oils) in a carrier oil. The third option is to use a carrier oil, beeswax, and an essential oil (or oils) to make a solid perfume.
Perfume that's been made with essential oils isn't as strong, or as long-lasting, as commercial perfume. This means an essential oil-based perfume needs to be applied a couple of times during the day (if you're going for an all-day scent). Carrying a liquid oil in your purse can be quite messy, so a solid perfume is the way to go.
Before I share my solid perfume recipe, let's talk about each of the essential ingredients used to make this perfume.
How to Make Solid Perfume
Main Ingredient: Carrier Oil
Oil is the main ingredient used to make solid perfume. The oils used in do-it-yourself skincare recipes are typically referred to as carrier oils, although I usually call them nourishing oils.
The carrier oil used to make an essential oil-based perfume is completely up to you. Grapeseed oil, sweet almond oil, or jojoba oil are my top picks for making perfume. Virgin coconut oil may also be used, but it will impart a coconut scent on the final product.
Main Ingredient: Beeswax
Beeswax takes the carrier oil from a liquid to a solid state. Beeswax also acts as a barrier, which helps an essential oil-based perfume last a bit longer when it's applied to the skin.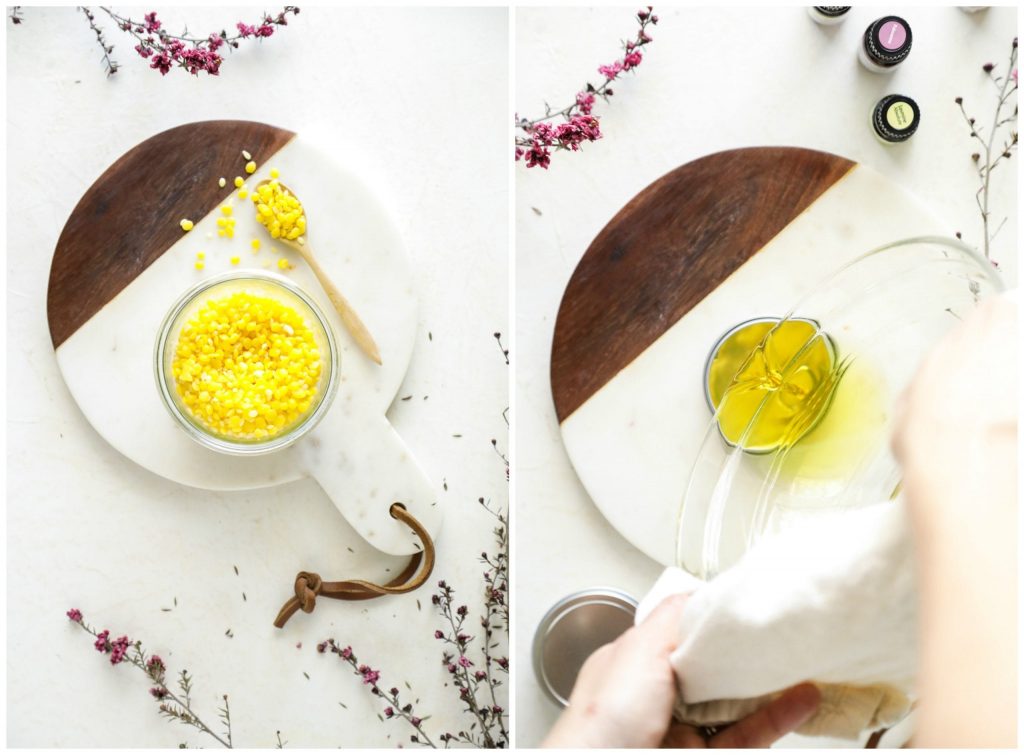 Main Ingredient: Essential Oil
Making your own perfume scent can be as easy or as complex as you'd like it to be. There are three ways to achieve a naturally-scented perfume.
Option 1: Single Essential Oil
To keep things simple, a single essential oil–like lavender essential oil–may be used to create a "one-and-done" perfume.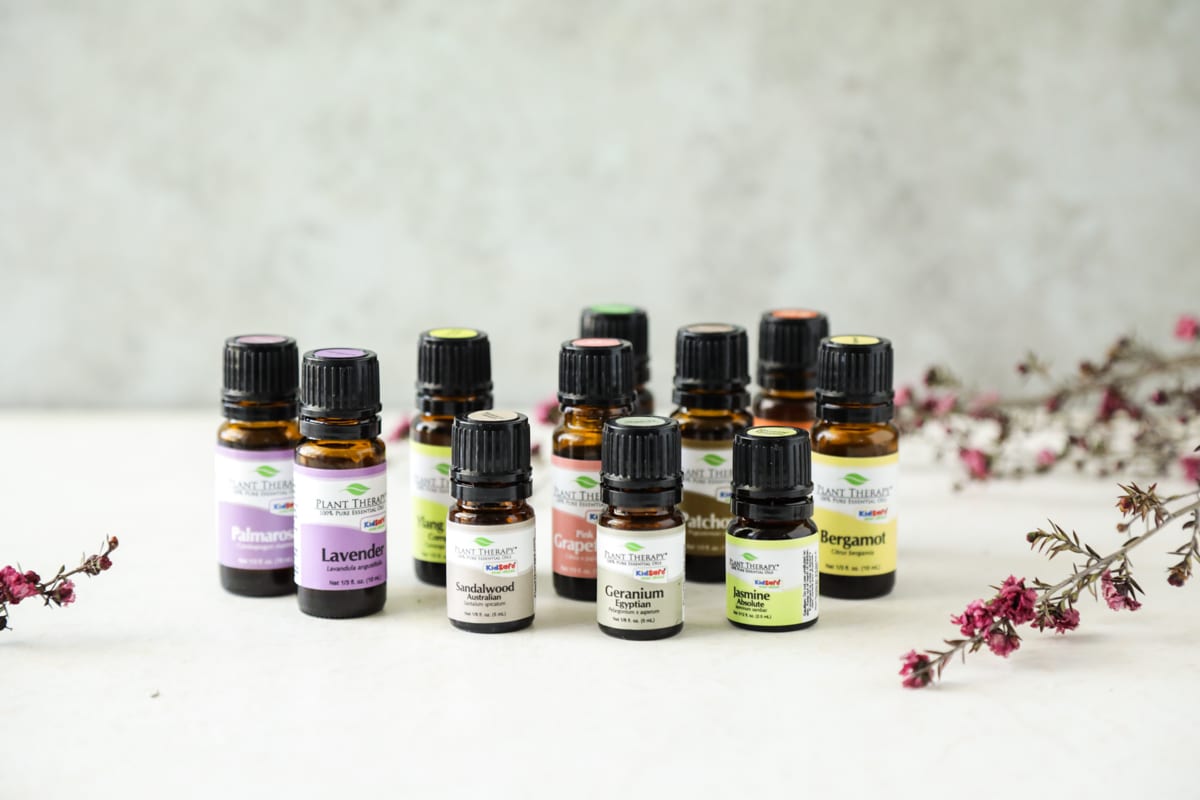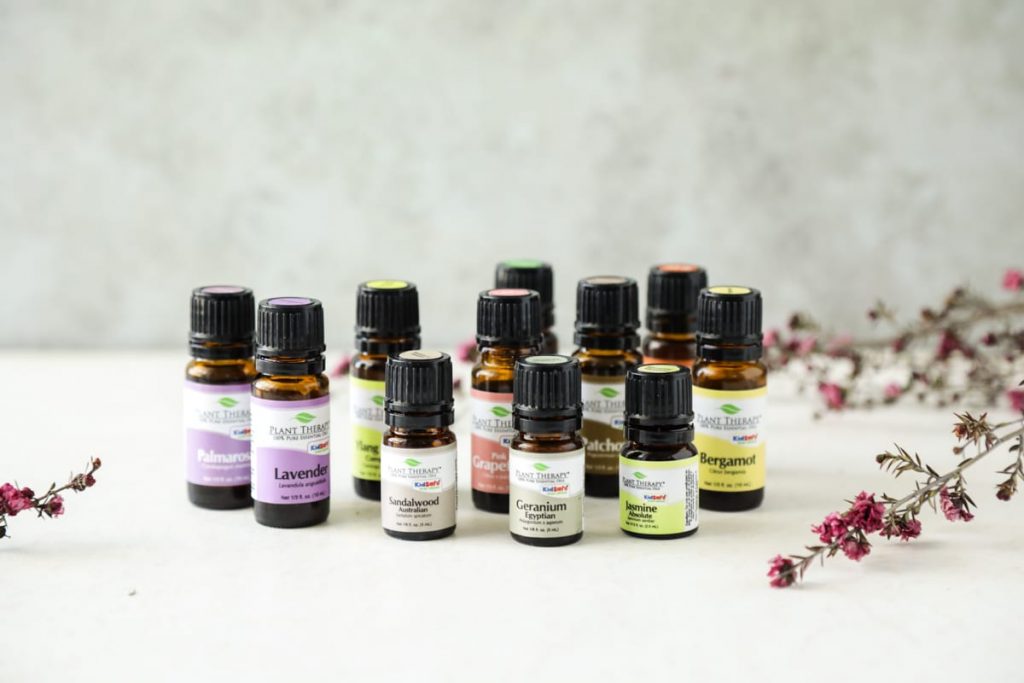 Option 2: Pre-Blended Synergy
Another simple, "one-and-done" scent option is to use a pre-blended synergy, like: Tranquil (bergamot, patchouli, blood orange, ylang ylang, grapefruit), Love Vanilla (vanilla, ylang-ylang), Blues Buster (tangerine, geranium, grapefruit), or Spring Blossoms (neroli, sweet orange, Lime). A synergy (a blend of individual essential oils) takes all the guess work out of creating complex perfume scents.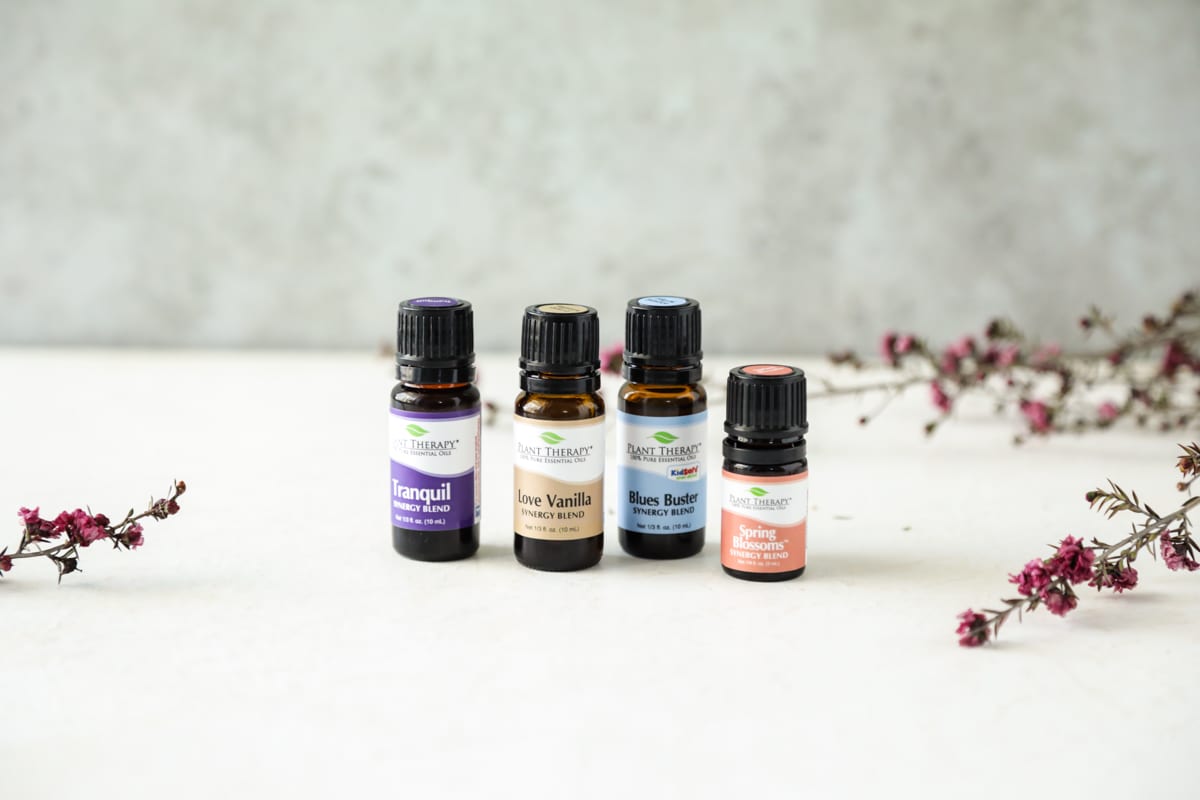 Option 3: Create a Custom Scent Blend 
Individual oils may be combined to create your own custom perfume scent. Essential oils are divided into three main categories, based on their unique scent profile: Base Notes, Middle Notes, and Top Notes.
Base Notes (scents are uplifting, very sharp, and slow to evaporate): cedarwood, frankincense, ginger (to Middle), jasmine (to Middle), patchouli, sandalwood, vanilla, vetiver, ylang ylang (to Middle).
Middle Notes (scents last a couple of hours, supportive): bay, cardamom, geranium, fir balsam, geranium, ginger (to Base), helichrysum, jasmine (to Base), lavender (to Top), lemongrass, palmarosa, orange (to Top), rosemary, ylang ylang (to Base).
Top Notes (introduce the perfume, quick to evaporate, uplifting): bergamot, clary sage (to Middle), eucalyptus, grapefruit, juniper, lemon, lime, neroli, orange (to Middle), palmarosa, peppermint, pine, tangerine, verbena.
To find your custom perfume scent, experiment with just a few essential oils (3-6 individual oils– preferably a good mix of Base, Middle, and Top Notes). Add two drops of a Base Note to a small amount of carrier oil, smell the oil and evaluate which Middle Note (from your oil choices) will best accompany the scent. Add two drops of the desired Middle Note, and then repeat the smell test. Finally, add a drop at a time of the desired Top Note, taking time to swirl the mixture and conduct a smell test before adding new drops. If you'd like to go back and add more of the Base Note or Middle Note, now is the time to experiment. Creating a custom scent is all about trial and error, so have fun with the process and take notes.
Plant Therapy also provides guidance on blending essential oils on their website. When looking up an individual oil, the aroma strength ("Strength of Aroma"), aromatic scent description ("Aromatic Scent"), and blending suggestions ("Blends Well With") are provided on the side of an essential oil photo.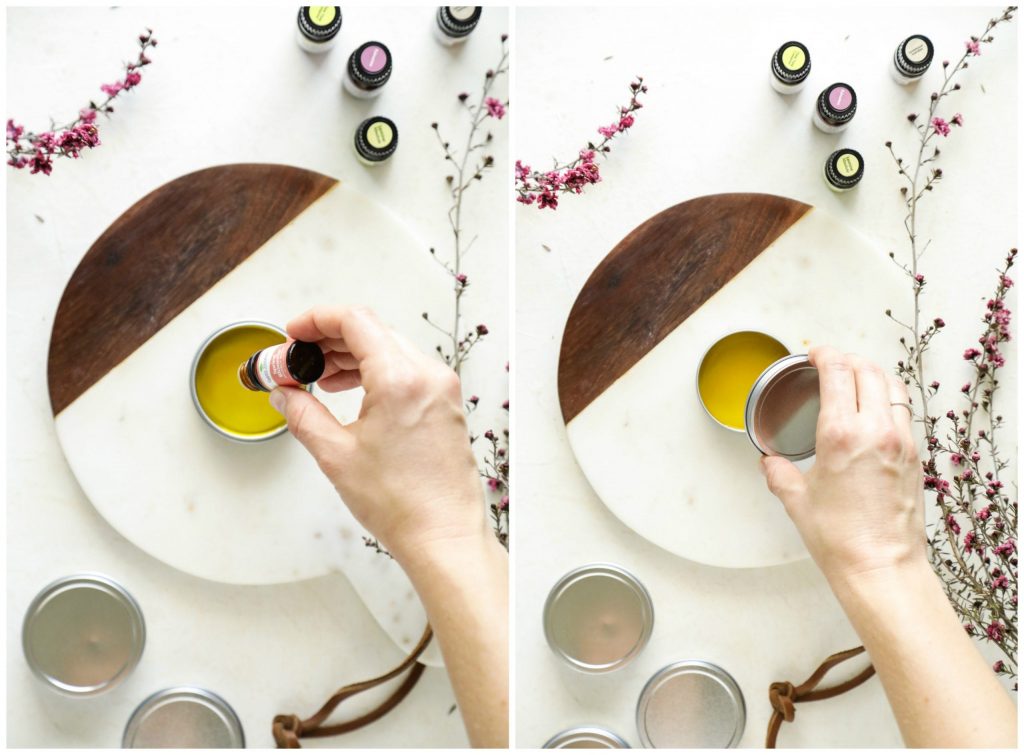 The essential oil (or oils) used to create your perfume will depend on your scent preferences as well as the mood you want to create. Once you know which scent you'll be using, it's time to make your solid perfume. Below, you'll find my basic recipe for creating a custom perfume.
How to Make Solid Perfume
A naturally-scented, do-it-yourself solid perfume.
Ingredients
1

TB

carrier oil

* (14.5g)

2

tsp

beeswax pellets

(6g)

35-40

drops

essential oil

**of choice: individual oil, a blend of individual oils, or a pre-blended Synergy.
Instructions
Place a glass bowl on top of a saucepan partially filled with water over medium heat. Place the oil and beeswax in the glass bowl, and allow the beeswax to fully melt.

Carefully remove the bowl from the heat source, and stir the liquid.

Once the liquid begins to cool (just a minute or two), add the essential oil(s) of choice. Gently stir the essential oils into the oil. Place the lid on the container to keep the essential oils from evaporating.

Allow the perfume to solidify (just a few minutes) before use. Keep in mind, as the perfume matures, the scent will intensify.
To Use:
Rub a clean finger (or a Q-Tip) across the top of the solid perfume. Apply the perfume to your wrists. Repeat as needed. The perfume will keep for 6-12 months, depending on the carrier oil used (grapeseed: 6 months; sweet almond and jojoba: 12 months).
Recipe Video
A Note About Plant Therapy
When I first discovered Plant Therapy (a few years ago), I was so impressed with the company as a whole: the commitment to safe essential oil education and the quality of the essential oils and affordable prices. Plant Therapy quickly became one of my go-to brands for essential oils. Since that time, they've grown as a company and expanded their product lines, while still keeping the same passion and commitment to quality and affordable pricing. I love that I can now source high quality carrier oils, beeswax, essential oils (as well as information on how to use the oils), and carrier (nourishing) oils from Plant Therapy.