Once a upon a time there was a couple. A happy couple who loved Christmas, but never bought a tree, baked warm cookies, decorated with festive decor, or even bought each other presents.
Sounds like a downer couple, right?
Who would want to hang out with them? Ba-hum-bug
I'll come out and say it.
Deep breath.
That couple was Dustin and I.
I'm not just making up a good (maybe more like bad) story, I'm telling the truth.
The first few years of marriage, we simply didn't do much for Christmas. We decorated our little apartment porch one year and won a lovely gift card, but that's besides the point. The point is we were a bit of "ba-hum-bug" Scrooges.  We never meant to be. We really love Christmas and as Christians rejoice in the day as we remember Christ's birth, but the festive activities which surround Christmas, the traditions that make this season so enjoyable and memorable were completely lacking in our life.
Then three and a half years ago, a little someone changed us. That little someone awoke something inside me that longs for tradition-making– cookies around a Christmas tree and glowing lights strung from my roof. Funny, how one little eight pound human can awaken such strong desires.
My dear little Piper was born.
And then exactly two years and one month later, my sweet little Londyn.
My desire for establishing memory-making traditions my children can remember and smile on has never been stronger. The desire to make Christmas and this season of coziness and giving one which they will lovingly look back on. Memories of homemade hot chocolate in jammies and the Christmas story being read on Christmas Eve. The traditions which made my childhood so very special, which as an adult I easily lost, and now as a parent long to revive.
One of those traditions started this year is making homemade goodies for family. Monetary presents are wonderful and I'm not against shopping (I love a good store), but my children don't have money. The answer: make homemade gifts. And who doesn't love a present made by hand. This year as part of this new tradition Piper wanted to make gingerbread men.
Today, I'm sharing Piper's tasty creation and our new family tradition. A recipe for delicious "healthier" homemade gingerbread men. The cutest, yummiest little men you will ever make. Made with succant (one of my favorite sweeteners) to give a rich molasses flavor, sprouted whole wheat flour, bold black-strap molasses, and lots of nourishing pastured butter. One whole cup. Don't skimp on the butter, friends!
These gingerbread men are not only a delight to the eyes but a delicious experience for both the maker and the giver. A gift and tradition that will turn the heart of any ba-hum-bug Scrooge.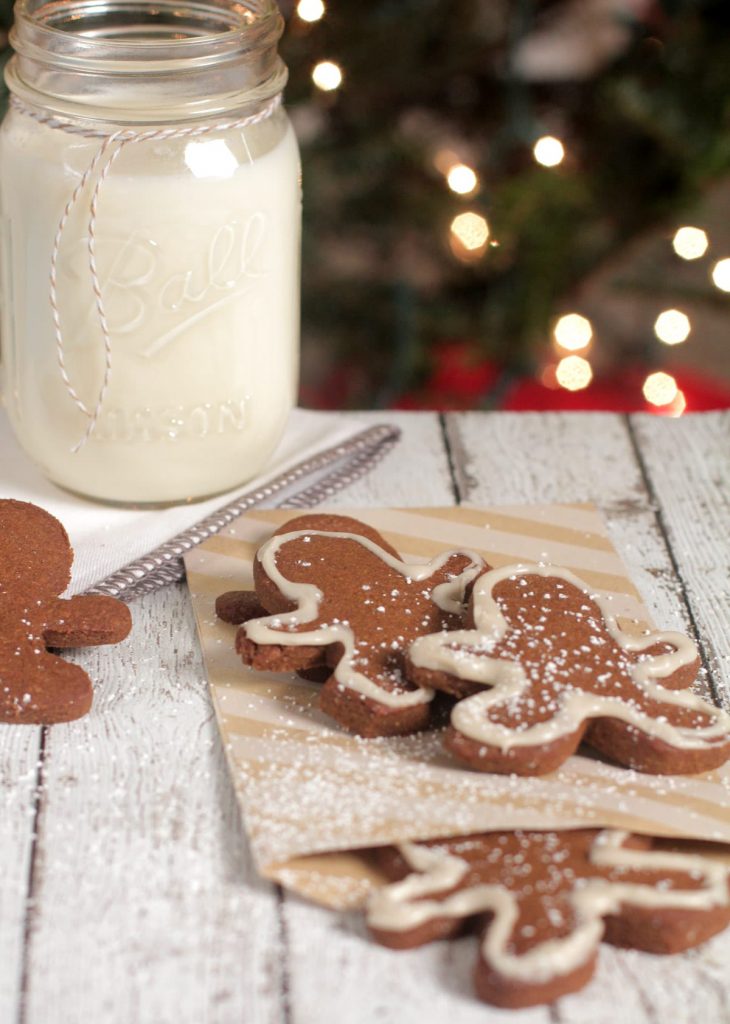 Healthier Homemade Gingerbread Men
These gingerbread men are not only a delight to the eyes but a delicious experience for both the maker and the giver. A gift and tradition that will turn the heart of any ba-hum-bug Scrooge.
Instructions
In a large bowl, cream the butter with a mixer.

Add in the succant and continue to beat for about 30 seconds.

Add in the baking powder, soda, ginger, cloves, and cinnamon. Beat the mixture for another 30 seconds.

Add in the egg and vinegar. Continue to beat the ingredients together for about a minute. Add the molasses and beat to combine.

Finally, beat in the flour, one cup at a time.

With your hands form the mixture into two balls. Place in parchment paper and refrigerate for two hours.

After two hours, remove the balls from the refrigerator.

Preheat the oven to 375.

Roll out each ball. The parchment paper will help the dough to keep from sticking to the counter.

Using cookie cutters, cut out the dough into desired shapes (gingerbread men).

Bake the cutouts on a cookie sheet for 7-8 minutes.

While the cookies cool, mix together the milk, vanilla, and powdered sugar.

Once the cookies are cool, frost cookies with the icing.
Nutrition
Calories:
144
kcal
Fat:
15
g
Saturated Fat:
9
g
Cholesterol:
54
mg
Sodium:
194
mg
Potassium:
51
mg
Vitamin A:
490
IU
Calcium:
28
mg
Iron:
0.1
mg