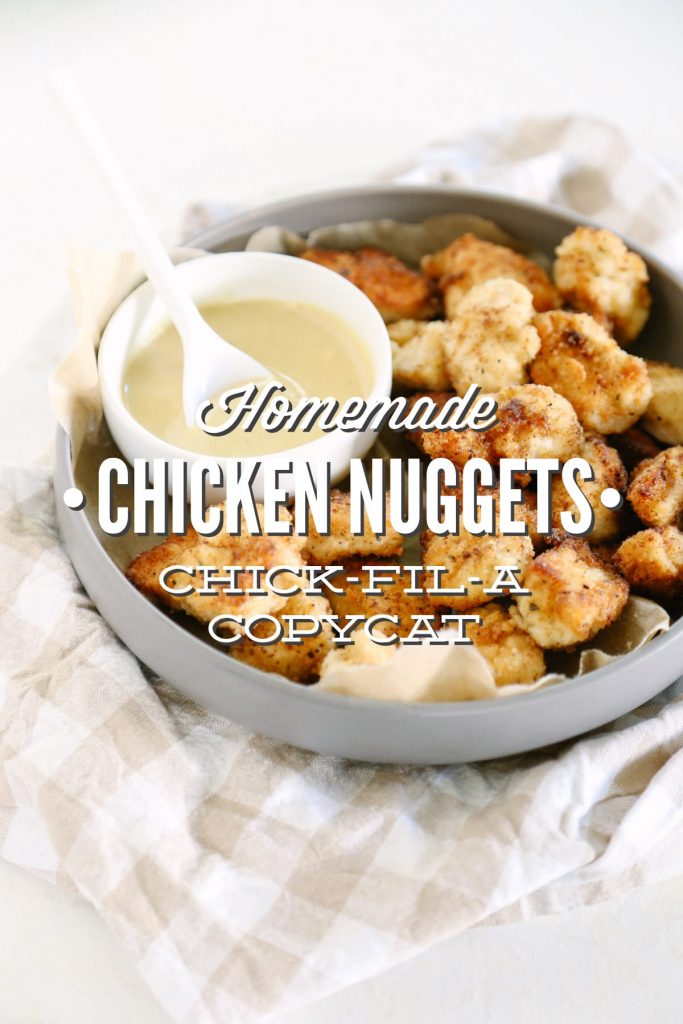 A few weeks ago, we swapped out the processed, freezer-style waffles for real food waffles (aren't they amazing?). Now, it's time to move on to one of the biggest food groups in the American diet: chicken nuggets.
Yes, chicken nuggets are technically a food, not a food group. For my family, chicken nuggets made up a large portion of our processed food diet for many years (hello, food group size). Considering our former nugget addiction, it's pretty amazing that it's taken me nearly three years to share a chicken nugget recipe here on Live Simply. The wait is finally over!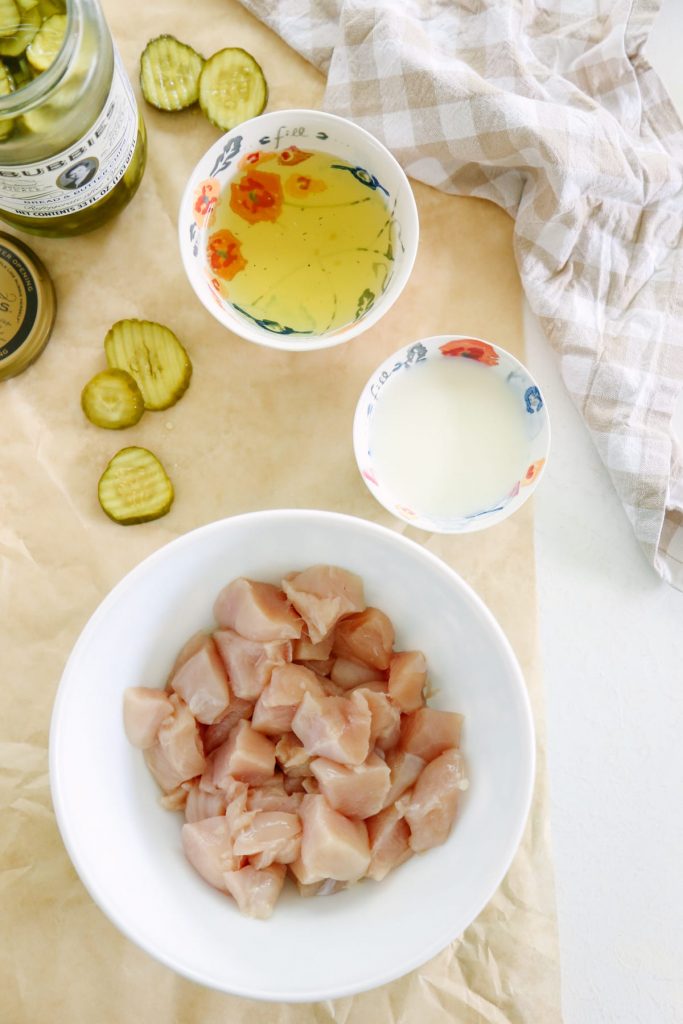 One of the most frequently asked questions I receive is how to "convert" a reluctant family over to the real food side. My answer is very simple, and a bit surprising to some people, but it guarantees real food success in the early days…
My best advice is to ask the reluctant family members what kind of foods they love to eat, and then start making these foods at home. Instead of throwing out the words chicken nuggets and waffles, make these comfort foods at home. Each week introduce a homemade alternative, or a "cleaner" store-bought option.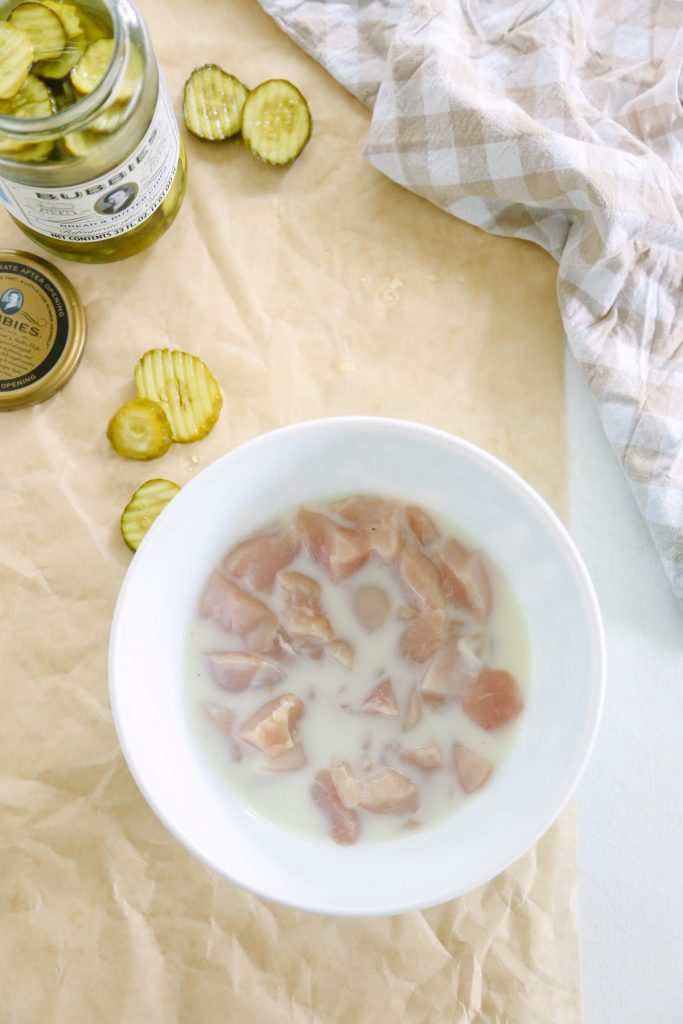 Why do I recommend going the homemade alternative route in the beginning? Because that, my friend, is the easiest way to win a Standard American Diet family over to the real food side. Once a family understands and tastes a juicy homemade burger and fries, homemade nuggets, or homemade macaroni and cheese, it's much easier to rally the troops. And trust me, rallying the troops is essential for making real food a long-term lifestyle. No divided households here.
Yes, the long-term goal is to introduce more veggies (like a simple side of roasted veggies), leafy greens, and maybe even kombucha and/or kefir.  In the beginning, the most important task of a real foodie is to rally the troops, and show them the delicious, homemade ways of real food. Win them over with a basket full of homemade nuggets.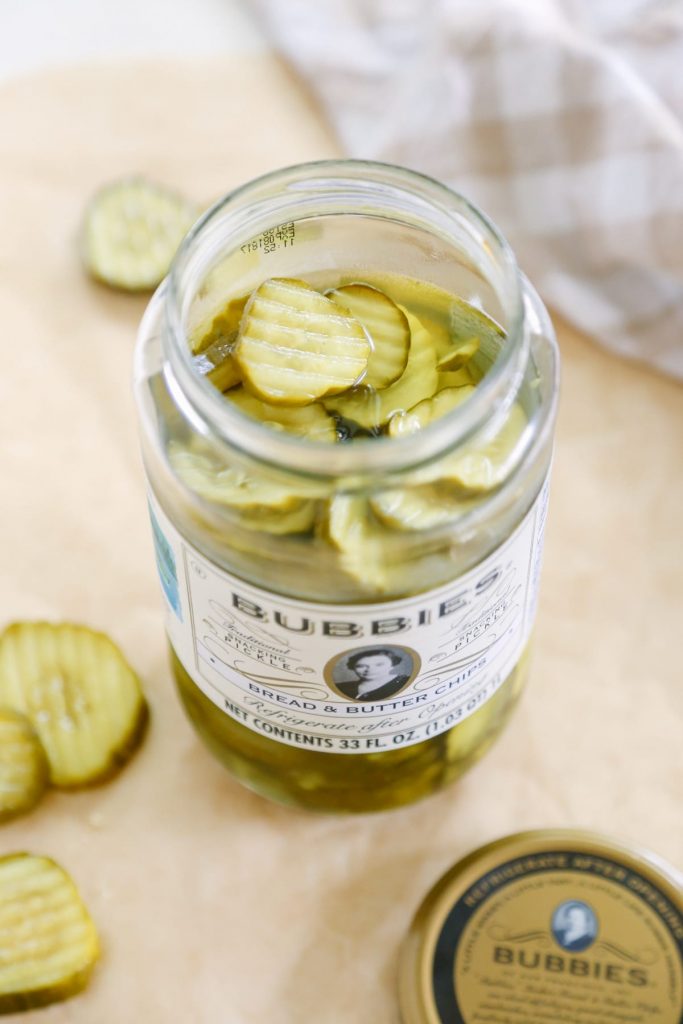 Today's recipe is one that I hope you'll be able to use in your rallying-the-troops mission. Or, if your troops are already on board with real food, I hope this recipe will be a comfort meal to add to your meal plan, along with a vegetable or easy weeknight salad.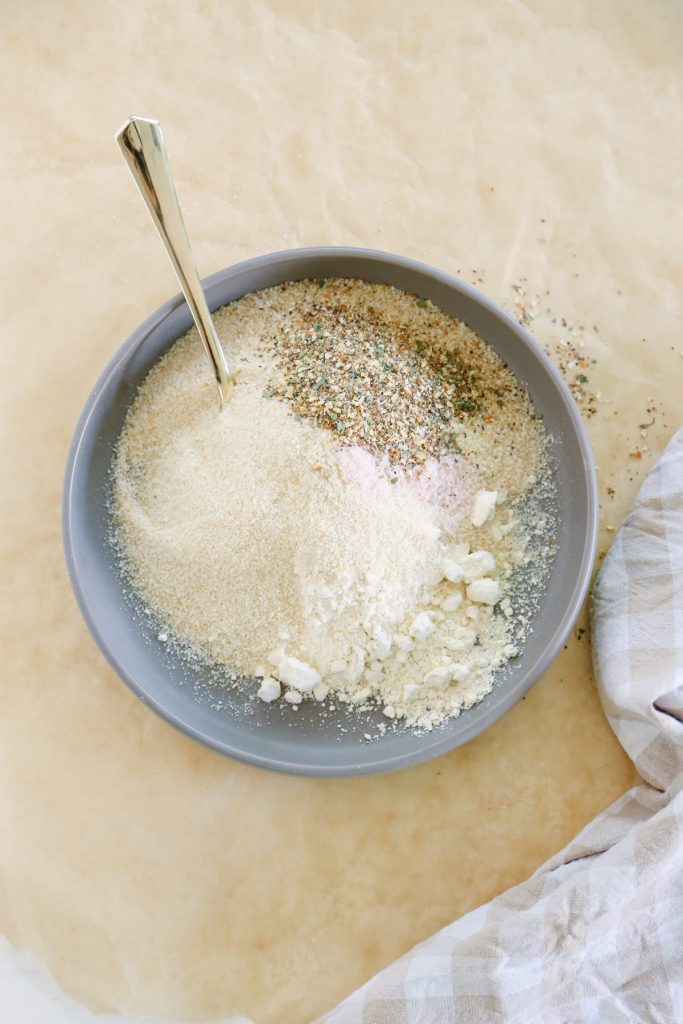 My homemade chicken nuggets are super easy to make, and only require a few minutes of hands-on dipping and frying time. Yep, we're going to fry them in a heat-stable, real food oil for the ultimate nugget experience.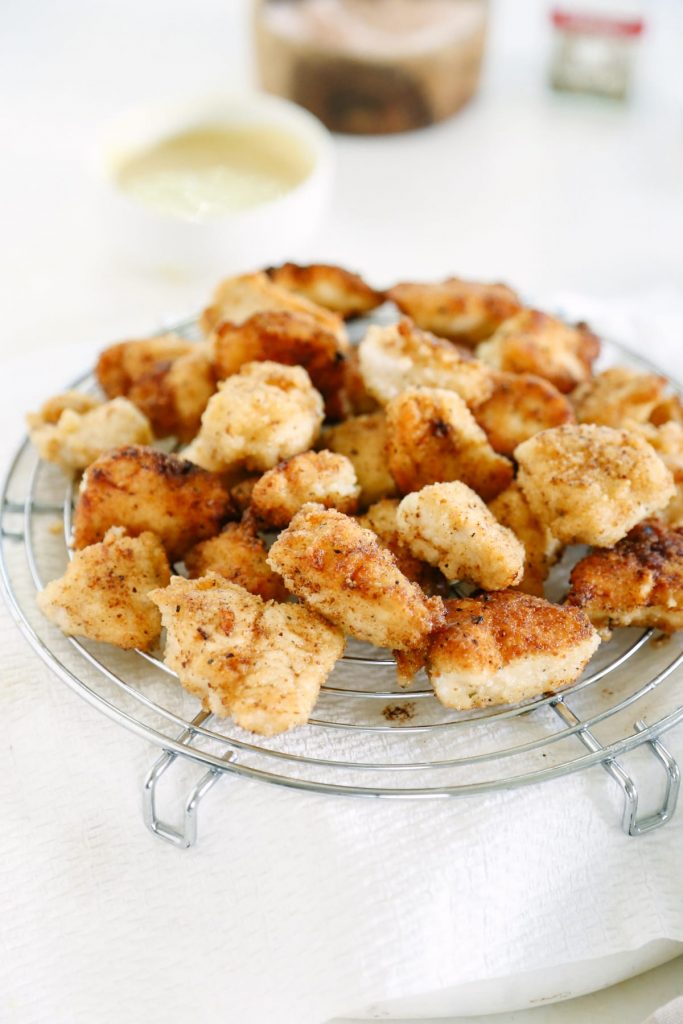 To start, chopped chicken breasts are marinated in milk and pickle juice. I know, the combo sounds unusual, but the final result is flavorful and moist nuggets that resemble the nuggets found at Chick-Fil-A. After the marinating time, the nuggets are dipped into a simple combo of flour, bread crumbs, salt, and seasoning. Then, into the hot avocado oil they go.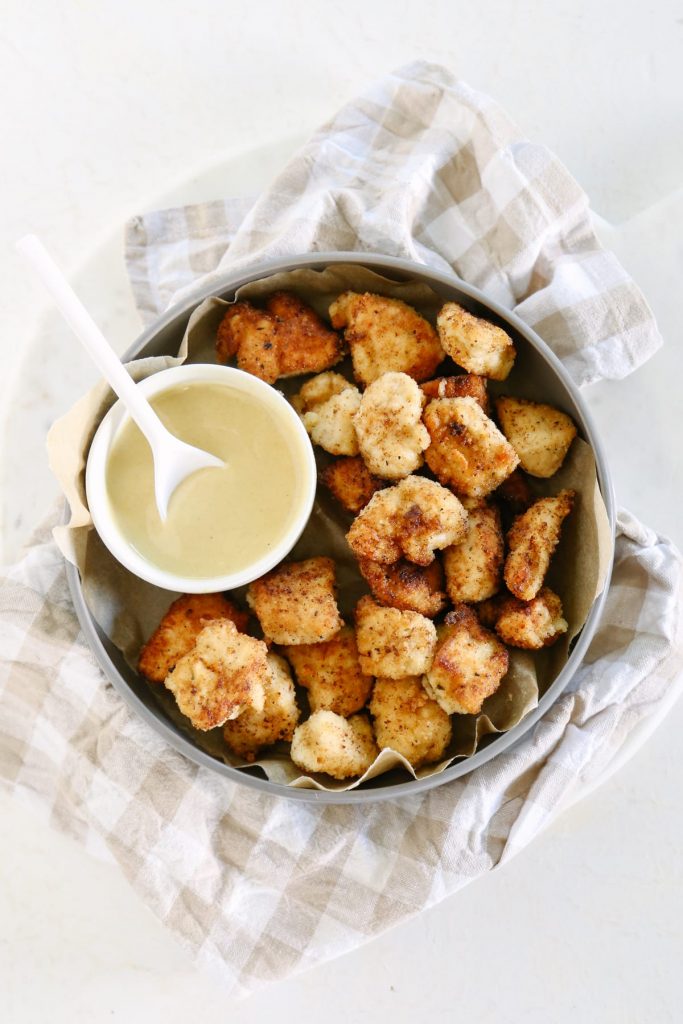 Finally, let's talk about the sauce options for these nuggets. I believe there are two sauce options for these nuggets: 1) a "cleaner" store-bought or homemade ketchup 2) homemade honey mustard sauce (recipe coming soon). Of course, another option is to serve these nuggets without a sauce on the side, or serve them over a big salad with homemade dressing.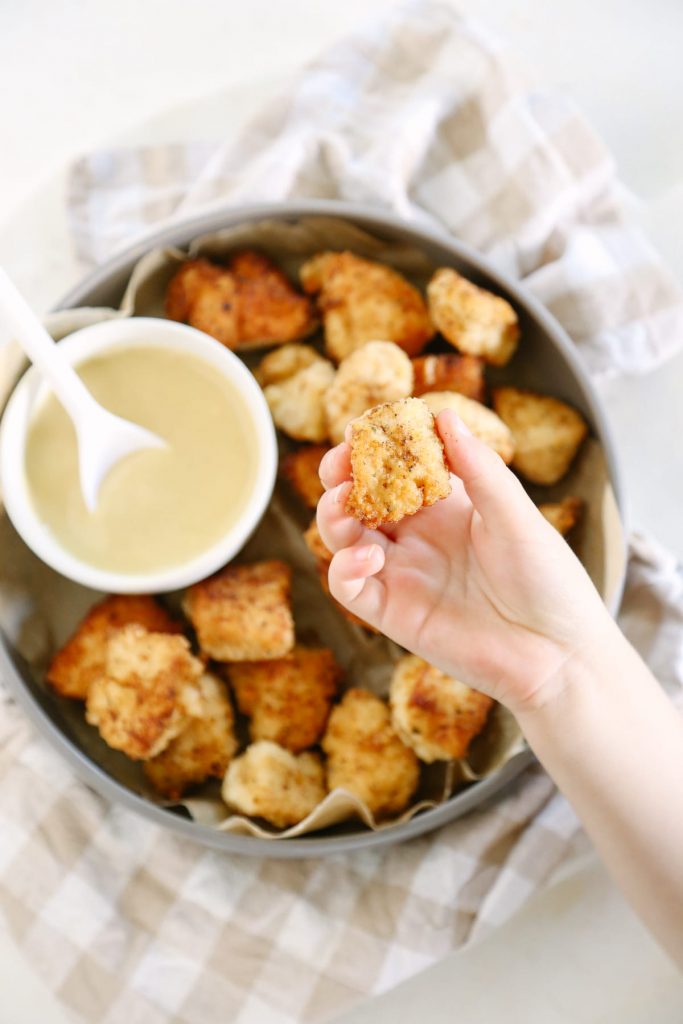 Here's to rallying the troops, my friend! Small, practical changes are the building blocks to a doable long-term real food lifestyle.
Homemade Chicken Nuggets (Chick-Fil-A Copycat)
My homemade chicken nuggets are super easy to make, and only require a few minutes of hands-on dipping and frying time. Yep, we're going to fry them in a heat-stable, real food oil for the ultimate nugget experience.
Ingredients
2

lbs

chicken breasts

1/4

cup

pickle juice

1/4

cup

whole milk

1

cup

breadcrumbs

I use 365 brand from Whole Foods. Look for bread crumbs that are fine.

1/2

cup

flour

I use all-purpose einkorn flour.

1

tsp

salt

1/3

cup

avocado oil

more may be needed
Instructions
Cut the chicken into bite-sized pieces, nuggets. To do this, I cut the chicken in half lengthwise, and then cut the long strips into small nuggets. Try to keep the nuggets relatively uniform in size. Place the nuggets, pickle juice, and milk in a Ziploc bag or baking dish (be sure to cover the baking dish while the chicken is marinating). Marinate the chicken in the fridge for at least 3 hours, or up to 12 hours. I usually start the marinade in the morning, marinate the chicken during the day, and then make the nuggets in the evening.

After marinating the nuggets, in a bowl, combine the bread crumbs, flour, salt (skip this if your all-purpose seasoning contains salt), and all-purpose seasoning. Heat the oil in a skillet. I use my 10-inch cast iron skillet, and 1/3 cup of oil covers the bottom of the skillet. The nuggets won't be fully submerged in the oil, the oil should just cover the bottom of the skillet. Feel free to add more oil based on the size of your skillet. Heat the skillet over medium heat.

In batches, transfer the nuggets from the marinade to the breadcrumb mixture. Roll the nuggets in the breadcrumb mixture until they are completely covered in the mixture. Then, once the oil is hot, transfer the nuggets to the skillet, and cook them for 4-6 minutes on each side, until they are crispy and golden on the outside and cooked through on the inside. The cooking time will be determined by the size of your nuggets. If your oil gets too "dirty" from the breadcrumb mixture, you're welcome to dump the oil and add more oil. I don't mind the "dirty" bottom, and I don't find that it changes the flavor of the nuggets.

When the nuggets are done cooking, place them on a baking/cooling rack with a towel or napkin underneath. This will keep the nuggets from getting soggy before enjoying them.
Nutrition
Calories:
99
kcal
Carbohydrates:
5
g
Protein:
8
g
Fat:
4
g
Cholesterol:
24
mg
Sodium:
211
mg
Potassium:
154
mg
Vitamin A:
15
IU
Vitamin C:
0.4
mg
Calcium:
13
mg
Iron:
0.5
mg
Ingredient Notes: 
I prefer Simply Organic's Salt-Free All-Purpose Seasoning, but any all-purpose seasoning should work. If you don't want to use an all-purpose seasoning, you could use a variety of spices (a bit of garlic, onion powder, oregano) to add flavor. If your all-purpose seasoning contains salt, skip the salt in the recipe.
I love Bubbie's pickles. I highly recommend finding a brand of pickles, like Bubbies, that are made with clean ingredients versus yellow dye and other questionable products.
Avocado oil is a heat stable, neutral tasting, real food oil option. I purchase avocado oil from Costco, and love to use it for high temperature cooking. Olive oil will not work in this recipe because the oil will burn. Coconut oil is another option, but it may impart a coconut flavor on the nuggets.
Frying Note: 
To achieve the Chick-Fil-A copycat status, these nuggets need to be lightly fried in the oil. I've tried baking these nuggets, and, to be honest, they just don't have a great texture. I'm currently working on a blog and family worthy baked nugget recipe. I'll let you know when it's ready!