Recently, Piper and Londyn (my two littles) discovered the great joy of playing together in Piper's room. The whole twenty minutes of pure silence, kids nicely playing together, is the perfect time for this mom to warm that cup of coffee I never finished this morning and sit. At least for a few minutes, uninterrupted.
A couple of months ago, the normal twenty minutes of play was extended. Not by my doing, but the kids seemed to be really enjoying their time together. Check-in or sit and savor the last few drops of coffee?  As any practical mom would do, I raised my voice enough to be heard from the bottom of the stairs, "Are you two okay up there?" Silence. I put down the coffee (it was hard) and walked upstairs. I quietly peeked down the hall and saw her, covered, mouth full of pink paste.
Londyn had successfully broken away from playtime with Piper, wondered into the bathroom, and grabbed the bottle of kid-friendly "natural" toothpaste. The bright pink color and strawberry-flavor was just too appealing for a two year-old. And when anything is that appealing, much like chocolate, the only logical thing is to attempt to eat and cover yourself with the entire tube. I caught her just in time, most of the paste covered her body and the sticky hand-printed walls.  I'm sure she ingested a small amount too. The idea of a child loving toothpaste so much that she viewed it as an edible treat, candy, terrified me.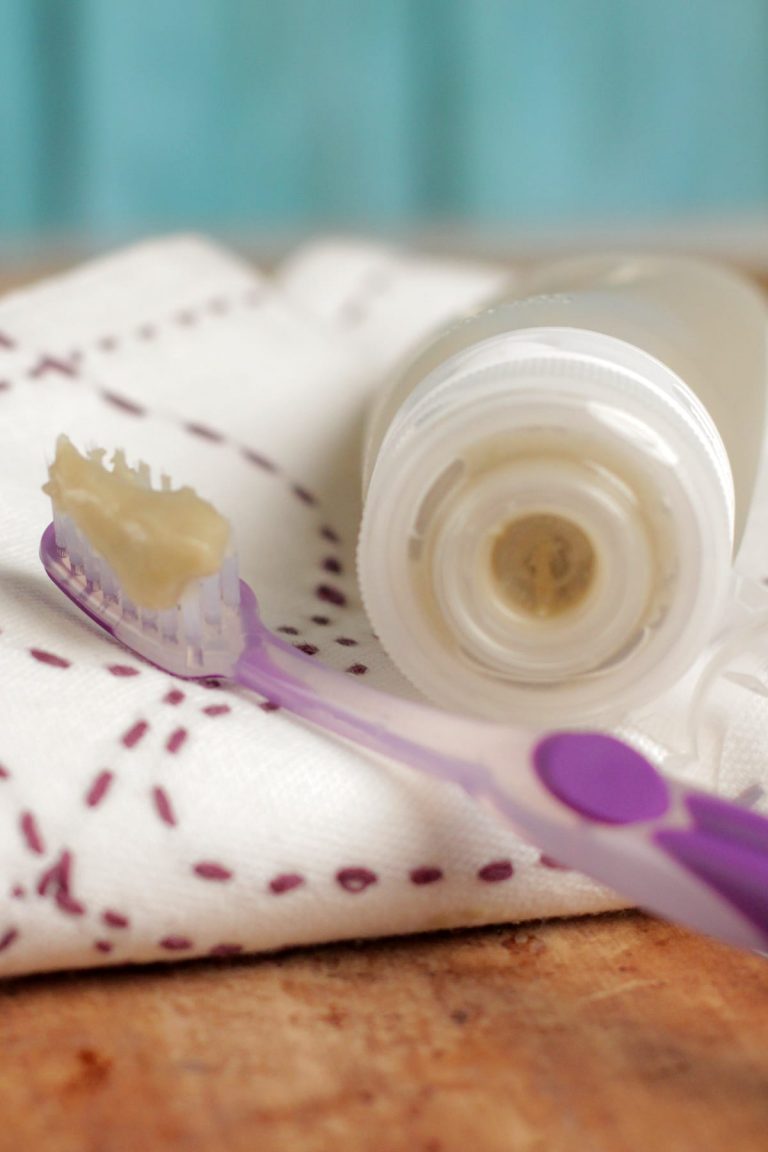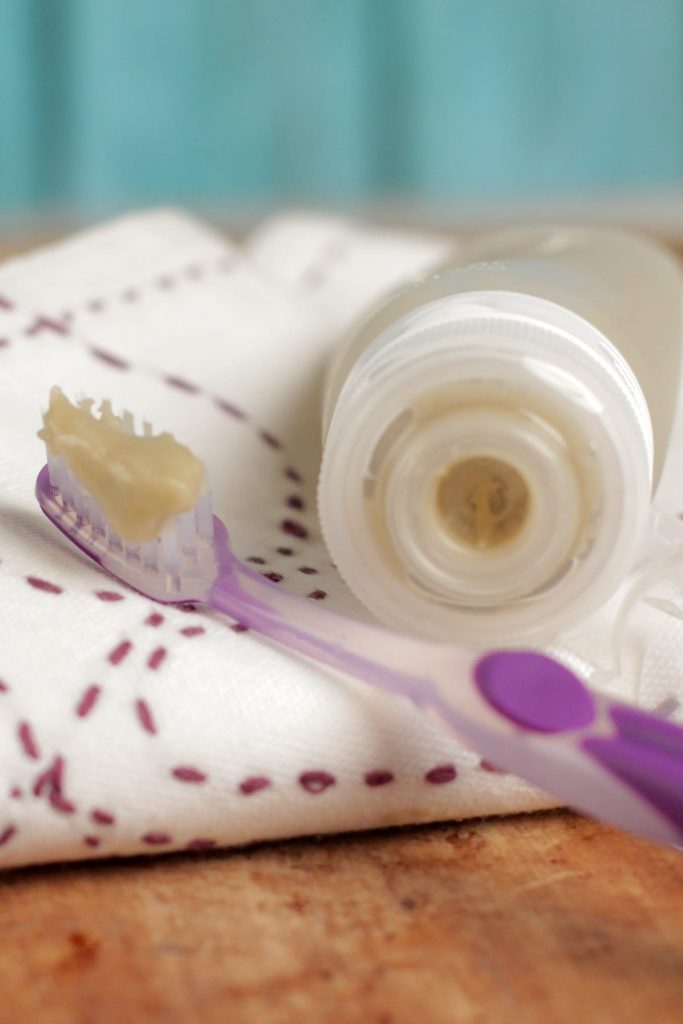 I've been making and using homemade toothpaste for over a year. I've noticed an incredible difference in my dental health. Ditching the commercial paste has proven to be a wise decision. My kids are less than fond of my homemade concoction.  The taste is "too hot" for their liking. ("Too hot" is Piper's way of saying a food is too salty.) With the desire to make brushing teeth an enjoyable experience, I've been buying a popular "natural" brand of toothpaste: pink, strawberry-flavored, and super kid-friendly. Never giving thought to homemade "kid" toothpaste until Londyn's scary toothpaste adventure.
Today, my kids use homemade toothpaste. A recipe very similar to my peppermint paste, but made kid-friendlier. So, what's different? In the kid-friendlier recipe, I omit the salt and use less baking soda, reducing the salty taste. My kids aren't a fan of peppermint, so I turn to a kid-friendly and safe essential oil, sweet orange. The addition of stevia adds a bit of sweetness, just enough to make teeth-time enjoyable.  A recipe I can feel good about my kids using without the temptation of viewing toothpaste as edible candy.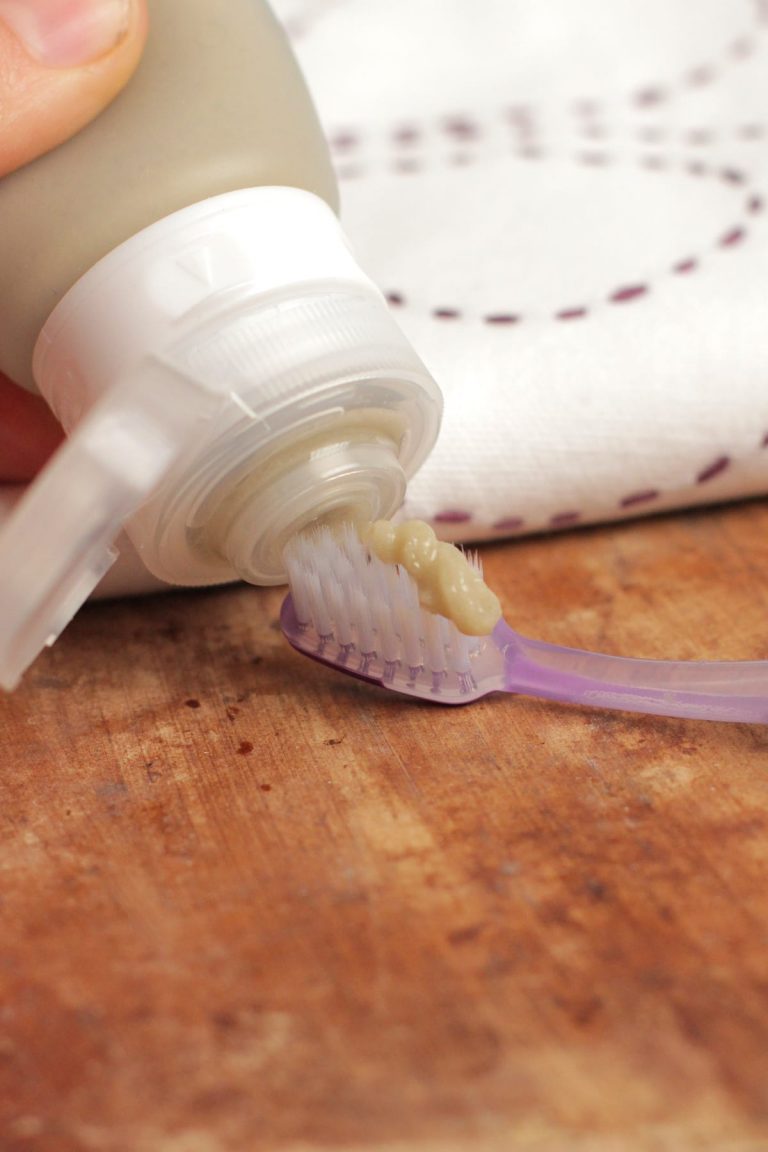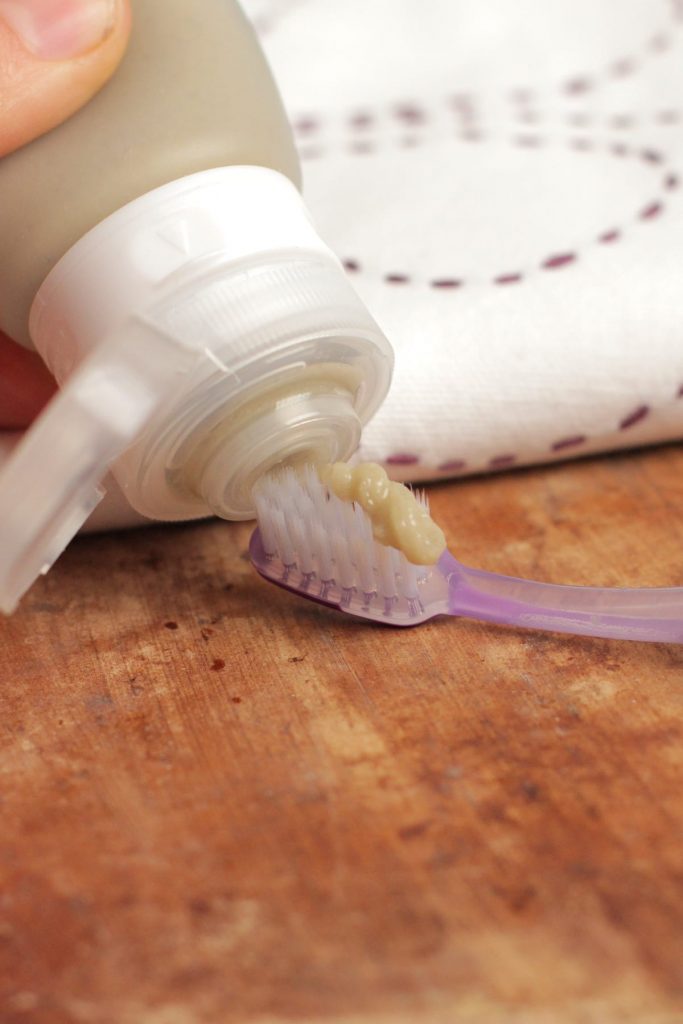 Do I guarantee your kids will love this paste? No, I don't. In fact, if your kids are used to processed, overly- sweetened paste adorned with lovable cartoon characters, it will take effort and time to get used to a homemade version. In the beginning my kids were skeptical. How did I transition them from pink slime to homemade paste? Here are a few tips:
1. Transition Slowly. My kids weren't keen on the whole cold-turkey thing. I started putting a small amount of homemade paste on their toothbrush, followed by the commercial paste on top. Slowly, every couple of days, I decreased the amount of commercial toothpaste, adding more homemade paste. Eventually, the commercial paste was no longer needed. They also stopped trying to eat or "drink" the toothpaste once the transition took place. Toothpaste is now viewed a something we use to brush our teeth, not a treat.
2. Squeeze Bottles. I recently learned about these GoToob squeeze bottles. They're amazing! I was hesitant to spend the money, but I'm glad I did. They're soft and squeezable, very similar to a toothpaste tube. I bought the three pack, one for the kids' toothpaste, one for mine, and the extra for homemade lotion. The squeezeableness (shhh, let's pretend that's a word) of the tube makes homemade toothpaste much more desirable for my kids. I think they feel "normal."
3. Make it Together. Just like real food, getting your kids involved in the process of creating is always a win. This recipe is simple enough kids can assist in the making.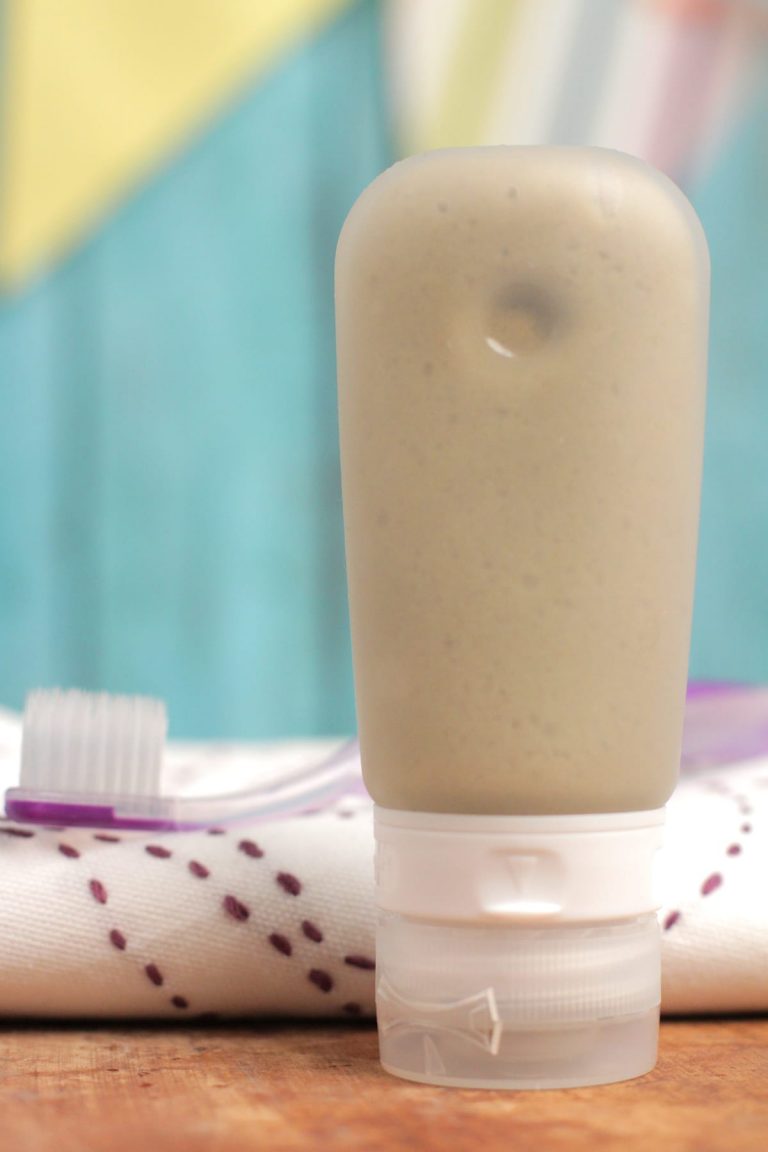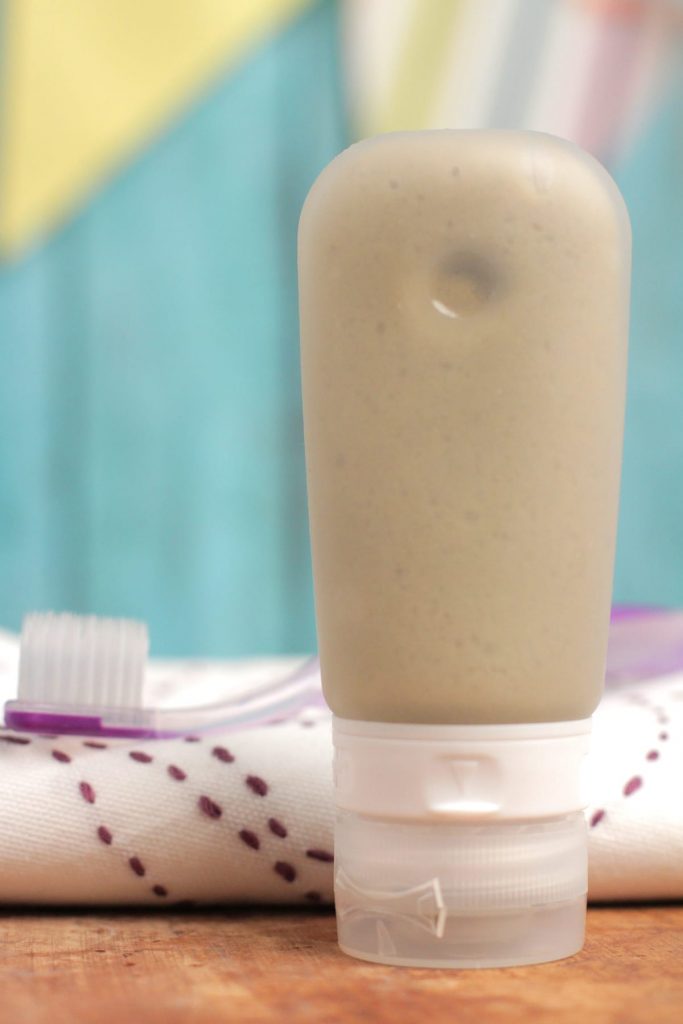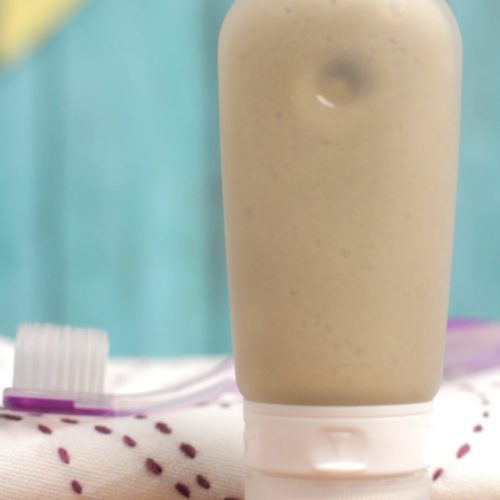 Homemade Kid Toothpaste
A homemade toothpaste even the kids will like. Made with simple, natural ingredients.
Instructions
In a medium-size bowl, combine the coconut oil, baking soda, and clay. Mix thoroughly.

Add in the remaining ingredients and mix.

Store in a jar or for squeezable toothpaste,

use these

.

Note: When mixing bentonite clay, please use a wood or plastic spoon. Bentonite clay should not come in contact with metal because it deactivates the clay.

The consistency of this recipe can vary depending on the temperature where the toothpaste is stored, due to the nature of coconut oil. This toothpaste isn't meant to be stored long-term, so I recommend making small batches frequently.
I'm sure someone will ask about baking soda being abrasive. I personally, after much reading, feel safer using baking soda than commercial toothpaste. It's much less abrasive than commercial toothpaste, even the organic options. You can read more information and view a chart here.  Also, if you'd like to skip homemade toothpaste and purchase a "cleaner" store-bought option, I love Nature's Gate or Earthpaste (both are available at health food stores, or online).