This post may contain affiliate links. As an Amazon Associate I earn from qualifying purchases.
This recipe was originally shared in 2014. Since that time, I've experimented with ways to improve this recipe, based on my own experience and reader feedback. In 2017, I shared a new and update recipe. Check out the new recipe, here. 
Remember those chocolate chip cookies I posted this week? Yes, those ooey-gooey little bites of pure joy. It's time to draw it back a little, finish up that last little crumb smudged with chocolaty goodness and talk about teeth and toothpaste. I know, a bit of a downer topic after talking chocolate, but I promise, you'll want to stick around.
Growing up, I regularly visited the dentist, received protective sealants, braces, and cleanings. You could say the dentist and I were quite the BFF's, maybe more like BDF's (Best Dental Friends). My teeth were well-cared for, thanks to my parents.
With as many dental treatments as I received over the years, you'd think my teeth would be cavity-free and gorgeous. Cavitiy-free? I have many. Gorgeous teeth? Well, they are nice looking. Not once did I ever stop to think about what I was putting on my teeth and how it effects those pearly whites.  For nearly twenty-eight years, I never once thought there was a different way to care for teeth. After all, commercials, the dentist, and pamphlets, tell us we need commercial toothpaste, two times a day, followed by a thorough washing of bright-blue mouth wash. And if that commercial toothpaste irritates your teeth, then the industry will sell you "special" commercial toothpaste.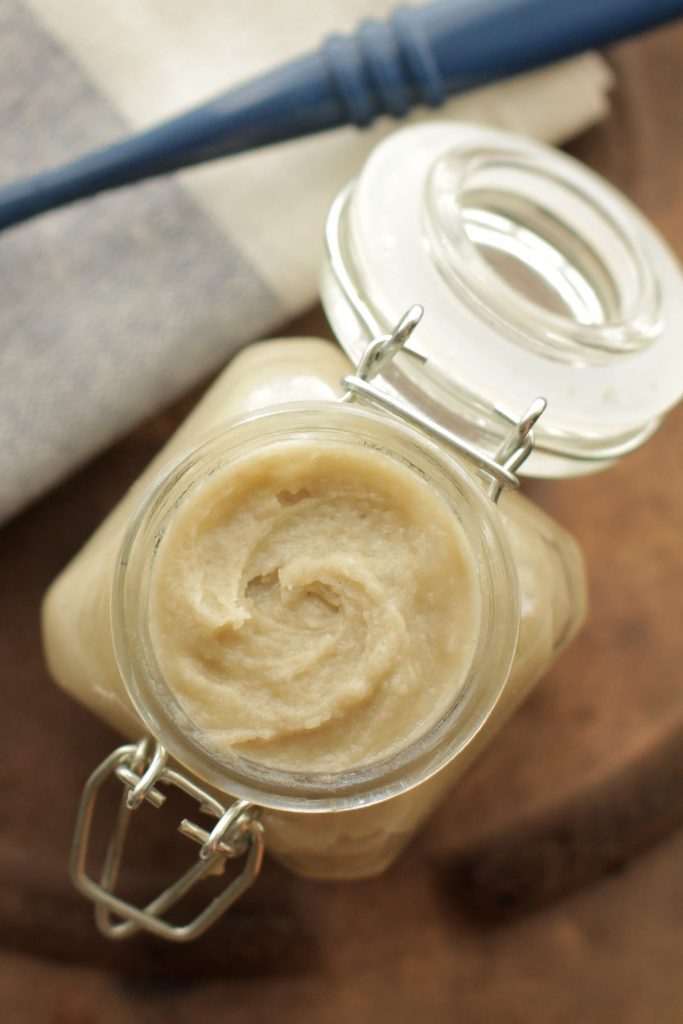 After delving into Dr. Weston A Price's book, Nutrition and Physical Degeneration and changing our diet to include lots of good fat, quite the shocker for a former margarine-loving vegetarian, I realized food has the power to heal and restore health. The difference real food made for our tired bodies, our son's Apraxia, and even our dental health was amazing. Even with the real food change I continued to use commercial, processed products for our personal hygiene.
Here's the thing about real food, natural living, getting back to simple, whatever you want to call it, eventually you start questioning all products. One day you pick up that bottle of lotion, after enjoying a nice glass of kombucha, and wonder, "Why can't I pronounce anything on this bottle?" Soon, that bottle gets tossed and you're experimenting with the same coconut oil used to make brownies, rubbing it all over your dry legs.
It doesn't stop there, soon you're tossing the foundation powder and whipping up a cocoa mixture to apply to your face. That foundation powder leads to body wash, homemade neosporin, vapor rub, and laundry soap. Your medicine cabinet resembles a hodge podge of natural ingredients and little mason jars with the only labels being hand-written. Your husband lovingly calls you "the witch-doctor" and your friends call you "crazy".
Don't think it will happen, friends? Give it a bit of time. Soon, you'll be there too.
Today, I'm sharing a new recipe. One you can easily whip up with that hodge podge of natural ingredients. A recipe to replace yet another chemical found in our homes, toothpaste. A homemade toothpaste that's revolutionized my teeth and dental health. This recipe is made with benonite clay. The same clay used to make foundation powder, rich is potassium and calcium and effective at removing toxins. Baking soda and coconut oil help to whiten and clean teeth. Mineral-rich salt is also added.  Stevia and peppermint essential oil add a delicate, sweet peppermint flavor to the salty mixture. Each ingredient comes together to create a homemade toothpaste that cleans and nourishes teeth, in a simple, chemical-free fashion.
Simple Homemade Peppermint Toothpaste
Homemade toothpaste made with simple ingredients.
Instructions
In a medium bowl, combine the coconut oil and baking soda. Mix thoroughly.

Add the remaining ingredients and mix.

Store in a jar and scoop with a small spoon (to prevent bacteria from entering the container). For a squeezable toothpaste,

use a squeeze bottle

.

Note: When mixing bentonite clay, please use a wood or plastic spoon. Bentonite clay should not come in contact with metal because it deactivates the clay.

The consistency of this recipe can vary depending on the temperature where the toothpaste is stored due to the nature of coconut oil.
Recipe Notes
This recipe was originally shared in 2014. Since that time, I've experimented with ways to improve this recipe, based on my own experience and reader feedback. In 2017, I shared a new and update recipe. Check out the new recipe, here.